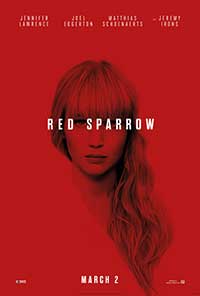 Red Sparrow would seem right up the alley of Cold War film fans, as its story deals with the black ops in which both Russia and the United States have been engaged for decades. Dominka Egourova (Jennifer Lawrence) is a prima ballerina in the Bolshoi Ballet Company and soon after the curtain rises, she breaks her leg by accident (or maybe not) during a performance. Her injury jeopardizes the government subsidies that provide her and her sick mother Nina (Joely Richardson) an apartment and medical care. Uncle Vanya Egourov (Matthias Schoenaerts), a highly placed intelligence official, intervenes, and after Dominika is coerced into setting up a political assassination, she gets enrolled in the "Red Sparrow" program that turns out agents skilled in the arts of both seduction and combat.
CIA operative Nate Nash (Joel Edgerton) is working in Moscow. After he blows a meeting with his asset the Russian informant "Marble," he is temporarily returned to the US only to be reassigned to Budapest. By coincidence, Dominika, now an official Sparrow,  is also assigned to the Russian Budapest office run by the lecherous Maxim Volontov (Douglas Hodge). She is ordered to get cozy with Nash and eventually obtain Marble's identity. Dominika acquires fellow agent Marta (Thekia Reuten) as a roommate and discovers that Marta is buying sensitive defense information from Stephanie Boucher (Mary-Louise Parker), a chief of staff for a senior US senator. When Marta is brutally murdered by a Russian operative, Dominika meets Nash and offers to work undercover for the CIA so that she and her mother can defect to America. In the tradition of spy-versus-spy, there are abundant plot twists involving Dominika, Uncle Vanya, Generals Korchnoi (Jeremy Irons) and Zakharov (Ciaran Hinds), and Nash until the film reaches a "shocking" conclusion that may surprise only those who have not been paying attention for the past two hours.
Jennifer Lawrence has enjoyed a meteoric rise in Hollywood, winning a Best Actress Oscar for Silver Linings Playbook. After a series of strong screen performances, Lawrence has been more recently in a series of duds like Passengers, Mother!, and, now, unfortunately, Red Sparrow. In all fairness, no actor or actress, however talented he or she may be, can surmount a script as dreadful as the one delivered by Justin Haythe. The meandering storyline is excessively complex and has to spend way too much time explaining itself when this should have been inherent in the action on the screen. It is also incredible that such a novice Russian operative could have so easily played a veteran CIA agent like Nash. To add to Red Sparrow's woes, there is a array of truly laughable fake Russian accents delivered by this otherwise talented cast, loaded with screen heavyweights like Jeremy Irons, Ciaran Hinds, Charlotte Rampling, and Douglas Hodge. Neither Lawrence's numerous skin shots nor  the brutal torture scenes of the film's second half improve matters.  Director Francis Lawrence (no relation) has worked on several good films (The Hunger Games franchise) with Jennifer Lawrence but even his skill behind the camera cannot keep this ship from sinking. Among the few redeeming aspects of Red Sparrow are the excellent location shots in Budapest, Vienna, and London. In comparison, last year's Atomic Blonde, another badass female spy film, looks like a veritable masterpiece. If you simply must see JLaw in the raw, wait for this one to become available on demand.
Red Sparrow is in theaters in the US March 2, 2018
Chermin Entertainment | Film Rites | Soundtrack New York | 20th Century Fox
Studios & Distributors
R (for strong violence, torture, sexual content, language and some graphic nudity)
Rating Certificate
English | Russian
Language
Summary
Jennifer Lawrence plays Ballerina Dominika Egorova, a Russian ballerina recruited into the "sparrow" spy school where she is required to use her body as weapon in this lackluster cold war thriller that, in spite of serious star power, gets killed in action by a simply awful script.
What people say... Login to rate
Be the first to leave a review.
Show more