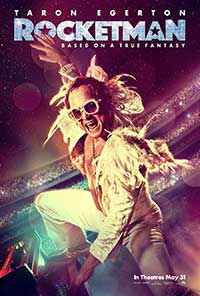 Last year's rock biopic Bohemian Rhapsody, brought Freddy Mercury back to life, at least for two hours.  As challenging as it is to make a biopic about a long-deceased rock star, think about the challenges facing the production team of Rocketman whose subject, Elton John, is the film's executive producer and still very much with us.  
The first scene finds Elton in a group therapy session, still wearing his outlandish demon costume complete with wings, horns, and feathers. As the film progresses, we get more of these sessions  during which the rock legend pours out his heart and sheds his costume as well as the personal daemons that nearly cost him his life.
Rocketman is a fairly linear account of Elton's life leading up to his stint in rehab. The film returns to Elton's childhood as little Reggie Dwight (Matthew Illesley) whose distant mother Sheila (Bryce Dallas Howard) and uncaring father Stanley (Steven Mackintosh) thwart his musical ambition while his supportive grandmother Ivy (Gemma Jones) enables him to get much-needed piano lessons.  Adolescent Reggie (Kit Connor) is smitten by the music of Elvis Presley and eventually joins a pub band. The breakthrough comes when Reggie finally becomes Elton and with life-long friend and songwriter Bernie Taupin (Jamie Bell) starts cranking out one chart-topper after another for Dick James'  (Stephen Graham) record label.  Elton's descent into drugs and decadence is enabled by gay music manager John Reid (Richard Madden) who is only interested in the singer's ability to pack performance venues like LA's Troubador and produce monster hit songs. Reid encourages EJ's makeover as a flamboyant stage personality that becomes addicted to alcohol, drugs, and sex. In spite of his self-destructive behavior, Elton continues to perform before  packed houses and it takes a suicide attempt and finally a heart attack to get him to the treatment that has kept him sober for the last three decades.
Rocketman periodically breaks into song (and occasional dance) featuring a number of Elton's most popular numbers. There are the moments when the singer is caught in the white heat of inspiration like "Your Song" and "I'm Still Standing" as well as stunning recreations of the bedecked performer bedazzling his audiences.  Two scenes in particular stand out. The first is Elton John's breakthrough set at the Troubador when suddenly he and the audience begin floating in space, epitomizing the exhilaration of the live concert experience. The second, that is even more poignant, is the Rocketman performance during EJ's suicidal dive into his pool. It reveals young Reggie in a spaceman costume performing the title work at the piano as rescuers descend to save the rock star's life.
Those expecting another Bohemian Rhapsody will be pleasantly surprised by actor/director Dexter Fletcher's creative treatment of Lee Hall's brilliant script. Taron Egerton's assumption of the title role surpassed even my wildest expectations, not only in his physical resemblance to Elton John, but in his convincing performances of all of the 21 songs in the soundtrack.  Kudos also go out to Reg Poerscout-Edgerton's casting that goes from strength to strength, ranging from a nearly unrecognizable Bryce Dallas Howard to a seedy-looking Tate Donovan as the legendary Troubador impresario Doug Weston.  George Richmond's cameras do a fabulous job of conveying the gaudy excess of the Elton John era and the very graphic sex scene between Egerton and Madden that leaves little to the imagination.
Homage is paid to Elton during the end credits that shows how closely Egerton captured the essence of this performer who was a troubled and lonely spirit exploited by friends, family, and business associates and yet was able to find salvation and reclaim his life. Seeing and hearing Elton John's songs in this film's context drove home how truly personal and yet how timeless most of them are. To borrow a term that has been overused by our British cousins–smashing! Highest recommendation.
Rocketman is in wide release in theaters May 31, 2019 (USA)
---
New Republic Pictures | Marv Films | Rocket Pictures | Paramount Pictures
Studios & Distributors
R (for language throughout, sexual content, and some drug use)
Rating Certificate
Summary
A stunning fantasy/biopic of rock legend Elton John, brilliantly portrayed by Taron Egerton with a strong supporting cast, direction, and cinematography. The songs in the soundtrack were all performed by Egerton himself.
What people say... Login to rate
Be the first to leave a review.
Show more