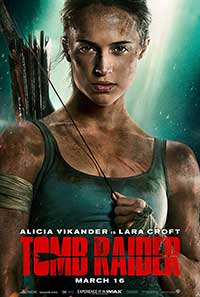 If you think that you have seen this one before, you have, well, sort of. Tomb Raider is a reboot of a nearly two-decades old film based on a video game, but, so it seems, are most of today's action hero films. There is a growing audience for movies that feature a very strong female lead, and the success of the original Lara Croft: Tomb Raider certainly whetted my appetite for this new one.
The film literally kicks off with a martial arts fight sequence only this time around it is Lara Croft (Alicia Vikander) against a human being rather than a robot. Next, Lara accelerates through a "fox and hounds" bicycle race around London before she crashes into a police car. Fortunately, Croft Holdings exec Ana Miller (Kristin Scott Thomas) bails her out. Lara next takes a trip down memory lane and discovers a hidden storeroom in Croft Manor where her missing and presumed dead father Lord Robert (Dominic West) had hidden a huge file on Himoki, the Queen of Yamatai who was rumored to possess supreme life-and-death powers.Papa Croft, an ultra-wealthy international business mogul,  made a videotape instructing Lara to destroy the file but you know that is not going to happen.
The film shifts into a much higher gear when, having declined her father's huge estate,  Lara goes to Hong Kong and tracks down Captain Lu Ren (Daniel Wu). Lu's late father had taken Croft senior to the mysterious island of Yamatai where Lord Robert disappeared and Queen Himoki was supposedly entombed. Lu Ren's ship capsizes in a violent storm, and Lara lands on Yamatai's beach only to be revived the next morning by Mathias Vogel (Walton Goggins). Vogel heads up an expedition, sponsored by the mysterious Trinity organization, to find Himoki's tomb and bring back the dead Queen. Lu Ren emerges as one of Vogel's many enslaved workers that daily dynamite the landscape in order to discover the entrance to Himoki's burial site. Lara knows the tomb's location from her father's diagrams but has no intention of sharing this information with Vogel. She soon escapes from the Trinity work camp, but this is only the beginning of more life-threatening adventures that this intrepid young woman must survive. There are more plot twists ahead, including the reappearance of Lord Croft himself, as Tomb Raider races headlong toward its pulse-pounding conclusion.
It is really impossible for me to assess this 2018 Tomb Raider without comparing it to the original 2001 version. The absolute level of death-defying stunts does give the nod to this newer film but that is about as far as it goes. Admittedly, the Dolby Vision-encoded 4K DI and the object-based Dolby Atmos soundtrack are technical improvements over the original film's sights and sounds.  However, the joy, wit, and sheer cheekiness of Lara Croft: Tomb Raider that made it such a fun watch are sadly missing in the absolutely humorless script penned by Geneva Robertson-Dworet and Alastair Siddons.  The new TR also lacks the many splendid location shots of its predecessor. Those expecting the urbane and cutting-edge attired Lara Croft of Angelina Jolie may be disappointed in Alicia Vikander's grittier and scruffier character that receives countless bumps, bruises, and wounds along the way. The original TR had a superior villain in Iain Glen's slimy Manfred Powell while Walton Goggins's Vogel is utterly banal. We are never given any real notion of what the nefarious Trinity organization is all about; conversely, we received a very good glimpse of the first film's Illuminati. The final scene broadly hints that a sequel might be the offing but, If that is the case, I hope that star-worthy Alicia Vikander receives a far better script next time out.
Tomb Raider is in theaters in the US March 16, 2018
GK Films | MGM | Square Enix | Warner Brothers
Studios & Distributors
PG-13 (for strong violence, action and some language)
Rating Certificate
Geneva Robertson-Dworet | Alastair Siddons
Writer
Summary
In this cinematic resurrection of the famous franchise, Lara Croft (Alicia Vikander) is the independent-minded daughter of missing head of a global corporate empire and adventurer who finds herself on the same island where her father disappeared. Now, even as she refuses to take her rightful place as heir to his company, she must fight to discover what happened to her father. Tomb Raider, from director Roar Uthaug, is a rather lukewarm reboot of a fun-to-watch original action-packed thriller.
What people say... Login to rate
Be the first to leave a review.
Show more