"The Snow Queen"
What does family mean to you? When I think of family, my mind conjures up my own loved ones from my brothers to my mom and now the small family I've created. But if pressed, there are a few good friends I'd include in that circle too. In my own humble opinion, it's love that creates a family, not just blood. This week's episode of Once Upon a Time really makes a person question the concept of family, is it the people you feel close to or the people who share a blood bond?
Emma and the Snow Queen went at one another, each trying to prove their own concept of family. Emma makes it clear that without blood to bind them, the two have no ties. "You and I, we're not family," says Emma. "I have one of those and it spans three generations and four hundred years." Show off. And yet Emma doesn't realize just how much she was. Most people don't have half of what she does. The Snow Queen would kill to have a family.
With few blood relatives of her own left, the Snow Queen has learned to classify family in her own terms. "Family isn't about blood it's a bond far stronger than mere genetics." Oh, that Snow Queen! She's trying so hard to recreate a familial bond, but she's going about it the wrong way… or is she? Her plan is working to a degree. Emma is beginning to distance herself from her family. She sees the fear in their eyes as her power grows, but I don't think it's her power that frightens them so much as her lack of control, which frankly scares her as well. If only there were someone to teach her how to control it (cue Rumpelstiltskin).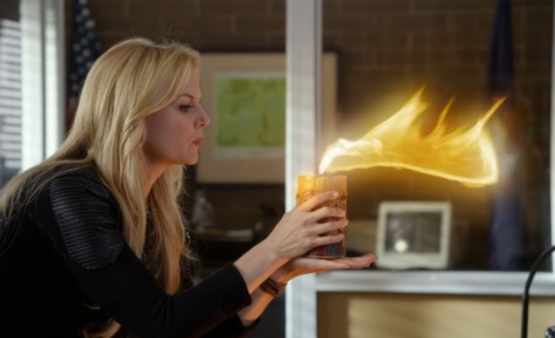 I loved the flashbacks. The Snow Queen has been exposed! But like most of the OUAT villains, she isn't evil, she's just misunderstood. Ingrid and her sisters had a loving bond that was stronger than magic, but it wasn't enough. Fear drove Ingrid to make a deal with the Dark One. She insisted on trading talismans she shared with her sisters for protective gloves and a magic urn. Don't those gloves remind you of Elsa's from Frozen?
Uneducated about her own powers, Ingrid never had a chance. She allowed her emotions to rule, she lost control and paid the price. Ingrid wants to replace the family she once had, by proving to Emma that blood is not thicker than water. Her devious plan is playing out well. Despite her own suffering, Ingrid the Snow Queen is willing to push Emma into that same dark corner to prove a point. And so while we can empathize with her, she is still a villain. Heroes don't make people suffer.
Poor Robin Hood, he's a conflicted man with the best of intentions, but the heart wants what the heart wants and for Robin Hood that would be Regina. YEAH! It's about time. Watching Robin Hood stay faithful to the wife he loved a few hundred years ago, was stomach churning. Guess I'm not the mushy romantic type. He moved on and he feels guilty about it now that she's turned up in Storybrooke, but that's no reason to be miserable. He and Regina should have their happily ever after. Unfortunately, I see this as one big tease. His lapse in judgment gives Regina a false sense of hope and then its right back to his wife. Oh, Regina, you're in for a big let down.
Henry is the only love Regina can count on. Maybe that has to be enough for now. Emma seems too preoccupied to worry much about Henry, leaving Regina in the number one mom role. At the end of the day, isn't family, however you classify it, the most important? When Regina realizes this, she'll discover her happily ever after. She doesn't need an author to rewrite her character; she's doing that herself a few steps at a time.
Aurora Snow Says
Episode Rating:
[Rating:4/5]