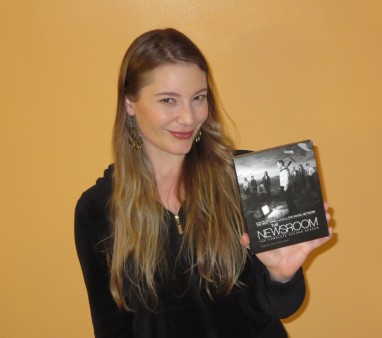 Season two of The Newsroom is quick to engage interest, but at times falters to hold it. The News Night team landed a dynamite scoop, exposing a groundbreaking story that should have won them awards but instead put them all in hot water. They screwed up. In an effort to find out how things went amiss ACN attorney Rebecca Halliday (Marcia Gay Harden, Into the Wild) begins the lengthy process of internal depositions. Halliday interviews each character, creating the flashbacks that jump from 2011 to 2012. It was a refreshing way to present our team's faux pas.
Pompous news anchor Will McAvoy (Jeff Daniels, Looper) refuses to play Rebecca Halliday's game, until he understands what's at stake. His stubborn smugness pitted against Halliday's legal righteousness created a deliciously intense first episode, one I dearly hoped would set the tone of the show, and for the most part it did — except when it didn't. There were some slow moments, and what some critics refer to as "bad Sorkin," which anyone who's seen the first season can relate to.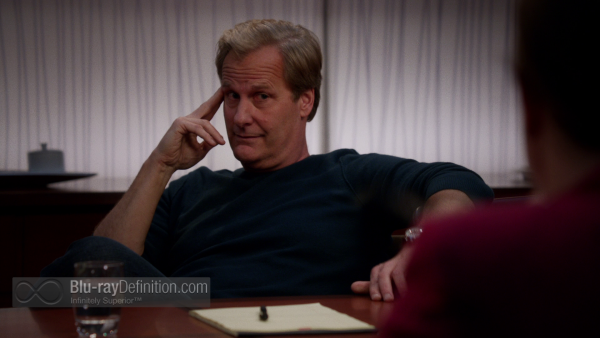 McAvoy and his ex-lover, executive producer Mackenzie McHale (Emily Mortimer, Hugo), otherwise known as "Mac" are still somewhat infatuated with each other. They have a loving non-sexual relationship, full of passion, heat and a sliver of hateful mistrust. This thick tension makes these two a pleasure to watch.
Jeff Daniels has a constant magnetic radiance, one that's especially brought out in the presence of Sam Waterston who plays division president Charlie Skinner. When these two verbally spar it's edge-of-your-seat good. I just wish they had more screen time together.
Ebullient Maggie Jordan (Alison Pill, Midnight in Paris) has gone through some severe changes, and only the flashbacks to 2011 can explain why. Too green to know better and too inexperienced to care, Maggie struck out into a war torn nation eager to prove her journalistic worth, and it keeps coming back to haunt her. But before Maggie left for this dangerous excursion, her man-crush producer Jim Harper (John Gallagher, Jr., Jonah Hex), insisted on distancing himself from her – so he joined the Mitt Romney campaign tour bus. Harper was desperate. Love makes people do the darnedest things, doesn't it?
Speaking of which, Sloan Sabbith (Olivia Munn, Magic Mike) is dealing with her own relationship problems, her ex- boyfriend utilizes a revenge porn website… sure you can see where this is going. Now that she's free, she's turned an affectionate eye towards the newly-single Don Keefer (Thomas Sadoski, John Wick). It's an awkward office crush. The romantic subplots on this show are endless, and probably the show's weakest points.
From his new post as lowly reporter, Harper not only manages to ruffle feathers, but also catches the eye of an eager reporter, Hallie Shea (Grace Gummer, Frances Ha). It's about time Harper gets over Maggie, don't you think? And this fetching, intelligent reporter is just the ticket. She doesn't even mind that he occasionally calls her Maggie. It doesn't get better than that (most women would be furious). Meanwhile Harper's stint on the campaign is just another opportunity for The Newsroom to point out how politics clash with the press.
With Harper out of the office, Jerry Dantana (Hamish Linklater, 42) flies in as his replacement. Coincidentally it is he who pursues the lead on the mysterious Genoa mission, the story that will ultimately cost them all. Mackenzie also bears some of the responsibility for letting him run with it. While efficient at her job, Mackenzie isn't perfect and there's plenty in the script to remind us of her humanity.
More than its fodder about civil rights, Occupy Wall Street, drones, and politics The Newsroom is about the media that covers it all. In the hands of the media, stories are created, they are given life, but some turn into uncontrollable monsters. Sorkin gets everything right when he focuses on the media, painting a picture of its inner workings, cause and effects but when it comes to personal romance that's when things get wonky. Sorkin just isn't the romantic writer; he's an intelligent social commentator, and if he'd just stick to that this show would be amazing. Who needs silly love triangles in a newsroom anyway?
VIDEO QUALITY
[Rating:4/5]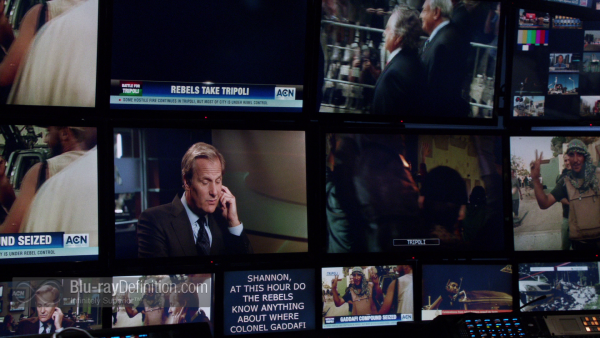 AVC encoded 1080p in a 1.78:1 ratio. Though the second season of The Newsroom was filmed digitally with the high powered Arri Alexa there is a softness to it. Much to my dismay, a film-like grain persists throughout the season detracting from the clarity I've come to expect from high quality productions. The soft gauzy feel of the newsroom interiors reminds me of a room where too many people sat around smoking. On the bright side, exterior shots provide the kind of detail and lucidity I was hoping for. Contrast and saturation were well balanced, the blacks were deep and the skin tones were suitable. It was a decent looking show, but I couldn't get over the intended look. For a show that focuses on details, I think it should have looked sharper than it did.
AUDIO QUALITY
[Rating:4/5]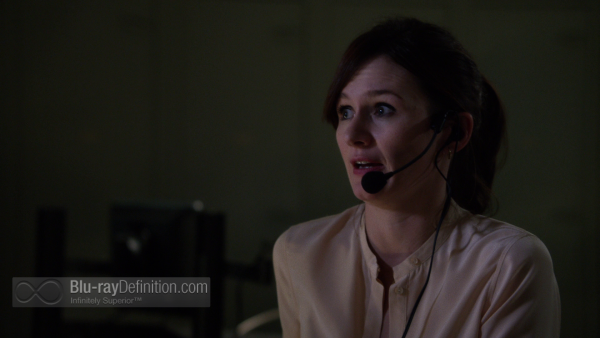 Featuring a DTS-HD Master Audio 5.1 soundtrack, The Newsroom is a dialogue-heavy show and for this reason often fails to bring the audience in through audio alone. This was not the most immersive experience. But that isn't to say it was bad. On the contrary, it was a rather pleasing track. The ambient noise was well played; from the subtleties of an office environment to the action packed war zone the audio was believable every step of the way. With a smooth delivery the words were never a strain to catch. This soundtrack was invigorating at its best and less than immersive at its worst.
SPECIAL FEATURES
[Rating:2/5]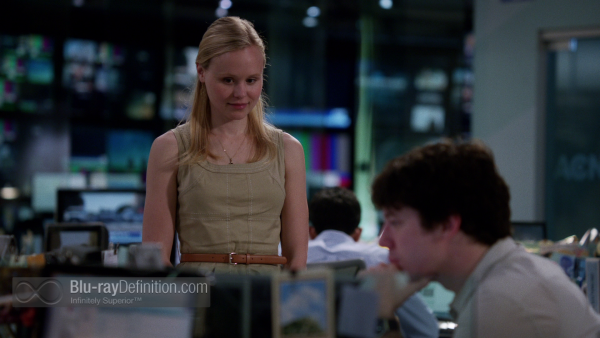 DISC ONE
Audio Commentary for Episode 1 "First Thing We Do, Let's Kill All The Lawyers"
Inside the Episodes – Individual featurettes for the first three episodes, delving into the creation of inspired moments. This is something you have to watch the episode to get.
Deleted Scene
DISC TWO
Audio Commentary for Episode 5 "News Night with Will McAvoy"
Inside the Episodes — Individual featurettes for the episodes four through six, delving into the creation of inspired moments.
DISC THREE
Audio Commentary Episode 7 "Red Team III"
Audio Commentary Episode 9 "Election Night, Part II"
Inside the Episodes — Individual featurettes for the episodes seven through nine, delving into the creation of inspired moments.
Deleted Scene
Aurora Snow Says
OVERALL:
[Rating:3.5/5]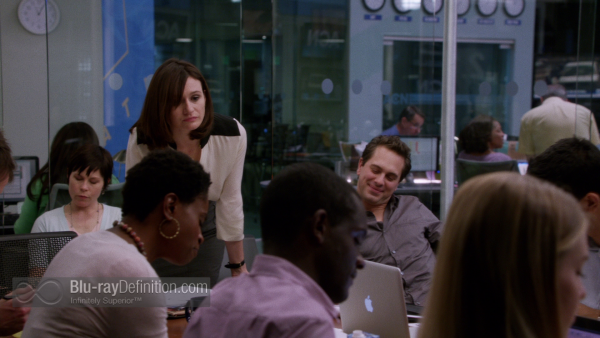 While many fans prefer season one, I wasn't one of them. I'll admit to liking season two better. I enjoyed the well written shows, social commentary and fluid verbal spars between characters. Unfortunately the romantic subplots dragged some of the show's finer points down a notch or two. I'm not sure this is a good series to curl up with on the couch, but it is a perfect series to watch while you're logging those miles on the treadmill. It can also be great to watch on your tablet for those long travel days, but it's not a show that a home theater system benefits from.
More Screen Captures
[amazon-product]B00E3HDWRE[/amazon-product]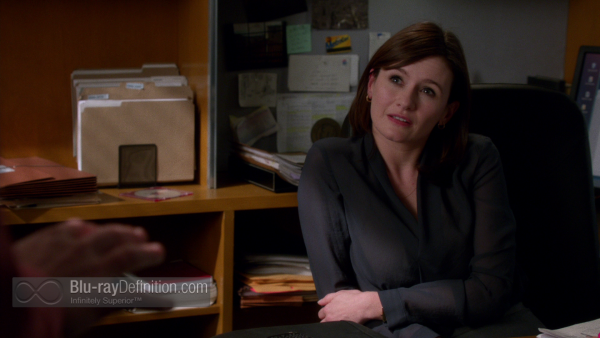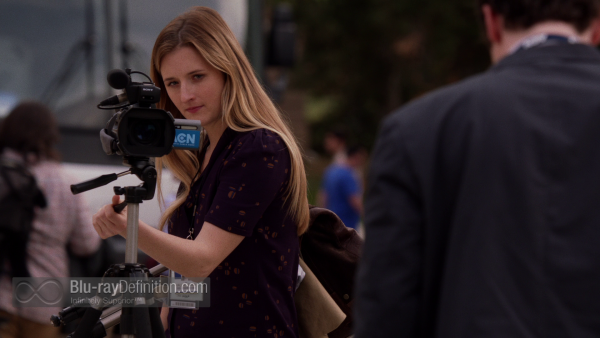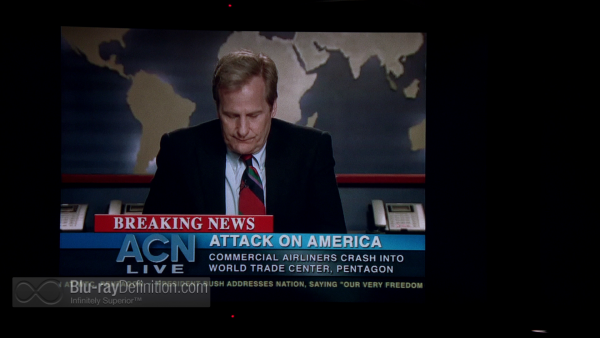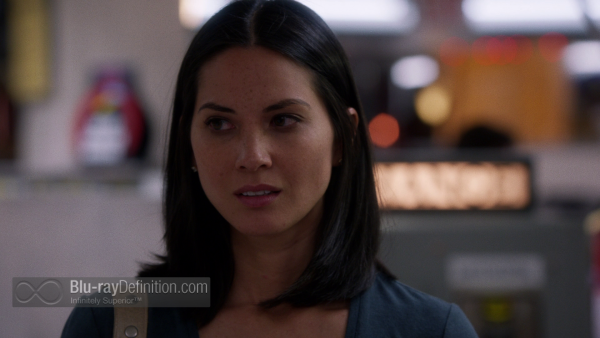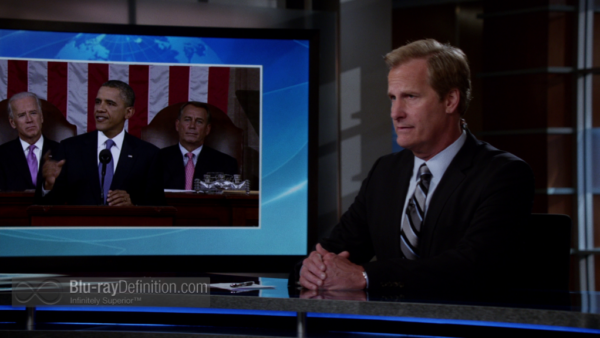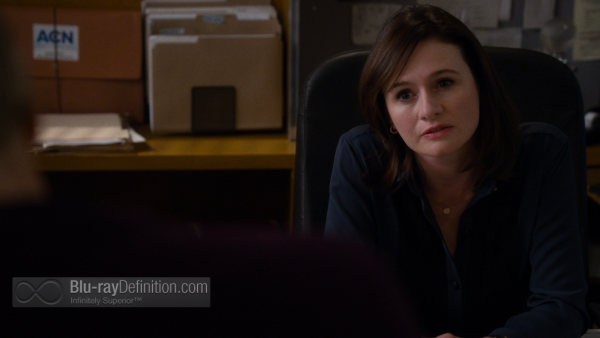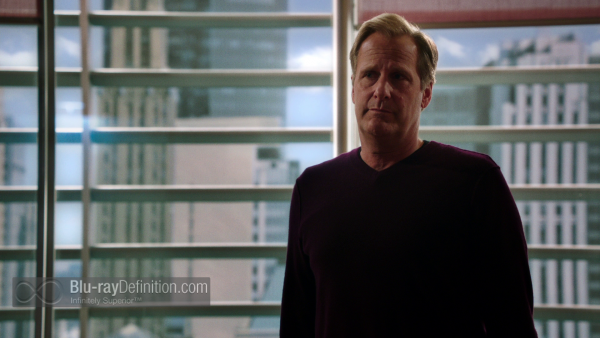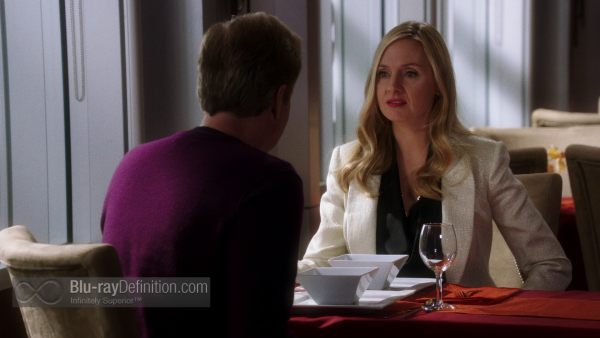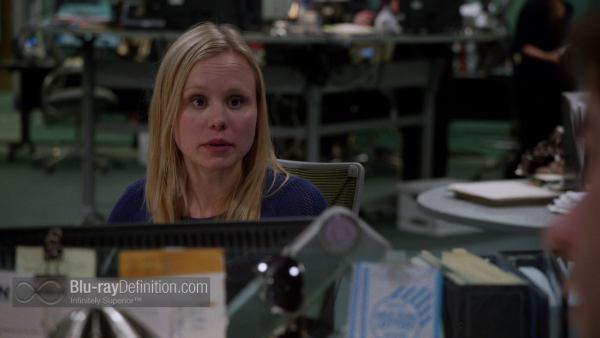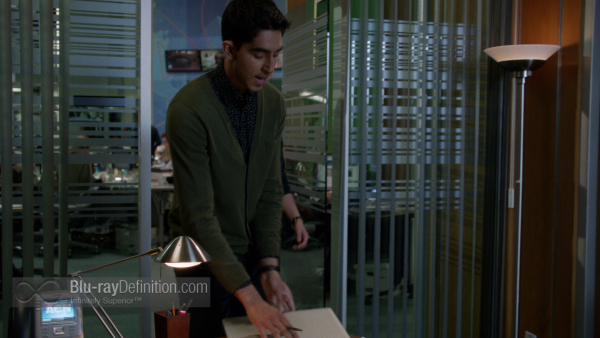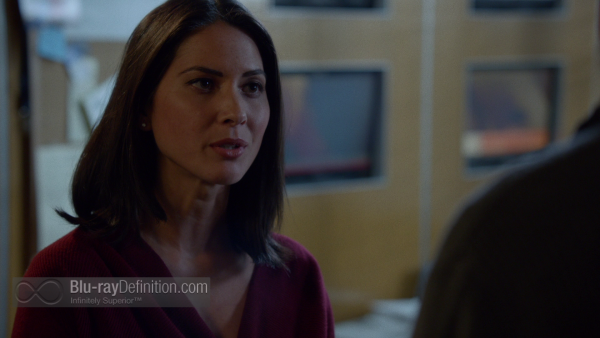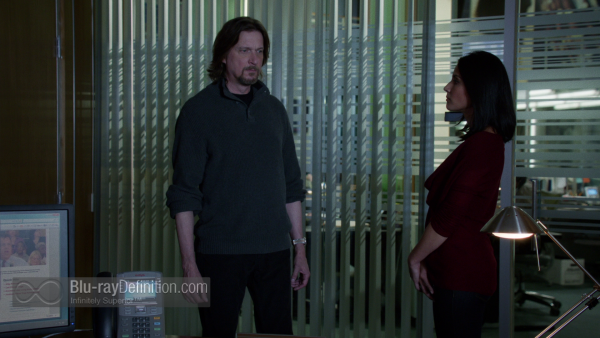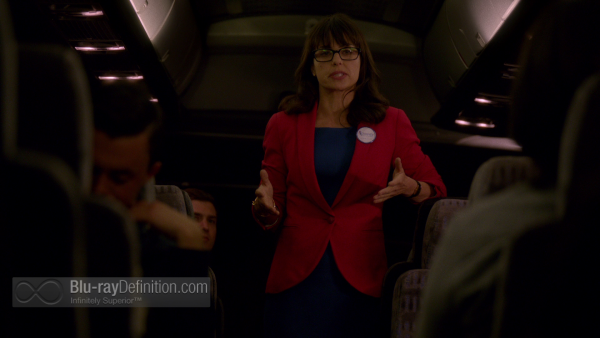 [amazon-product]B00E3HDWRE[/amazon-product]