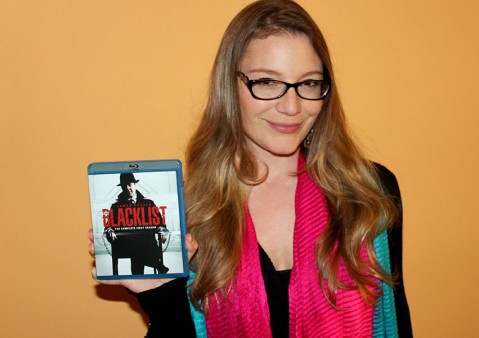 One of the most entertaining new series I've seen all year! The pilot was so captivating I forgot I was making dinner, luckily my home is equipped with plenty of smoke alarms. While it's not as beautiful to watch as other shows, when it comes to material this NBC network series holds its own in a world ruled by HBO originals.
The Blacklist is a fast paced crime drama built around the authentically talented star, James Spader (Secretary), whose performance, incidentally, garnered him a Golden Globe nomination. He's phenomenal in this role giving a stellar performance you won't want to miss. Spader stars as an ex-government agent and one of the FBI's most wanted fugitives, Raymond "Red" Reddington. With allegiance to no one but himself, he's the notorious crime czar who brokers deals among criminals and is often referred to as "the concierge of crime."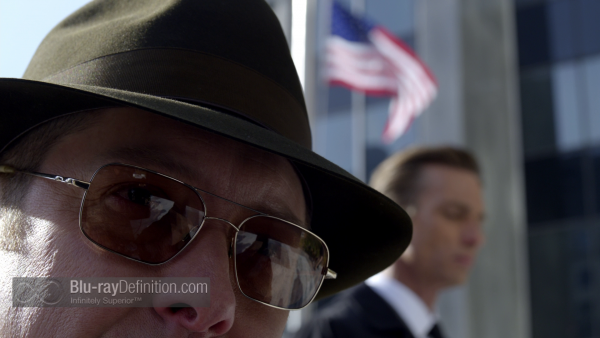 In a manipulative move that sets the series' tone, Reddington turns himself into the authorities thereby negotiating the terms of his capture. He offers to provide the FBI with details of criminals so elusive the agency doesn't even know they exist, it's what he refers to as the "blacklist" and in exchange they are to meet his demands. Sleeping no more than two nights in a row at a five-star hotel, remaining unshackled to move about as he wines, dines and shops so as not to alert his colleagues, and speaking only with special agent Elizabeth Keen (Megan Boone, My Bloody Valentine) are just some of Reddington's unusual terms.
This last demand comes as a surprise to everyone at the agency – it's only Elizabeth Keen's first day on the job! Yet a high profile criminal is already requesting her. It's enough to make her colleagues suspicious, they start to wonder if there is more to Elizabeth than what the background check turned up. Elizabeth's partner, veteran agent Donald Ressler (Diego Klattenhoff, Pacific Rim) shows her the ropes while also keeping a close but wary eye on her.
Boone pulls out all the stops and plays to her strengths which at times means portraying one very conflicted rookie. She gains momentum with the series, learning who she is while on the job. And part of that discovery is led by Red.
The complex mystery that is Reddington unfolds within cleverly written bits of subtly disguised dialogue. If you're listening attentively you'll be able to make an educated guess as to why he works so diligently with Elizabeth and why she's "special." He's a master manipulator yet when it comes to this rookie his heart melts with endearment like an ice cream sandwich left in the sun.
While James Spader carries the bulk of the show with Megan Boone's assistance, there are still a few noteworthy players. Amir Arison (Vamps) plays Aram Mojtabai a geeky FBI agent who functions as the computer specialist. He's a team player most of the time and is more of the sensitive type rather than a courageous alpha male. Then there's Parminder Nagra (Bend It Like Beckham) who plays bone breaking CIA operative, Meera Malik; she's a strong female character who won't hesitate to shoot. Her character is sure to surprise in more ways than one. Harry Lennix (Man of Steel) plays ex-military man and veteran FBI agent Harold Cooper. He's one of the few characters on the show that has a history with Red.
Now back to Boone and Spader. Not only do these two have the best scenes, dialogue and screen presence but their characters are essential to the show's survival. All other characters so far pale in comparison and have only been written to be mildly interesting at best. Tom Keen (Ryan Eggold, Trophy Kids), Elizabeth's dodgy husband with a secret past has the potential to become a more interesting character, if given a chance next season. Perhaps the show will grow to be an ensemble cast one day, but even if it doesn't it can still be wildly successful resting on the Spader's broad shoulders.
VIDEO QUALITY
[Rating:4.5/5]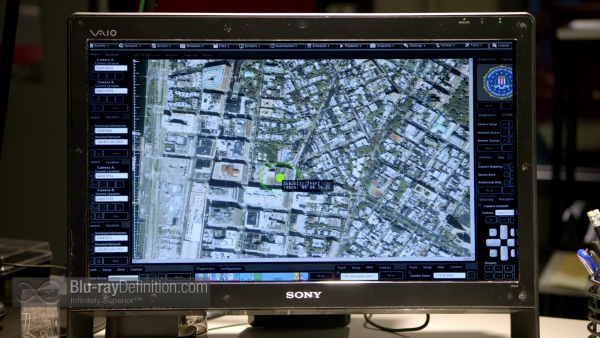 Presented in a 1080p 1.78:1 transfer, The Blacklist won't disappoint when it comes to image quality. With spectacular visuals and well balanced colors this is a vivid and well rendered series. Texture was quite prominent in nearly every episode, from the craftsmanship of Red's hats, to the fabric on the agent's suits not to mention the lush exterior shots, all of which made for some compelling visuals. The CG wasn't perfect, and at times stood out in a way you wish it didn't. Thankfully the material was too riveting to bother with trivial distractions like the glaring CG. It's one of the show's very minor flaws. Other than that there really isn't anything to complain about.
AUDIO QUALITY
[Rating:5/5]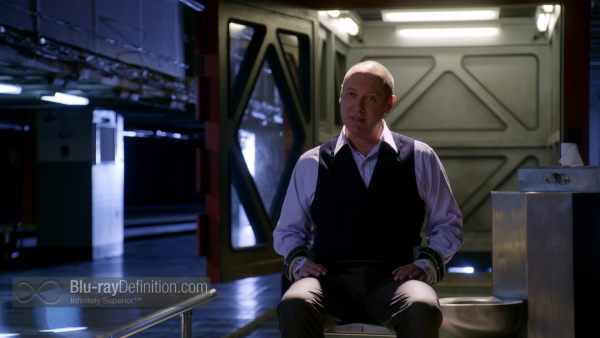 Presented in a DTS-HD Master Audio 5.1, this is a soundtrack you'll be sure to remember. With perfectly balanced ambience whether in an office, jetting off to another part of the country or taking a stroll in the park the audio masterfully sets the scene. My surround channels were given an obvious workout, plenty of action coming through my rear speakers creating that much sought after immersive effect. Gunshots thunder through the speakers, whispers sashay in, and some of the gentle low frequency sounds will have you wondering if it's on your TV or coming from outside. I had to pause several times to verify this. Truly impressive audio that hits you over the head during fight sequences – just the way I like it!
SPECIAL FEATURES
[Rating:4/5]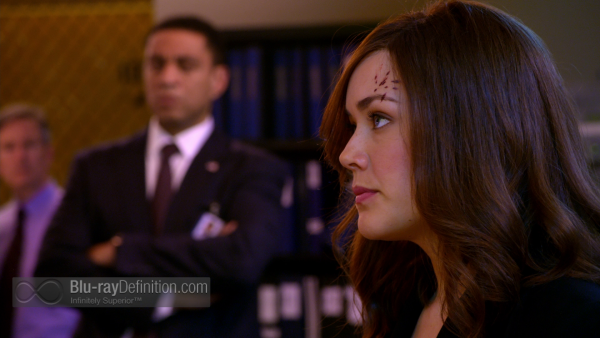 Disc One:
Audio commentary (on the pilot) with Jon Bokenkamp, Executive Producer John Eisendrath and Executive Producer/Pilot Director Joe Carnahan
Character Dossier: Aram Mojtabai – Amir Arison and executive producers discuss his character.
Inception: Making the Pilot – an inside look at how the series came together with commentary from Executive Producer Jon Bokenkamp, Executive Producer John Eisendrath and Executive Producer/Pilot Director Joe Carnahan.
Beyond the Blacklist (for episodes 1-5): a mini featurette that provides extra insight into each episode.
Disc Two:
Character Dossier: Meera Malik- Parminder Nagra and executive producers discuss her character.
Character Dossier: Harold Cooper-  Harry Lennix and executive producers discuss his character.
The Insider: Behind the Scenes of Season One- cast and crew talk about what makes this show great and how it has all come together.
Beyond the Blacklist (for episodes 6-10): a mini featurette that provides extra insight into each episode
Disc Three:
Character Dossier: Donald Ressler – Diego Klattenhof  and executive producers discuss who he portrays
Rogues' Gallery: The Blacklisters –  lengthy discussion with cast and crew about the variety of villains in this series.
Beyond the Blacklist (for episodes 11-14): a mini featurette that provides extra insight into each episode
Disc Four:
Character Dossier: Tom Keen – executive producers and actor Ryan Eggold discuss his character.
Beyond the Blacklist (for episodes 15-18): a mini featurette that provides extra insight into each episode
Disc Five:
Character Dossier: Elizabeth Keen – Megan Boone reflects on who her character is.
Character Dossier: Raymond Reddington – James Spader,Megan Boone, and executive producers chat about who Reddington is.
Beyond the Blacklist (for episodes 19-22): a mini featurette that provides extra insight into each episode
Aurora Snow Says
OVERALL:
[Rating:4.5/5]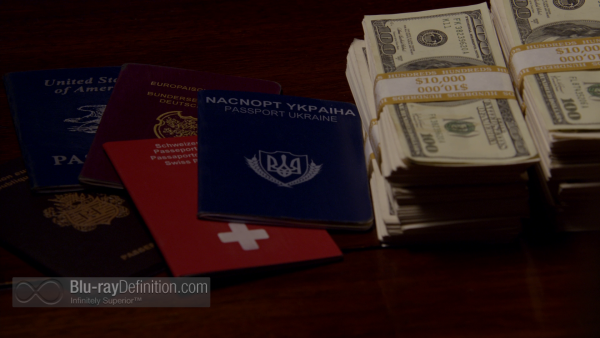 Loved this series! It's a quality action/drama series with a fascinating lead and strong female characters. It can be watched episodically or as a marathon. I was hooked from the pilot and on. I couldn't stop watching it and greedily took it all in within a matter of days. Now I'm chomping at the bit, ready for season two. I highly recommend this show!
More Screen Captures
[amazon-product]B00FZ2NASC[/amazon-product]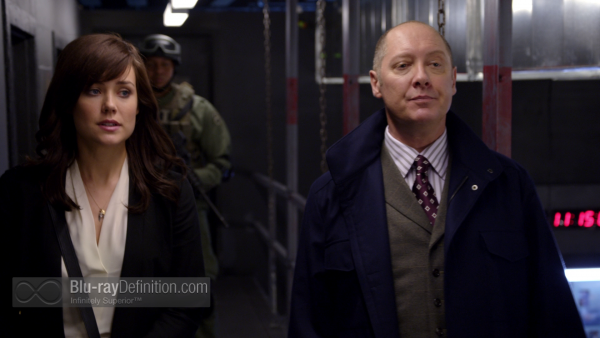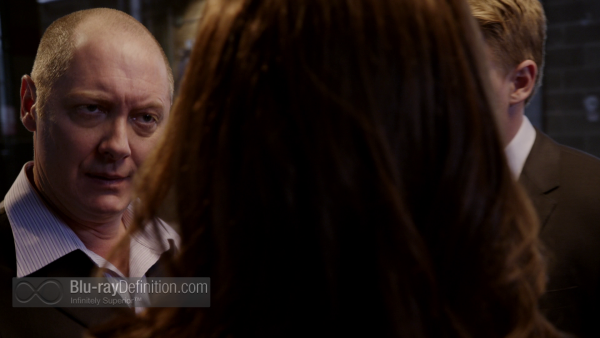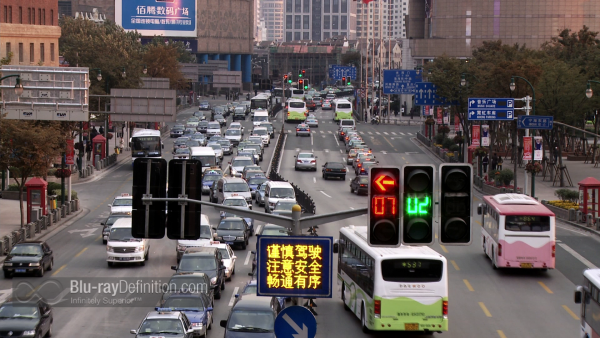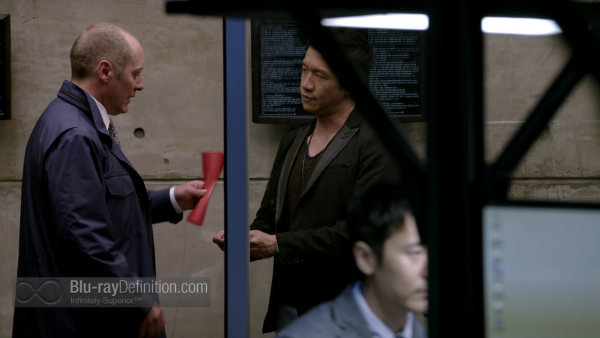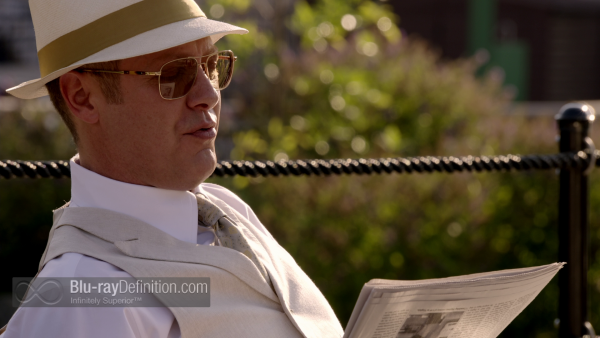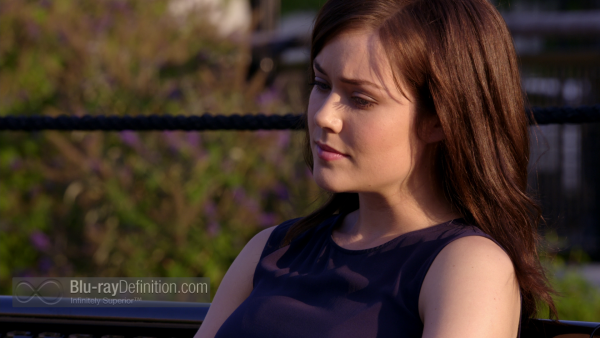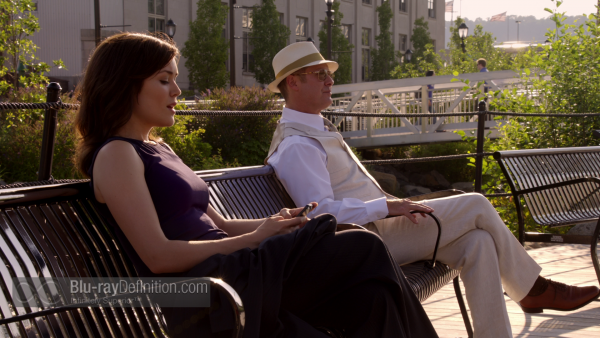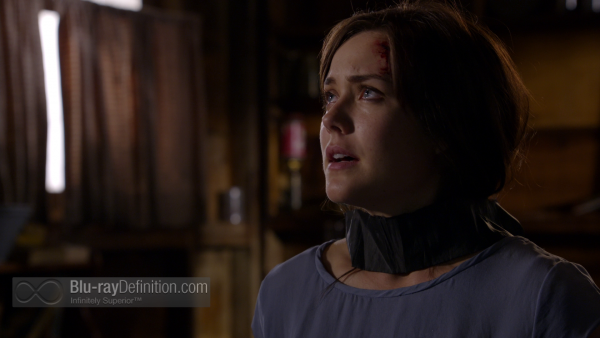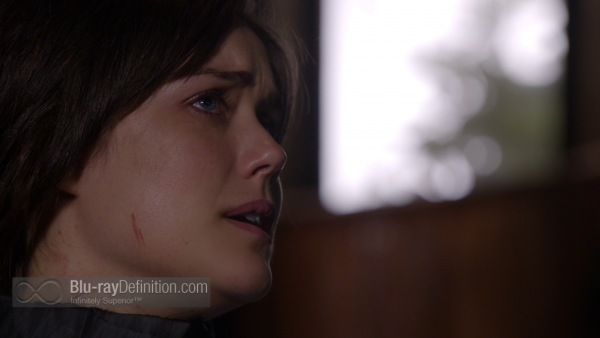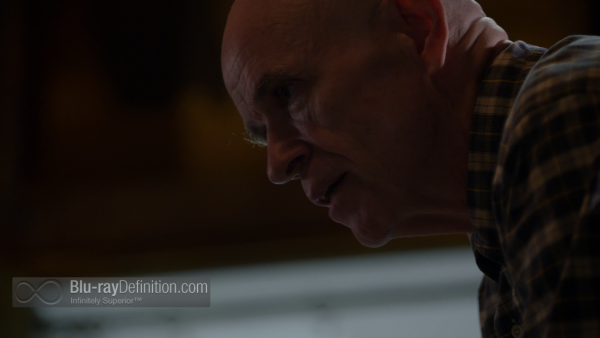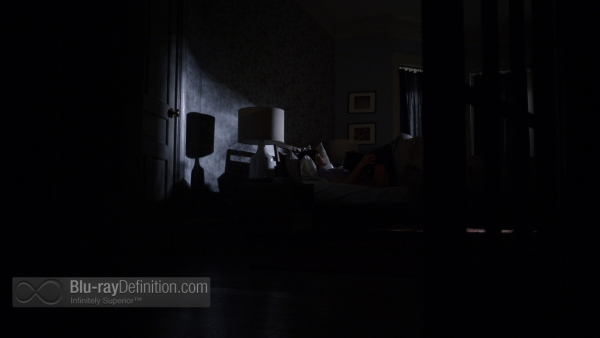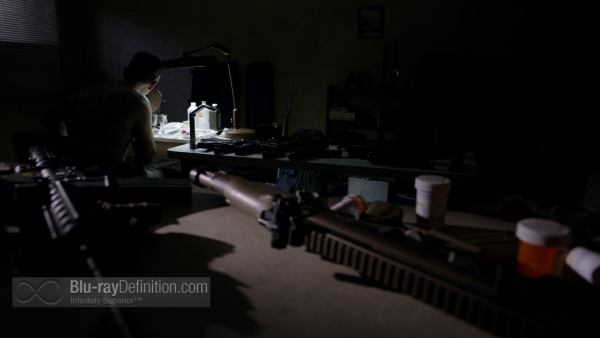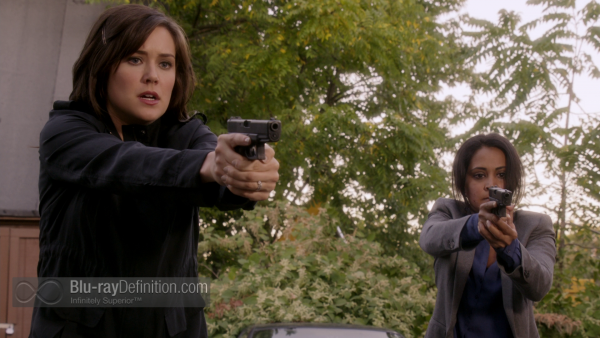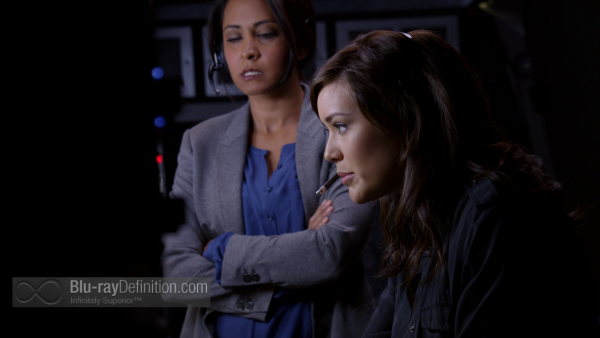 [amazon-product]B00FZ2NASC[/amazon-product]