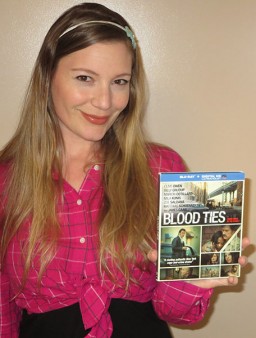 Don't you hate it when a movie doesn't live up to its potential? You see a kick-ass trailer with a star studded cast, your hopes are high, you're on the edge of your seat giddy with excitement as the movie starts… and thirty minutes later you are still waiting with baited breath. I had high hopes for Blood Ties, but it puts patience to the test, making you slog through almost an hour of footage before paying off. At which point you have to ask yourself, is it worth it?
Two brothers on opposite sides of the law remind us of just how complicated family can be but this goes beyond sibling rivalry. When ex-con Chris (Clive Owen) is released from his nine year sentence his younger brother Frank (Billy Crudup) hesitantly welcomes him home offering a place to live and a temporary job. With two drastically different personalities the only bond they share is family. Yet it's that unique blood bond that prevails long after they've gone their separate ways into adulthood.
Transitioning away from a life of crime, walking the good old fashioned straight and narrow path of honest work, back breaking labor, shitty bosses and low pay proves to be more than Chris can handle. Owen delivers a great performance as a convincing morally bankrupt criminal you can't help but like.
When an old acquaintance surfaces offering to cut Chris in on a new "job" he barely thinks it over. A romanticist would say he did it for love, but a realist would say he did it for money. The two women in his life, his current squeeze played by the effervescent Mila Kunis and hooker/mother of his children Marion Cotillard, amplified his feelings of need and duty to provide, and for a man like Chris there's only one solution to problems like these. And it has nothing to do with honest work.
While Chris is out raising hell Frank slaves away, dedicated to being a good cop. Despite being a man of high moral, Frank finds himself in the midst of complicated relationships from the issues with his brother to falling in love with Vanessa (Zoe Saldana), a married woman he was afraid to be seen in public with.  In Franks book, she has two strikes against her: married to a criminal Frank is in pursuit of and she's black. It's the 1970s and interracial couples still have societal pressures and obstacles to overcome. While it's hard to imagine today, these are valid struggles for a even a non-bigoted character to have. In the end Frank is ruled by his heart and rewarded lovingly in return for his decisions.
French director Guillaume Canet presents a meticulously believable period film set in 1970s New York. From the exquisite set design, to the old fashioned police cars and snazzy wardrobe it's hard to believe this wasn't shot 40 years ago which is a true testament to the care placed on the reconstruction of this era. The 70s were known for its hideous wallpaper and this film has plenty of it.
Unfortunately Canet fails to give his talented cast the same kind of attention he pays to the film's decor. Potentially fascinating supporting characters are never fully developed, leaving the audience wondering why those sparks failed to ignite. While there was so much left undone with Chris' love interest and his kids, his father played by James Caan and sister Marie (Lili Tayor) felt completely unnecessary. And why underuse Mila Kunis?! Needless to say, there were some glaring oversights.
VIDEO QUALITY
[Rating:3/5]
This AVC encoded 1080p transfer in 2.39:1 comes with a grainy feel evocative of the 1970s era and fails to be as crisp as you'd expect a film shot on the digital Arri Alexa to be. It lacks the luster typically associated with the Alexa camera, which is a shame considering how much effort went into recreating a detailed depiction of the era. For as ugly as it is, we should be able to see every minute detail of the carefully picked wallpaper, but we can't. It's  a soft representation with subpar contrast. Thanks to the movies primarily yellow and brown hued color palette, actors frequently have a jaundiced look.
AUDIO QUALITY
[Rating:4/5]
This DTS-HD Master Audio 5.1 is a well presented mix with little to complain about it. Dialogue is cleanly presented and is never lost to the action on screen. There was a liberal use of source cues, that at times felt overwhelming but still sounded fantastic. Fight sequences, gun shots and car chases brought you closer to the action with the use of appropriate audio channels. All in all a perfectly decent audio experience.
SPECIAL FEATURES
[Rating:1/5]
Behind the Scenes
Theatrical Trailers
Aurora Snow Says
OVERALL:
[Rating:3/5]
Despite a few quality performances the lethargic pace of this film suffocates some of its higher points. The third act surprisingly picked up the pace and paid off, but at that point I was questioning whether or not the investment was worth it. Too many unfocused story threads distract from the real meat of the piece, turning a potentially riveting film into a bloated behemoth that falls short.
[amazon-product]B00IKM5LT0[/amazon-product]