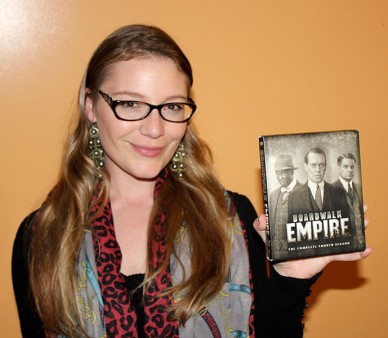 Welcome back to the boardwalk! Season four picks up about eight months later and admittedly is a little slow out the gate. This has never been a fast paced series, so don't expect edge-of-your-seat action. Instead what you get with this visually riveting series are fascinating characters with storylines you'll eventually warm up to.
Bootlegging is big business, creating business opportunities just about everywhere. Nucky Thompson (Steve Buscemi, Reservoir Dogs) is now looking to expand his operation to Florida. His heart doesn't seem to be in the game these days though a certain blond gal may have something to say about that.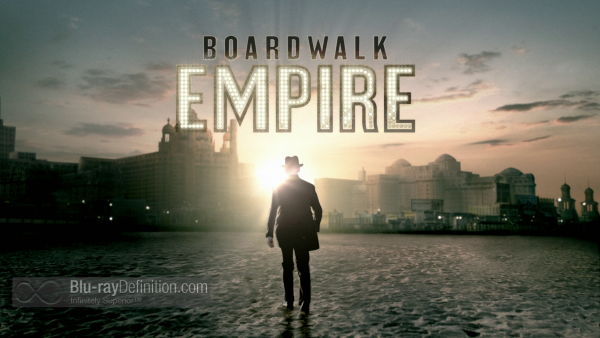 Patricia Arquette (TV's Medium) guest stars as Sally Wheet the strong minded Florida bar tender that quickly becomes Nucky's new love interest. Not only does she spark his interest by throwing a few punches, she then talks her way into a partnership handling some of his Florida business while he's away. Nucky's intrigued with this woman who can take him or leave him. Arquette and Buscemi really sell the relationship, their chemistry, adoration and repulsion for one another is captivating.
Just about everyone who ever works with (or beds) Nucky ends up dead, though not necessarily by his hand. So it should come as no surprise that this season deals the audience a terrible blow by robbing us of yet another beloved, major character. In addition to the shocking death of a supporting character who was finally coming into his own. It's hard to say goodbye to interesting characters, especially because as a character Nucky doesn't have enough charisma to carry an entire show alone.
Chalky White (Michael Kenneth Williams, 12 Years A Slave) has risen in the ranks, coming into his own with his new club featuring black performers entertaining white crowds. It's where the white people go to let loose and be waited on. Club chanteuse Daughter Maitland catches Chalky's eye and proves to be quite the distraction at The Onyx.
It's in this club where we first meet Dr.Valentin Narcisse (Jeffrey Wright, Source Code), an overly calm, suspiciously well mannered individual. The head of the "Universal Negro Improvement Association," Dr. Narcisse claims to be a man of principle, yet through his underground business dealings and feud with Chalky we discover his darker side.
Wright plays his character with just the right amount of pretension and ego, I couldn't imagine anyone else in the role. He quickly becomes one of the season's most fascinating new characters.
Eddie Kessler (Anthony Laciura, Crackers) is finally fleshed into a fuller-bodied character. He gets a promotion, and it ends up being more than he can handle. He quickly becomes Nucky's right hand man dealing with sensitive business and personal matters. It's the position Margaret (Kelly MacDonald, Brave) could have had if she was willing to accept Nucky's life of crime. Instead she's working for a stockbroker on Wall Street who has questionable ethics of his own.
Richard Harrow (Jack Huston, American Hustle) finally wants to bury his past and settle down. He's no longer the killer that he was, all he wants now is a normal job. He wants to discover what life is like with Julia, as a family man. Despite his new choices it's his career as a hit man that comes back to haunt him.
Nelson Van Alden (Michael Shannon, Man of Steel) is still around bouncing between Dean O'Banion (Arron Shiver, The Last Stand) and Al Capone's (Stephen Graham, Gang's of New York) group. Funny he hardly seems to be much of a threat at all. This season he plays a big tool, doing what he's told and not giving much thought to anything. He's just a hired gun until something in him snaps.
Gillian (Gretchen Mol, 3:10 To Yuma ) is still up to her old tricks, addicted to drugs and fighting for Tommy. She finds herself agreeing to pose as Roy Phillips' (Ron Livingston, The Conjuring) wife never guessing the real reason she's been asked. Roy seems too good to be true. And as usual Gillian is so focused on herself she misses the bigger picture.
Eli's (Shea Whigham, Silver Linings Playbook) slow-boiling frustrations with his brother, Nucky, build to an explosive point this season. He gets into an altercation with FBI Agent JamesTolliver  (Brian Geraghty, Flight) who poses as "Knox," one that will forever change the course of his narration. It will also send him running right into the welcome arms of the Capones. But it's Eli's betrayals that hurt Nucky the most. And yet I think Eli's underlying motivations were noble. Everything he did, he did for his son Willie.
The appearance of fictionalized historical characters Arnold Rothstein, Lucky Luciano and J.Edgar Hoover add a sense of authenticity to this fabricated period piece. One gets a strong sense of how Nucky Thompson is based on a real gangster from that era.
VIDEO QUALITY
[Rating:4.5/5]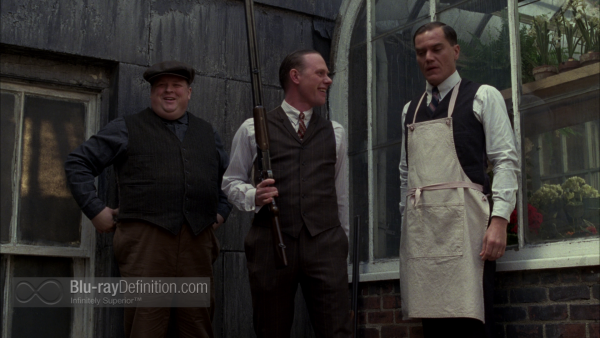 Nicely presented in a 1080p AVC encoded transfer in 1.78:1, this is an eye-catching series you must see in HD to appreciate. It's a consistently clean presentation with sharp details that really come to life in the exterior shots and close-ups. In period pieces, wardrobe can set a scene so it's particularly electrifying to see them on full display. The make-up and hairstyles are also well pronounced, with the women's red lipstick practically leaping off screen. Though this is a fairly dark show, the use of color was well planned and richly done. This show offers a nice contrast and consistent levels with only mild crushing in a few episodes.
AUDIO QUALITY
[Rating:4.5/5]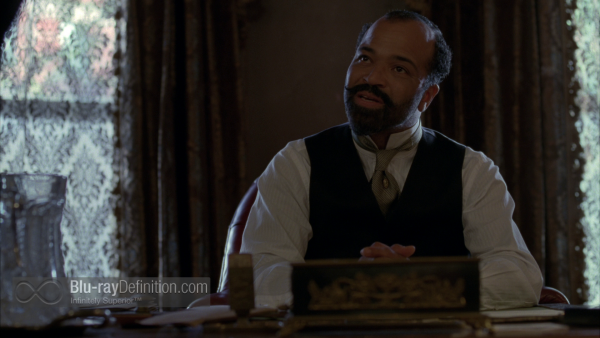 Presented in DTS-HD Master Audio 5.1 this is an immersive soundtrack sure to please. Dialogue is never lost or distorted, well presented in every episode. The LFE and rear channels draw you in, placing you in the center of whatever is going on whether it's a gun fight, fist fight, or a hot number at the club you'll soaking up the sound. Fantastic period music from the era will jazz you up and set the series in motion.
SPECIAL FEATURES
[Rating:4/5]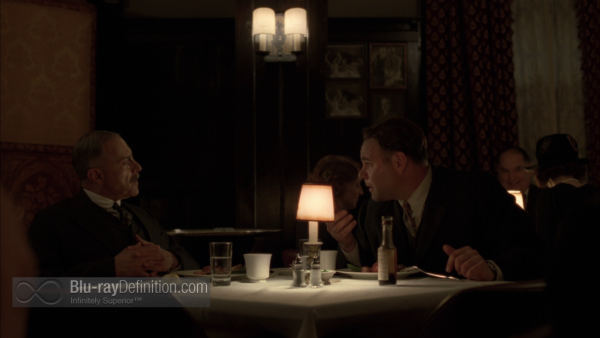 DISC ONE:
Audio Commentaries
Boardwalk Chronicles – an in-episode guide that offers historical facts plus additional  character and location information.
Season 3 Revisited: a refresher and recap of season three
DISC TWO:
Audio Commentaries
Boardwalk Chronicles: an in-episode guide that offers historical facts plus additional  character and location information.
PaleyFest: Made in NY Panel: cast and crew participate in a mid-season Q&A panel
DISC THREE:
Audio Commentaries
Boardwalk Chronicles: an in-episode guide that offers historical facts plus additional character and location information.
DISC FOUR:
Audio Commentaries
Boardwalk Chronicles: an in-episode guide that offers historical facts plus additional  character and location information.
The Onyx Club: A Step Back in Time : a fun behind the scenes look at how the club came together and the number of opportunities it presented.
Becoming Harrow: executive producer/director Tim Van Patten and actor Jack Huston discuss the creation and execution of his character.
New Characters: many new faces this season, get to know them all more intimately with this guide.
Scouting the Boardwalk: a guide to some of the beautiful locations and sets used to set the stage for this season.
Aurora Snow Says
OVERALL:
[Rating:4/5]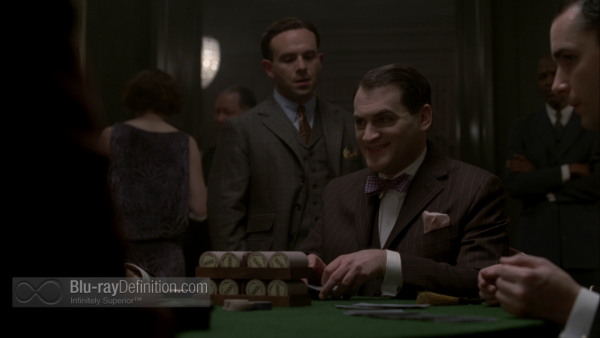 Most of this season has been built around backing Nucky into a corner — a familiar storyline fans have come to expect. Since Nucky always comes out on top, there's very little suspense in this retreaded territory. Except this time it all falls apart. Which is in my opinion one of the biggest surprises of the season. This wasn't the most captivating season, but for the fans, it's still worth watching. It definitely sets the stage for what I expect to be a very climactic final season.
More Screen Captures
[amazon-product]B00FEP9PQG[/amazon-product]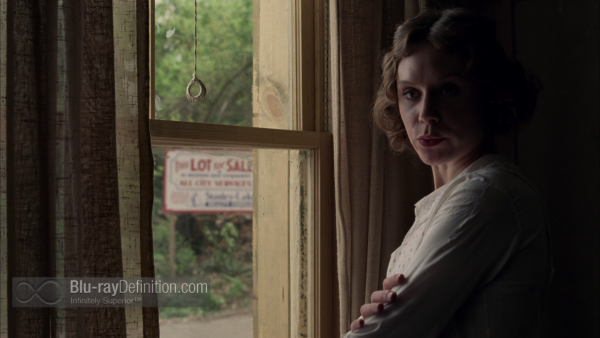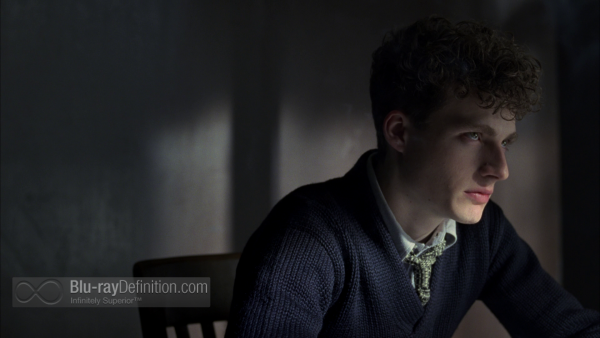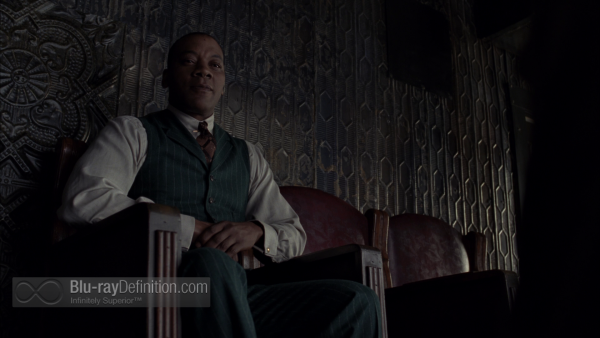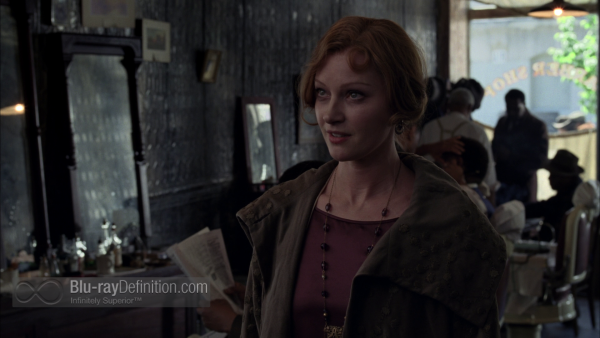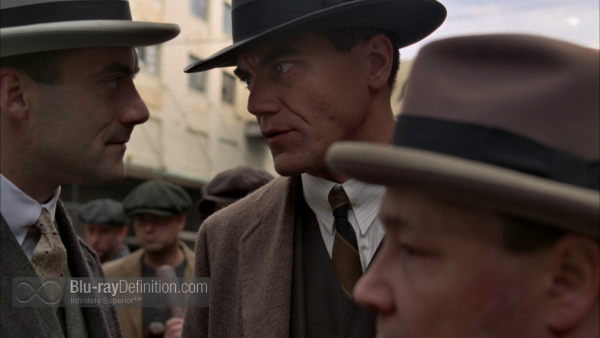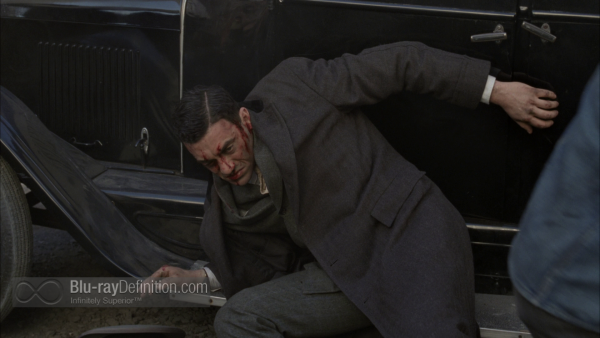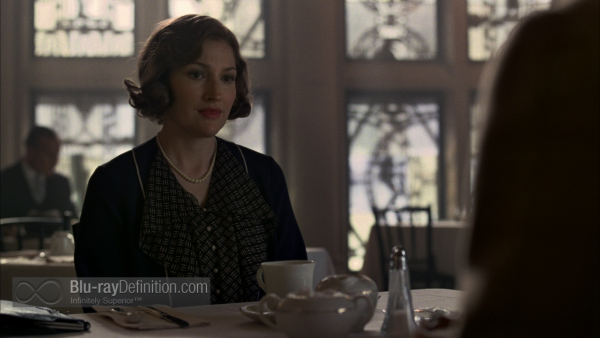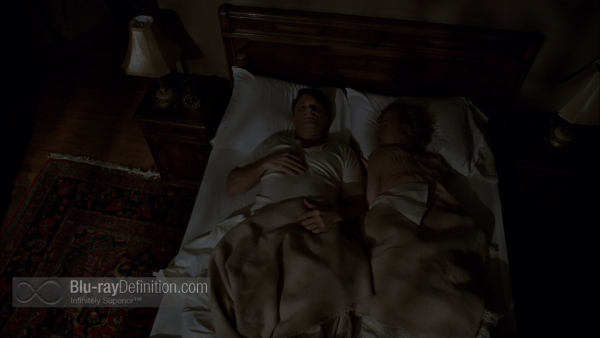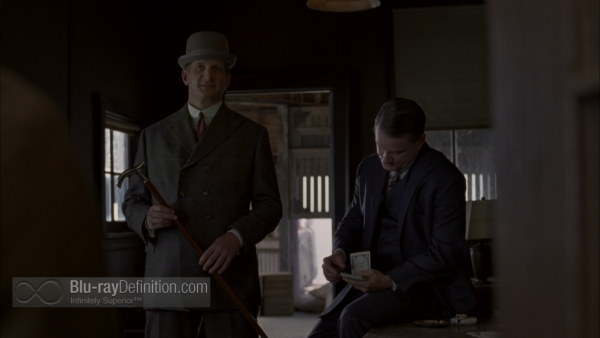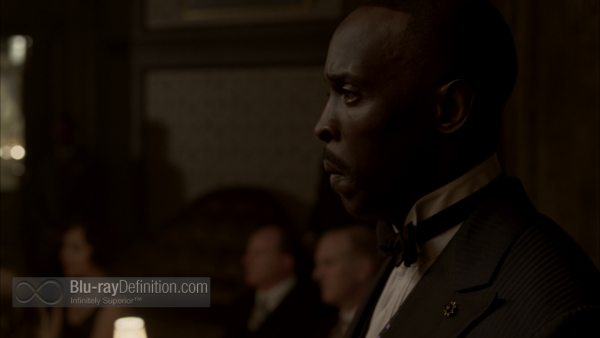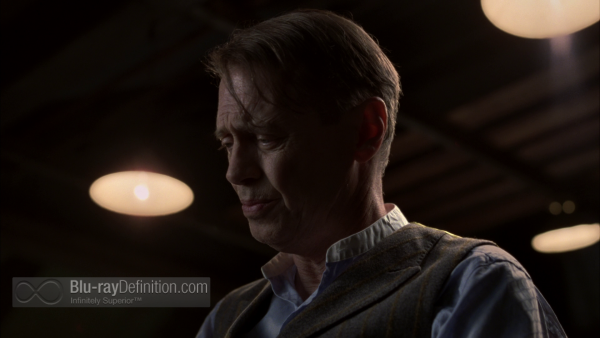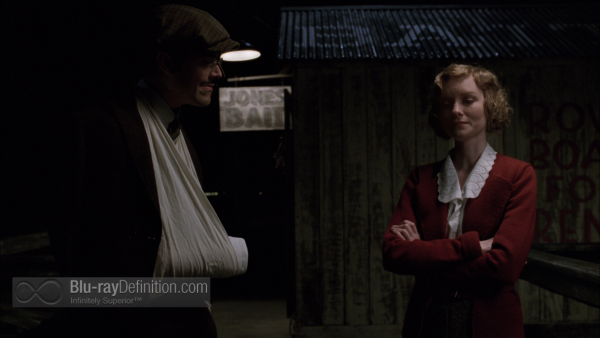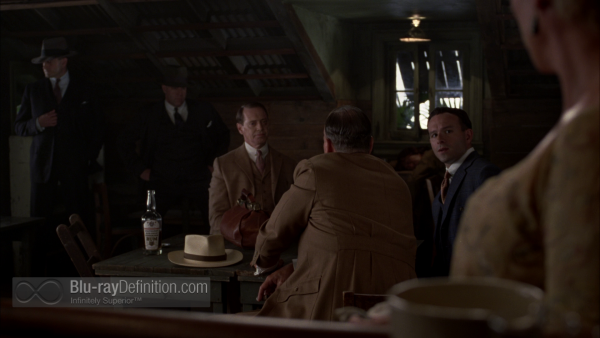 [amazon-product]B00FEP9PQG[/amazon-product]