"Fall"
Sometimes it's the people closest to us that we hurt the most. Whether it's because loved ones are given more power over us or because they know us best and vice versa is hard to say. But regardless of why, it's often those we hold most dear that we punish. And in this episode of OUAT nothing could be truer.
The Spell of Shattered Sight is moving in as the Storybrooke townsfolk prepare for it. With no magic powerful enough to ward it off, they must formulate a plan to co-exist within the spell without killing those they love most. In other words, they've resigned themselves to their fate.
As usual, Rumpel has negotiated a loophole but this time he's bargained for more than just himself. With the help of his new slave (poor Hook!), Rumpel plans to destroy the fairies feeble attempts at a cure while simultaneously saving himself, Belle and Henry. Clueless about Rumpel's involvement, Emma, Elsa and Belle strive to combat the impending doom. Belle discovers a cure, but first she'll need a little something from someone who has once been affected. Kind of like sharing the anti-bodies from someone who has been sick but survived, which means this curse is more like a disease than anyone would care to admit.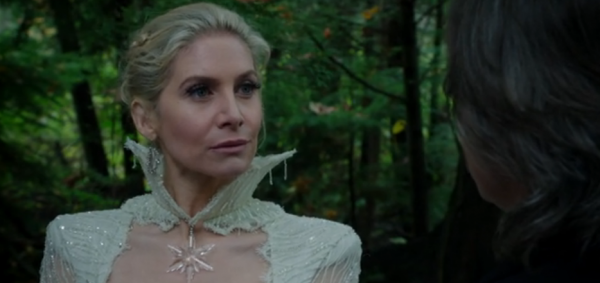 Hook has emerged as a likeable, honorable guy. He may be the only truly reformed villain on the show. Even though he's lying to Emma right now, his intentions are pure. And if Once Upon a Time has taught me anything, it's that intent always matters.
Meanwhile Elsa and Anna are finally on the verge of coming together. We flashback to Arendelle where — surprise! — Anna has been frozen for the last 30 years. Whew! I was wondering how a young Elsa and an aged Anna were going to work out. Thanks OUAT writers, you think of everything! Unfrozen and perfectly preserved the entertaining duo, Anna and Kristoff, go on another adventure in search of a wishing star, a pirate and Elsa. Anna gets into all sorts of trouble while making some startling discoveries of her own while coming face to face with the dreaded Blackbeard.
Possessed with blind pluck, Anna courageously pushes forward while tempting fate. So focused on finding her sister, it would be hard to call this anything else but true love. But things are not up to Anna, and as fate would have it Elsa has come to possess the wishing star, a discovery she made quite by accident. I love this wishing star mention! Thank you OUAT – keep those Disney references coming!
Thanks to a well-timed wish, on the wishing star of course (what else right?) Elsa and Anna are reunited. But don't get too excited, because while happy, their reunion isn't enough to save Storybrooke. Nothing is.
So now my question is, how will this curse affect the sisters? If Elsa is immune and Anna has already been affected once before, does that mean they'll both survive with their relationship intact? Can't imagine the Snow Queen will take too kindly to Anna's arrival.
What an ending! OUAT has outdone itself this week. The show has not only picked up the pace but also left us with an ending that leaves us begging for more. This is an episode you won't want to miss!
Aurora Snow Says
Episode Rating:
[Rating:4.5/5]