"Enter the Dragon"

It's the return of the Evil Queen! Sort of.
And what better proof of Regina's dark desires than her sensational wardrobe? Dressed to kill in a sleek A-line leather skirt befitting a power hungry dominatrix, Regina shows the girls she's still got it.
Pressured to prove she hasn't gone soft Regina lets loose, knocks back a few drinks, burns a cop car all to secure her villain status in the eyes of Maleficent, Ursula and Cruella De Vil. Such peons wouldn't normally matter to a super villain such as Regina but it's the only way she knows to earn their trust and learn their secrets. The three are hiding a powerful dark magic and only Regina can discover who or what that is.
Deep undercover in this newly formed girls gang, Regina begins to light up, remembering her past alliance with Maleficent. Like long lost BFFs, Regina and Maleficent sizzle on screen — talk about a wicked duo! The women have bonded over loss, betrayals, and of course Rumplestiltskin. With an intuitive understanding of one another, they communicate in a way only close friends can. The friendship makes Maleficent all that much more endearing. As for the others, I still don't care much for Ursula or Cruella; they remain as one dimensional as ever.
Kristin Bauer van Straten radiates on screen, her presence as Maleficent is not to be ignored. And neither should her character's fashion sense. WOW — what a wardrobe! I love the film noir look on her. She pulls it off magnificently. Those red lips, big eyes and coiffed blonde curls under a gray gumshoe hat, her Storybrooke style is perfect! The show's stylist really knocked it out of the park with this one. Home run all the way. It sure beats the chintzy looking costumes Ursula and Cruella are forced to wear. Wardrobe on this show can really set a character apart.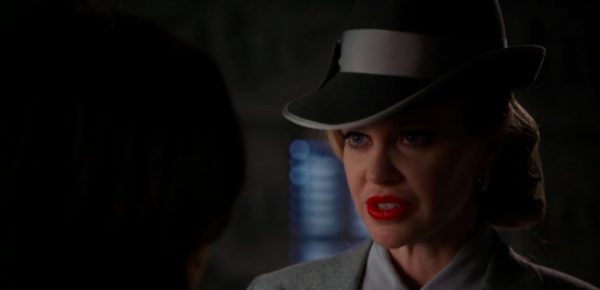 The Dark One is back to his old tricks. The moment Killian roughly shouldered Will to break up Belle's date I knew something was up. Belle's romantic life had never been an interest of his before and I was sure that hadn't changed. That pirate only has eyes for Emma. So it was no surprise to hear him ask for the dagger, in that moment I knew it had to be Rumple undercover. Clever little man. Tricking Belle into handing over the dagger. She is way too trusting! If anyone came sniffing around for such a powerful object, even someone I knew, I'd be terribly suspicious. But not Belle.
Emma on the other hand is constantly suspicious. She knows better than to let Regina go undercover alone. Emma understands the risks being undercover presents, having done it one too many times herself. Funny, but Henry's two mothers are getting along the way he'd always hoped they would. But it might not last. This marks the beginning of Regina's war — with herself. Old habits are hard to break and even easier to return to. With each evil deed Regina becomes closer to her old self. Sometimes going undercover isn't worth the risk.
The newly formed bad girls club is merely the beginning of an end. With the Dark One on their side, these villains plan to flip the world as we know it upside down — in their version only villains get happy endings, the heroes will lose. A war is coming. And the brokenhearted Dark One is all too happy to throw the first punch. My only question is — how far will Regina go, is she willing to die like a hero or live like a villain?

Aurora Snow Says

Episode Rating:
[Rating:4.5/5]