"Best Laid Plans"
At last the Author is revealed! And it's nothing like you'd expect.
He's not the gifted wordsmith I imagined him to be, recording history and weaving memorable fairytales for all to enjoy. Instead he's a rather impish character with mischievous intentions. He'd rather stir the pot and create chaos than tell a tale with a happy ending. It's no wonder the Sorcerer locked him in the book! It would seem the author's imprisonment did little good. He's learned nothing from his misdeeds. Given his penchant for a "good story" the author may be all too happy to alter the balance of good and evil, he might enjoy giving the villains exactly what they want. And now that he's loose in Storybrooke anything goes!
If the author is responsible for the stories, then perhaps the mistakes of the past are his to bear and not our heroes? It's rather difficult to think of Snow White and Prince Charming as baby snatchers. Nonetheless, they are. Snow interpreted her unicorn induced premonition to mean baby Emma was going to be evil. Which was silly, since all she really saw was an obnoxious teenager. Apparently it was enough to send the nervous mother-to-be into a kidnapping frenzy. I blame the hormones. Obviously Snow White wasn't thinking clearly, she's pregnant, hormonal and frightened. At this point Prince Charming should have stepped in as the voice of reason. But he didn't. As usual he just went along with Snow and did whatever she told him to do. Which is how our two heroes ended up being the bad guys.
Maleficent is looking less like a villain and more like a victim (not that she'd label herself that way). Before Snow White became an egg snatching baby thief, Maleficent appealed to Snow, mother to mother. She transformed from an angry dragon trying to a women in a shimmery gray maternity dress with her hair softly parted down the middle, batting her big blue eyes at Snow White  pleading with her but to no avail. It was a turning point. In that moment Snow could have changed directions but she refused to empathize with the fellow mother-to-be. From there it was one mistake after another. It was perhaps one of the worst things the Charmings had ever done, a secret they no doubt wished to keep.
But now we have our answers.
The secret is out.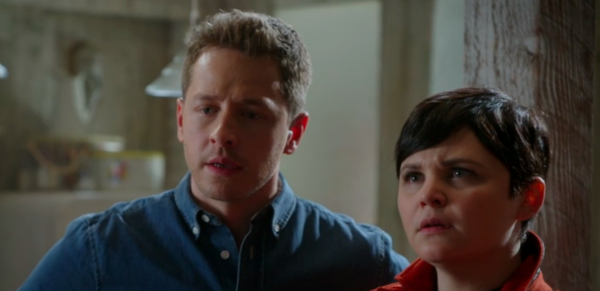 Although I imagine we should be shocked by the Charmings dark deed, something the Sorcerer said to the author reveals they are not entirely to blame. The author manipulated the story to make it, in his own opinion, better. Perhaps he had a point. Overcoming obstacles or tales of tragedy with happy endings do make for better stories. And for his error the author was banished. As was an innocent child.
After transferring all of unborn baby Emma's potential for darkness into Maleficent's spawn the Sorcerer then sent it into a world without magic. You know, where it would be essentially harmless. In an attempt to save the baby Cruella and Ursula were sucked into the vortex of modern day America which explains why they've pre-existed outside of Storybrooke for so long. Meanwhile Maleficent has mourned the loss of her child all these years. It's no wonder she's evil.
As it turns out Maleficent's daughter is in fact alive. Surprise! AND her daughter Lily is none other than the long lost childhood friend that broke Emma's heart. Obviously Lily is going to make a comeback as an adult, but how this will effect Emma is anyone's guess. And of course, it's all about Emma Swan.
I love how Once Upon a Time almost always revolves around the savior, she is after all the one person who ties it all together. Daughter to Snow White and Prince Charming, she bore Gold's grandchild who is now also Regina's son. So if anyone should be both the savior and the dark one shouldn't it be Henry? He seems to have the perfect lineage for such a walking contradiction whereas Emma is the product of true love, her ancestry full of do-gooders who make mistakes, but certainly no one as evil as Mr. Gold. If anything, I think Henry should begin to bear some of this magical responsibility and yet it keeps coming back to Emma. Is Emma doomed to pay for her parents' mistakes?
Aurora Snow Says
Episode Rating:
[Rating:3/5]