"Breaking Glass"
The hunt is on! From tracking down bad guys (or gals) to rediscovering the meaning of friendship this week's episode packs a powerful punch. And it's all about girl power! With a predominately female centric episode, the male cast is left standing in the shadows. As is often the case a women is causing trouble, last season it was the Wicked Witch and this time around it's the Snow Queen. However it is also a woman who comes to the rescue, she's the new knight in shining armor.
Elsa somewhat gullibly follows an apparition of her sister Anna through a dense forest and across a deep gulf, one that she had to build an ice bridge to cross. Had she stopped to ponder this for even a moment, she'd have realized her folly. But her fragile emotional state left her vulnerable and immune to logic. It's the only excuse I can come up with. It's plausible. Desperate to find her sister, it's obvious Elsa will do anything, even things that make no sense. While her emotional turbulence gets her into trouble, she manages to overcome her insecurities, which in turn frees her from the fear that holds her back.
In the nick of time, Elsa rescues her new Storybrooke friends. With her mighty long, and invisible, reach the Snow Queen had Emma and Regina by the throats. Hard to believe she has malicious intentions towards Emma. You know, because of their unexplained sordid history. The Snow Queen and Emma go back quite a ways. Way, way back. Back when Emma was a teen in foster care. Surprise! The Snow Queen must have the patience of a saint because it looks like she's been planning this for a very long time. Peculiar that Emma, with the superb memory, has no recollection of her foster mamma, isn't it?
Question is, what do Emma and Elsa have in common when it comes to the Snow Queen? I can't quite figure out what ties this all together. Family seems to be at the heart of it. And since everyone in Storybrooke seems weirdly related in one way or another (Regina adopted Henry, who is the grandson to both Rumpelstiltskin and Snow White, etc.), I'm waiting with bated breath for another family surprise.
Speaking of family, Mary Margaret is suffering from separation anxiety. New mothers often have trouble leaving their babies, and in Mary Margaret's case the fear is worse than usual. Though Prince Charming lives up to his moniker and charms her away for an hour. In that brief amount of time, MM managed to rediscover her individuality and strength as a woman. So wrapped up in motherhood she momentarily forgot how to live her own life. This was an important glimpse, a dash of reality cleverly inserted within the fairytale. I appreciate these "real world" moments, it grounds the fantasy making the unbelievable palatable.
Tonight's flashback brought us a young Emma, who hadn't yet learned how to forgive. Anyone else think Lilly looked like a young version of Regina? Which I am sure was the point- to reiterate the modern day problems Emma faced with her. Not one to walk away these days, Emma confronts the issue head on. For once Regina can say she has a friend, whether she likes it or not Emma might turn out to be the best thing that has happened to her. This frenemy relationship is on the verge of blossoming into a friendship. Come to think of it, Emma might be Regina's first real friend. Way to go Emma! It's about time.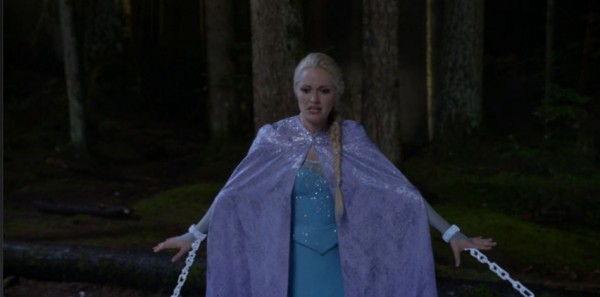 After Sydney's betrayal Regina doesn't have many friendly faces left. Though I can't blame Sydney for his lack of loyalty, he was (predictably) rebelling. Regina was too cocky. No one disobeys her, but that might be "old world" thinking. In this new world people have more freedoms than she realizes. If nothing else Sydney has taught her a valuable lesson. Bending someone to your will can have disastrous results.
Can't wait to see the Snow Queen's master plan revealed. What did she need a slice of Regina's mirror for? Thanks to an absorbing story, I hardly missed the musings of Rumpel. And I always miss him. Nonetheless I do hope he comes back next week.
Aurora Snow Says
Episode Rating:
[Rating:4/5]