"Smash the Mirror" Parts 1 & 2
I couldn't wait to watch this two hour special event. I was giddy with joy at the prospect of spending more time with one of my favorite shows. And while the extra time in Storybrooke was entertaining, I'm not sure it was well spent despite the enchanting revelations.
In an effort to break away from the dagger's power, Rumpel stoops to a new low. He ought to be ashamed of himself, but shame is not an emotion he dabbles in. Instead his strengths and weaknesses are one and the same: greed, power, and worst of all selfishness. What happened to the man that tried to save Neal? Is that nuanced version gone? I fear the complexities I once admired about the Dark One are quietly slipping away. In his singleminded quest to free himself from the dagger, he's reverted. And he doesn't seem to care. He's accepted who he is and believes Belle loves him regardless; she believes he can change and for that he loves her. Poor naïve Belle. Love can be so blind.
About the only one who seems to really get Rumpel, is his old nemesis Captain Hook and boy does that work against him! Captain Hook has worked so hard to turn over a new leaf as good guy "Killian" and it's all about to be undone. This guy can't catch a break and his love for Emma is about to be his undoing. You see, the secret ingredient for Rumpel's latest spell is a heart, but not just any old heart. As Rumpel put it, it must be the "heart of some one who knew me before I had the dagger… and as luck would have it dearie you're my oldest friend." Lucky Hook. He's about to become Rumpel's newest foot soldier.
"You're going to do everything I say because you're my puppet now," says Rumpel to Hook. I can see why that kind of power would be difficult to give up. And yet as mature adults, we can always find a reason to do the right thing.The thing is,  Rumpel is far from acting his age, he comes across as a spoiled child so accustomed to getting his way he just can't imagine life any other way, no matter the cost.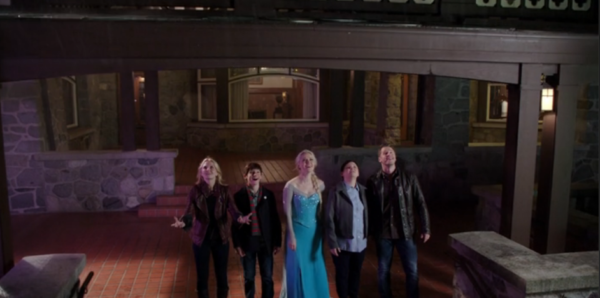 In her quest to build the perfect family, the Snow Queen encounters more than a few obstacles, but her toughest one might be the Dark One himself. Emma, plays right into his hands, willing to give up her power, so afraid of what it can do and who it can hurt she runs head first into his trap. Without her magical powers, Emma would cease to be the perfect sister for Ingrid. She would also cease to be the magical savior. It's what makes her special and to lose that would be to lose a piece of herself. And for what? If nothing else this episode stresses that we should embrace who we are, as we are.
By embracing who she is Emma will find self acceptance and with that comes the ability to control her powers. Which is pretty much the same thing Elsa had to discover. Coincidentally it's Elsa that gets through, it is she that talks Emma down, convincing her to keep her magic. Thanks to Rumpel, Elsa and Emma shared a sisterly moment which was all the Snow Queen needed to cast her curse. Funny how one villain's lost was another one's gain. There was a moment early on when the Snow Queen was genuinely concerned for Emma. You could see the heart in the monster. She wasn't always the coldhearted woman she is now, through a series of flashbacks to Arendelle all of our Snow Queen questions are answered. Oddly enough Ana did trap Elsa in that urn, but she wasn't in her right mind. She was the Snow Queen's guinea pig. The first to experience the curse of shattered sight. Soon all of Storybrooke will suffer the same. Are you ready to see the darkest sides of your favorite characters?
Over all it was entertaining and well worth watching for two hours. I just wish Rumpel had been the intricate character I've come to expect. Though his showdown with the Snow Queen has been the best battle of the minds yet. This certainly beats last season's Wicked Witch vs. Evil Queen face off.
Aurora Snow Says
Episode Rating:
[Rating:4/5]