– –

The Film
[Rating:3.5/5]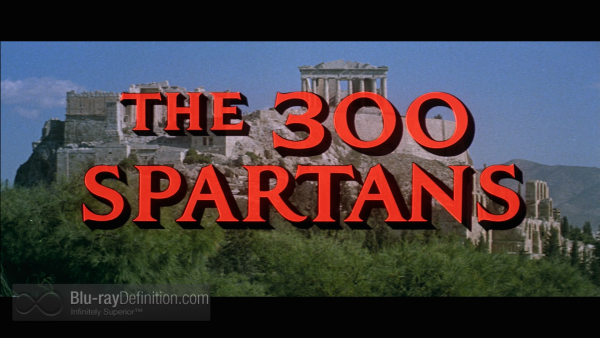 Four decades before Zach Snyder's screen realization of  Frank Miller's graphic novel 300, the story of the Spartan battle against the forces of Persian emperor Xerxes was told in The 300 Spartans, a 1962 widescreen epic, directed by Rudolph Maté, using a script that had five collaborators.
King Xerxes (David Farrar) has launched a military campaign against Greece as retribution for his father Darius's defeat in the Battle of Marathon. Meanwhile, the council of the Greek city states, debating the best course to take, are united by an agreement between Leonidas, Spartan king (Richard Egan) and Themistocles of Athens (Sir Ralph Richardson). A strategy is devised to draw the Persians into combat at the narrow pass of Thermopylae that will neutralize the great size difference in their respective forces.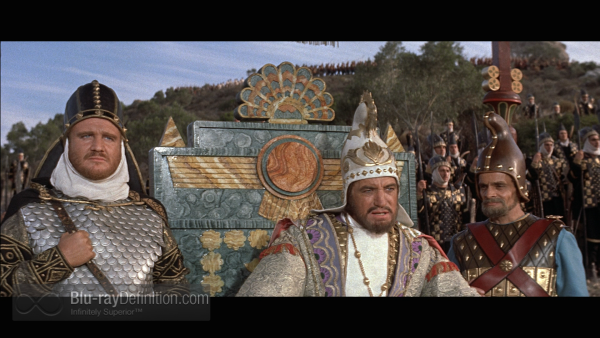 Phylon (Barry Cox),  in love with Ellas (Diane Baker), the niece of Princess Gorgo (Anna Synodinou), Leonidas's wife, is pressed into service and receives the famed Spartan shield ("carrying it in victory or carried on it in death").  However, when it is discovered that Phylon's father has been seen in Xerxes's camp, Leonidas removes him from the Spartan army. Ellas secretly comes to him as he contemplates suicide and she gives him back his Spartan shield.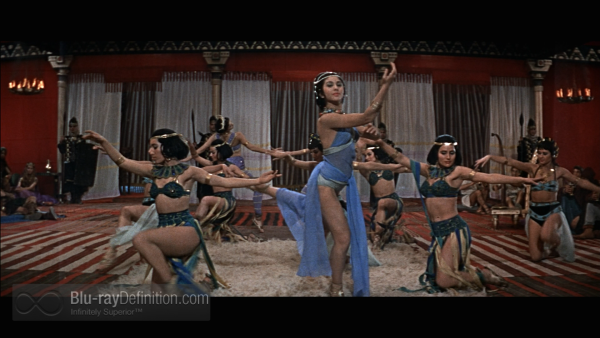 Given the urgency to send the Spartan army to Thermopylae, Leonidas sets out with only three hundred men, anticipating that the rest of the Greek army will join them later.  Themistocles has his fleet ready to meet the Persians but is stunned to find such small forces present. Demophilus of Thespiae (Yorgos Moutsios) has promised to bring seven hundred additional troops. A goatherd tells Leonidas of a secret passage way that must be secured so that the enemy cannot attack them from behind. Later, betrayal of this secret by Ephiates (Kieron Moore) will seal the Spartans' fate.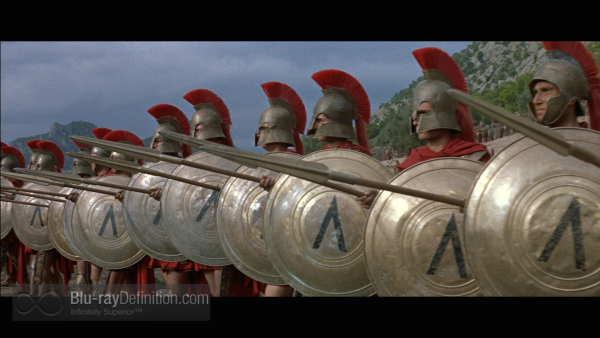 Leonidas launches a surprise night attack on the Persian camp on the eve of the great battle, creating a temporary disruption but finds out later that the Council has decided to fortify Corinth so the essential reinforcements will not be arriving. Everything now points to the great battle, and there is temporary encouragement after Leonidas turns down Xerxes's offer to surrender, and continues to achieve success but, spoiler alert, we all know how this one ends.
This is a large scale undertaking by any standards with thousands of extras, some intense battle scenes, dialogue that is occasionally campy by today's standards. It does have a surfeit of subplots including the two young lovers and the Xerxes-Artemisia (Anne Wakefield) affair, that make this film run a bit longer than necessary.
Video Quality
[Rating:3.5/5]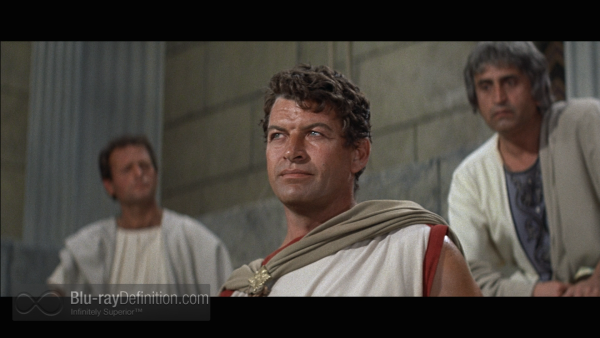 A fifty year-old picture, The 300 Spartans has received a major restoration effort, resulting in superb recovery of detail, brilliant colors and a lack of grain. There are occasional scenes where some blurring creeps in but these are relatively few.
Audio Quality
[Rating:3/5]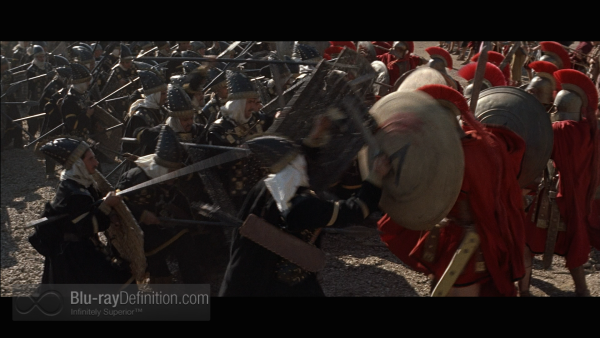 The DTS-HD Master Audio 1.0 soundtrack is fairly boxy but reasonably clear with an absence of noise. There is obvious compression in some of the louder passages. Greek film composer, Manos Haatzidakis (Never on Sunday) contributes an evocative score.
Supplemental Materials
[Rating:1.5/5]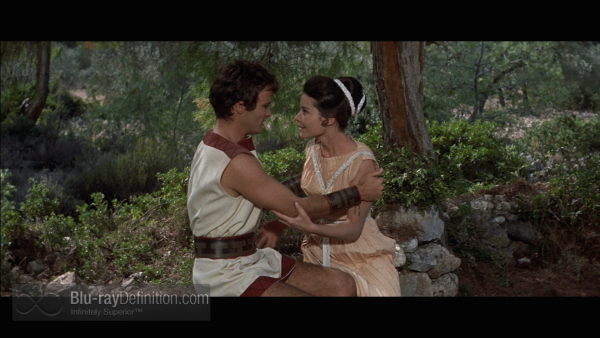 We get a very modest supply of extras:
Original Theatrical Trailer 2:37 (English Dolby Digital Stereo 48kHz/16b)
Four TV spots (1:38 each) (English Dolby Digital Stereo 48kHz/16b)
The Definitive Word
Overall:
[Rating:3.5/5]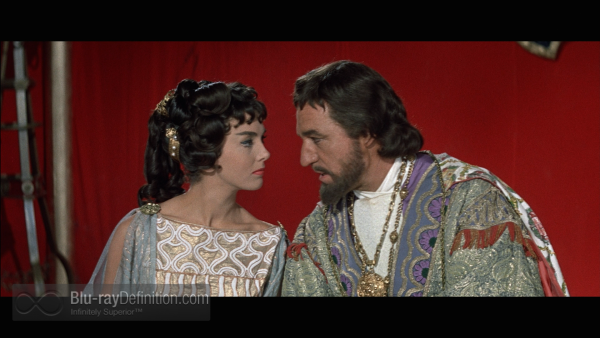 The 300 Spartans satisfies the old adage, "they don't make 'em like that anymore." While much of this film's style and script now appears dated, the timeless story of this small but brave band of brothers standing up to overwhelming odds remains a compelling one. As iconic adversaries, Farrar and Egan hold our attention from beginning to end. An enjoyable watch, if not award-worthy, and one that still impresses with its huge cast and terrific battle scenes without the need for CGI effects.
Additional Screen Captures
[amazon-product]B00CLFS7H0[/amazon-product]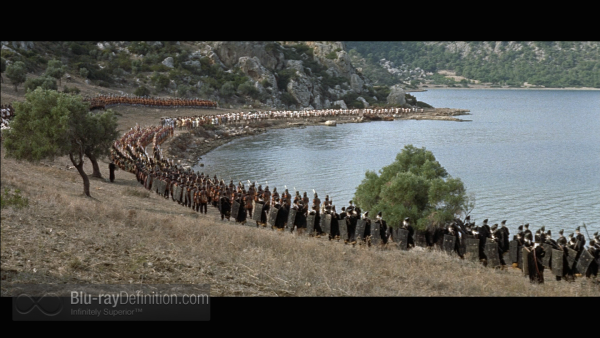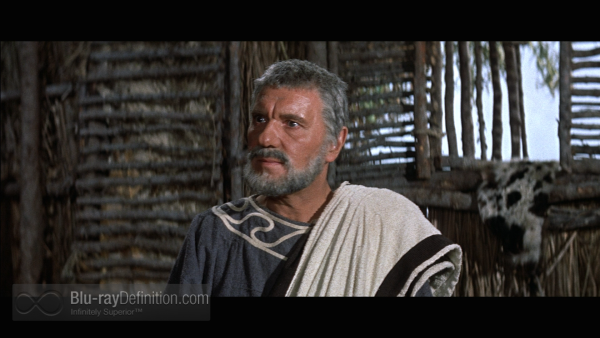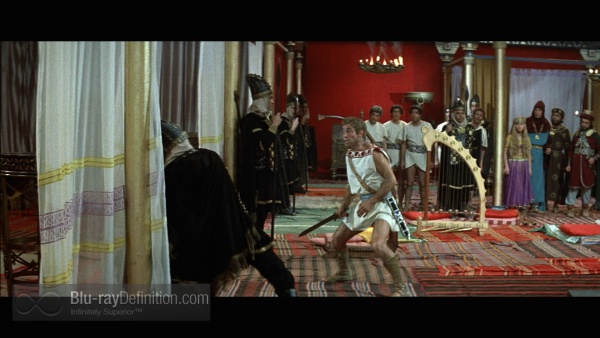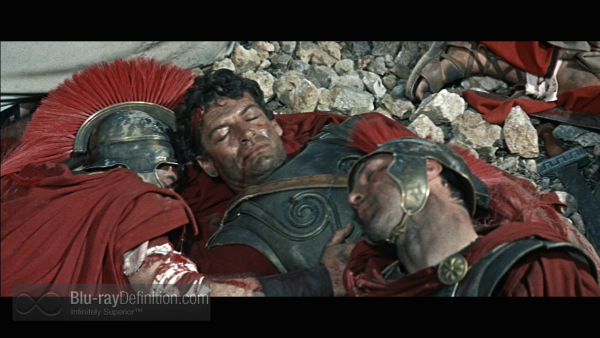 [amazon-product]B00CLFS7H0[/amazon-product]