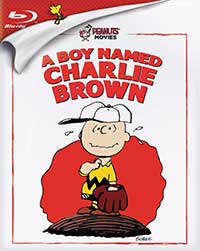 In 1969 after a few years of made-for-TV specials such as 1965's debut A Charlie Brown Christmas the Peanuts gang finally made it onto the big screen with A Boy Named Charlie Brown. Like the TV specials, the feature film brought much of the same that made the animated Peanuts such a success. It centers on Charlie Brown's (Peter Robbins in his final appearance as the voice of Charlie Brown) insecurities. Everything seems to go wrong for Charlie; he loses his first Little League game of the season, falters against his friend Linus (Glenn Gilger) in a game of tic-tac-toe, even gets thrown out of his own bed by his dog Snoopy. Finally, he goes to "psychiatrist" Lucy who shames him by making him fall on his face when she pulls a football away as he tries to kick it (Pamelyn Ferdin). Down in the dumps, "Chuck" enters the school's Spelling Bee contest against the jeers of the girls in the school who just know he will just be a loser who will embarrass himself and the school, and to everyone's surprise, he goes on to win!
Of course, the film is much more than just how down in the dumps Charlie Brown is, it is filled with a number of classic, Peanuts-style vignettes that we are all familiar with now, such as Snoopy's nightmare about being a World War I fighter pilot in a dogfight (the Red Barron doesn't actually make an appearance here), or a surreal Beethoven piano piece from Schroeder. Like 2015's The Peanuts Movie, A Boy Named Charlie Brown has a loose story arc that mimics that comic strips, but ultimately does have a strong message of always working hard to overcome obstacles and, despite some of the meanness of Charlie's friends, staying true to those friends that support you.
The Video
As an animated film from 1969, A Boy Named Charlie Brown stands up very well in this Blu-ray release from Paramount. The 1.33:1 framed AVC 1080p encodement looks crisp and organic with a natural layer of grain, only the slightest hints of source damage and film softness can be seen, and the colors are quite vibrant.
The Audio
For this Blu-ray Disc release Paramount has included a lossless DTS-HD Master Audio 5.1 mix as well as a Dolby Digital 2.0 stereo mix. The latter sounds more authentic, although labeling it as "stereo" may be a stretch. Hearing any stereo separation is very difficult, that said it does provide clear dialogue and clean enough sound for the jazz score from Vince Guaraldi. The lossless 5.1 track is full of atmosphere and has more low-end and is definitely spruced up nicely with clear dialogue and a little more dynamic range. Separation across the front channels is still limited, but the balance is good nonetheless.
The Supplements
It's very disappointing that for its first release on Blu-ray, A Boy Named Charlie Brown comes with no extras at all. There are no bonus featurettes, no commentaries, no extra animated clips or deleted scenes, not even an included DVD or digital copy.
The Final Assessment
A Boy Named Charlie Brown is a classic that is good for the whole family. One can truly see where last year's The Peanuts Movie took much of its influences when looking at this funny, lighthearted and heartfelt original.