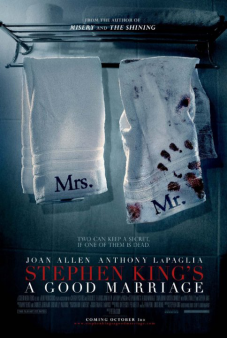 – –

The Film

What would you do if you found out that your husband was a serial killer? That's the dilemma Darcy Anderson faces in the new thriller A Good Marriage.
Darcy, brilliantly played by Joan Allen, seems to have the perfect family. Her young daughter Petra (Kristen Connolly) is engaged to be married, her son Donnie's (Theo Stockman) new advertising business has just picked up it's first client, and her husband Bob (Anthony LaPaglia – brilliant yet evil) is a successful accountant and well-respected both at his job and in his community, and is looked up to by his children. The Anderson's have just celebrated their 25th wedding anniversary and end the evening with a sexual romp, with Bob's insistence of moving the mirror in their bedroom so that he can look at them having sex. Bob has a busy job, and he also has a busy hobby, he's a coin collector, so he spends lots of time away from home where he says he's either working on client's tax accounts or attending coin conventions, but is that the truth?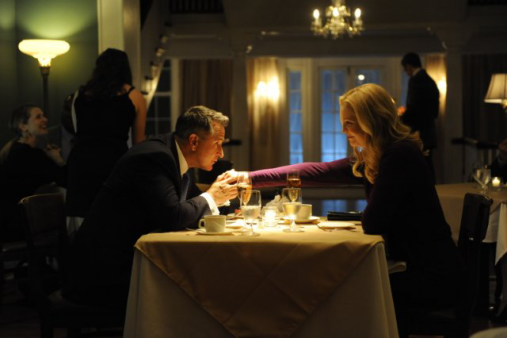 There's a serial killer on the lose in the Anderson's area who goes by the name "Beadie" who kills young attractive women. One day Darcy is in their garage looking for some batteries for the remote control when she finds an identification belonging to one of the women who was recently killed by the serial killer. Darcy is shocked, more than shocked, she can't breathe. Is her husband the "Beadie" serial killer? How can this be? When Bob tells Darcy that he knows she knows, she tells him that she forgives him and that they can live their lives back to the way it was. But she's torn between her loyalty to him and her sympathy for the victims. However, Darcy has other plans, and what she decides to do is both shocking and unexpected.
A Good Marriage is a taut, shocking thriller written by the master that is Stephen King, based on his book of the same name. The film's twist and turns and shocking revelations make A Good Marriage an excellent psychological thriller. Allen, whose not done much film work in the last 7 years, is excellent as the wife and mother who has her life turned upside down. LaPaglia, in the Alec Baldwin role, plays a man whose facade is not what is in the inside. Crisply directed by Peter Askin, A Good Marriage will keep you glued to the screen throughout, and with very good performances and a great story, it's a must for all Stephen King fans, as well as for everyone else.
A Good Marriage is now available to buy on DVD and can be watched on VOD.

Our Movie Rating:
[Rating:4/5]