–
The Film
[Rating:3/5]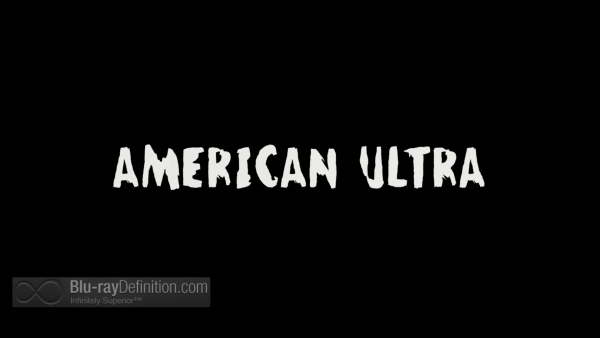 Nima Nourizadeh (Project X) directs a reunited Jesse Eisenberg and Kristen Stewart (the two previously paired up as a slacker couple in coming of age comedy Adventureland) in this stoner action comedy American Ultra.
The story finds neurotic small town stoner Mike Howell (Eisenberg) and his equally druggie girlfriend Phoebe Larson (Stewart) caught up in the ultimate drug-fueled paranoid nightmare when Mike finds he is actually a government sleeper agent at the center of a clandestine plan to build a super soldier. After Mike is activated, he and Phoebe have to fight for their lives against the black-ops team sent in to wipe out every trace of him.

Although there's plenty of action and blood-drenched violence in American Ultra (the "ultra" in the title an obvious allusion to the A Clockwork Orange coined "ultra-violence") the stoner comedy portion of the film will perhaps escape everyone but the most absolutely stoned out viewers in the audience. Nourizadeh and screenwriter Max Landis seemed to have completely forgotten about the comedy part of the equation.
Granted, the film is slick and loaded with drug references. One scene set in a room with black light is particularly trippy and one of the best looking sequences. Eisenberg and Stewart also seem particularly well-paired to play the roles of a couple of millennial slackers madly in love. This is their second time around, and although on paper it seems a mismatch, for some reason it works on screen.

Video Quality
[Rating:4/5]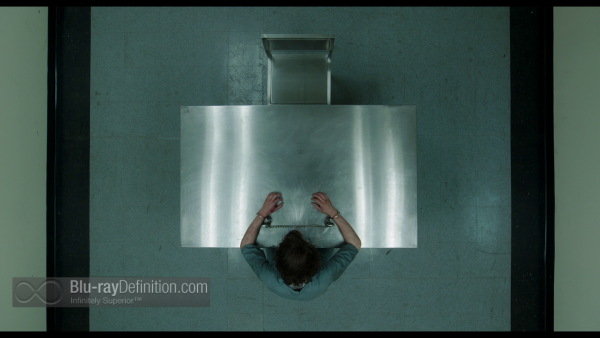 American Ultra was shot in HD on the Arri Alexa XT Plus and arrives on Blu-ray in an AVC/MPEG-4 1080p encodement from Lionsgate. While the transfer is fine in the modern sense that there is no compression noise, edge enhancement or aliasing, the movie has a dull and soft patina with a desaturated color palette and some added noise or "grain" that doesn't quite pop.

Audio Quality
[Rating:5/5]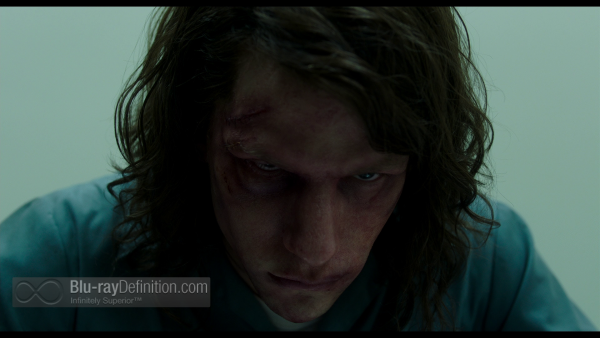 This is another of Lionsgate's releases to Blu-ray that include a DTS:X (DTS' rival to Dolby's Atmos and Auro's Auro-3D) audio mix. Unfortunately for anyone who has already upgraded their systems to take advantage of the new lossless, object oriented audio codecs, DTS:X still can't be decoded on any currently available hardware, although there are some AVRs on the market that claim to be "DTS:X ready" requiring a future firmware upgrade to take full advantage of these soundtracks. But never worry, just like its Dolby counterpart that is backwards compatible to TrueHD 7.1, this is compatible with DTS-HD Master Audio 7.1. That's fortunate for me, because I still haven't made the leap to a new AVR that can decode either codec. The mix is fantastic anyway and will give your system a workout. The low end is big, the dialogue is full and clear without being buried, and highs are easy on the ears.

Supplemental Materials
[Rating:3.5/5]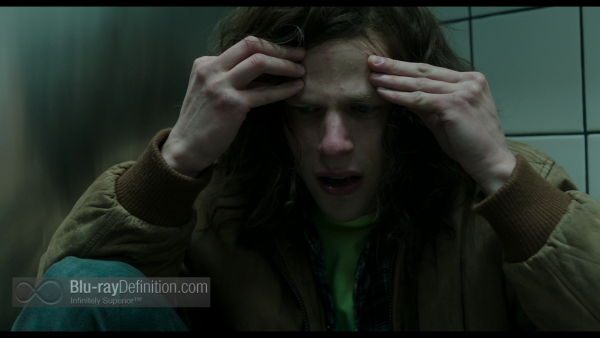 There isn't much included on disc, but we do get a fairly typical audio commentary from the director and a good 40-minute making of featurette, Activating American Ultra.
iTunes Digital HD Digital Copy & Digital HD UltraViolet
DVD
Audio commentary with director Nima Nourizadeh
Activating American Ultra (1.78:1; 1080p/24; 00:40:22)
Assassinating on a Budget (1.85:1; 1080p/24; 00:03:25)
Gag Reel (1.78:1; 1080p/24; 00:02:42)

The Definitive Word
Overall:
[Rating:3.5/5]
American Ultra may not be the perfect match of slacker comedy and action it was trying to be, but it is still a good popcorn movie with farcical use of violence and big government suspicion. The sound is a great workout for any home theater system, even if the video portion doesn't really leap from the screen.

Additional Screen Captures