– –

The Film
[Rating:4/5]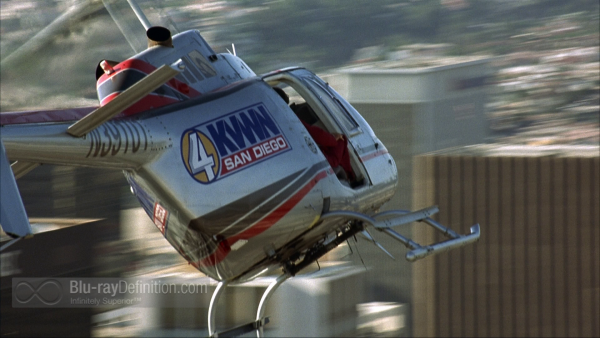 Adam McKay directs and Will Ferrell stars and co-writes along with McKay in this goofy sendup of the 1970s "me generation", sexism, male chauvinism, and homophobia. It mostly succeeds on the grounds that no one can ever accuse the film of taking itself too seriously as a parody of the 1970s, but there are some lapses where the seemingly improvised comedic dialogue falls a little flat or goes on too far past the punchline.
Ferrell plays Ron Burgundy, San Diego's most popular local news anchorman in the very male-dominated news business of the 1970s. He's a scotch drinking, cigarette smoking ladies man and a legend in his own mind. For Ron and his emotionally stunted male colleagues, a lesson in feminism is about to land on them like a ton of bricks when the beautiful, intelligent, and ambitious Veronica Corningstone (Christina Applegate) arrives and quickly shows up just how inept a newsman Ron actually is. She soon becomes co-anchor, an insult Ron just can't swallow, which leads him to take a drastic step – he follows a lead about a leftist terrorist group and blows an FBI investigation. That's how he finds himself out of a job, and hated by the city, with the woman he was trying to destroy comfortably sitting in his job. But things may turn around for Ron if he can change. He gets a chance when Veronica needs his help, but he has to overcome his pride first.
The funniest parts of Anchorman are the obvious – how inanely out of left field some of the accepted social behavior of the time seems to modern audiences. Ferrell plays it straight in the best tradition of actors like Leslie Nielsen, making things seem more absurd. Applegate is commendable for holding her own amidst the boys locker room shenanigans of her mostly male cast and playing it even straighter than Ferrell.
The film's comedy resonates even more outside of the PG-13 box it was originally presented in in theatres. Here, in this "Rich Mahogany" edition on Blu-ray, we get two extended versions, both unrated, and both a bot raunchier, though there was still at least one instance of something being beeped out in the Wake Up, Ron Burgundy version, for some odd reason.
Video Quality
[Rating:4.5/5]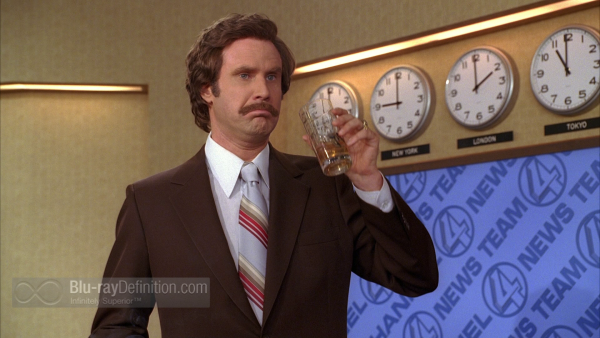 It's a fine presentation of the original 35mm source presented on Blu-ray in an AVC/MPEG-4 1080p encodement from Paramount, especially given that the film is now nearly 10-years old. It retains that '70s vibe and purposeful film softness with a not quite as dramatic sense of contrast that we're used to in some of the more special effects laden blockbusters.
Audio Quality
[Rating:4/5]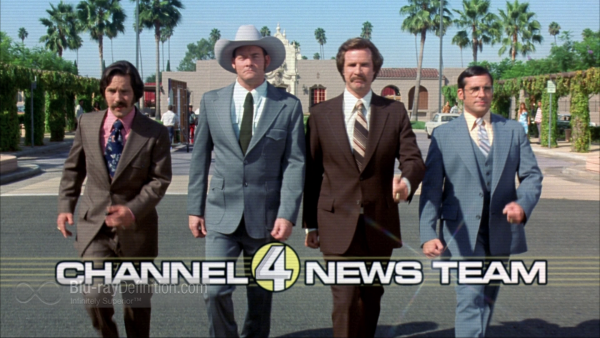 Given that this is a comedy, the audio is restrained, somewhat front-heavy. The English DTS-HD Master Audio 5.1 (48kHz/24-bit) does have a lot of headroom, however, with clean dialogue, and later on in the film there are some more aggressive moments where the surrounds are allowed to flex with some brief discrete effects to open things up just a tad.
Supplemental Materials
[Rating:3.5/5]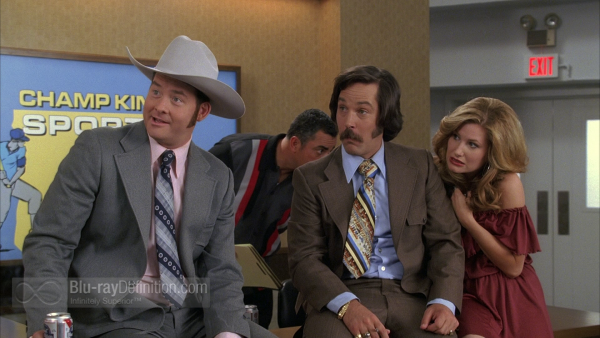 While this is packed with swag and video extras, much of it is in standard definition.
32-page "personal diary" from Ron Burgundy
12 Trading Cards
Disc 1:
Theatrical and Extended Editions
Commentary by Adam McKay, Will Ferrell, Lou Rawls, Andy Richter, Kyle Gass, Paul Rudd, David Koechner, and Christina Applegate
Deleted & Extended Scenes (1.33:1; SD; 00:53:56)
Bloopers (1.33:1; SD; 00:07:46)
"Afternoon Delight" Music Video (1.33:1; SD; 00:03:50)
ESPN SportsCenter Audition Ron Burgundy (1.33:1; SD; 00:01:55)
Disc 2:
Wake Up, Ron Burgundy
Intro Commentary with Will Ferrell and Aaron Zimmerman (12:00)
PSA (1.33:1; SD; 00:03:41):

High on Life
Hippies 1
Hippies 2
Our Leaders 1
Our Leaders 2

Award Speech (1.33:1; SD; 00:03:12) – "Ron Burgundy's" acceptance speech at an award show.
Raw Footage "Good Takes" (1.33:1; D; 00:39:26)
"Afternoon Delight" Recording Session (1.33:1; SD; 00:02:58)
Happy Birthday AMC Loews (1.33:1; SD; 00:03:15)
Interviews (1.33:1; SD; 00:10:14) – Ron Burgundy interviews the stars at the 2004 MTV Movie awards:

Rebecca Romijin
Jim Caviezel
Burt Reynolds

Specials:

Cinemax: The Making of Anchorman (1.78:1; SD; 00:09:29)
Comedy Central Reel Comedy: Anchorman (1.33:1; SD; 00:08:31)
A Conversation with Ron Burgundy (1.33:1; SD; 00:10:41)

Cast Auditions (1.33:1; SD; 00:13:03)
Table Read 6/2/03 (1.33:1; SD; 00:18:37)
Rehearsals (1.33:1; SD; 00:09:09)
Playback Video (1.33:1; SD; 00:05:10)
Commercial Break (1.33:1; SD; 00:02:04)
Trailers & TV Spot:

Teaser Trailer (1.78:1; 1080p/24; 00:01:50)
Trailer (1.78:1; 1080p/24; 00:02:32)
Trounced Spiderman TV Spot (1.33:1; SD; 00:00:17)
The Definitive Word
Overall:
[Rating:4/5]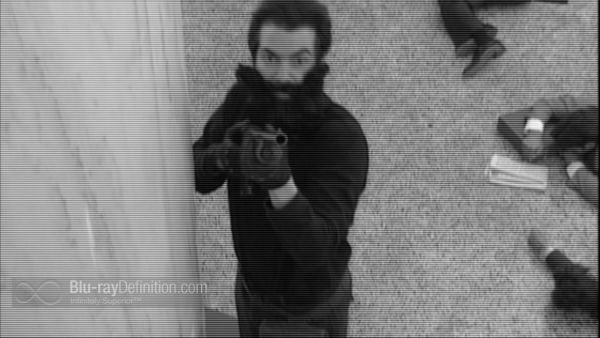 With its wild '70s vibe, goofy, non-politically correct comedy, and spot on acting, Anchorman: The Legend of Ron Burgundy offers up some fine amusement. The cast is well put together and were it not for some occasional lulls, this would be an almost perfect comedy.
Additional Screen Captures
[amazon-product]B0041B4B8G[/amazon-product]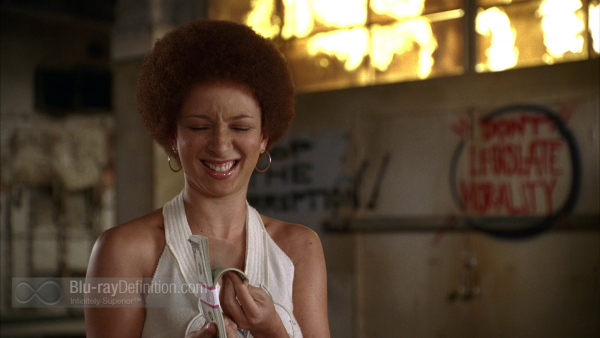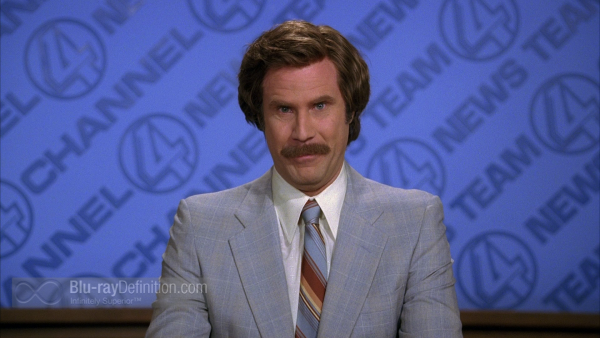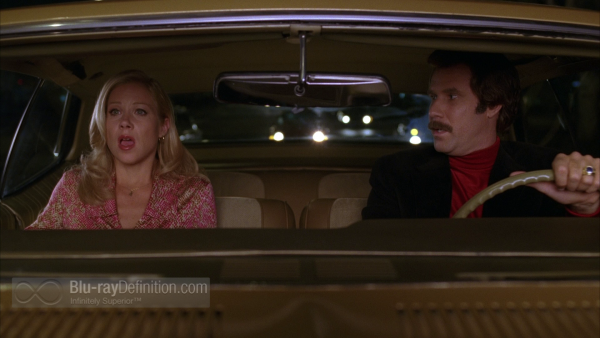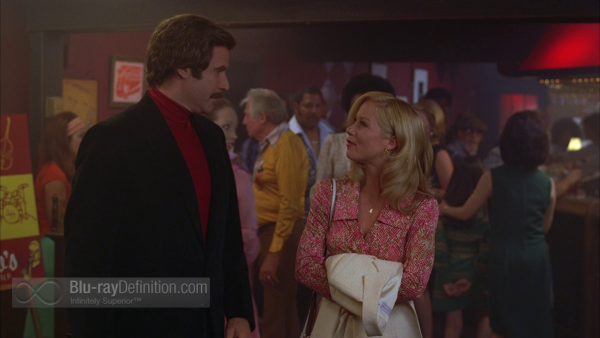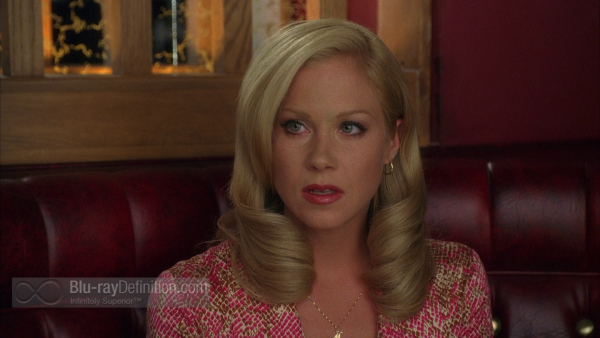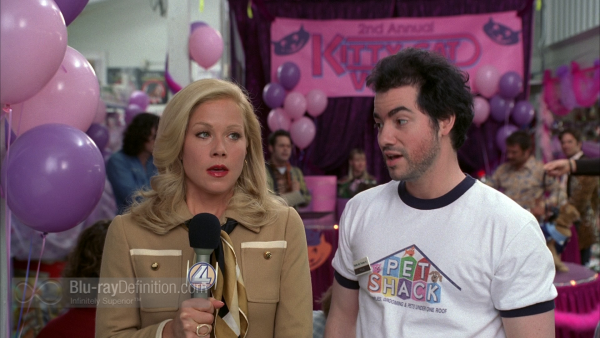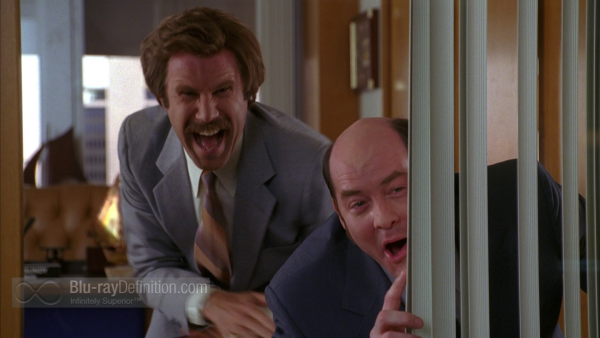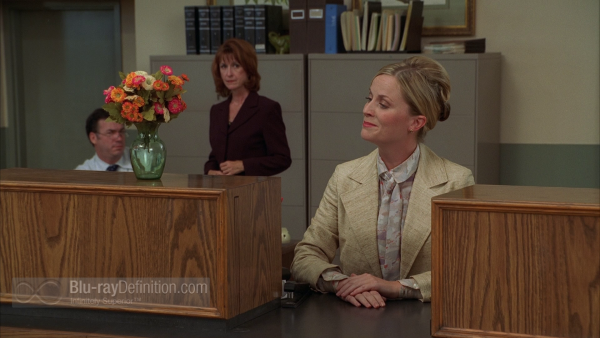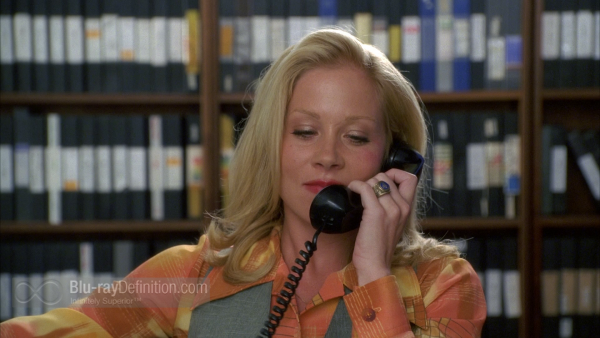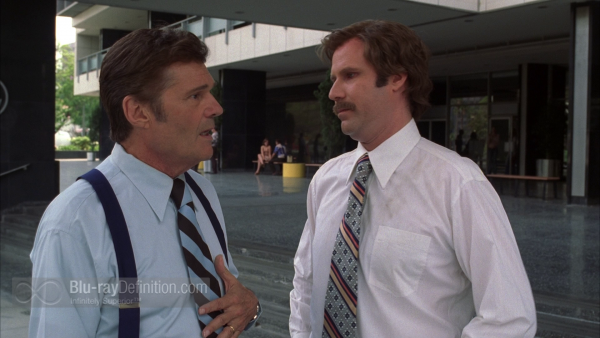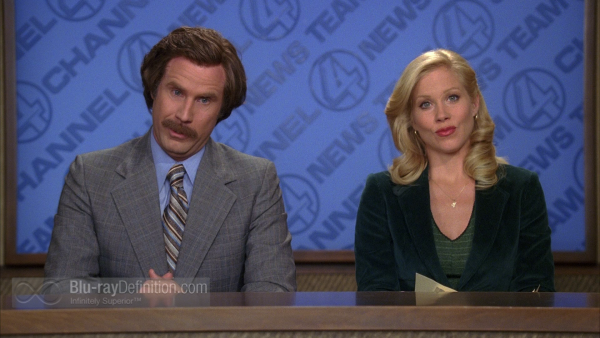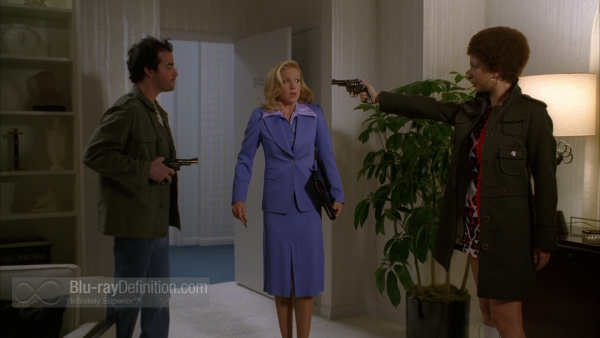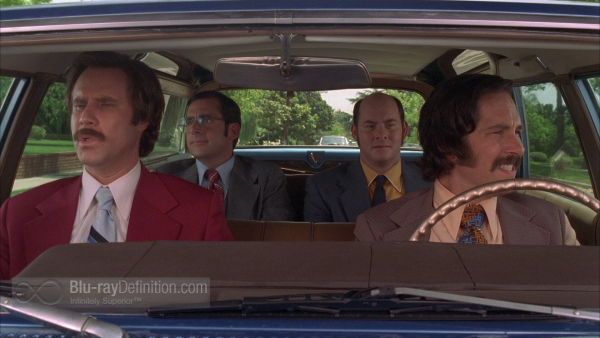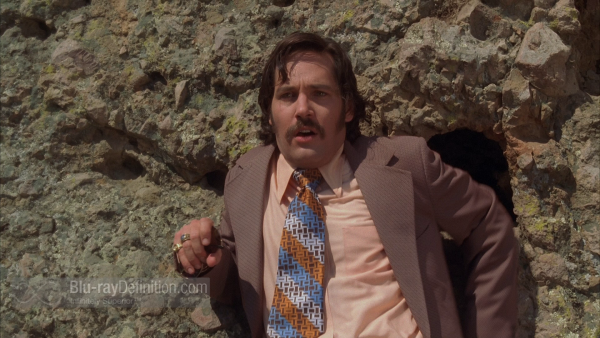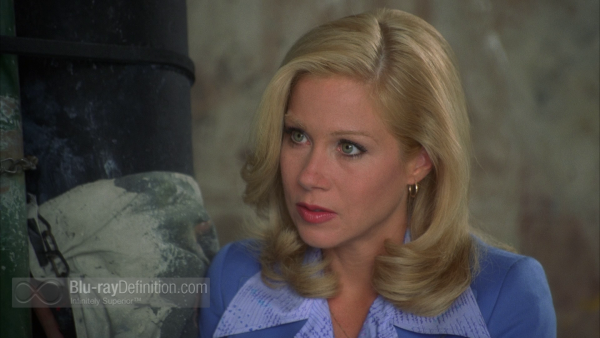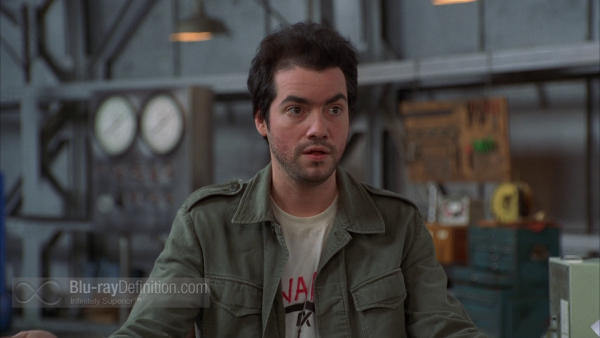 [amazon-product]B0041B4B8G[/amazon-product]