Aspect Ratio: 2.35:1/1.33:1

Video Codec: AVC/MPEG-4
Resolution: 1080p/24

Audio Codec: English DTS-HD Master Audio 5.1, English DTS  2.0 Surround (Apocalypse Now); English DTS 2.0 Stereo, German DTS 2.0 Stereo (Hearts of Darkness)

Subtitles: English SDH (Apocalypse Now); English SDH, Dutch, German, Italian, Japanese, Spanish (Castilian)

Region: A (Region-Locked) (Disc 1: Apocalypse Now Main Feature); Region AB (Disc 2: Apocalypse Now Special Features and Disc 3: Hearts of Darkness)

Classification: 15

Discs: 3
Studio: Optimum Home Entertainment

Blu-ray Release Date: June 13, 2011


RRP: £29.99



[amazon-product region="uk" tracking_id="bluraydefinit-21″]B004OQJSZO[/amazon-product]
Shop for more Blu-ray titles at Amazon.co.uk
Shop for more Blu-ray titles at Amazon.com
Overall
[Rating:4.5/5]
The Film
[Rating:4.5/5]
Video Quality
[Rating:4.5/5]
Audio Quality
[Rating:5/5]
Supplemental Materials
[Rating:5/5]
Click thumbnails for high-resolution 1920X1080p screen captures
(Screen captures are lightly compressed with lossy JPEG  thus are meant as a general representation of the content and do not fully reveal the capabilities of the Blu-ray format)
–
The Film
[Rating:4.5/5]
Apocalypse Now has its roots in a Joseph Conrad novel Heart of Darkness, which was actually broadcast as a radio play by Orson Welles in 1938. Welles, fascinated with the story of a boat trip down the Congo to find a man who had gone native, living amongst the "primitive" Africans, led him to want to turn the story into a film, but he could not find funding, so, instead, he set his sights on Citizen Kane.
Flash forward to 1969 at the height of the Vietnam war, and Francis Ford Coppola has just started Zoetrope, a place for young filmmakers to come together outside of the watchful eye of the big studios to create real, meaningful films. John Milius (Magnum Force; Conan the Barbarian) decides he is going to tackle Heart of Darkness, writing a screenplay that transports the Conrad story to Vietnam and the film is to be helmed by George Lucas (Star Wars trilogy and prequels). By the time Milius finishes the script, Lucas has already tasted the success of American Graffiti and is setting his sights on his next project, a little sci-fi film called Star Wars. He wants nothing to do with directing the difficult and potentially controversial Vietnam war film.
So now, Coppola is a giant; he's done the first two Godfather films, won all the accolades, but Zoetrope is in trouble if it can't put out any films. He has several scripts, but he can't get any backing. So he decides that he will take on the task of directing Apocalypse Now himself. He will fund the movie with his own money.
Taking the production to the Philippines due to its similarities to the geography of Vietnam, it is the beginning of a grueling journey that will push the director to the brink. What is supposed to be a few months of filming turns into years, on and off, plagued by typhoons, a switch in the leading man from Harvey Keitel to Martin Sheen, Sheen's heart attack, troubles getting Marlon Brando to agree to sign on to the cast, and a film progressing with a constantly changing ending. Coppola was uncertain he could ever successfully interpret his vision of the Milius screenplay and Conrad story for the screen.
The story, of course, is of army Captain Willard (Sheen) who is ordered by his superiors to track down and assassinate the rogue Green Beret Kurtz (Brando) who they say has gone insane, taking troops across the border into Cambodia and setting himself up as a godlike being amongst the natives. Willard is taken up the river in a PBR – a sort of plastic military boat used by the navy – by a group of Navy seamen, not privy to his classified orders.
After the unbelievable struggle to bring Apocalypse to the screen, the end result is stunning. It begins with the amazing visuals of Italian cinematographer Vittorio Storaro. It is a study of light, shadow, and color. The story that took such a convoluted journey from novel to screen, plays like one long dream or hallucination. Coppola has said that it is meant to be like traveling backwards through time, through the history of Vietnam. Whatever it is, it is wholly mesmerizing and the electronic score on the Moog makes it seem even more ominous.
This release contains both the original 1979 theatrical release and the "Redux" director's cut, which adds back in many of the scenes originally intended, but edited out due to fears that the film would fail because of so many negative stories over the course of its long time in production. Personally, I have a preference for the Redux, but it is good to have the choice here.
Video Quality
[Rating:4.5/5]
Apocalypse Now looks amazing for a film that is now thirty-two years old. This beautiful 1080p AVC transfer from Optimum is clean, with very little in the way of source damage, shows strong foreground detail that extends quite far into the backgrounds, and vivid colors. The blacks are inky, absolutely obsidian, so much so that they crush, but that is a matter of filmmaker intent, no doubt, as Apocalypse has always been a play of light, shadow, and color. Flesh tones are natural and there is no evidence of video noise.
Audio Quality
[Rating:5/5]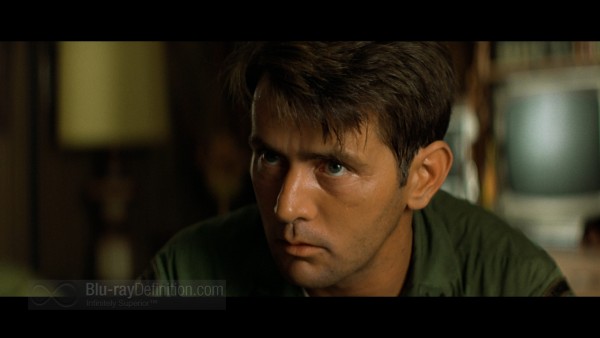 You might be tempted to select the DTS 2.0 Surround soundtrack on this release thinking that will give you the more authentic listening experience. Well, think again. Apocalypse Now was the first film to hit theatres with the "new" Dolby 5.1 audio format back in 1979, so if you want authentic, then you have to go with the spectacular lossless DTS-HD Master Audio 5.1 soundtrack on here that opens with the classic synthesized ghost helicopter sound flying around the room against a black screen. From there, it is rather tame compared to modern soundtracks that are quite hyperactive, but it is still amazing, from the Moog score that is very open and spacious, to the clean dialogue, wide stereo spread, and, of course, the sounds of those helicopters and explosions, it's a dynamic and entertaining mix.
Supplemental Materials
[Rating:5/5]
Apocalypse Now and Coppola fans rejoice! This three-disc edition is stuffed with audio commentaries, new interviews and discussions with Coppola, Milius, and Sheen, plus the Hearts of Darkness documentary, an hour-and-a-half-long look at the troubled, years-long production of this classic film. It contains footage captured by the filmmaker's wife Eleanor, and the disc has an audio commentary by the couple as well. Everything in this collection is worth watching, which is unusual for any release, and it will take hours to get through it all.
The supplements provided with this release are:
Audio Commentary by Francis Ford Coppola
Disc 2:

An Interview with John Milius (49 mins)
A Conversation with Martin Sheen and Francis Ford Coppola (60 mins)
Fred Roos: Casting Apocalypse (12 mins)
The Mercury Theatre On the Air: Hearts of Darkness – November 6, 1938 (37 mins)
The Hollow Men (17 mins)
Monkey Sampan "Deleted Scene" (3 mins)
Additional Scenes:

Saigon Street Life
Military Intelligence Escorts
Intelligence Briefing (Extension 1)
Intelligence Briefing (Extension 2)
Willard Meets the PBR Crew
Letter from Mrs. Kurtz
Booby Trap
Do Lung Bridge
The Photo Journalist
Colby
The Tiger Cages
Special Forces Knife

Kurtz Compound Destruction with Credits (6 mins)
The Birth of 5.1 Sound (6 mins)
Ghost Helicopter Flyover (4 mins)
Apocalypse Now: The Synthesizer Soundtrack by Bob Moog (Still Images)
A Million Feet of Film: The Editing of Apocalypse Now (18 mins)
The Music of Apocalypse Now (15 mins)
Heard any Good Movies Lately? – The Sound Design of Apocalypse Now (15 mins)
The Final Mix (3 mins)
Apocalypse Then and Now (15 mins)
2001 Cannes Film Festival: Francis Ford Coppola (39 mins)
PBR Street Gang (4 mins)
The Colour Palette of Apocalypse Now (4 mins)
Disc Credits

Disc 3: Hearts of Darkness: A Filmmaker's Apocalypse

Extras:

Audio Commentary by Francis and Eleanor Coppola
John Milius Scripts Excerpt with Francis Ford Coppola Notes
Storyboard Collection
Photo Archive
Marketing Archive
The Definitive Word
Overall:
[Rating:4.5/5]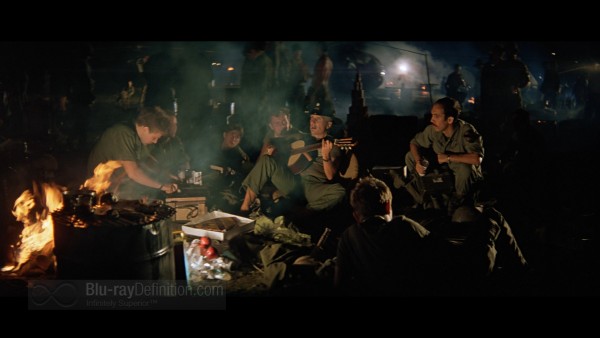 Spectacular, riveting, and an absolute classic, that is Apocalypse Now and this 3-disc set is a must for UK collectors. It arrives with reference quality picture and sound of both the original and Redux versions of the film plus a bundle of extras that includes the superb documentary Hearts of Darkness.
Additional Screen Captures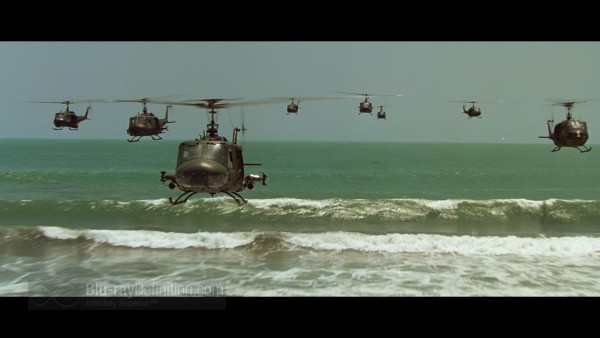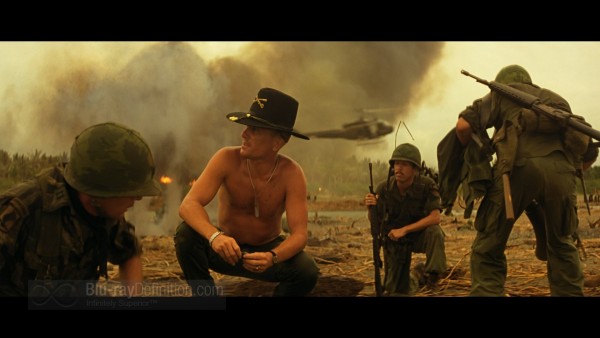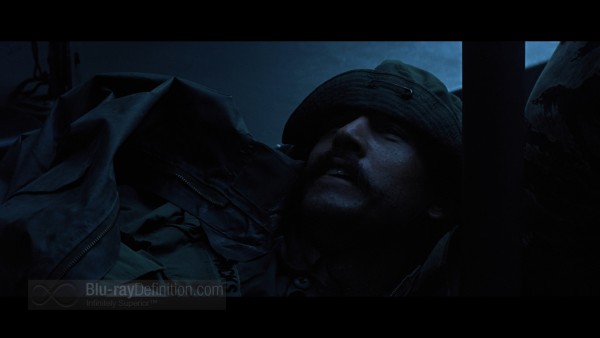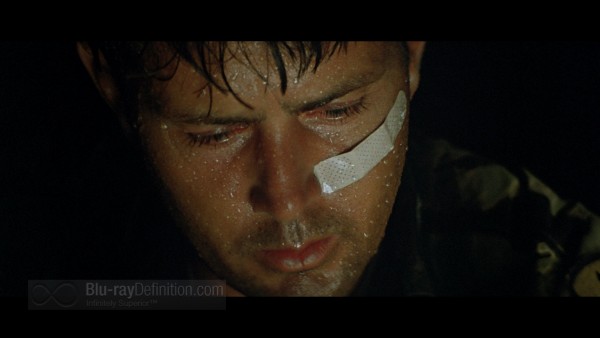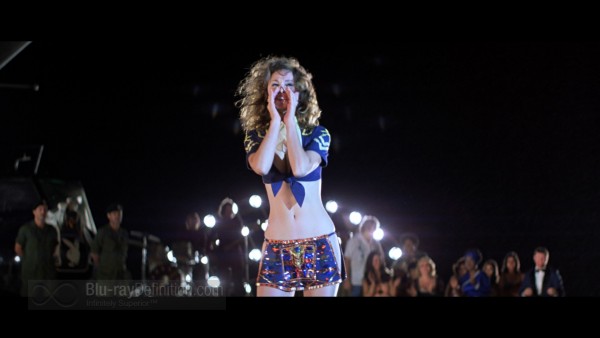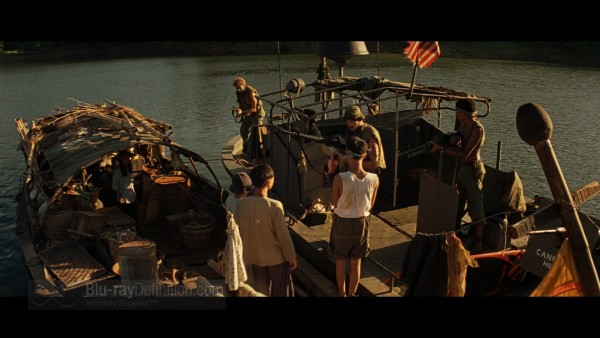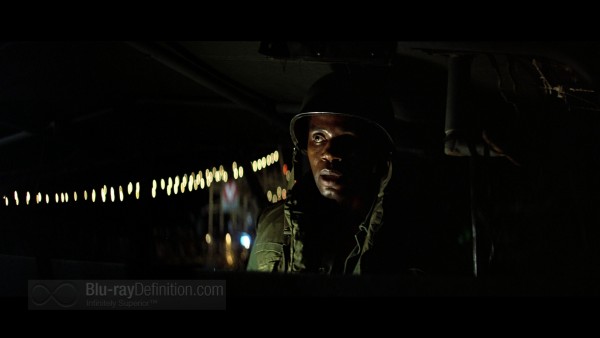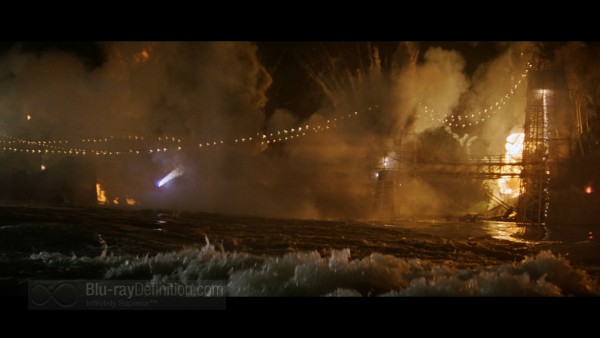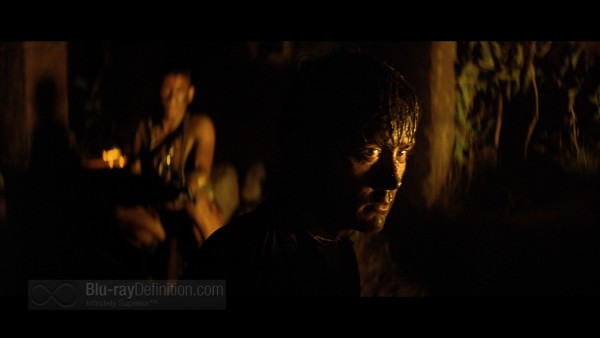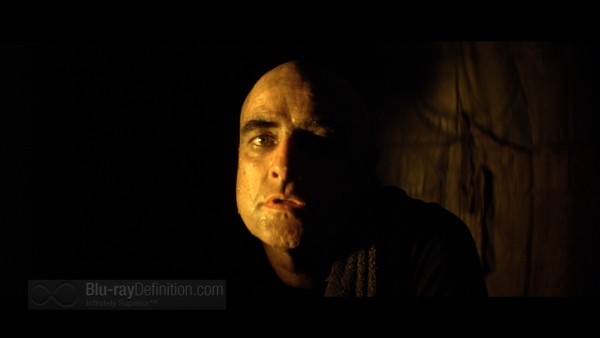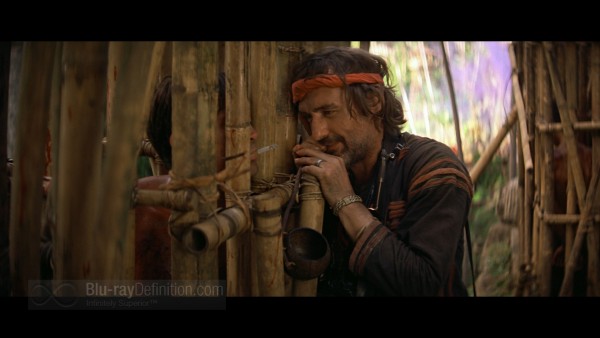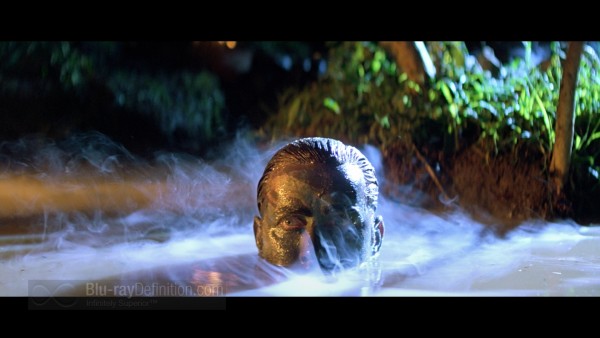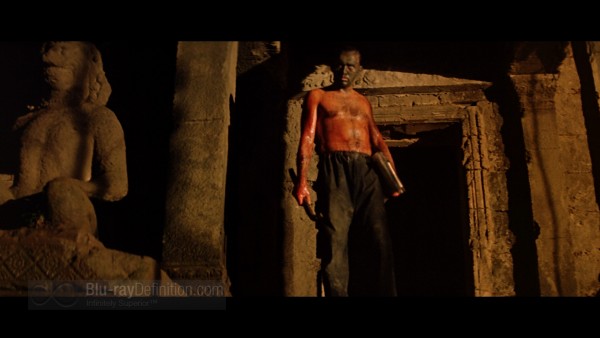 –
[amazon-product region="uk" tracking_id="bluraydefinit-21″]B004OQJSZO[/amazon-product]
Shop for more Blu-ray titles at Amazon.co.uk
Shop for more Blu-ray titles at Amazon.com
Overall
[Rating:4.5/5]
The Film
[Rating:4.5/5]
Video Quality
[Rating:4.5/5]
Audio Quality
[Rating:5/5]
Supplemental Materials
[Rating:5/5]