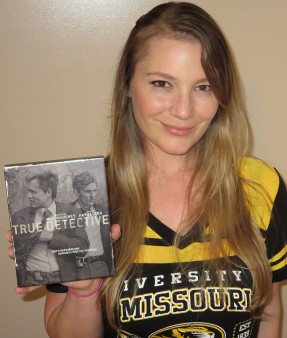 True Detective is so much more than just another dark crime drama. Set up as a series of anthology collections similar to American Horror Story, this first season is a complete eight episode story. Directed by Cary Joji Fukunaga (Jane Eyre) and written by novelist Nic Pizzolatto this is one of the most talked about television shows this year. In what could be considered a rare move for TV, Pizzolatto writes every episode himself while Fukunaga is the sole director of the series. The brevity of True Detective rests on the shoulders of this two man team.
Deep in the humid corridors of the Louisiana bayou two mismatched  laconic detectives, played by Matthew McConaughey (Dallas Buyers Club, Magic Mike) and Woody Harrelson (The Hunger Games, Zombieland), investigate ritualized murders worthy of Dexter fans.
The year is 1995. Rust Cohle (McConaughey)  is a newcomer from Texas, brilliant but deeply troubled, divorced and still mourning the death of his daughter. Cohle often speaks in riddles and has an intense single mindedness that drives his partner crazy. Martin Hart (Harrelson) is local law enforcement, a family man with a wife, Maggie (Michelle Monaghan), and two daughters. Hart also happens to be a philanderer and a man who would have kicked Cohle to the curb long ago if he wasn't such a stellar investigator. Despite their bickering Hart and Cohle respect each other and when it comes to work they always have each other's back. But don't expect a buddy-comedy here, this is a story about the lies people tell and the price they must pay because of it.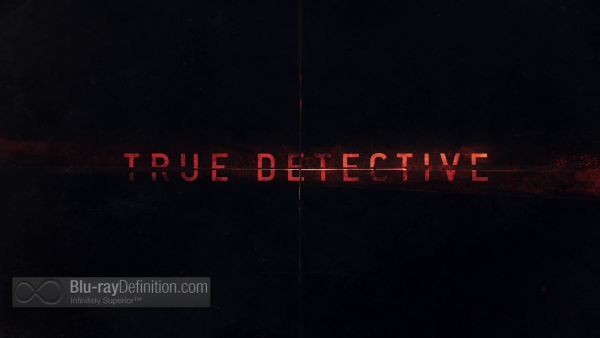 Fast forward seventeen years, both detectives have quite the force and are now being interviewed, separately, about their personal lives and the big case they worked on so long ago. Cohle has become a washed up alcoholic who continues to wax on poetically about the bleak never ending circle of life. Hart on the other hand, appears to be more stable, but the further you go into the series, you realize that Hart is all talk. Hart is not the family man he adamantly claims to be, when his good ol' boy charm drops you can see the coward lurking within. For as peculiar as Cohle sounds, it is he who has a better grip on reality.
In the interviews, Cohle and Hart give one version of events, but the flashbacks tell another, juicier story. Cohle refuses to suffer fools and their illusions about life. He's a bleak realist with poor social skills, all of which get him both in and out of trouble. Valuable clues are doled out in the flashback narrations encouraging the audience to do some sleuthing of their own. The flashbacks created a seamless transition from narration to actual events, without being cumbersome or clunky. Needless to say, the structured flashbacks were impressively done.
Pizzolatto's complicated scripts are layered with grander ideas about good and evil, much of which comes out in tongue twisting philosophical dialogue not often heard. The two movie stars were phenomenal, deftly maneuvering through the dark material, bringing a considerable depth to the screen. Cohle may be overly philosophical at times, but Hart is always there to keep him in check, often telling him to "shut the f*ck up." I couldn't imagine this cast any other way, this is a show about two great characters – these two shine so brightly it's hard to notice anyone else. I expect this caliber of performance from Harrelson but seeing it come from McConaughey as well was a true surprise. These are Emmy-worthy performances.
For once Harrelson has the normal guy role and he wears it well. Surprising, but also a welcome change. It's his co-star who gets to play the oddball. As Harrelson said of his co-star, "I can't imagine anybody playing that part better.  It was just phenomenal. And Matthew played a much different role from what I've ever seen him play before, but I think he knocked it out of the park." If Woody Harrelson is doling out accolades then you know it's good. Praise like that is not given lightly.
While Michelle Monaghan (Source Code, Mission Impossible:Ghost Protocol) makes the most of her role as Hart's wife, Maggie, her role was under developed. Monaghan turns in a worthy performance with the crumbs she's given to work with. There's an obvious shortage of well rounded female characters. Women don't exist outside the traditional roles of wife, daughter, or whore here. As famed New Yorker critic Emily Nussbaum wrote, "It was about the evil of men who treat women as lurid props, but the show treated women as lurid props."
True, it is a story about two men who work in a male dominated industry working crime scenes that frequently depict women in decomposing sexually submissive states. However, it's about the relationship between Hart and Cohle, the story is about them and what they are doing. It's a gripping suspenseful drama that piques the curiosity and though it cannot pass a Bechdel test I'm not going to hold that against it.
VIDEO QUALITY
[Rating:4/5]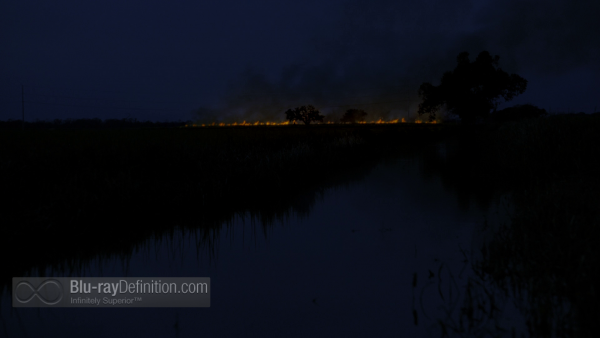 Considering that this was originally shot on 35mm, this is a quality transfer. Presented in 1080p/AVC encoded MPEG-4 transfer in 1.78:1 there is plenty of natural beauty to go around. The sun glinted fields and sweltering Louisiana landscape set the mood, vividly portraying everything from swampland to bleak rural towns on the edge of poverty. A modicum of grain is present, though not overwhelming it manages to lend a cinematic flourish to the series. The contrast is well balanced, but there are some hot spots to consider particularly in the sun ripened outdoor scenes. Both Matthew McConaughey and Woody Harrelson were convincing as younger and older (by seventeen years) versions of themselves thanks to well done visual effects. While not always razor sharp the images on screen do the storyline justice with enough stylized clarity to keep fans happy.
AUDIO QUALITY
[Rating:4/5]
Presented in English DTS-HD Master Audio 5.1, French DTS 5.1 and Spanish DTS 2.0 with plenty of optional subtitles should the viewer so choose to indulge. With an appropriately dark and yet acoustically rich soundtrack, composer T Bone Burnett intuitively guides an emotional undercurrent that resonates with the series deeper themes. Silence and ambience are often used for effect, adding layers of texture and balancing out the action sequences. Clean dialogue with brilliant and intelligible speech, all the better to hear Pizzolatto's thought provoking and at times esoteric script brought to life. This is an expertly crafted sound track, balancing the delicacies of the bayou with life's more aggressive natures. From the sounds of the Louisiana nightlife to the firing of gun shots and musically inspired dance clubs this audio smorgasbord will make you feel like you're in the midst of it all.
SPECIAL FEATURES
[Rating:3.5/5]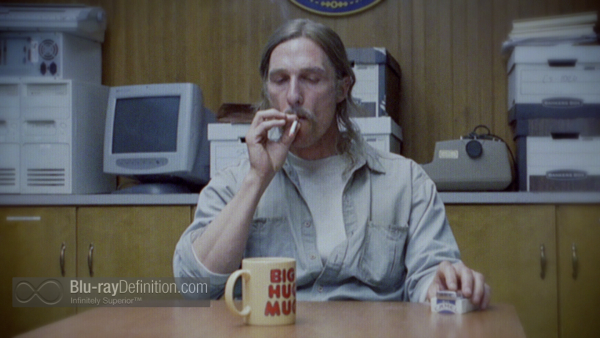 DISC ONE:
Inside the Episode: vignettes for episodes one, two and three that can be viewed separately or together featuring writer Nic Pizzolatto and director Cary Joji Fukunaga as they discuss their perspectives and offer unique insight to each episode.
Deleted Scene: a deleted scene from episode three featuring an extended scene with Shea Whigham's character.
DISC TWO:
Inside the Episode: vignettes for episodes four, five and six that can be viewed separately or   together featuring writer Nic Pizzolatto and director Cary Joji Fukunaga as they discuss their perspectives and offer unique insight to each episode.
Audio Commentaries: commentaries for episodes four and five with writer Nic Pizzolatto and composer T Bone Burnett, with the addition of executive producer Scott Stephens on the episode five commentary. A look at the shows deeper themes as well as insight into the characters, casting and music among other things.
DISC THREE:
Making True Detective: a behind the scenes look at what it takes to put a hit series together including interviews with cast and crew plus a peek at rehearsal.
Inside the Episode: vignettes for episodes seven and eight that can be viewed separately or together featuring writer Nic Pizzolatto and director Cary Joji Fukunaga as they discuss their perspectives and offer unique insight to each episode.
Deleted Scene: a deleted scene from episode eight featuring moody aerial footage of Louisiana set to music.
Up Close with Matthew McConaughey and Woody Harrelson: exclusive interviews with the actors done in four parts which can be watched together or separately.
A Conversation with Nic Pizzolatto and T Bone Burnett : a fascinating conversation between   the writer/creator and the composer on the series and the role music played in it, as well as  their views on main characters Cohle and Hart.
Aurora Snow Says
OVERALL:
[Rating:4/5]
[amazon_link asins='B00HUCF6KK' template='ProductCarousel' store='theaterbyte-20′ marketplace='US' link_id='100fa0bf-02d5-11e9-a901-9bc44dc49520′]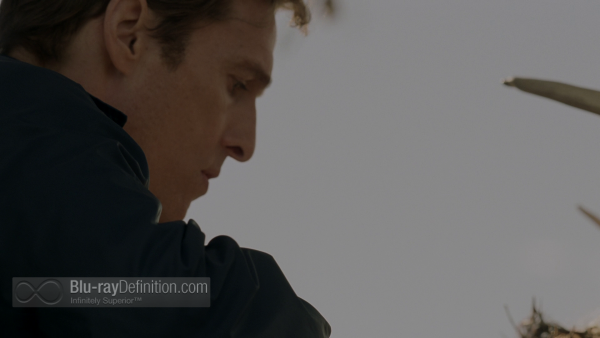 An enthralling murder mystery with familiar cop show themes, True Detective: The Complete First Season is the kind of riveting show HBO is known for. It offers a cornucopia of philosophical ramblings about good and evil, but does so in a masterfully compelling way. Matthew McConaughey and Woody Harrelson are in top form, doing some of their best work in this series. I couldn't imagine having to watch this series a week at a time, binge watching was the perfect way to go. With that said, I didn't feel this way about it until the second or third episode, so be sure to give this slow burning a series a chance to work its dark magic.
More Screen Captures