Aspect Ratio: 1.78:1

Video Codec: AVC/MPEG-4

Resolution: 1080p/24

Audio Codec: English DTS-HD Master Audio 5.1, English Dolby Surround 2.0, English Descriptive Audio Dolby Digital 5.1, English Family Audio Track (All Objectionable Language Removed) (Not Available on Collector's Extended Cut), French Dolby Digital 5.1, Portuguese Dolby Digital 5.1, Spanish Dolby Digital 5.1

Subtitles: English SDH, Chinese, French, Portuguese, Spanish

Region: A (Region-Locked)

Rating: PG-13

Discs: 3

Studio: 20th Century Fox

Blu-ray Release Date: November 16, 2010


List Price: $54.99



[amazon-product align="right"]B0044XV3QY[/amazon-product]
Purchase Avatar: Collector's Edition on Blu-ray at CD Universe
Shop for more Blu-ray titles at Amazon.com
Overall
[Rating:4.5/5]
The Film
[Rating:4/5]
Video Quality
[Rating:5/5]
Audio Quality
[Rating:5/5]
Supplemental Materials
[Rating:5/5]
Click thumbnails for high-resolution 1920X1080p screen captures
(Screen captures are lightly compressed with lossy JPEG  thus are meant as a general representation of the content and do not fully reveal the capabilities of the Blu-ray format)
The Film
[Rating:4/5]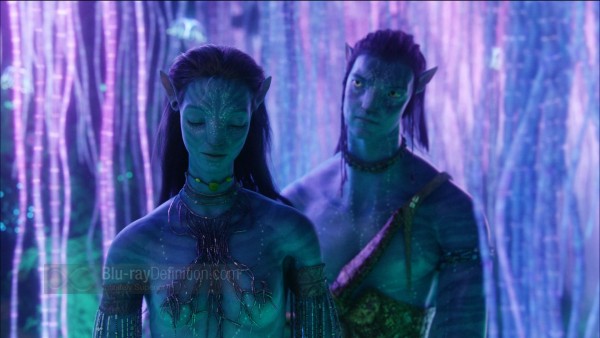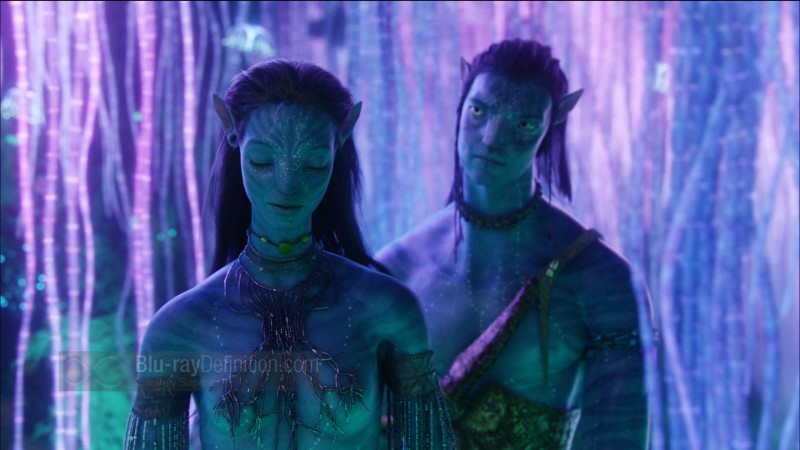 Filmmaker James Cameron has never been known to approach any of his films in a small way. He has been pushing the technological and budgetary boundaries of filmmaking for years. His philosophy has always been to bring something new to moviegoers; employing grand spectacle on the big screen to place viewers in a world where they can escape the mundaneness of their real world problems. From The Abyss, through Terminator to Titanic, Cameron has honed his craft as the wizard of special effects wonder and sci-fi epics. But what Cameron has lacked in any compelling fashion along the way is any inkling that he might perhaps be able to sculpt a deep enough story to hold one's attention for the nearly three-hour journey that Avatar begs its viewers to tag along for.
Of course, when embarking on such an adventure the argument can be made that character and plot development are elements that must necessarily take the background to allow the awesome adventure and flight of fantasy to unfold. If only Tolkien and Peter Jackson were aware of that fact.
As the case may be, Cameron's Avatar is filled with caricatures and platitudes that plod through his heavy-handed ideas on environmentalism, the evils of capitalism and warfare set against the distant backdrop of a faraway land known as Pandora. There the seemingly primitive tree dwelling native population the Na'vi dwell upon a cache of a highly sought after mineral known as — I kid you not — "unobtanium."
In come the evil humans, fresh from their desolate planet where they have used up all the fossil fuels, killed off all the trees and now desperately need to displace the Na'vi to get at the unobtanium for their energy needs. Paralyzed soldier Jake Sully (Sam Worthington) arrives on Pandora into all of this confusion and is used as a human "Avatar." His consciousness is projected into the bioengineered body of a Na'vi. On an expedition into the Pandoran forest with Dr. Grace Augustine (Sigourney Weaver), also in avatar form, Jake is separated from his party when a particularly vicious native beast chases him down. Lost and alone, Jake ends up having to stay overnight in the mysterious forest where the Pandoran Neytiri (Zoe Saldana) finds him. She rescues him from a pack of wolf-like creatures and takes him back to her tribe after receiving a sign from the Pandoran god.
Sully becomes ensconced in the culture of Pandora from that point, learning the ways of the natives and losing his sense of reality — which is the real world and which is the dream world? Of course, Cameron also throws in an obvious inter-alien love story between Neytiri and Jake.
Soon, Jake must make a decision about which side he is on when the humans, that is to say, the corporation and the mercenary soldiers that work for them, are no longer willing to wait for the Na'vi to move peacefully so they can get at the unobtanium.
The cliché story aside, Avatar is a feast for the eyes and ears, even in its regular, flat 2D version. The CGI motion-capture visual effects are nothing short of stunning and the "air brush" color palette simply leaps from the screen. This is an adventure meant to be watched and enjoyed for its technical prowess, and it allows for excusing the at times awfully silly dialogue and obvious plot devices.
This Extended Blu-ray Collector's Edition allows the viewer a choice of three versions of the film, the Original Theatrical Version, Special Edition Re-Release, and an all-new 3-hour-long Collector's Extended Cut with 16-minutes of additional footage. Neither of the newly extended editions offers much more depth to the original storyline, along the lines of the Extended Editions of The Lord of the Rings, but they do offer up several scenes of more jaw-dropping eye-candy. In case you want to cut to the chase, the disc offers a feature that lets you jump directly to the additional and extended scenes for the Re-Release and Collector's Extended Cut so you can immediately see what you missed the first time around. There is also a new, family-friendly 5.1 track that removes all "objectionable" language, but it is only available for the Theatrical and Re-Release versions.
Video Quality
[Rating:5/5]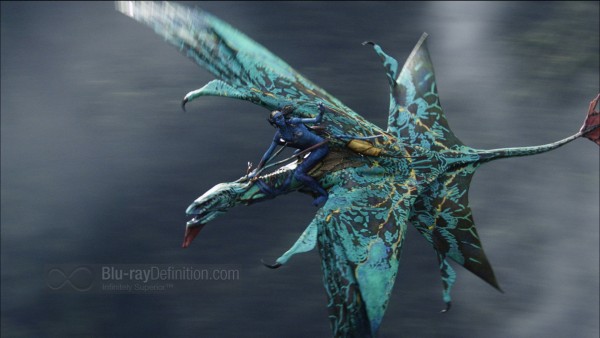 Despite this film rather conspicuously debuting on Blu-ray sans a 3D version, and the lack of a commercially available 3D version still, even in this so-called "Collector's Edition" (you'll have to wait until December 1st and buy a new Panasonic 3D-TV to finally get AVATAR on Blu-ray 3D), the AVC/MPEG-4 encoding of all 2D editions look spectacular. Even if some of the CG effects do look a bit exposed in the cold light of regular ol' 2D HD, the splendidly vivid colors, clean extended details and artifact-free compression make up for it all.
Audio Quality
[Rating:5/5]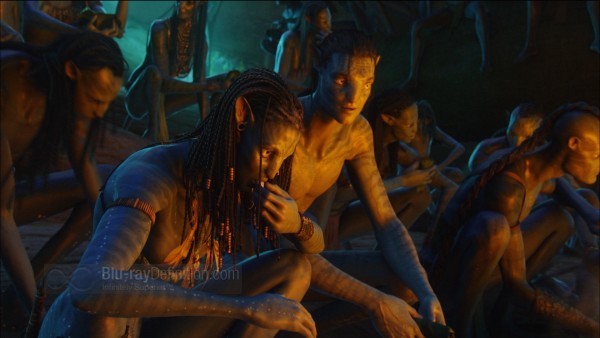 The DTS-HD Master Audio 5.1 soundtrack is equally enjoyable and pure reference quality stuff for a film of this nature. The surround channels are engaged throughout the film with all manner of discrete and ambient sound effects while low frequencies are downright thunderous. Dialogue is clear and never lost in the action.
Supplemental Materials
[Rating:5/5]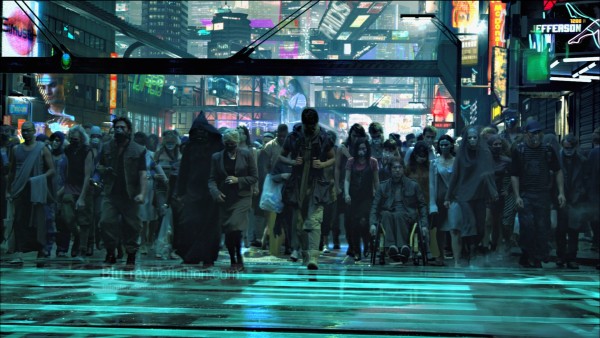 They've finally righted the wrongs on the original barebones AVATAR release and made this Collector's Edition a bountiful feast of extras — we won't complain too hard about the double-dip and eventual triple-dip when they finally decide to make the 3D version commercially available.
The supplements provided o this release are:
Disc 1:
Direct Access to New and Extended Scenes
Live Extras —

Exclusive: Screen Test — Sam Worthington & Zoë Zaldana (Raw Footage)
Exclusive: Screen Test — Stephen Lang (Raw Footage)
Exclusive:  Screen Test — Giovanni Ribisi (Raw Footage)
Exclusive: Screen Test — Joel David Moore (Raw Footage)
Exclusive: Screen Test — CCH Pounder (Raw Footage)
Exclusive: Screen Test (Laz Alonso (Raw Footage)
Exclusive: Speaking Na'vi (Rehearsal/Raw Footage)
Exclusive: WETA Workshop: Walk & Talk Presentation (Raw Footage)
Exclusive: Crew Short — The Night Before AVATAR
Theatrical Trailer
Disc 2:
Deleted Scenes: Never-Before-Seen (2.35:1; 1080p/24)
Capturing AVATAR (1.78:1; 1080i/60) — Cameron and crew speak in a four part, behind-the-scenes look at the production of AVATAR.:

Part One
Part Two
Part Three
Part Four

A Message from Pandora (1.78:1; 1080i/60; 0:20.12) — James Cameron speaks on his environmental activism and its influence on AVATAR.
Production Materials:

2006 Art Reel
Brother Termite Test
The ILM Prototype w/optional Motion Capture Reference
Screen Test — Sam Worthington (Raw Footage)
Screen Test — Zoë Zaldana (Raw Footage)
James Cameron Speech: Beginning of Live Action Filming (Raw Footage)
ILM VFX Progression
Framestore VFX Progression
[Hy*Drau"Lx] VFX Progression
Hybride VFX Progression
Prime Focus VFX Progression
Look Effects, Inc. VFX Progression
Crew Film: The Volume

Live Extras
Disc 3:
Scene Deconstruction — See several scenes in various stages of production using the colored buttons on your remote.:
Welcome to Your New Body
First Run
First Sortie
Night on Pandora
Shahaylyu
Seyzey
You're Mine
First Flight
Toruk Macto
You Are Omaticaya Now
I Am One of You
I Trusted You
The Aftermath
I See You
Fly With Me
You Chose Me for Something
Eywa Has Heard You
Featurettes (1.78:1; 1080i/60):

Sculpting AVATAR (0:03.46)
Creating the Banshee (0:09.51)
Creating the Thanator (0:03.20)
The Amp Suit (0:04.31)
Flying Vehicles (0:05.13)
Na'vi Costumes (0:04.14)
Speaking Na'vi (0:06.37)
Pandora Flora (0:05.40)
Stunts (0:05.14)
Performance Capture (0:06.32)
Virtual Camera (0:03.21)
The 3D Fusion Camera (0:03.43)
The Simul-Cam (0:02.18)
Editing AVATAR (0:06.59)
Scoring AVATAR (0:06.06)
Sound Design (0:08.50)
The Haka: The Spirit of New Zealand (0:05.17)
AVATAR Archives:

Theatrical Trailer (2.35:1; 1080p/24)
Teaser Trailer (2.35:1; 1080p/24)
AVATAR: The Original Scriptment (1080p)
AVATAR: Screenplay Written by James Cameron (1080p)
Pandorapedia (1080p)
AVATAR: The Songs (1080p)
The Art of Avatar (1080p)
The Definitive Word
Overall:
[Rating:4.5/5]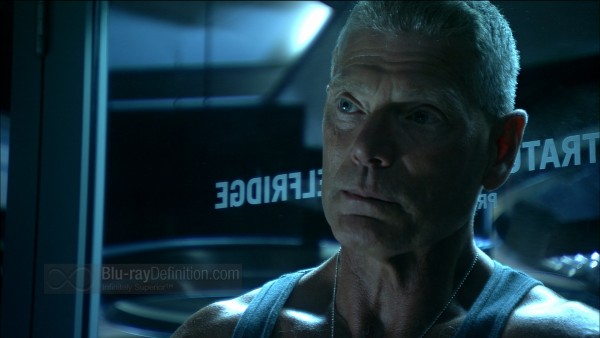 James Cameron has once again pushed the boundaries of what can be technically achieved in filmmaking with Avatar. Despite its storytelling flaws there is no doubt that people will be looking to this film for years to come as the benchmark for visual effects in filmmaking. Fittingly the Blu-ray is a reference release all around as well, even if it passes on the 3D version. Does having three separate versions of the film make up for the lack of 3D? Maybe it does for those who don't care much about the 3D experience, but this film is all about 3D. Anyway, the hefty amount of extras certainly helps to ease the sting of the double-dip on this one.
Additional Screen Captures: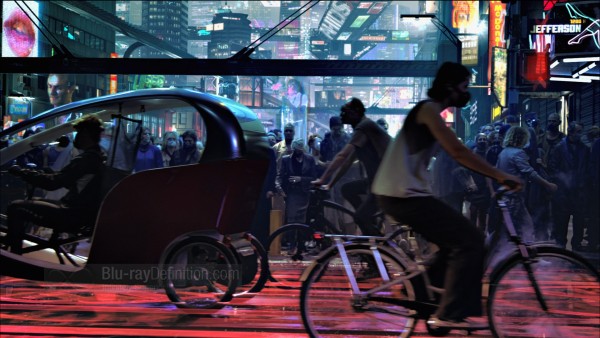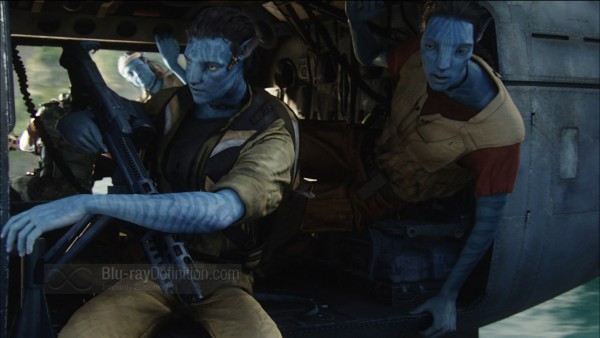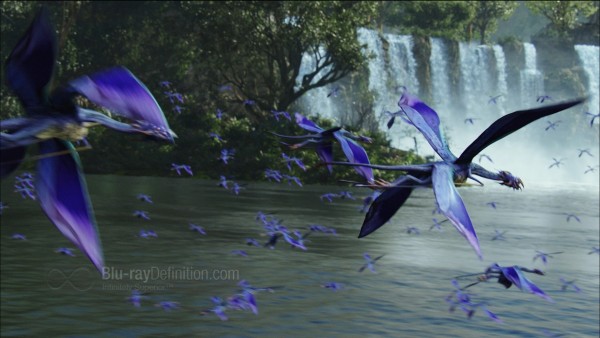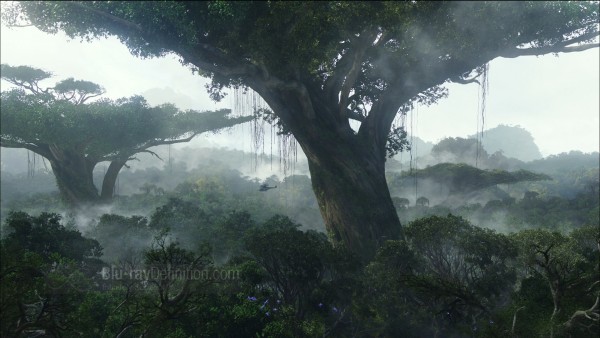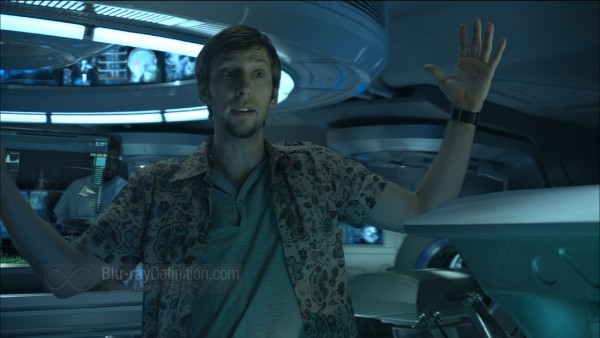 [amazon-product align="right"]B0044XV3QY[/amazon-product]
Purchase Avatar: Collector's Edition on Blu-ray at CD Universe
Shop for more Blu-ray titles at Amazon.com