Video Codec: AVC/MPEG-4
Resolution: 1080p/24
Audio Codec: English DTS-HD Master Audio 5.1 (48kHz/16-bit); English LPCM 2.0 (48kHz/16-bit)
Subtitles: English SDH
Region: B
Discs: 1
Classification: 18
Studio: Optimum Home Entertainment

Blu-ray Disc Release Date: September 28, 2009
List Price: £19.99
 

[amazon-product align="center" region="uk" tracking_id="bluraydefinit-21"]B002BD9DGG[/amazon-product]



Shop With Us for More Blu-ray Titles at Amazon.co.uk

Shop with Us for More Blu-ray Titles at Amazon.com

Overall

The Film

Video Quality

Audio Quality

Supplemental Materials



Click thumbnails for high-resolution 1920X1080p screen captures
More screen captures (12 Total)
(Screen captures are lightly compressed with lossy JPEG and thus are meant as a general representation of the content and do not fully reveal the capabilities of the Blu-ray format)
The Film

Britain in the late 1970's was a country still reeling from the atmosphere of a repressive economic recession. High unemployment, high crime rates and poor housing were affecting a large portion of the country's population. By 1979, Margaret Thatcher had swept into government as Prime Minister, paraphrasing Francis of Assisi: "Where there is discord, may we bring harmony. Where there is error, may we bring truth. Where there is doubt, may we bring faith. And where there is despair, may we bring hope."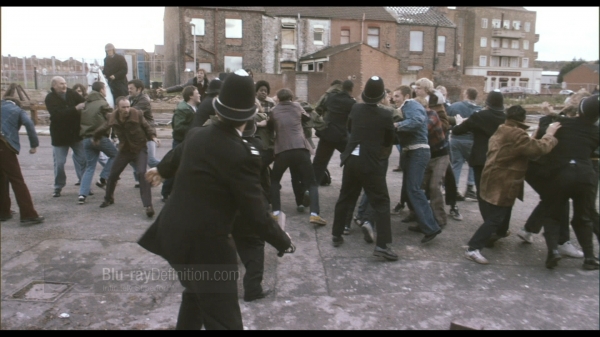 At the same time, the musical landscape in Britain was changing; the raw anger and anti-establishment punk of the Sex Pistols and The Clash had given way to post-punk, new wave and goth dealing with more inner turmoil, romantic notions, and dour themes. The angst ridden sounds of bands like Joy Division, The Cure, Ultravox, Echo & The Bunnymen looked farther back into the past, drawing their musical inspiration from The Velvet Underground, and even taking a queue in their fearless approach to subject matter from the former as well. Out were full-on attacks on the establishment, and in were songs about unrequited love, suicide, depression, angst, and domestic violence. Paralleling the rise of this new musical direction was a new a new surge in youth violence; listless, wayward youths, fresh off the punk scene looking for direction in their lives. Many would form into gangs of football hooligans united in their love of sport, music, and the primal release of violence. Writer Kevin Sampson's novel, Awaydays, chronicled this period in Britain's history, focusing on the Merseyside area of Liverpool and that novel forms the basis of this film. With a screenplay also written by Sampson, it follows a group of Football hooligans in Liverpool called The Pack who revel in brawling with fans of rival sides at away games.
When his mother dies, Carty (Nicky Bell) struggles to find a purpose in his life and he hopes to find it in The Pack, but an encounter with The Pack's golden boy, Elvis (Liam Boyle), causes Carty to reassess his plans. The two strike up a close friendship, dreaming of getting away to Berlin and breaking out of the confines of their, drab, dead end life of violence. Unfortunately with Awaydays, it seems the best part of the film is its riveting classic soundtrack. Filled with moody slow-motion scenes underlain with the raw drone of plaintiff guitars that elevate scenes of violence to high art, Awaydays is adrift in the language of hipster cinema. An art house drama through and through, its narrative of angry youth, the unspoken homoeroticism in the bonding of its male leads and middle class shackles are left nothing more than devices for a well shot scene on the Mersey; another excuse to crank up Ian Curtis as the boys trot down a shadowy side street. Certainly Awaydays has its touching moments and it may feel more poignant being set at the end of the 1970's rather than in recent times, but more realistic depictions of troubled youth can be found in BBC shows like Skins, with far less pretensions.
Video Quality

Awaydays' high definition source arrives in a 1.85:1 AVC/MPEG-4 encoding on Blu-ray. The film's purposely drab, de-saturated palette hardly sparkles in high definition, but that is not what hampers this Blu-ray release. What causes this release to be problematic are the high amounts of video noise in low light settings, very visible blocking, posterization and soft detail. Per artistic choices, flesh tones are a bit pallid and blacks are quite grey. There's visible banding in some areas as well. I suppose there's not much else that can be asked of a low budget film, but do not go into this expecting great picture quality.
Audio Quality

Awaydays is blessed with a classic late-1970's/early-1980's post-punk, goth, and early-new wave soundtrack populated by such acts as Joy Division, Ultravox, The Cure, The Rascals, The Jam, Elvis Costello, and Echo & The Bunnymen. Its English DTS-HD Master Audio 5.1 (48kHz/24-bit) soundtrack does an excellent job at conveying these musical numbers with a wide soundstage, a lush amount of ambience, good dynamics, and smooth high frequencies. Low frequency extension is average, with the subwoofer barely getting a workout, but the surround channels are given some opportunity to flex beyond mere ambience with the occasional discrete atmospheric sound effect like the distant sound of the British Rail or chemical tankers drifting down the Mersey.
Supplemental Materials

All but one of the video supplements on Awaydays are provided in 1080i/50 high definition. The remaining supplement is in PAL-format standard definition. Unless you are in a Region B area, you must make sure that either your BD player is capable of converting 50Hz and PAL signals, otherwise you will not be able to access any of these supplements. The supplements available on this release are:
Imagining Awaydays: On Location with Writer Kevin Sampson and Producer David Hughes (1.78:1; 1080i/50)
On the Bench: Interviews with Director Pat Holden and lead actors Nicky Bell and Liam Boyle (1.78:1; 1080i/50) — The two actors discuss playing the roles in the film and the difficulties the two natives of Manchester had putting on a Liverpool accent. Director Pat Holden discusses casting the two leads.
The Birth of the Casuals (1.78:1; 1080i/50) — The costume designers discuss the period casual wear that the characters wear in the film.
Auditions (1.33:1; SD/PAL) — Audition tapes for the lead actors Nicky Bell and Liam Boyle.
The Definitive Word
Overall:

It's stylish and angst-ridden, full of anger and quiet charms, but ultimately Awaydays feels a bit pointless. Were it not for the film's marvelous soundtrack, it may not be half as easy to sit through, especially with its low-budget picture quality.

Shop With Us for More Blu-ray Titles at Amazon.co.uk

Shop with Us for More Blu-ray Titles at Amazon.com