Click thumbnails for high-resolution 1920X1080p screen captures
(The below TheaterByte screen captures were taken directly from the Blu-ray Disc and losslessly compressed in the PNG format. There should be no loss of picture quality with this format. All screen captures should be regarded only as an approximation of the full capabilities of the Blu-ray format.
The Film
[Rating:5/5]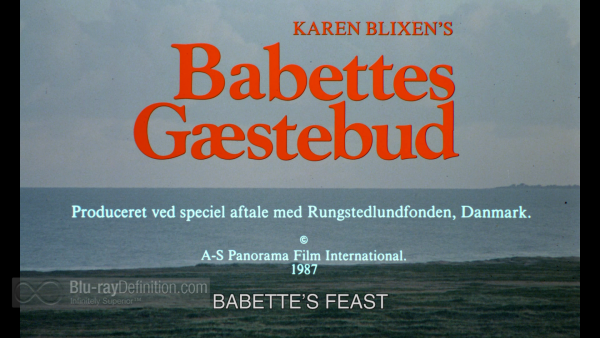 Of all all the films about food and romance, writer/director Gabriel Axel's Babette's Feast (Babettes gæstebud), sourced from the work of Out of Africa writer Isak Dinesen, is one of the most delightful. Set in a rugged 19th century coastal village in Denmark, the story follows two aging sisters Martine (Birgitte Federspiel) and Fillipa (Bodil Kjer). In their younger days, the two women were beauties whose devotion to their Protestant minister father (Pouel Kern) caused the two to pass up chances at love and fame. Years later, they take in Babette (Stéphane Audran), a political refugee from France, as their personal housekeeper. But Babette's own past may lead to some stirring up of the stagnant stupor of religious devotion and regrets the sisters have found themselves in over the years, especially when she decides to throw a lavish French-style feast in celebration of the 100th anniversary of the sisters' father's birthday.
Axel's handling of the material is pure genius from beginning to end. A wonderful exploration of both unexpected consequences, life decisions, and sometimes serendipitous situations, Babette's Feast begins slowly, with an appropriately removed, pious aura, a narrator offering up much of the inner thoughts and motivations of the characters whose lives we are slowly being drawn into. As the film progresses, however, and as Babette enters, things begin to liven, and become more humorous. Before we even realize it, we are elbow deep in Babette's nearly orgiastic feast, narrator nowhere to be found. We are struggling to keep ourselves from guffawing aloud at the reactions of the diners to the decadent cuisine the likes of which they've never tasted before. It is this denouement that really seals the deal for the film, like it has been on one long arc, like a life journey of discovery, charity, error, yearning, experimentation, and finally fulfillment.
One has to mention Axel's use of the lens, courtesy of cinematographer Henning Kristiansen. The imagery of Scandinavia, its rolling hills of wild herbs, the seaside fishmongers, little straw-roofed villages, slow moving pans, patient shots on faces – these all make for an intimate experience that stays out of the way of the storytelling and brings us closer to the characters and their surroundings.
Video Quality
[Rating:4.5/5]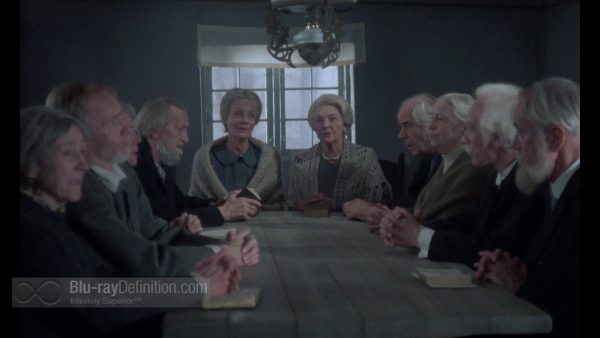 This new 2K digital restoration of Babette's Feast from the Criterion Collection looks sublime. While one can spot an ever so slight bit of video noise in some of the most textured imagery, the release, in comparison to the previously reviewed UK Artificial Eye Blu-ray release of Babette's Feast is a slam-dunk winner. The Criterion Blu-ray, here framed at 1.66:1 versus the open-matted AE release,  shows a more natural and rich color palette and better white balance, though not as bright as the Artificial Eye. At first glance, the Criterion may appear a bit murkier in the darker scenes than the Artificial Eye, but closer inspection shows that it is more naturally nuanced, not as gritty, and whites don't look bleached as they do in the UK release.
Audio Quality
[Rating:3.5/5]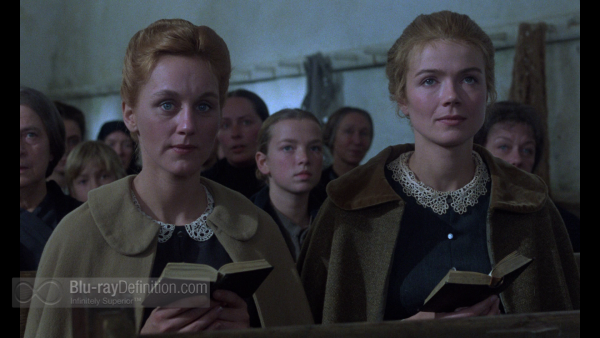 The multilingual (Danish/French/English) soundtrack is offered up in a more than adequate DTS-HD Master Audio 2.0 (48kHz/24-bit) track that is free from any noticeable clipping or source noise, and provides clear dialogue and a reasonable amount of dynamic range given the dialogue-drive aspects of this film.
Supplemental Materials
[Rating:4/5]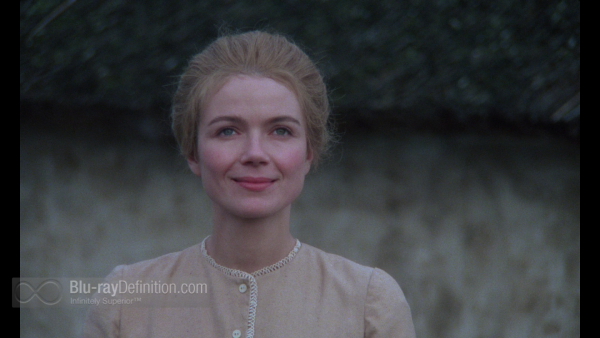 If one is comparing this Criterion Collection release to its UK Artificial Eye counterpart solely on the basis of supplements, then Criterion, unsurprisingly, wins in a landslide, offering up a plethora of pertinent and informative extras in the form of high definition interviews, documentaries, and, as usual, the high quality booklet.
The supplements:
Gabriel Axel (1.78:1; 1080p/24; 00:08:41) – Director Gabriel Axel began his career working for Danish television in the early 1950s; since then, he has alternated between feature films and television. He worked for fifteen years to bring to the screen Dinesen's short story "Babette's Feast," which everyone told him was unfilmable. This interview was conducted by the Criterion Colleciton at the Karen Blixen Museum in Rungsted, Denmark, in May 2013
Stéphane Audran (1.78:1; 1080p/24; 00:24:21)– Before Babbette's Feast, French star Stéphane Audran was probably best known for her performances in films by her former husband Claude Chabrol, including Les cousins, Les biches, and Le boucher, as well as her role in Luis Buñuel's The Discreet Charm of the Bourgeoisie. In this 2012 interview, she discusses taking the part of Babbette and the challenges of working in an unfamiliar language.
Table Scraps (1080p/24; 00:26:00) – In this visual essay, filmmaker Michael Almereyada charts the path from Isak Dinesen's story to Gabriel Axel's film, taking detours along the way into art history, philosophy, and the author's life in Africa. Actor Lori Singer narrates.
Karen Blixen – Storyteller (1.33:1; 1080p/24; 01:30:07) – In this feature-length documentary from 1995, director Christian Braad Thomsen weaves together a portrait of Danish author Karen Blixen – who wrote under the pen name Isak Dinesen – through interviews with her friends and students, and archival television appearances by the writer.
An Artist of the Everyday – In this interview conducted by the Criterion Collection in April 2013, sociology professor Priscilla Parkhurst Ferguson, the author of Accounting for Taste: The Triumph of French Cuisine, discusses the importance of cuisine to the French national identity, and its poignant evocation in Babbette's Feast.
Trailer (1.78:1; 1080p/24)
Booklet – This Criterion Collection booklet comes with an essay on the film by film scholar Mark Le Fanu as well as Dinesen's 1950 short story.
The Definitive Word
Overall:
[Rating:4.5/5]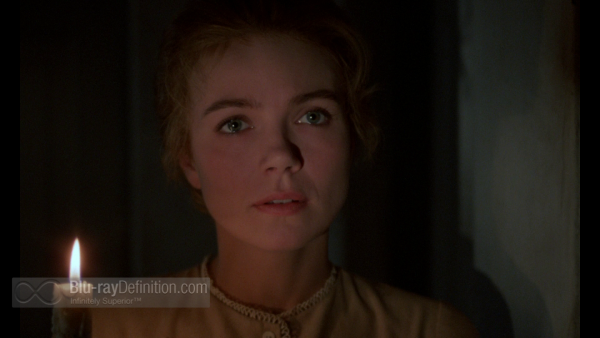 Babette's Feast won the Academy Award for Best Foreign Film and the British BAFTA Award for Best Film of 1987. Watching this film yet again in this Criterion Blu-ray release, I cannot argue with those decisions. Every time I have seen this film, I have taken something different away from it, but I have always enjoyed it immensely. It is one of the few films that easily fits across multiple genres, be it drama, romance, or comedy. A beautiful depiction of life's journey, this new edition of Babette's Feast is a must for cinephiles and has easily become the reference home video edition.
Additional Screen Captures
[amazon-product]B00CEIOH9G[/amazon-product]
Shop for more Blu-ray titles at Amazon.com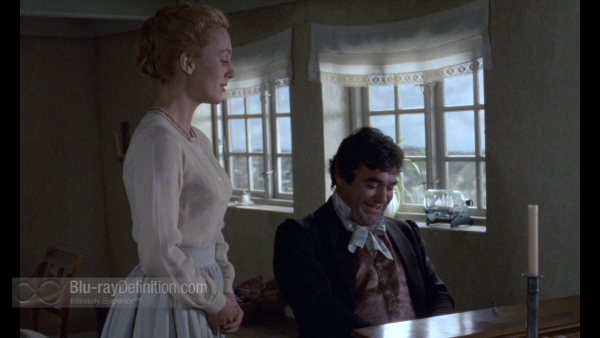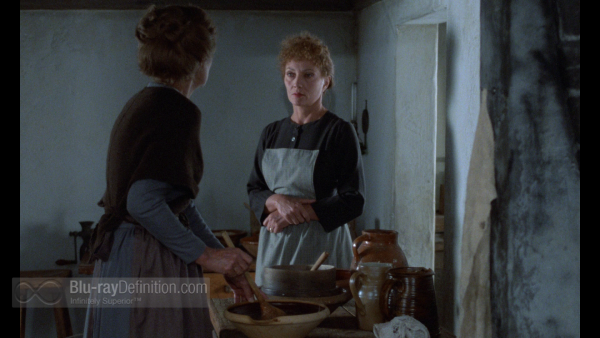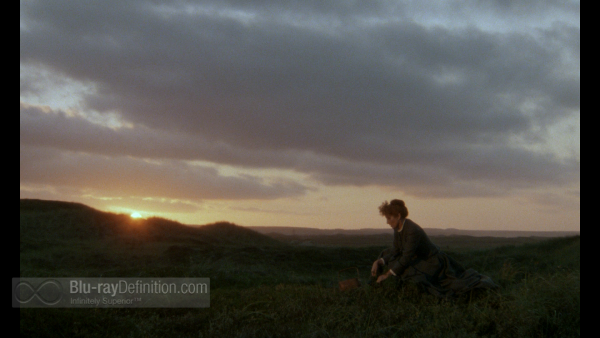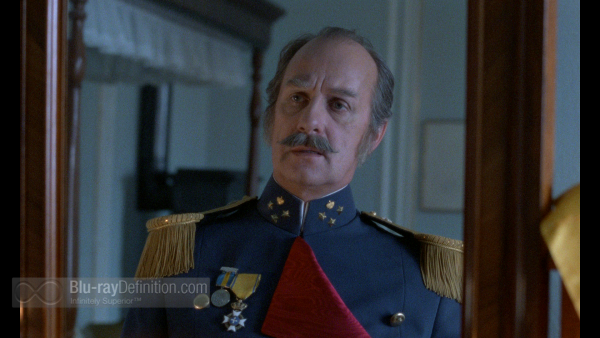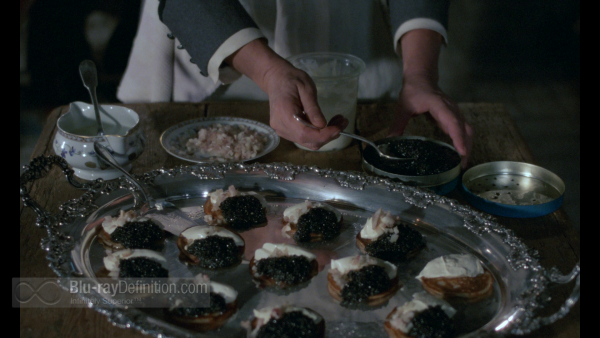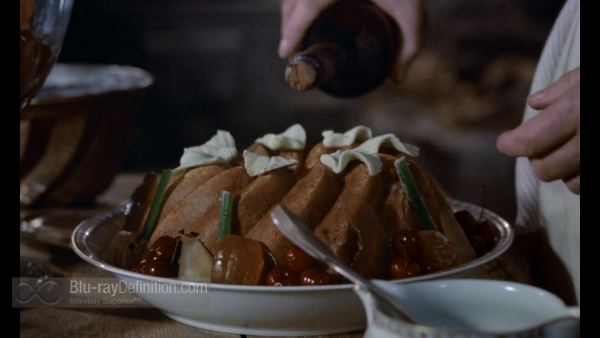 [amazon-product]B00CEIOH9G[/amazon-product]
Shop for more Blu-ray titles at Amazon.com
Overall
[Rating:4.5/5]
The Film
[Rating:5/5]
Video Quality
[Rating:4.5/5]
Audio Quality
[Rating:3.5/5]
Supplemental Materials
[Rating:4/5]