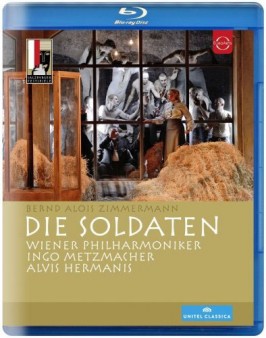 Mouse-over Cover Art for Details –
Click thumbnails for high-resolution 1920X1080p screen captures
(The below TheaterByte screen captures were taken directly from the Blu-ray Disc and losslessly compressed in the PNG format. There should be no loss of picture quality with this format. All screen captures should be regarded only as an approximation of the full capabilities of the Blu-ray format.)
The Film
[Rating:4/5]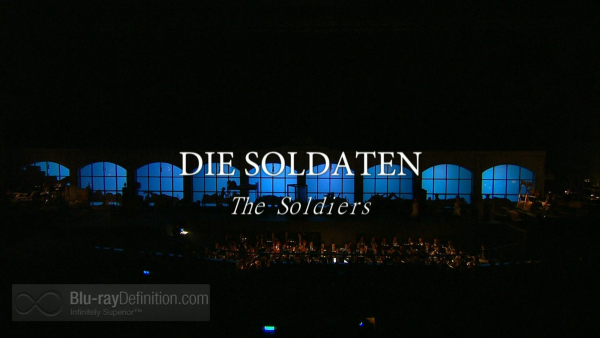 Bernd Alois Zimmermann's only completed opera, Die Soldaten (The Soldiers) was premiered in 1965 and has gradually gained a repertory foothold, particularly in German-speaking venues.  Interestingly enough, this 20th century opera is based on an 18th century play by Jakob Michael Reinhold Lenz that addresses the dark side of war.  This 2012 Salzburg Festival production was conceived by Alvis Hermanis and conducted by Ingo Metzmacher.
Marie (Laura Aikin) comes from a good family, the Weseners, whose father (Alfred Muff) a wealthy merchant seems to have a more than proper relationship with his daughter. Marie is engaged to Stolzius (Tomasz Konieczny) but eventually falls for Baron Desportes (Daniel Brenna). When Stolzius gets wind of this affair, he breaks off the engagement. Eventually Desportes loses interest in Marie and she descends into a life of debauchery. To keep tabs on Marie, Stolzius joins the regiment. Count de la Roche (Matthias Klink) becomes attracted to Marie. The Count's mother (Gabriela Benackova) offers Marie a domestic position in her household but the girl declines this offer and pursues Desportes who will have nothing to do with her. In a desperate act, Stolzius poisons himself and Desportes. Finally, Marie ends up on the streets, a common whore with no hope for the future.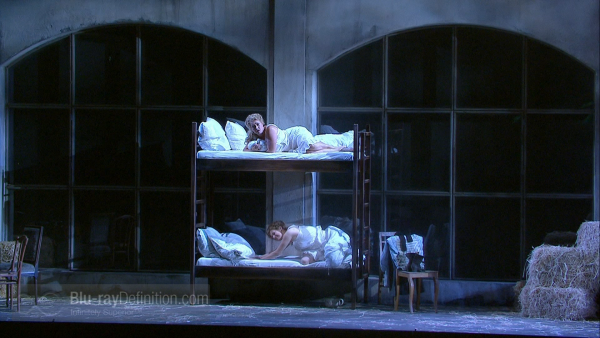 The rather stark sets use windows and glass cases that accentuate the prevailing air of depersonalization and desperation that characterize this two-hour opera. The musical idiom is based on the twelve-tone row that was popularized by Arnold Schoenberg in the 1920s and has been used rather sparingly in the operatic repertoire, examples being Schoenberg's Moses und Aron, Alban Berg's Wozzeck, and Luigi Dallapiccola's Il Prigioniero.
Video Quality
[Rating:4/5]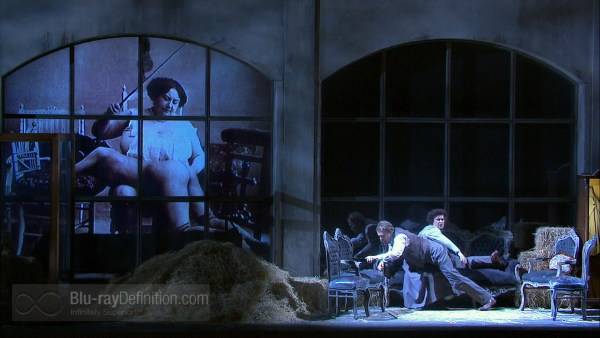 Video director Hannes Rossacher gives us a rather monochromatic stage picture with occasional large inset photos of female nudes, sadomasochistic acts, lesbian couples, and lewd poses, while a scruffy group of soldiers act as voyeurs through the ever present large windows. Details are well handled and colors, such as they are, seem quite good. There is some clever use of the sets including a Salome-like dance of the seven veils by a whore who begins to disrobe in the glass case, surrounded by a gang of lecherous troops who strip down for action. A visual highlight of the second act is a concluding tightrope walk by a Marie body double who crosses the stage with no net.
Audio Quality
[Rating:4.5/5]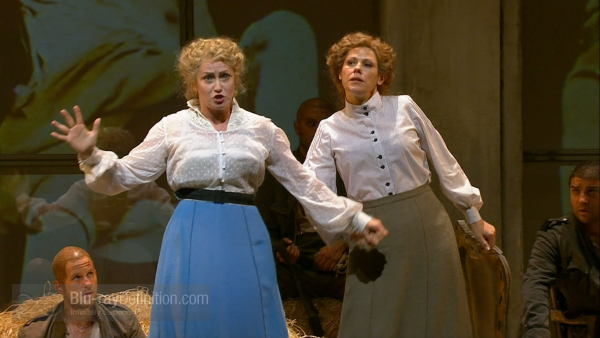 The DTS-HD Master Audio 5.0 sound track is big, brassy and delivers a nearly continuous sonic assault during this performance with very few quiet moments. The voices fare pretty well against the large pit orchestra. The 2-channel version is decent.
Supplemental Materials
[Rating:0.5/5]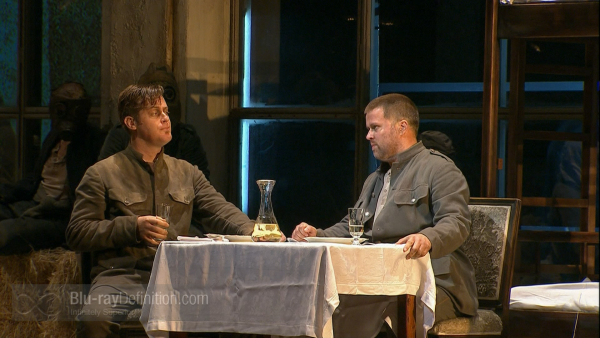 EuroArts gives us a program booklet with an essential synopsis of this rarely heard work and some background on the composer and his sources. There are trailers for other EuroArts discs.
The Definitive Word
Overall:
[Rating:4/5]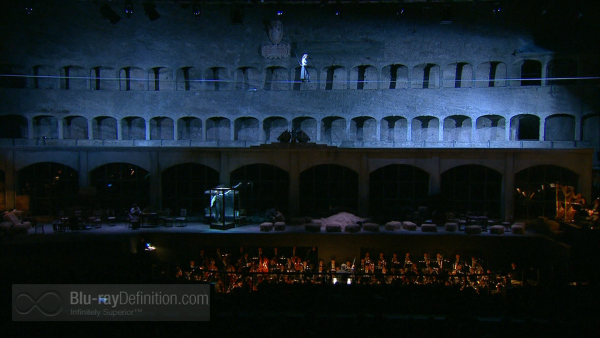 This is the only Blu-ray offering of Die Soldaten, and probably will be so for quite some time. Die Soldaten is an interesting work that recalls its 12-tone forebears such as Wozzeck and Lulu, if it does not quite reach the same level of inspiration. Although audiences have had nearly a century to attune to the serial tone rows of Schoenberg, Berg, Webern, and others, this is not music that falls easily on the ear. Even the two-hour running time, pretty economical for most operas, seems much longer given the inevitable monotony of much of this score. With the rather grim and sordid story that unfolds, despite the clearly committed performances of the principals and direction from the pit, this one will appeal to those with open minds who are willing to embrace a 50-year masterwork from a composer whose relatively short life spanned the end of one World War and the entirety of another.
Additional Screen Captures
[amazon-product region="uk" tracking_id="bluraydefinit-21″]B00CZBDD3S[/amazon-product]
[amazon-product region="ca" tracking_id="bluraydefinit-20″]B00CZBDD3S[/amazon-product]
[amazon-product]B00CZBDD3S[/amazon-product]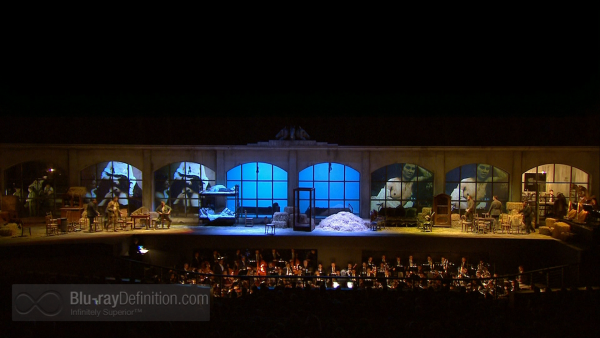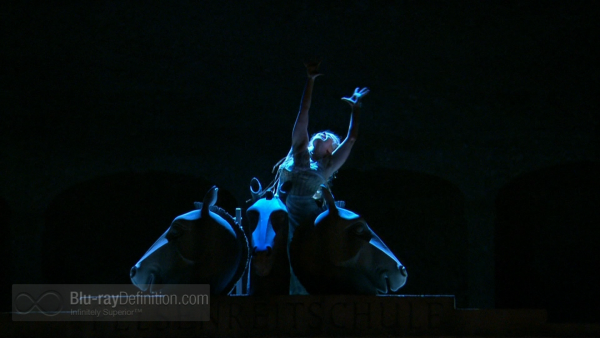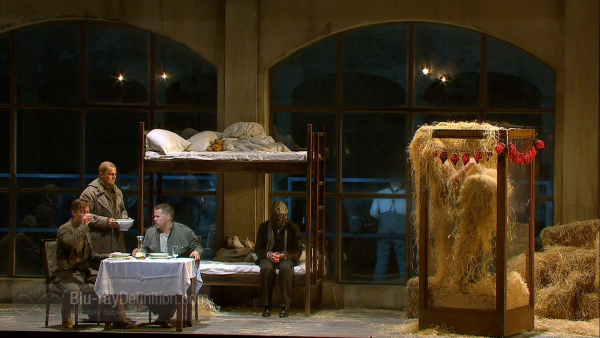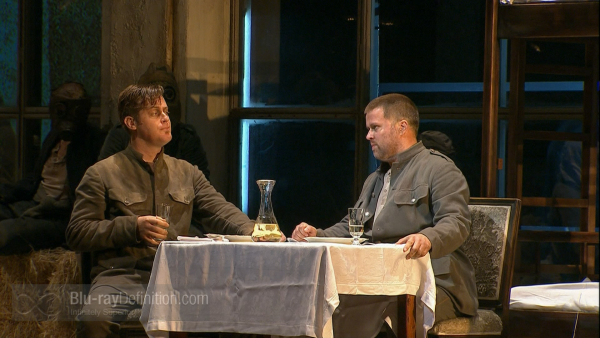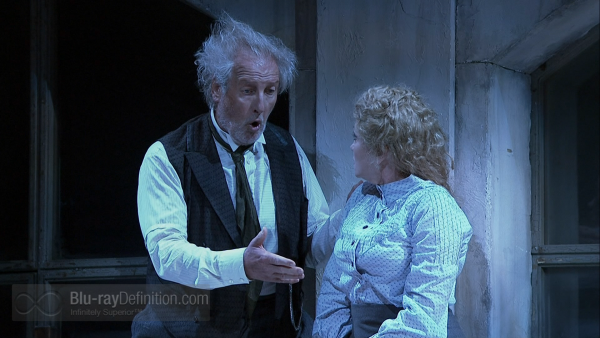 [amazon-product region="uk" tracking_id="bluraydefinit-21″]B00CZBDD3S[/amazon-product]
[amazon-product region="ca" tracking_id="bluraydefinit-20″]B00CZBDD3S[/amazon-product]
[amazon-product]B00CZBDD3S[/amazon-product]