–
The Film
[Rating:3.5/5]
Bessie is a project that has been in the making for two decades and it finally came to fruition courtesy of HBO. Queen Latifah stars as the famous blues singer Bessie Smith of the 1920s and 30s, and director Dee Rees is behind the lens for this rather engaging biopic.
Focusing less on the music and more on the rocky life of the early southern blues diva, Bessie, which is a triumph of period production, music, and dramatic acting, tells the story of Smith's rise from smalltime black vaudeville shows to working under the tutelage of blues legend Ma Rainey (Mo'Nique) before breaking out to start her own traveling show. Over the course of the film, Bessie explores Smith's individuality, her independence, her bisexuality, and her insecurities based on what was hinted at as a troubled and violent childhood.
It's this background where Bessie is at its weakest and where Dee Rees' direction misses. Bessie Smith's background is shrouded in mystery and vagaries. We aren't ever allowed too far into the psyche of Bessie Smith, but we do get a marvelous performance from Queen Latifah showing her various problems with drinking, overeating, and love in her adult life. And this former theme is one of the central conflicts in Bessie. Bessie Smith seems to long for someone or anyone to love her because of, what is hinted at, as a loveless childhood. The first relationship we are privy to is her relationship with one of her chorus line dancers, the beautiful, dark-skinned Lucille (Tika Sumpter). I mentioned dark-skinned only because, as we later see when Smith is putting together her own show, she is against hiring any light-skinned women because of the shame she suffered from the "paper bag" test. This is a humiliating test in which a Black person must put themselves up against a brown paper bag, and if they are not lighter, then they aren't deemed attractive enough. The second relationship is the rocky, often verging on violent one with her eventual husband and manager Jack Gee (Michael Kenneth Williams putting on a typically brilliant performance).
The cumulative takeaway from HBO's Bessie is of a woman who really did pour her problems — her blues — into her music, and the detailed production and direction of this original HBO film — done at a very high standard — places us in her world. It's a world where, against all the odds of racism, sexism, and domestic violence, Bessie Smith was able to become one of the most important figures in blues.
Video Quality
[Rating:4.5/5]
Bessie is an HD production shot on the Arri Alexa with Panavision Primo, PCZ and Angenieux Optimo lenses/ The Blu-ray shows up in an AVC/MPEG-4 1080p/24 encodement from HBO. The image is good. It's clean, it's crisp, it offers up great midtones even in the purposely period look of some scenes pop nicely. Some scenes have an added bit of "grain" or "noise" that looks organic and filmic. Shadows are quite nuanced as well with very little crush and the image does not suffer from any problems of black crush.
Audio Quality
[Rating:5/5]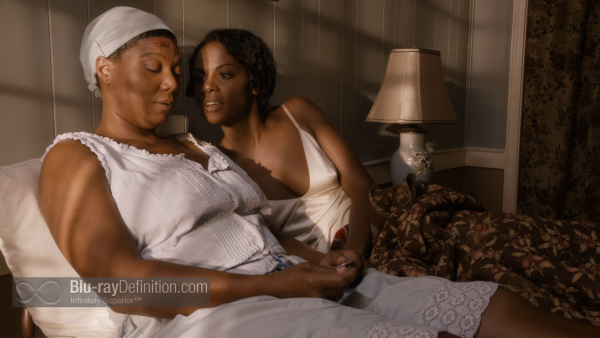 Bessie sounds fantastic. The film comes with an English DTS-HD Master Audio 5.1 (48kHz/24-bit) soundtrack as well as a French DTS 5.1 dub. This is a film that obviously has a lot of music, therefore the sound really needs to reflect that and be musically balanced. Thankfully, it is. The musically performances sound big and spacious with lots of rear ambience, a good balance of instrumentation, and punchy midrange, with excellent dynamics and low end extension. But beyond that, the rest of the mix is just about flawless as well. This is a workshop in subtlety, giving us clear and full dialogue, wonderful atmospheric sounds like street noise and the din of audiences across the front spectrum and through the surrounds, and rather wide dynamic range from the quietest whisper to the most bombastic yelling and energetic blues performances. This is a winner all around.
Supplemental Materials
[Rating:2/5]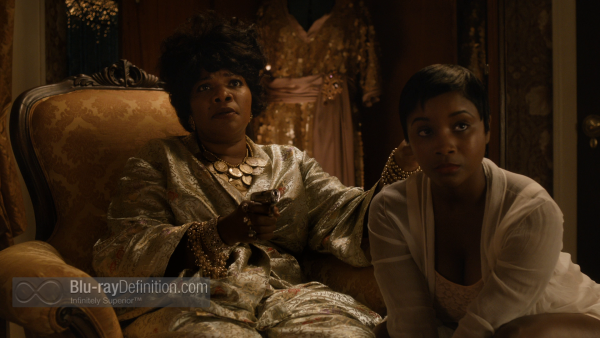 There isn't much provided here, but the 18-minute making-of does offer a little bit of background into how this film came together.
iTunes Digital HD Digital Copy & Digital HD UltraViolet
Bessie: A Creative Journey (1.78:1; 1080p/24; DTS 5.1; 00:18:35)
Filming in Georgia (1.78:1; 1080p/24; DTS 5.1; 00:03:43)
The Definitive Word
Overall:
[Rating:3.5/5]
Bessie has already taken home a few technical Emmy awards and is nominated for a fore a few more, including one for Best Actress for Queen Latifah. If she wins, it will be well deserved, as this is probably the best role of her acting career. This Blu-ray from HBO is also up the usual high standards of the studio.
Additional Screen Captures