– –

The Film
[Rating:3.5/5]
What we have in Big Hero 6 is Disney's acquisitions of Pixar and Marvel Entertainment finally culminating in something coherent, recognizably, and uniformly Disney. With John Lasseter now at the head of Disney's entertainment wing, it is unsurprising that their would be crossover from the powerhouse Pixar, whose influence is obvious in the Disney Animation Studios' latest endeavors. Big Hero 6, based on Marvel's comic book series, brings the mighty Marvel into the animation fold as well, spinning a family friendly superhero origin tale that is full of action, colorfully animated, and focuses on lovable characters.
Set in the fictional Sanfransokyo, the story revolves around the genius 13-year-old Hiro (Ryan Potter) who was smart enough to graduate from high school early, but since then has preferred to while away his time building robots to battle in illegal bot fights rather than apply himself in college. Living at home with his brother Tadashi (Daniel Henney) and his Aunt Cass (Maya Rudolph), Hiro is finally inspired to do something with his life when he meets his brother's lovable robot Baymax (Scott Adsit). Designed as a health care assistant, the big, plush, white vinyl robot with the artificial intelligence program wins Hiro over, and so does a trip to the science lab at the local university where Tadashi is attending classes. Inspired, Hiro commits to getting in to the same university by building a swarm of microbots that can be commanded via mind control that he will show off at the school's science fare, but tragedy strikes, and there is a fire. Hiro loses his brother in the fire. Now Hiro is left with Tadashi's robot Baymax as his only companion, and Tadashi's friends from college, Go Go (Jamie Chung), Wasabi (Damon Wayans Jr.), Honey Lemon (Genesis Rodriguez), and Fred (T.J. Miller) as his only friends. When a mysterious man in mask suddenly appears in Sanfransokyo controlling the very microbots that were though destroyed in the fire, it is left to Hiro, his lovable robot Baymax, newly upgraded with body armor and wings, and his university friends to find him and capture him. They all repurpose the advance tech they were working on at the university to form an unlikely group of heroes.
The animation in Big Hero 6 is beyond reproach. At this point, it's almost not even worth mentioning that anymore with the advances that have been made by studios like Disney, Pixar, DreamWorks and the like. The characters all look beautiful, even the humans here look far better than they would have even just four or five years ago. Remarkably, Baymax, who is a big, bubbly, rotund, white, humanoid shape comes across as very appealing and lifelike. One can already sense the number of Baymax plushy toys that Disney is going to push because of this film, and the bonus is, he gets two variations, the big huggable white version (that will probably appeal to a younger demographic) and the slick, red, flying one with rockets and wings, that older kids, especially boys will probably eat up.
But I digress, as a film, the story is strongest when it sticks to the friendship between Hiro and Baymax. Baymax, a medical robot, helps cure what ails Hiro, and that is the emotional scar of losing his brother. It's a touching story. Where the story tends to lose itself is in the action sequences, the subplot concerning the villain, and the rather strange, and somewhat confusing twist ending that seems to contradict itself. This involves Hiro and Baymax risking their lives to save someone, but according to what we were already told earlier in the film, they should not have been able to make it out alive at all.
While the film has all the elements families will want to see in a film for their children – lessons on friendship, coping with grief, loyalty, honesty, dealing with aggression and anger – it is ultimately just a virtual check list of how to make a family-ready superhero film. It doesn't reach the same heights of artistry story-wise as The Incredibles, for example, but it is, nevertheless, a highly enjoyable and beautiful film to watch.

Video Quality
[Rating:5/5]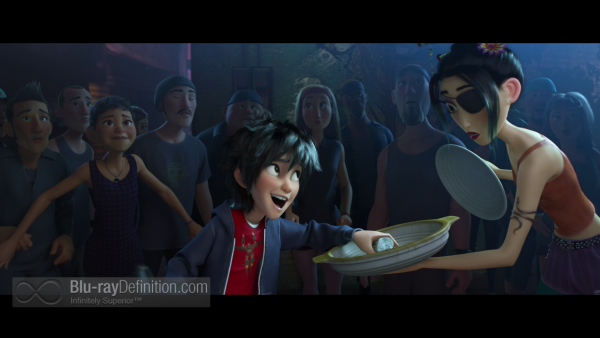 It seems as though Disney has all but abandoned 3D on Blu-ray outright in all but the most rare ultra-premium reissue special edition releases domestically. That being the case, despite being an original 3D theatrical release, Big Hero 6 comes home on Blu-ray with just a 2D release. Never fear, however, the 1080p AVC transfer is everything one would expect of a Disney CG animated release. It looks gorgeous in every way, with beautiful colors the look lick-able, excellent contrast, superb textures, and no instances of compression noise or aliasing.

Audio Quality
[Rating:5/5]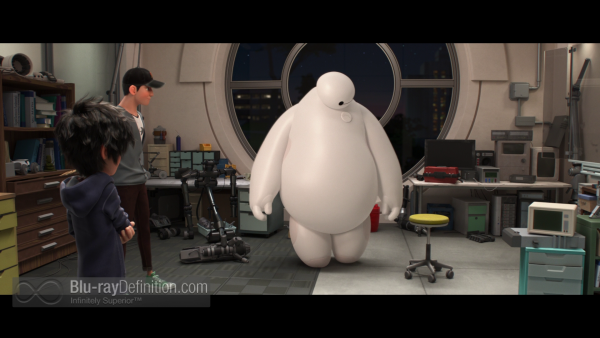 Big Hero 6 ran in theatres with a Dolby Atmos (where available) mix. On Blu-ray, however, Disney has given the film a DTS-HD Master Audio 7.1(48kHz/24-bit) soundtrack that is more than adequate, aggressive without being overbearing, nicely balanced, and very dynamic. The surrounds are lush with ambience and solid sound effects, while the sub gets a thorough workout without being boomy.

Supplemental Materials
[Rating:3.5/5]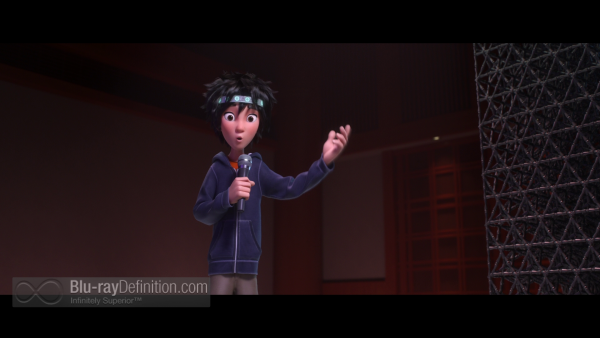 Disney Anywhere Digital Copy (iTunes, Google Play, VUDU)
DVD
Theatrical Short: Feast (2.35:1; 1080p/24; 00:06:13)
The Origin Story of Big Hero 6: Hiro's Journey (1.78:1; 1080p/24; 00:15:10)
Big Animator 6: The Characters Behind the Characters (1.78:1; 1080p/24; 00:06:39)
Deleted Scenes with Introductions by Directors Don Hall & Chris Williams (1080p/24; 00:13:10)
Big Hero 6 Theatrical Teaser (2.40:1; 1080p/24; 00:01:41)

The Definitive Word
Overall:
[Rating:4/5]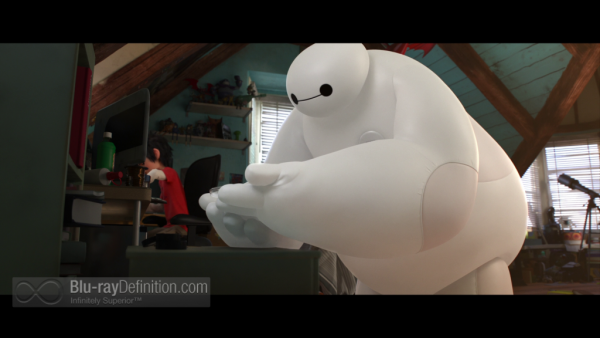 Families will love this Disney-fied superhero origin story with its big, lovable robot, great action, and amazing animation sequences. The Blu-ray set may leave out 3D, but it still looks and sounds great.
Additional Screen Captures
[amazon-product]B00O4ZC57I[/amazon-product]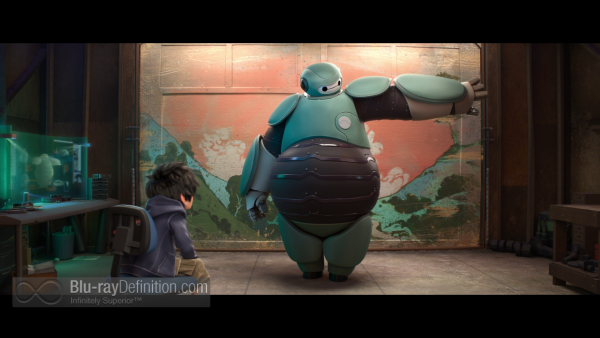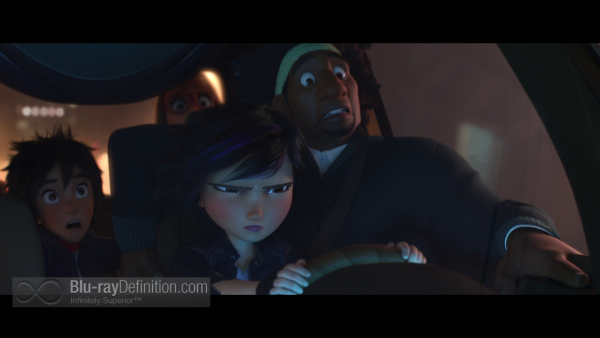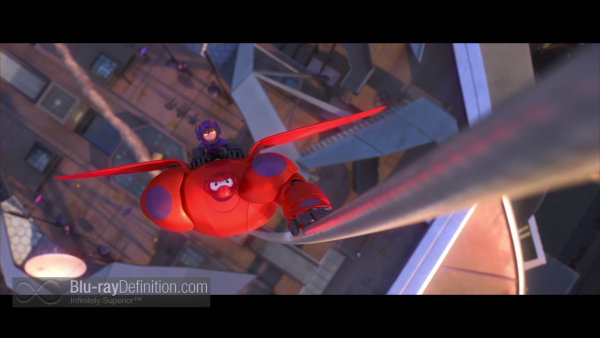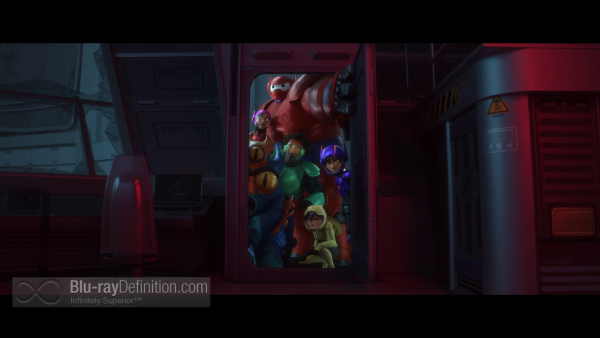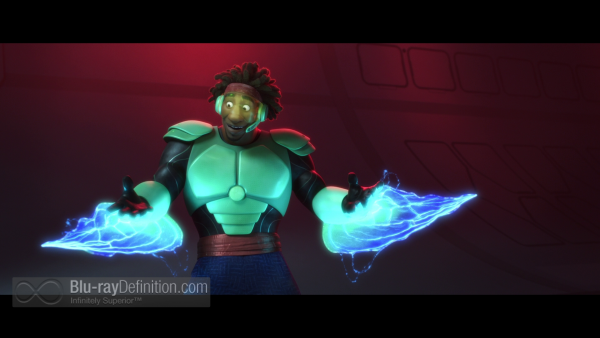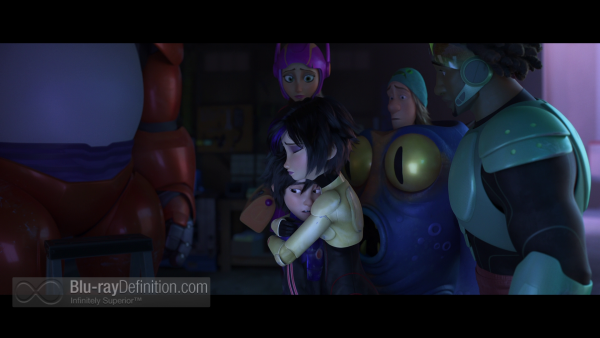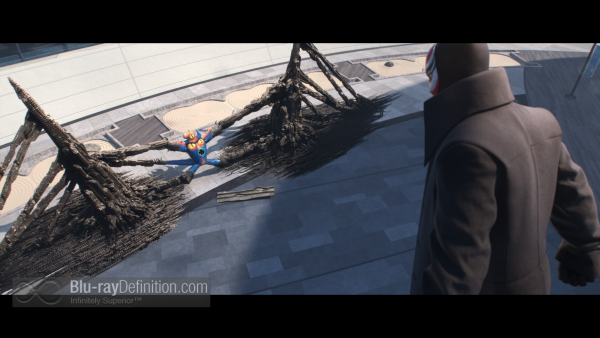 [amazon-product]B00O4ZC57I[/amazon-product]