Aspect Ratio: 1.78:1
Video Codec: VC-1
Audio Codec: English LPCM 2.0 (48kHz/16-bit); English Descriptive Dolby 2.0

Subtitles: English

Region: ABC (All Regions)
Discs: 3
Studio: 2 Entertain Video

Release Date: February 11, 2008

List Price: £34.99
Overall:
The Series:
Video Quality:

Audio Quality:

Supplemental Materials:

Click thumbnails for high-resolution 1920x1080p screen captures
The Series

In 2005, the BBC set to producing what would be their third television adaptation of the Dickens classic, Bleak House, and the first drama series in the UK to be shot in high definition, with production costs running up to an estimated £8 Million. The production was to be the BBC's big costume drama for the year, and they perceived of the rather clever marketing scheme of breaking it up into the unusual format of several half-hour episodes and running it right after BBC's most popular program, the serial drama East Enders. It was a move that was precisely designed to pick up the "soap opera" crowd and younger viewers, and it paid off. Not only did Bleak House arrive to great critical acclaim, but it drew in large viewing audiences, eventually topping off at over 5 million viewers for its final episode.
Bleak House has long been held as one, if not the greatest of Dickens' achievements, with an intricate weaving of plots and subplots. The novel's many layers contain some of the most minor characters and varying, complex subplots that Dickens ever committed to the page. Also crucial to Bleak House is the innovative narrative style employed by Dickens. The story has two narrators who tell the story in parallel, with their narrations never intersecting. The first narrator is an omniscient third-person and the second is one central to the plot, Esther Summerson, who tells the story from a first person perspective.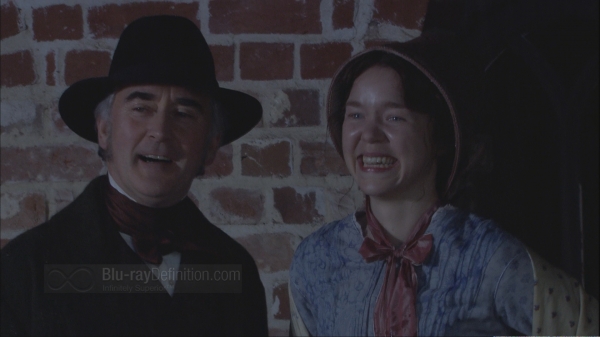 Out of necessity, this BBC adaptation drops some of the minor characters and does away with the third person narrator, but the heroine Esther Summerson (Anna Maxwell Martin) is still present. The story of Bleak House revolves around the long-running case of Jarndyce and Jarndyce in the British chancery courts involving the inheritance of a will.
As the series begins, we are introduced to two new young wards in Jarndyce and Jarndyce, Richard Carstone (Patrick Kennedy) and Aida Claire (Carey Mulligan) who have come to stay under the guardianship of John Jarndyce (Denis Lawson) — until they are of legal age — along with Aida's companion Esther while they await a judgment in Jarndyce and Jarndyce. From the very beginning, however, we are alerted by John Jarndyce that pinning their hopes on that case has ruined many.
Meanwhile, one of the central figures involved in Jarndyce and Jarndyce is the menacing lawyer for Sir. Leicester (Timothy West) and Lady Dedlock (Gillian Anderson), Mr. Tulkinghorn (Charles Dance). Tulkinghorn is most definitely one of the most detestable characters Dickens ever created, and Dance inhabits him here in this production with nightmarish skill.
When a copier who goes by the name Nemo ("no one") mysteriously dies in the lodgings run by the alcoholic rag and bottle man Krook (Johnny Vegas) it sets off a mystery and investigation that has Lady Dedlock being blackmailed by Tulkinghorn, but secrets that could unlock the mystery to Esther's past are also unearthed and placed in jeopardy.
This 2005 adaptation of Bleak House is well scripted and beautifully acted. Although Gillian Anderson's screen time and lines are limited, her portrayal as the mysterious and listless Lady Dedlock is truly classic and timeless, deservedly moving her into the higher class of actors where she obviously belongs. Nothing should be taken away from Anna Maxwell Martin as Esther Summerson or Charles Dance as Mr. Tulkinghorn either. If one doesn't fall in love with Martin watching her perform as Esther, then one must be empty inside, and as for Dance's Tulkinghorn — without him there the whole series might implode.
This adaptation of Bleak House is a must have!
Video Quality

Bleak House was originally shot in high definition and it comes to Blu-ray Disc in a marvelous VC-1 1080i/60 transfer. The mini-series lends itself well to high definition production, with its shadowy sets in dark candlelit rooms, dark clothing, stark contrasts and intricate period costumes. The 1080i capture is clean and sharp, with finely detailed renderings of cloth and skin textures in both foreground and background shots. Blacks are inky and flesh tones are natural. Video noise is thankfully subdued, even in the darkest scenes. This is one of the most brilliant presentations of a drama originally captured in HD I have seen in a long while.
Audio Quality

Bleak House on Blu, rather disappointingly, comes with an English LPCM 2.0 (48kHz/16-bit) as the only main listening option. The mix is well balanced and dialogue is clear. The midrange is natural, and the occasional low frequencies during storm sequences are rather convincing, even without the aid of the subwoofer, but it still would have been nice to hear some of those storms and horse drawn carriages in surround.
Redeeming the release, however, is the unusual inclusion of an English descriptive audio track intended for the visually impaired.
Supplemental Materials

Bleak House's three BD's are hardly packed with a windfall of supplements, but there are writer, producer, and director commentaries provided for three episodes and three lengthy interviews with three of the mini-series' key players that prove quite interesting.
The Supplements provided on this release are:
Disc 1:
Gillian Anderson Interview (1.78:1; standard definition) — Having never heard Gillian Anderson speak outside of one of her acting roles, I was admittedly surprised to find that the native U.S.-born actress actually speaks with an English accent, having grown up in England from a very young age until moving back to the States at the age of 11. In this interview, she speaks of moving from England back to the U.S., and also of her preparation for the role as Lady Dedlock in Bleak House.
Episode 1 Commentary — Audio commentary with writer Andrew Davies, producer Nigel Stafford-Clark, and director Justin Chadwick.
Disc 2:
Dennis Lawson Interview (1.78:1; standard definition) — In this interview the actor speaks at length about his preparation for working on Bleak House and, among other things, how he rehearsed changing his Scottish accent to an English one for the role of John Jarndyce.
Disc 3:
Charles Dance Interview (1.78:1. standard definition) — Another in depth interview with one of the central actors from the mini-series.
Audio Commentary Episodes 11 & 12 — Audio commentaries with writer Andrew Davies, producer Nidel Stafford-Clark and director Susanna White.
Photo Gallery (1.78:1; standard definition) — A montage of production stills set to music.
The Definitive Word
Overall: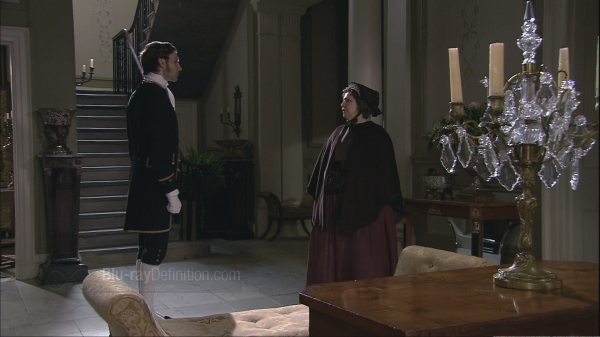 The BBC definitely have a winner in this latest adaptation of what has to be one of Charles Dickens' greatest literary achievements, Bleak House. With strong acting from its all star cast, a marvelous novel-to-screen reworking, brilliant production values and superb high definition rendering, this Blu-ray release of Bleak House is a must have for anyone who appreciates fine drama.

Purchase Bleak House [UK Import] Blu-ray on Amazon.co.uk
Shop with Us for More Blu-ray Titles at Amazon UK