– –

(The below TheaterByte screen captures were taken directly from the Blu-ray Disc and losslessly compressed in the PNG format. There should be no loss of picture quality with this format. All screen captures should be regarded only as an approximation of the full capabilities of the Blu-ray format.)
The Series
[Rating:4.5/5]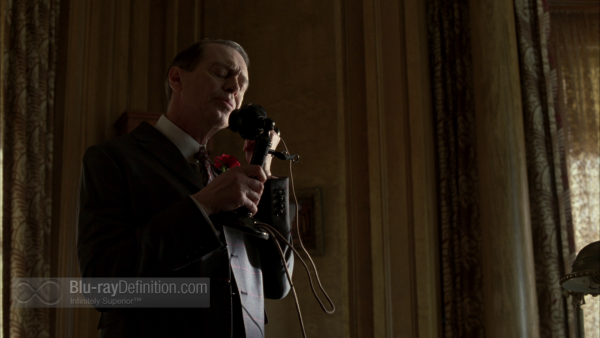 Based on a small portion of the book Boardwalk Empire: The Birth, High Times, and Corruption of Atlantic City, by Nelson Johnson, Boardwalk Empire is a historical fiction centered on the fictionalized character Enoch "Nucky" Thompson (Steve Buscemi), based on the real-life "Nucky" Johnson, of Atlantic City. It delves into the criminal underworld of Atlantic City during the early years of Prohibition, when Atlantic City was one of the central draws for many citizens of note to escape and imbibe of the forbidden fruits, so to speak. Everything from booze, gambling, and prostitutes were at the ready.
The third season of the series finds Nucky, now ousted as city treasurer but still pulling the strings from behind the scenes while pretending to be an altruistic, law abiding citizen, locking horns with new threat, Italian mafia man Gyp Rosetti (Bobby Cannavale). Nucky's estranged wife, Margaret (Kelly Macdonald), seeks her independence by going on a crusade for women's health reforms at the local Catholic hospital. Meanwhile, the crooked agent-on-the-lam Nelson Van Alden (Michael Shannon) finds himself working as a door-to-door salesman with a new wife, but he will soon be beholden to Irish mobsters when things take an unexpected turn and he must help his wife out of a bind. Then, in the season's most important storyline, an eventual attempt on Nucky's life right in Atlantic City leaves him frantic and his potential backers in doubt as he takes refuge in The Ritz and gears up for a war that will determine once and for all who really controls Atlantic City – perhaps.
Apart from, perhaps, Sons of Anarchy, Boardwalk Empire remains the most addictive crime drama on television after the third season. With added characters and its basis in fact, combining reality with fiction, giving us such iconic gangsters as Al Capone (Stephen Graham) and Arnold Rothstein (Michael Stuhlbarg) in the roaring 20s, the series has the added advantage of being gritty and visceral while being removed from the modernity of our own era.
Video Quality
[Rating:4.5/5]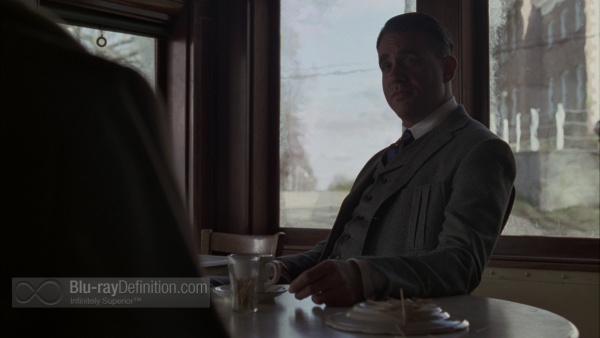 Boardwalk Empire is shot on 35 mm Kodak Vision2 50D 5201, Vision3 250D 5207, and Vision3 500T 5219 film stock, rather than the increasingly common high definition format on television these days. The image looks filmic and vastly superior to broadcast versions in this AVC/MPEG-4 1080p transfer from HBO. A thin layer of grain is over the image imparting a good bit of texture and an organic quality, but there is some softness that comes from the production, while the earth and sepia tones of the palette don't really lend themselves to an image that grabs you. There is lots of  nuance here and good contrast that makes for a satisfying presentation, however.
Audio Quality
[Rating:4/5]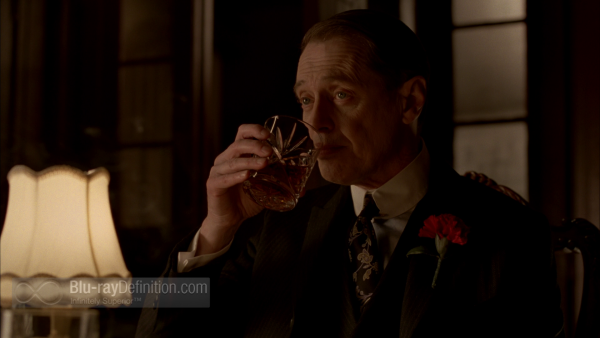 Boardwalk Empire's sound remains quite subtle, only coming alive in the DTS-HD Master Audio 5.1 (48kHz/24-bit) mix during the gun battles and live period musical numbers that also let the low end come through with robustness. Otherwise, the surround channels are typically populated with mild atmospheric sounds such as the din of the boardwalk or the chatter of Babette's, while the front channels offer up a rich feast of directional sounds and clean dialogue.
Supplemental Materials
[Rating:4.5/5]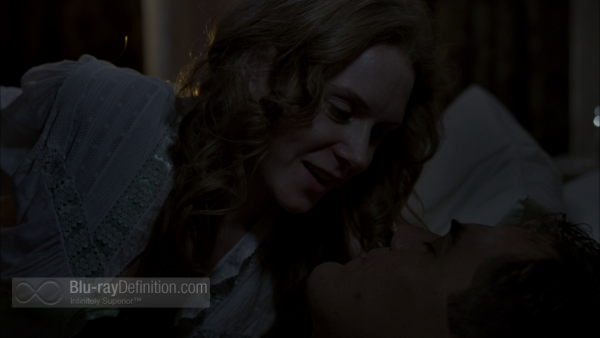 As has come to be expected, Boardwalk Empire arrives with a robust set of features that explore the series, its historical context, and its many characters, fictional and otherwise.
The supplements:
DVDs
iTunes & UltraViolet Digital Copy
Boardwalk Chronicle – This interactive in-episode feature allows you to track the various characters, locations, and historical connections in season three, with bios, connections, and break-aways to archival newsreels.
Audio Commentaries:

"Resolution" by creator/writer/executive producer Terence Winter, director/executive producer Tim Van Patten, Steve Buscemi (Nucky Thompson), and Jack Hudson (ichard Harrow)
"You'd Be Surprised" by executive producer/writer Howard Korder, Micael Stuhlbarg (Arnold Rothstein), Bobby Cannavale (Gyp Rosetti), and Stepehn DeRosa (Eddie Cantor)
"Sunday Best" by executive producer/writer Howard Korder, director Allen Coulter, Shea Whigham (Eli Thompson), and Gretchen Mol (Gillian Darmody)
"The Pony" by creator/writer/executive producer Terence Winter, Michael Shannon (Nelson Van Alden), Charlie Cox (Owen Sleater), and Meg Chambers (Billie Kent)
"Two Impostors" executive producer/writer Howard Korder, director Allen Coulter, Steve Buscemi (Nucky Thompson), and Michael Kenneth Williams (Chalky White)
"Margate Sands" by creator/writer/executive producer Terence Winter, director/executive producer Tim Van Patten, Bobby Cannavale (Gyp Rosetti), and Chris Caldovino (Tonino)

American Empires (Disc 5) – Learn more about the prohibition-era gangsters, their influence, and their systems of distribution in this interactive compendium.
Newsreels (Disc 5) – Explore some of the real-world events and historical figures that inspired Boardwalk Empire season three with these 24 featurettes.
Boardwalk Empire – Director's Chair (Disc 5) – Hear Boardwalk Empire directors Tim Van Patten and Allen Coulter break down key scenes from season three, and how they approach taking the series from the script to the screen.
Scorsese on Season 3 (Disc 5) – Award-winning director and executive producer Martin Scorsese provides a unique and detailed perspective on the third season of Boardwalk Empire.
New Characters (Disc 5) – Meet the new faces of season three: Gyp Rosetti, Billie Kent, Gaston Means, Dean O'Banion, and Benny Siegel.
Distilling Season 2 (Disc 1) – look back at season two of Boardwalk Empire with this 14-minute recap featuring creator/executive producer Terence Winter.
The Definitive Word
Overall:
[Rating:4.5/5]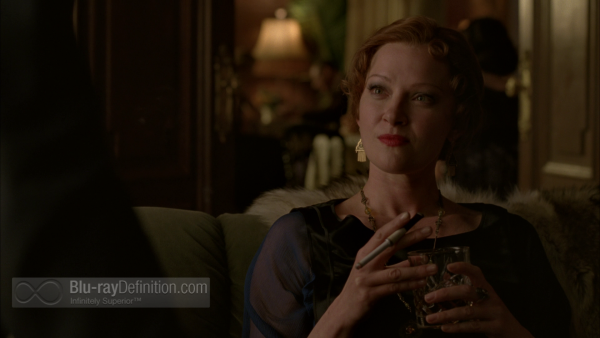 HBO's historical fiction crime drama Boardwalk Empire stays edgy and addictive, with this third season, setting up a must-see season four in this action-filled and shocking season. Definitely purchase this top notch set on Blu-ray for a bit of high quality binge viewing.
Additional Screen Captures
[amazon-product]B003Y5HWK4[/amazon-product]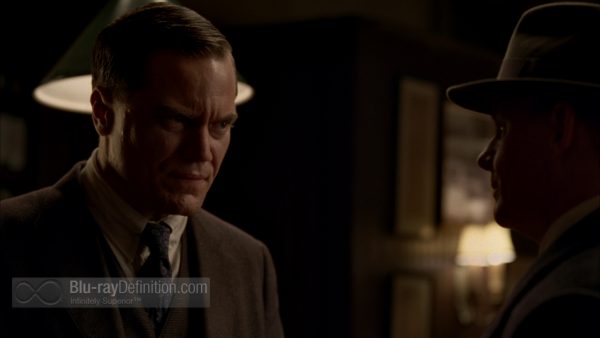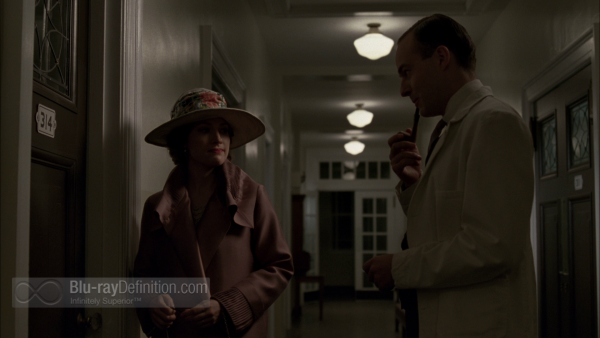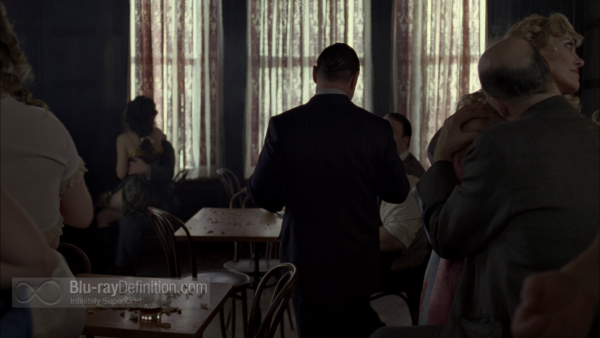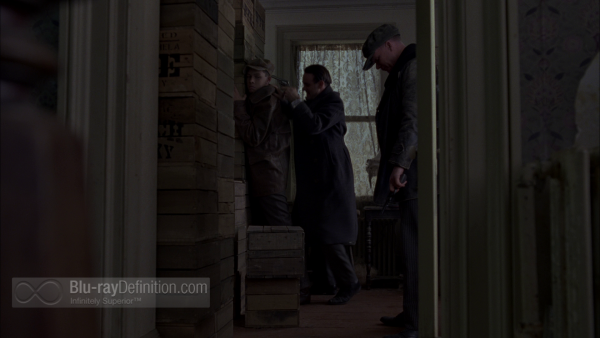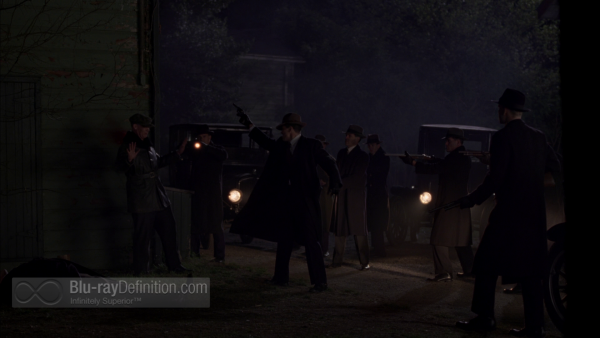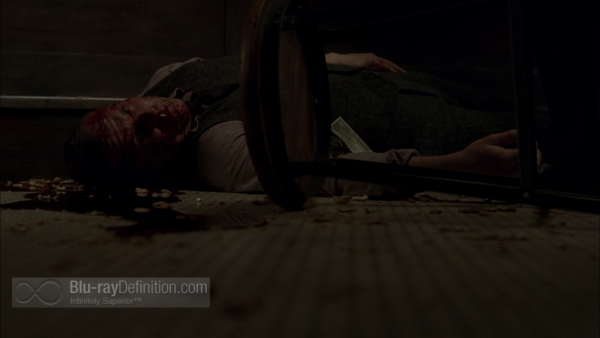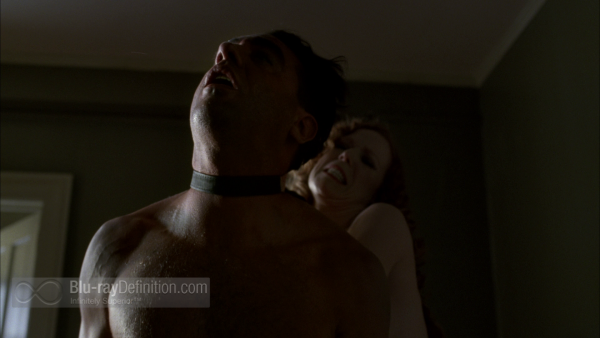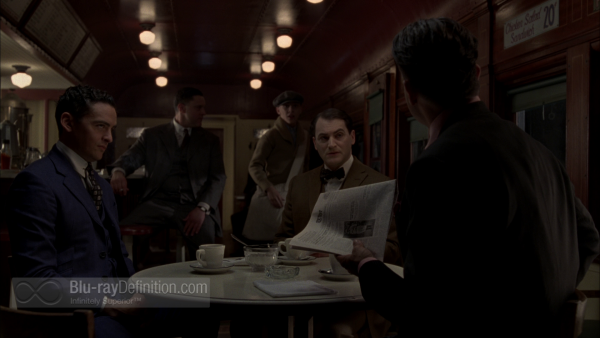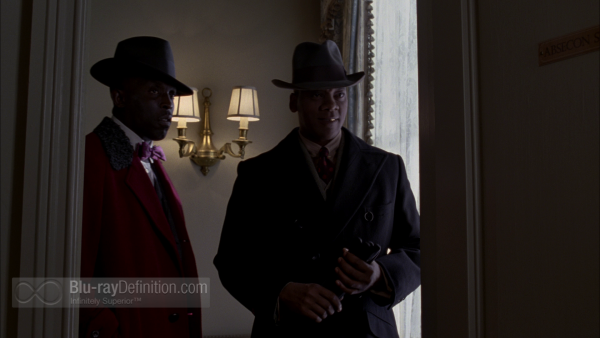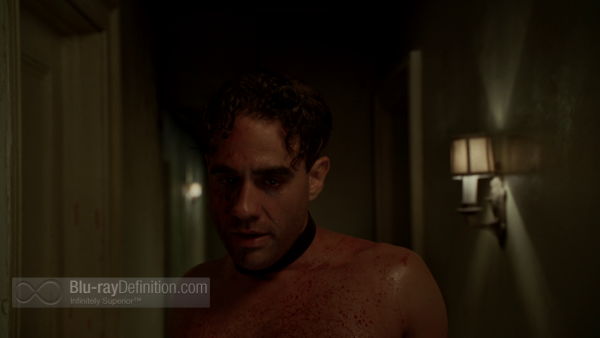 [amazon-product]B003Y5HWK4[/amazon-product]