Mouse-over Cover Art for Details –

Click thumbnails for high-resolution 1920X1080p screen captures
(The below TheaterByte screen captures were taken directly from the Blu-ray Disc and losslessly compressed in the PNG format. There should be no loss of picture quality with this format. All screen captures should be regarded only as an approximation of the full capabilities of the Blu-ray format.)
The Series
[Rating:4.5/5]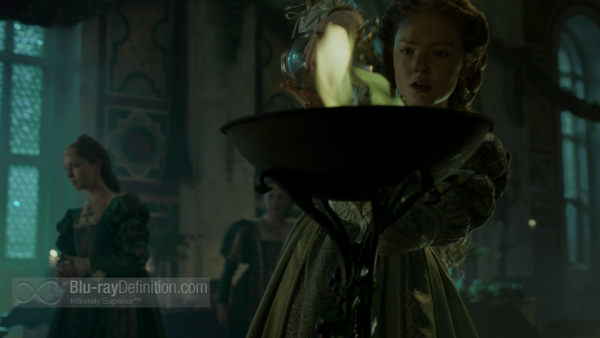 I'm disappointed to see the end of Showtime's lavish period drama The Borgias arrive. It was one of my guilty pleasures on television, filled with scandal, skin, and intrigue. The final season ramps up all of these enticing details surrounding this 15th century Papal family, mixing historical fact with a fair share of fiction for an addictive and fitting conclusion. The season gets underway as "the Borgia pope" (Jeremy Irons) escapes the clutches of death by an assassination attempt and emerges both questioning his faith and with a newfound zeal to draw out and eliminate his enemies. Enemy number one? Caterina Sforza (Gina McKee). Father and son, Rodrigo Borgia and Cesare Borgia (François Arnaud) finally pull closer and align against their enemies as Machiavelli's "Prince" emerges to claim his throne of blood, death, and power. The season also unapologetically revels in the long-rumored,  incestuous love affair between brother and sister Cesare and Lucrezia (Holliday Grainger), whose own murderous Borgia bent rears its head in the form of her, also rumored, proficiency for poisoning her enemies. It's a richly, wickedly addictive, and luxuriantly filmed "soap" that exposes the origins of the bad connotations of the word "politician". The disappearance of The Borgias from television will surely leave behind a void that no other series, not even my beloved Game of Thrones can fill.
Video Quality
[Rating:4.5/5]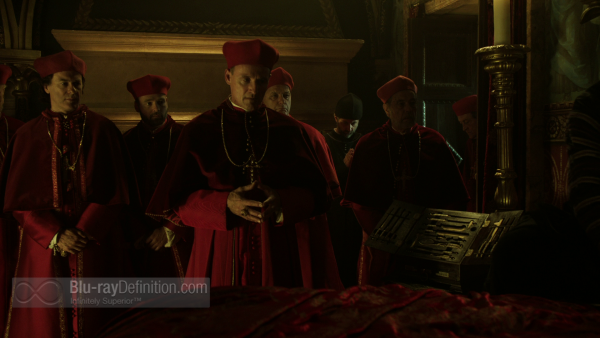 Season 3 of The Borgias was shot on the Arri Alexa in the ProRes 4:4:4 (1080p/24) format. It looks rather filmic for a high definition production, with what slight amounts of video noise there is in the image looking more organic and natural, than harsh and electronic. Colors are rich, especially midtones and also the fantastic primaries, like the vermillion reds of the Cardinals' robes. Detail is strong and shadows are nicely nuanced as well. It is vastly superior to the 1080i broadcasts I viewed on FIOS.
Audio Quality
[Rating:4.5/5]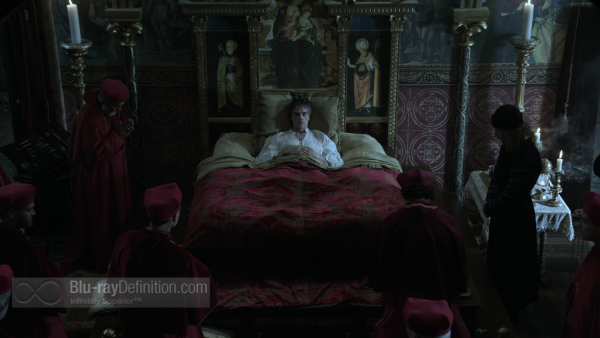 The Dolby TrueHD 5.1 (48kHz/24-bit) soundtrack for The Borgias is lush and atmospheric, with lots of little sounds in the surrounds, like the crackling of a fireplace or drip…drip..drip of a dank alleyway. The evocative score is evenly balanced into the mix and dialogue is clear.
Supplemental Materials
[Rating:1.5/5]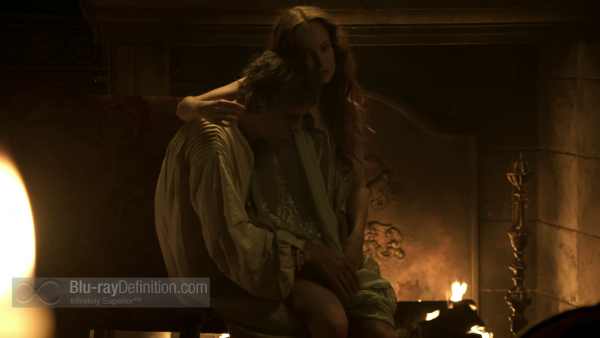 The Borgias goes out with a whimper on Blu-ray as far as supplements go. Naught but a brief blooper reel is included for the series. Typical of Showtime, however, they also include the first episode of one of their hot new series, Ray Donovan.
Borgias Bloopers (1.78:1; 1080p/24; 00:07:08)
Ray Donovan Episode 1 (1.78:1; 1080p/24; Dolby Digital 2.0; 00:57:16)
The Definitive Word
Overall:
[Rating:4.5/5]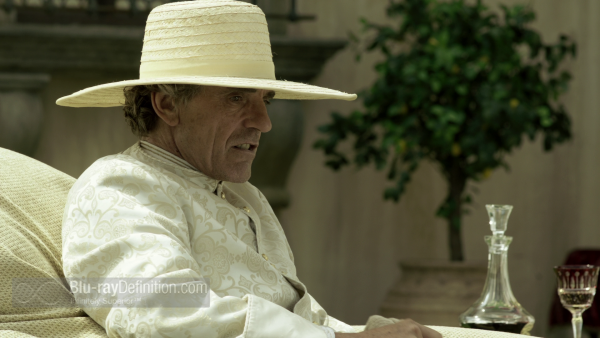 Its luxuriant sets, political intrigue and lascivious sexual indulgences made The Borgias one of the best guilty pleasures to hit premium cable in the past few years. The final season takes the series out with a bang and heightens the Machiavellian twists, orgiastic affairs, and sexual taboos all culminating in a satisfying conclusion.
Additional Screen Captures
[amazon-product]B00BYEWR2K[/amazon-product]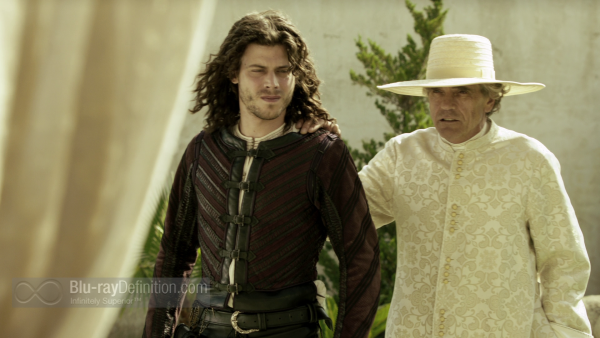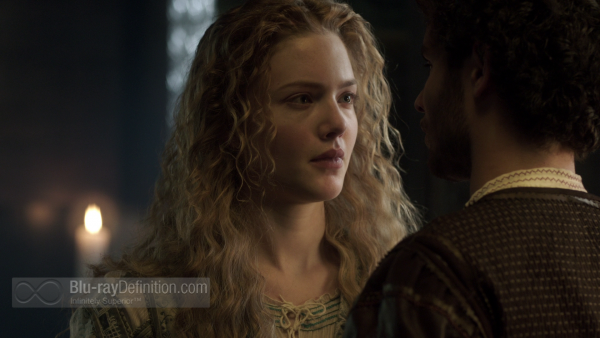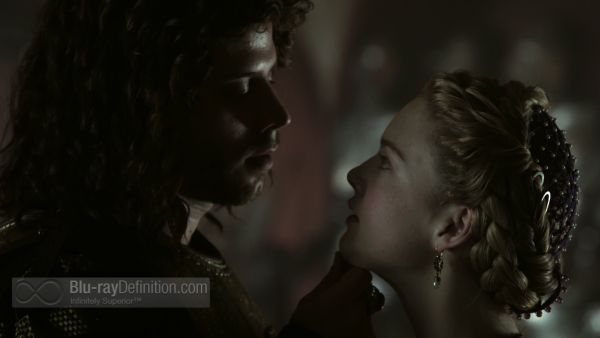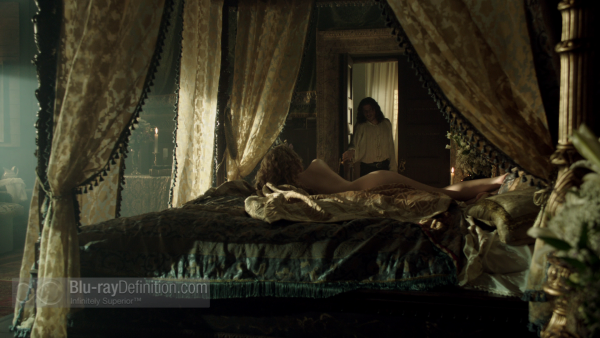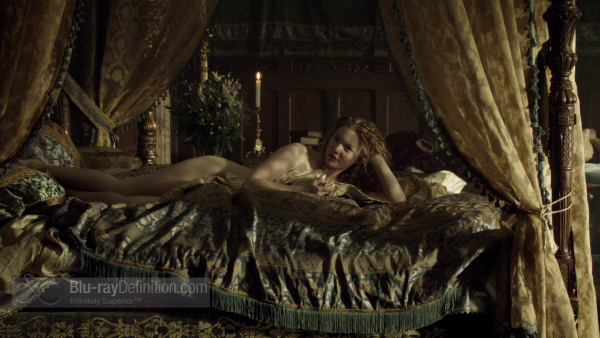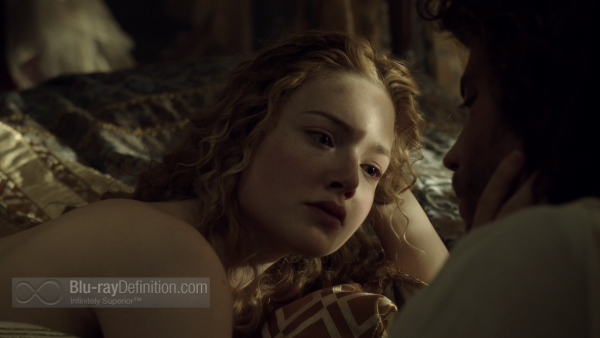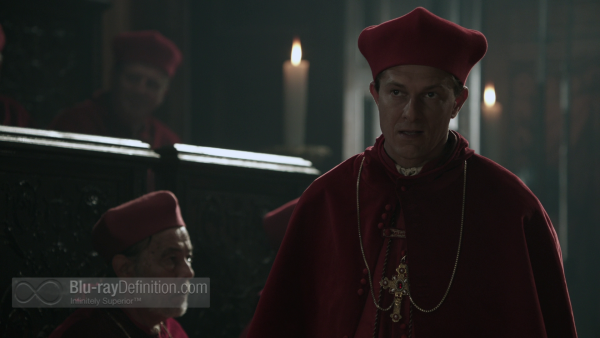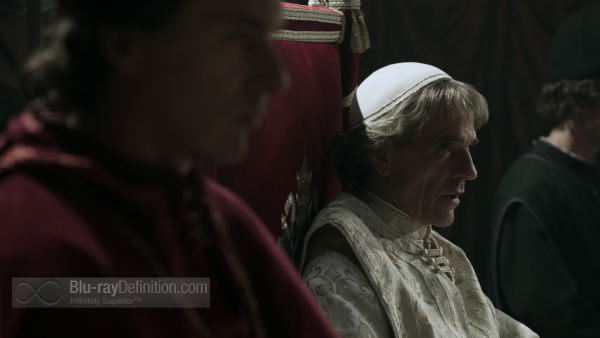 [amazon-product]B00BYEWR2K[/amazon-product]