Aspect Ratio: 1.78:1

Video Codec: AVC/MPEG-4

Audio Codec: English DTS-HD Master Audio 5.1

Region: A

Discs: 3

Studio: Fox

Release Date: June 16, 2009

List Price: $59.99
[amazon-product align="right"]B001XJBE5C[/amazon-product]

 


Purchase from CD Universe

Overall


The Series
 

Video Quality


Audio Quality


Supplemental Materials

 
Click thumbnails for high-resolution 1920X1080p screen captures
More screen captures (11 total)
(Screen captures are lightly compressed with lossy JPEG and thus are meant as a general representation of the content and do not fully reveal the capabilities of the Blu-ray format)
The Series

From USA Network comes the story of MacGyver, err, I mean Michael Westen (The Changeling's Jeffrey Donovan), a spy who has been "burned" by his CIA handlers. That is to say, his identity has been wiped out, his finances frozen, and his reputation blacklisted. The man has lost all of his previous contacts and has been forced to stay in Miami — the poor sod.
But, in all seriousness, Burn Notice has a definite similarity to that 1980's series, MacGyver as Westen is able to use his skills to create all manner of gadgets and weapons from common household items and readily available detritus to use on missions to help people in trouble; jobs he has to take as his only means to make a living. He has as his only help his slightly crazy and trigger-happy, explosives expert ex-girlfriend Fiona, played by the ever-charming Gabrielle Anwar, and his longtime-friend and ex-Navy Seal Sam (Bruce Campbell). He also has to deal with his loving but sometimes annoying mother, played by Sharon Gless, who recently did a marvelous turn on FX's Nip/Tuck as a psychopathic stalker.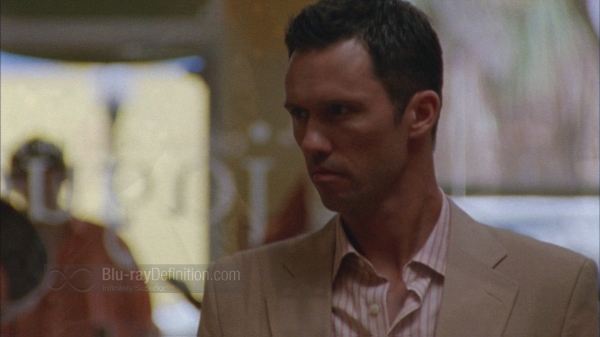 Season Two finds Weston continuing his obsessive quest to track down the people who burned him so he can regain his life and stature as a legitimate spy. A woman named Carla comes into the picture who begins pulling Michael's strings and may hold all the keys to unraveling the conspiracy.
Creator Matt Nix avoids the pitfalls of a glitzy and cheesy Miami, a la Miami Vice, and instead gives us something grittier and edgier while still maintaining a stylized and engaging approach.  It's not a perfect series and it can tend towards repetitiveness, sometimes running the risk of slipping into silliness, but it is still one of the better comedy-drama series to come to cable television in many years. It doesn't take itself too seriously, but it's still ballsy without going over-the-top.
Video Quality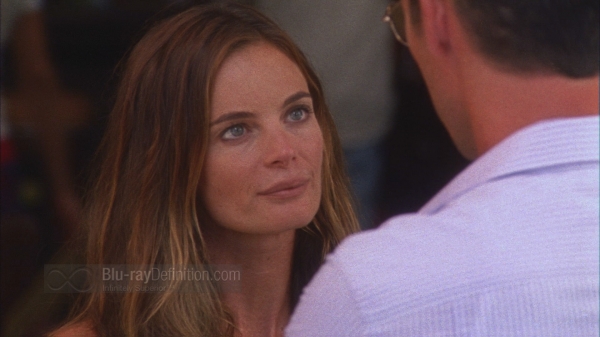 Fox's transfer of Burn Notice: Season Two to Blu-ray Disc is a quite disappointing. Although the 1.78:1 AVC/MPEG-4 encoding is generally solid, looking film-like although it is awash in heavy grain that will probably not appeal to those that dislike grain. Despite the transfer retaining the grain structure, the image looks soft and diffuse. It is also generally dull. One would think that a show based in Miami would yield brilliant colors on screen in a high definition transfer, but in the case of Burn Notice, the image fails to deliver any consistent "pop" to the rich, pastel colors of Miami. Occasional shots of the ocean look nice, with clear azure waters, but they don't sparkle and flesh tones display some red push. On the positive side, black levels are stable and deep. White levels are a little inconsistent, however, occasionally looking bleached. Those are all, however, issues concerning the creators' original intent.
Other issues with this transfer are moments where very noticeable edge enhancement is used. There are also instances of macroblocking and some posterization. This is hardly one of the better-looking T.V. series to make its way to Blu-ray from Fox or any other studio for that matter.
Audio Quality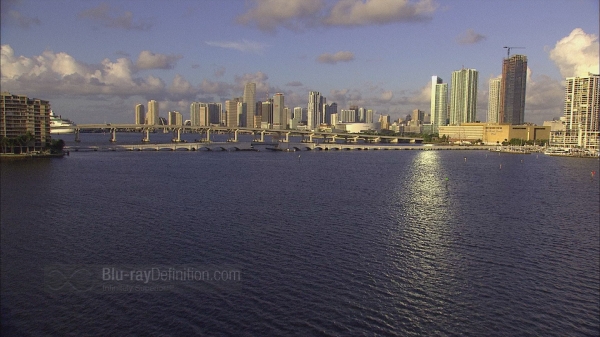 Burn Notice's English DTS-HD Master Audio 5.1 lossless mix is well enough for a television series. Ample scenes in Miami nightclubs provide some engaging sound that really gets the subwoofer and the surround channels going. The sub is also used well for the numerous explosive sound effects. Dialogue is clean and intelligible and there is a decent level of atmospheric effects used in the surround channels. Still, it is rather mundane overall in comparison to mixes from series like 24 or Prison Break, so it won't register as reference in the television category.
Supplemental Materials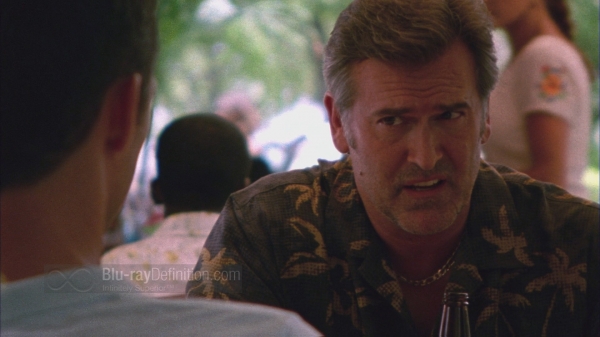 The supplements spread across Burn Notice's three discs are hardly compelling, being limited to three audio commentaries, deleted scenes and a spoof of the series. The extras can simply be skipped and nothing much will be missed.
The supplements available on this release are:
Disc 1:
"Bad Blood" commentary with Bronwen Hughes, Ben Watkins, Rashad Raisini, Matt Nix, Rob Benedict and Method Man
"Breaking and Entering" Deleted Scenes (1.33:1; 480i/60) – Deleted scenes from the episode "Breaking and Entering" played continuously.
"Trust Me" Deleted Scenes (1.33:1; 480i/60) — Deleted scenes from the episode "Trust Me" played continuously.
"Comrades" Deleted Scene (1.33:1; 480i/60) – A single deleted scene from the episode "Comrades."
Disc 2:
"Double Booked" commentary with Tim Matheson, Jason Tracey, Craig O'Neill, and Matt Nix.
NIXin' it Up on Burn Notice (1.78:1; 480i/60) – Series creator, producer, and writer Matt Nix discusses his work directing the episode, "Do No Harm."
"Double Booked" Deleted Scenes (1.33:1; 480i/60) – Played continuously.
"Do No Harm" Deleted Scenes (1.33:1; 480i/60) – Played continuously.
Disc 3:
"Lesser Evil" commentary with Matt Nix, Bruce Campbell, and Michael Shanks.
"Truth and Reconciliation" Deleted Scene (1.33:1; 480i/60)
"Lesser Evil" Deleted Scene (1.33:1; 480i/60)
Gag Reel (1.33:1; 480i/60)
Trailers:
Pink Panther 2 (1.78:1; 1080p/24; Dolby Digital 5.1)
12 Rounds (2.35:1; 1080p/24; Dolby Digital 5.1)
Boom Notice (1.33:1; 480i/60) – A spoof of the Burn Notice series with Fred the Boom operator.
The Definitive Word
Overall: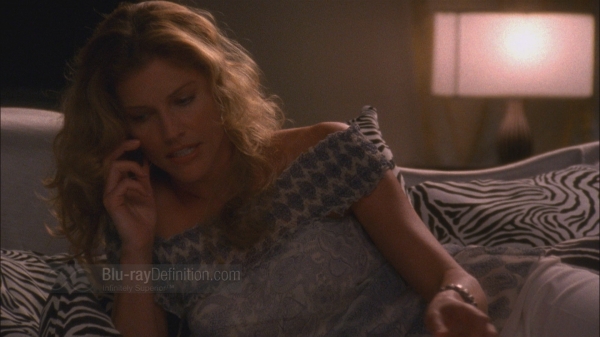 With its third season now underway, Burn Notice is fun, popcorn-crunching television that offers a well made and solidly acted weekly diversion. Sadly, this Blu-ray release does not live up to the standard set by the series, so a rental is probably more in order here than a purchase.