– –
The Series
[Rating:3.5/5]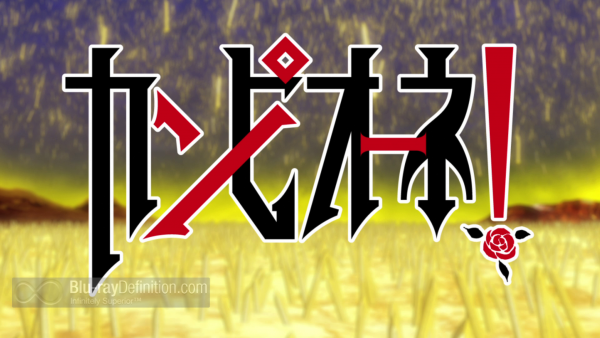 Based on the light novel series by Taketsuki Jō, Campione! (カンピオーネ!) is a 13 episode fantasy series produced by Diomedea. Mixing various mythologies from Roman, Greek, and Eastern cultures with the more usual high school series, the story follows teenager Kusunagi Godou who is sent to Italy to return an ancient stone tablet for his grandfather when he encounters a strange girl, Erica Blandelli, and soon finds himself in a reluctant battle against the God of War Verethragna. When he defeats the god and assumes his powers, Kusunagi becomes a Campione, or "champion" and God-slayer. Erica is suddenly in love with him, and he finds himself slowly surrounded by an ever-increasing bevvy of beautiful young women both in love with him and ready to serve and protect him in battle against the increasing list of gods he must now face off against. When he returns to Japan, he meets the princess shrine maiden Mariya Yuri, a retiring young woman with little stamina who has precognitive abilities. Then there is the knight Liliana Kranjcar, a childhood friend and rival of Erica and an acquaintance of Yuri's who will become a loyal knight and yet another love interest when he lures her away from and defeats her wicked king, Campione Marquis Voban. Last to present herself is Seishūin Ena, a great swordsman who enters the fray on behalf of herself and Yuri, arguing that a Japanese Campione should have a Japanese bride. Then there is the rogue goddess Athena, whose lineage we will learn in great detail connects her to Zeus, Metis, and Medusa. She will play a central role in the series. Though Kusunagi will initially defeat her in battle, he doesn't kill her, he merely tells her to leave. She will however, return, and perhaps fulfill an ominous prophecy.
Now, central to this odd mythological teen high school fantasy is the fact that Kusangi's newfound magical body is impervious to penetration by magic spells of any sort, and the only way he can use his trump card in battle against the gods he must defeat, is to acquire great scores of knowledge about them quickly, which requires magic. So, naturally, the pretty, magically endowed girls around him do the only thing they can to get this information into him as quickly as they can – they kiss him. They kiss him long, hard, and deep. This is nothing we haven't seen before in an anime series. It is very reminiscent, in fact, of Sekirei, right down to the battles that must be endured by our protagonists.
Visually, however, Campione! is a very different series from Sekirei. It goes for a darker, less "kawaii" tone visually, and also forgoes any blatant fan service, even if there are plenty of opportunities that present themselves, especially in the completely unnecessary hot springs/bikini episode.
Video Quality
[Rating:3.5/5]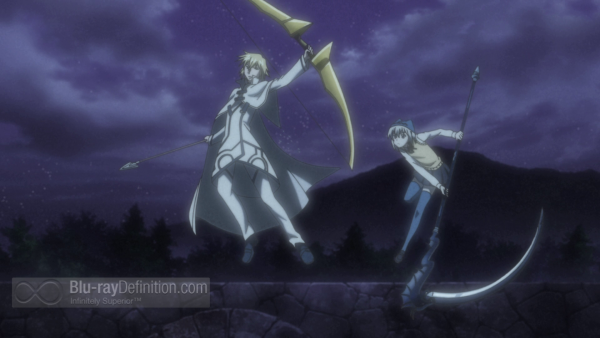 The overall image for Campione! Is quite soft in this AVC/MPEG-4 1080p encodement to Blu-ray from Sentai Filmworks and there are lots of instances of color banding and noise. A layer of artificial grain as been applied for artistic purposes that adds to the problems more than it enhances the presentation. There are some moments where the colors are allowed to really pop, but there are an equal amount of times where the color palette just seems a bit drab. Added to the rest of the issues, it doesn't always make for the most appealing animated presentation on Blu-ray.
Audio Quality
[Rating:3.5/5]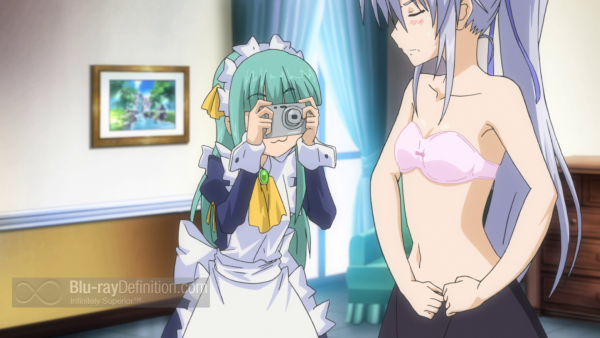 The audio, provided in the usual original-language Japanese DTS-HD Master Audio 2.0 (48kHz/24-bit) and English dub DTS-HD Master Audio 2.0 (48kHz/24-bit) sounds rather squeezed dynamically for this series. Some louder sound effects like explosions and so forth sound a bit distorted and restrained and stereo imaging is not very distinct. That said, the dialogue is clear, whether you go for the Japanese or English track, although the Japanese dialogue does sound a bit fuller in tonality.
Supplemental Materials
[Rating:0.5/5]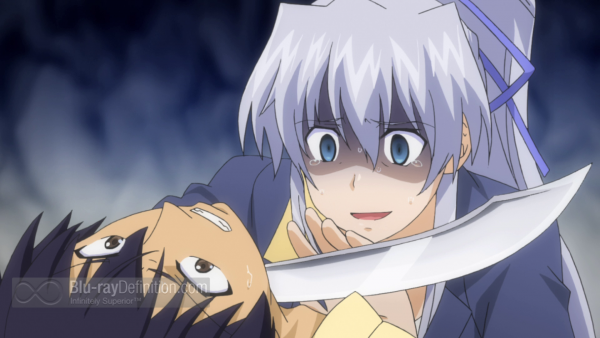 There's nothing here but the usual.
The supplements:
Clean Opening Animations
Clean Closing Animations
Sentai Filmworks Trailers
Disc Credits
The Definitive Word
Overall:
[Rating:3.5/5]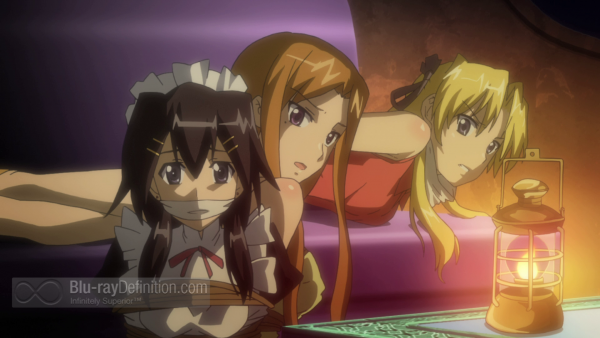 Although it doesn't exactly break new ground for this sort of series, Campione! is still enjoyable for its visual style and fun characters. The plot can become just a bit repetitive and the introduction of some new characters very far into the series feels just a little off-putting and out of balance. In the end, it's not great, but it's not completely bad either.
Additional Screen Captures
[amazon-product]B00DPH7RBU[/amazon-product]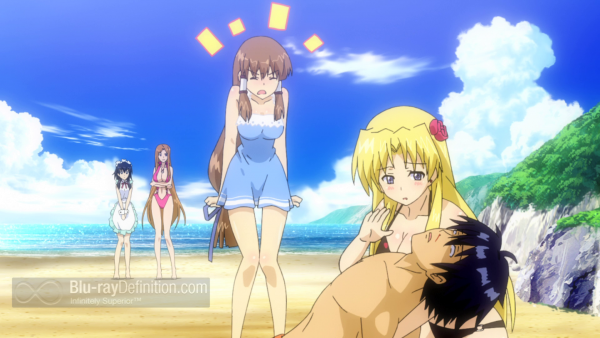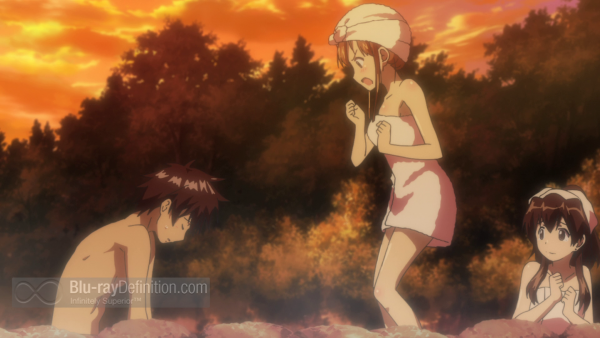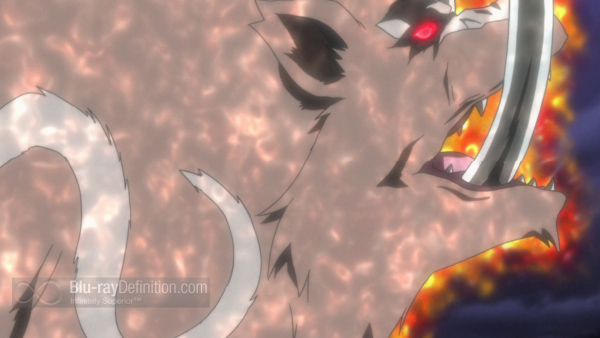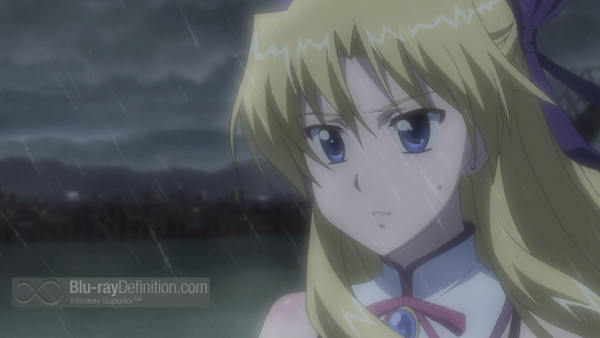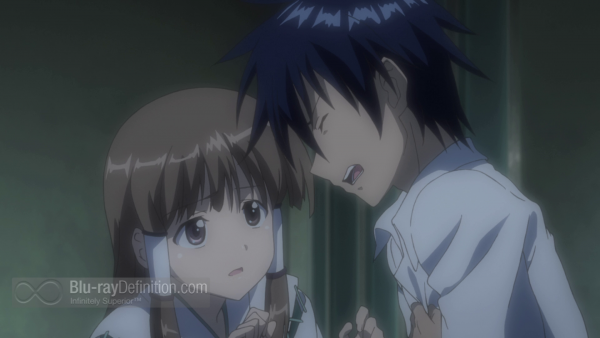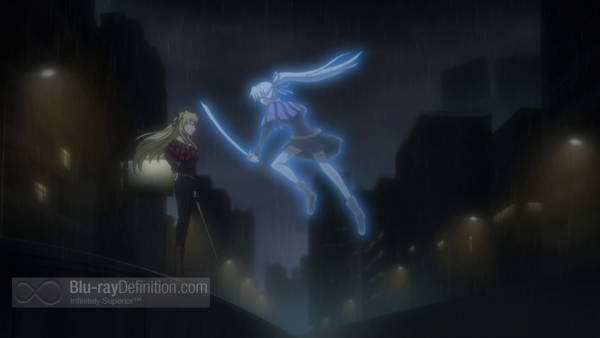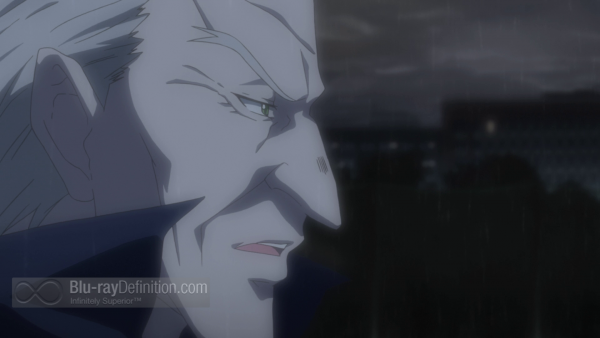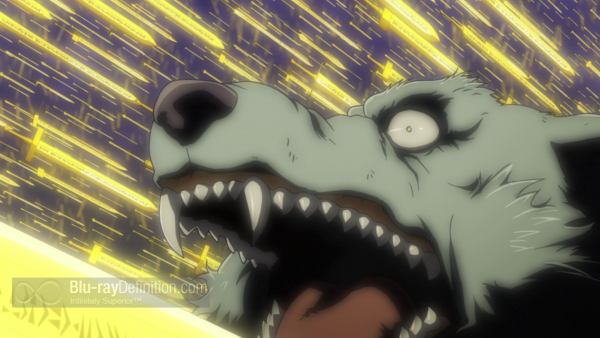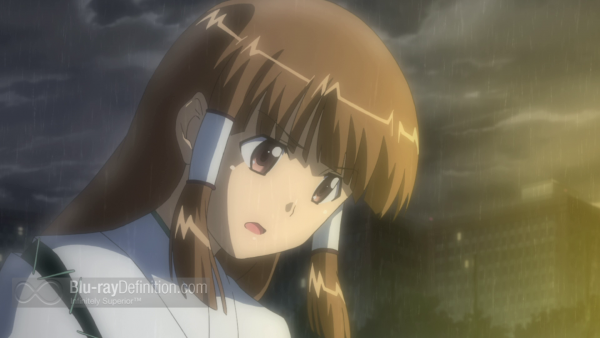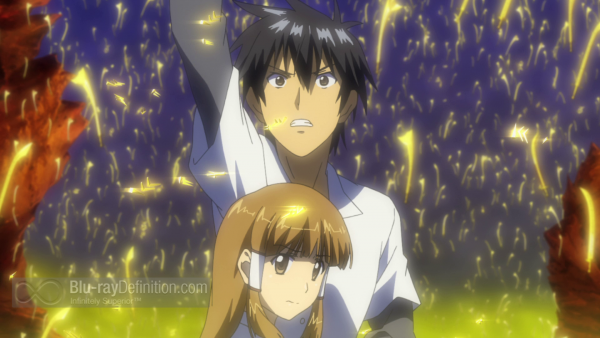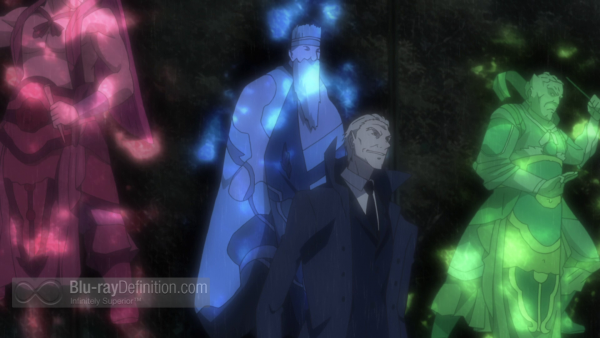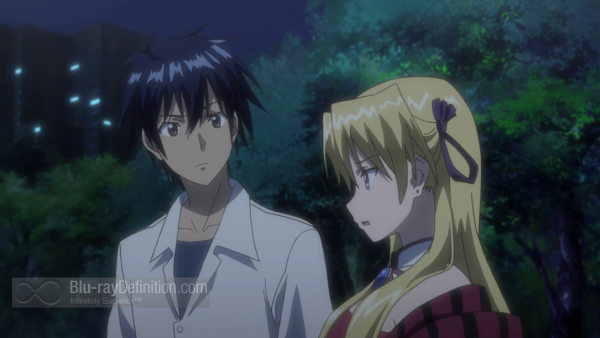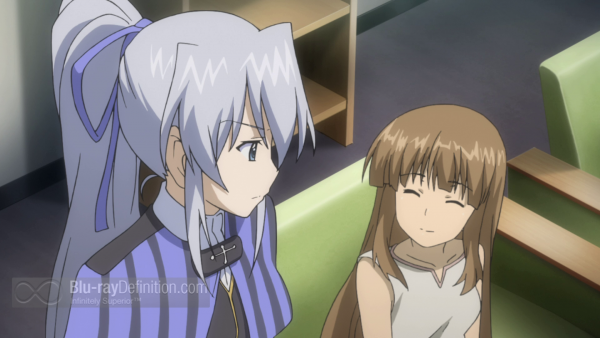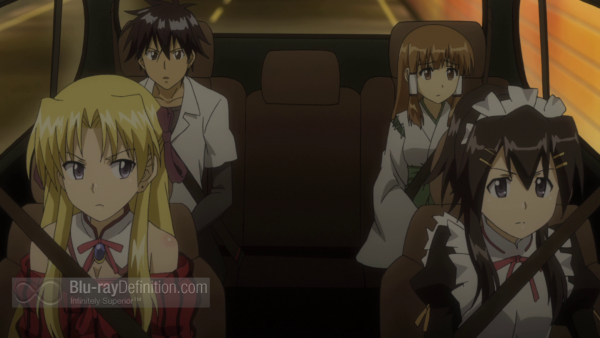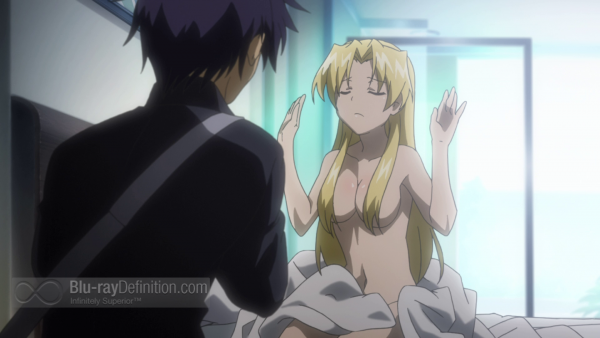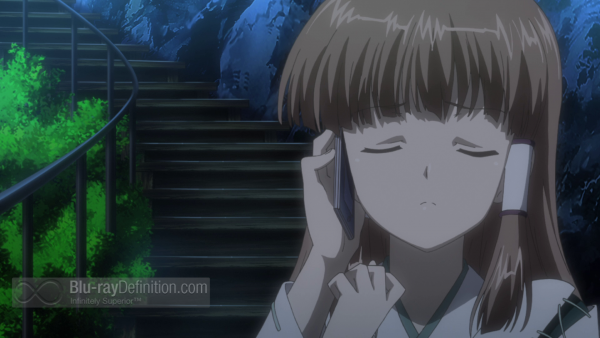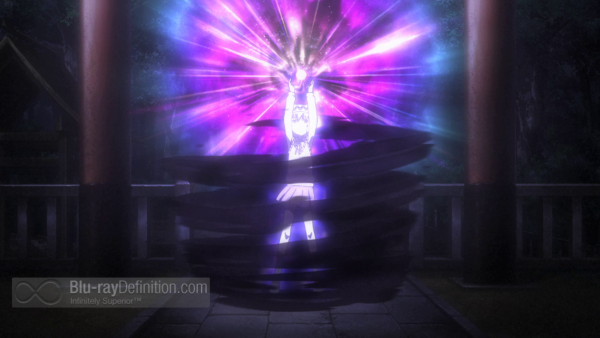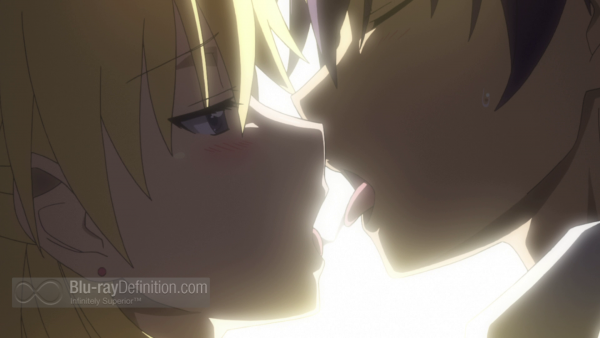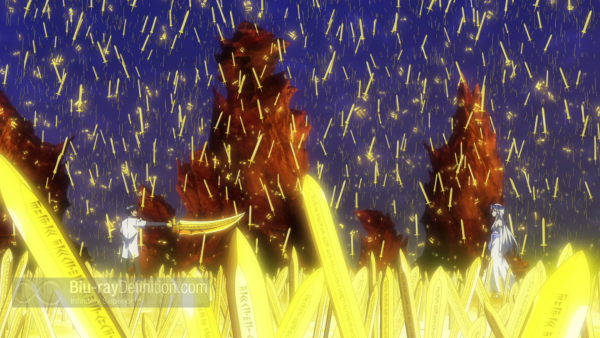 [amazon-product]B00DPH7RBU[/amazon-product]