–
The Series
[Rating:3/5]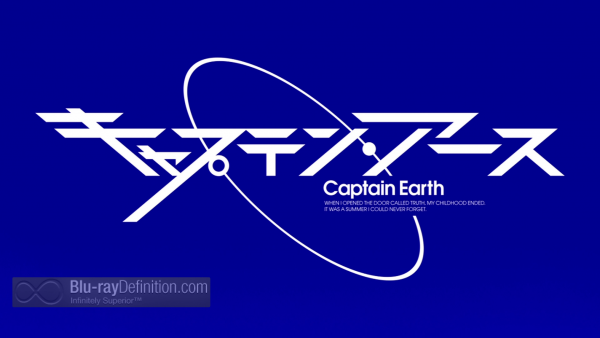 Captain Earth is a 25-episode OVA anime series produced by animation studio Bones, directed by Igarashi Takuya and written by Enokido Yōji. Collection 2, covered by this review, contains episodes 14-25 (Collection 1 was previously reviewed here).
The series follows high school boy Manatsu Daichi, who, when we first meet him, is feeling listless, different from the other students around him. He doesn't like to do much of the schoolwork assigned to him at school, although he does spend much time in his room reading a lot of different books and becoming an expert at video games.
Daichi, whose father died when he was young, returns to an island he remembers meeting a strange young boy when he was young after he sees an odd rainbow in the sky. His return to the island leads him into the secret underground headquarters of the Globe corporation, where he somehow finds himself with a gun-like weapon in his hand and heading off into a large, humanoid robot to do battle against an invading alien force known as "Kill-T-Gang". From then on, Daichi becomes a member of Globe, piloting the giant robot called the "Earth Engine Impacter" to help protect Earth against Kill-T-Gang, who want to drain all of humanity of their life force in order to maintain immortality.
Daichi is also reunited with the boy he met all those years ago on that island, Teppei, who is now also woking for Globe, but happens to be one of the Kill-T-Gang aliens. He also reunites with a girl, now 17-years-old, named Mutō Hana. A strange girl, she talks to a blue, squirrel-like animal named "Pitz". Daichi and Teppei first discovered her together in the basement of Globe when they were kids. Adding to the oddball mixture of lead characters is another 17-year-old girl, Yomatsuri Akari. A genius hacker, Akari fancies herself a mahō shōjo (magical girl), and has a really outgoing, bubbly personality, but is a crucial element in Globe and Daichi's battles against the devious members of Kill-T-Gang.
In this second half of the series, things begin to look grim for the Midsummer's Knights led by Daichi and his friend Teppei who have, up until now, been able to keep the Kill-T-Gang at bay. The Kill-T-Gang being recruiting the so-called Designer Children at a rapid pace, and what's more, it is learned that Mutō Hana holds a crucial power that is special to the Kill-T-Gang, a power that reveals to herself and to Daichi the truth about her nature. It's a shock to everyone, so much so that Hana runs away, and leaves Daichi lost. The fight is about to get worse, even as a new Livlaster joins the Knights to take on the Kill-T-Gang in a climactic battle for the fate of the Earth.
Captain Earth is defined by what is some of the most amazing animation I've seen in a hand drawn mecha series recently, and that is almost enough to recommend this series alone. However, the collection of characters put together also make the series quite appealing. The female characters are quite kawaii, no doubt. Hana has that indefinable moe appeal while Akari is the much needed comedic relief to the very serious Daichi and Teppei.
I thought the first part of the series needed some tightening up of its storyline, especially concerning the motivations of the Kill-T-Gang and who or what they really were, but with all of that out of the way (and it took a long time in Part 1 for that to happen), the series was able to progress a bit more, but, with only 25 episodes, Enokido Yoji chose to introduce yet more plot twists and subplots that confuses things a bit more and make the climax of the entire series feel a bit hurried and haphazard. Were it not for the continued elegance of the designs and charismatic characters, Captain Earth would be far less palatable than it ultimately is.

Video Quality
[Rating:4.5/5]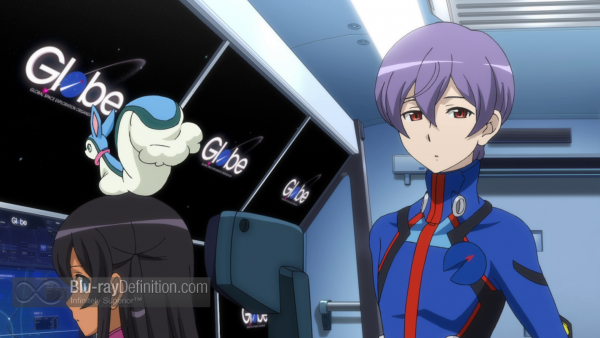 Captain Earth continues to impress on Blu-ray with a beautiful, crisp and detailed AVC/MPEG-4 1080p transfer that has hardly any issues to complain about. If one tries really hard, one may be able to spot the very rare, very mild color banding issue, but it hardly distracts from how good this transfer looks.

Audio Quality
[Rating:4.5/5]
Captain Earth gets only the original Japanese DTS-HD Master Audio 2.0 stereo (48kHz/24-bit) soundtrack with English subtitles on this Blu-ray release from Sentai Filmworks. The mix is only two channels, but it has a very wide dynamic range with distinct stereo imaging, clear and clean dialogue and a top notch Japanese voice cast.

Supplemental Materials
[Rating:0.5/5]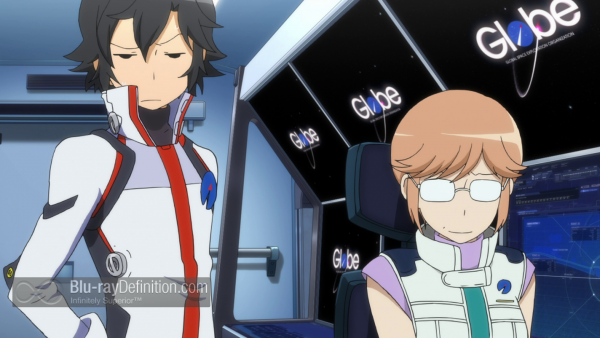 Only clean opening and closing animations along with Sentai Filmworks trailers are included.

The Definitive Word
Overall:
[Rating:3.5/5]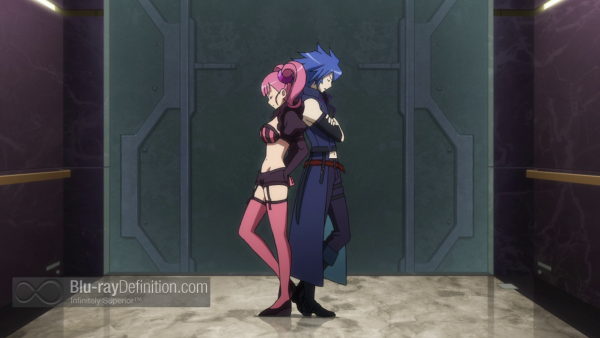 Although the mecha series Captain Earth closes out in the second collection a bit more convoluted than it needed to, the continued quality of its design and animation along with excellent voice work help to keep it afloat on what is also a high quality Blu-ray release from Sentai Filmworks.

Additional Screen Captures