Aspect Ratio: 1.85:1

Video Codec: VC-1

Resolution: 1080p/24

Audio Codec: English DTS-HD Master Audio 5.1 (48kHz/24-bit); German DTS 5.1; Spanish Dolby Digital 2.0

Subtitles: English, English SDH, Bahasa, Danish, Finnish, German, Icelandic, Korean, Malay, Norwegian, Portuguese, Portuguese (Brazilian), Romanian, Spanish, Turkish

Region: ABC (Region-Free)

Rating: R

Discs: 1

Studio: Miramax

Release Date: November 17, 2009

List Price: $39.99

[amazon-product align="center"]B002LMOCIQ[/amazon-product]
Purchase Chasing Amy on Blu-ray at CD Universe
Shop with us for more Blu-ray releases at Amazon.com
Overall

The Film

Video Quality

Audio Quality

Supplemental Materials


Click thumbnails for high-resolution 1920X1080p screen captures
More Screen Captures (15 Total)
(Screen captures are lightly compressed with lossy JPEG and thus are meant as a general representation of the content and do not fully reveal the capabilities of the Blu-ray format)
The Film

On the surface, Chasing Amy is a film about a guy who falls in love with a lesbian. Look more closely, however, and you will find that Chasing Amy is in fact a film about a guy who falls in love with a woman with a very colorful sexual past and that is a far more interesting story. Kevin Smith's third film and his much needed low-budget recovery after the disastrous $6 million Mallrats is a return to his indie roots. Chasing Amy is a modern romance; a frank and sexually charged look at contemporary mores and gender roles.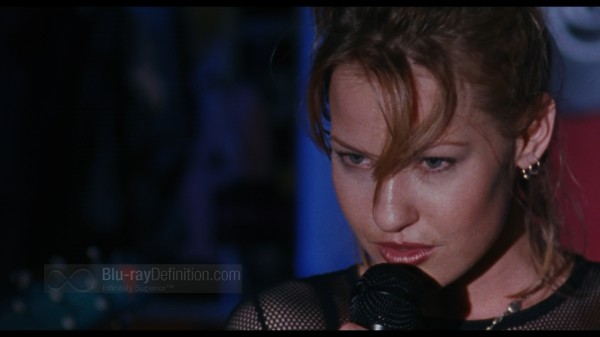 When comic book creator Holden MacNeill (Ben Affleck) meets Alyssa Jones (Joey Laura Adams) at a comic book convention he becomes immediately smitten, but things are complicated when he realizes that Alyssa is in fact a lesbian. Holden's buddy and inker (a source for one of the film's running gags) in their comic book creation Bluntman and Chronic, Banky Edwards (Jason Lee) also becomes quite jealous at Holden's infatuation and increasing closeness with Alyssa.
As the film progresses, Alyssa's experimental sexual nature is revealed and Holden has trouble accepting a woman so clearly his emotional and sexual superior. Instead of letting things go, Holden lashes out at Alyssa. Her sexual past is far too much for his male ego to bear.
Chasing Amy is the first film where writer-director Kevin Smith infused a real level of emotion into his characters. It shows his true skill at capturing dialogue and the truth of the human experience that Chasing Amy does not at any time simply devolve into an adolescent farce about sex. Yes, the dialogue is frank and it may make the more timid in the audience at times squirm with discomfort, but it always rings true.
Smith's screenplay never falters or saunters into territory that makes Chasing Amy a typical testosterone-driven film on the male fantasy on turning the "unattainable" lesbian into the instant heterosexual dream girl. In fact, it is beyond all of that. It is a film about friendship, male friendships and the unspoken rules in the hetero-male relationships and deep affections that men share for each other. It is about the pitfalls of romance and the difference between fantasy and realities, promise and expectation.
Perhaps Smith does his best work when constrained to the tight budget world of the independent ilk, because his two strongest films to date have been Clerks and Chasing Amy. Maybe it allows him to focus with unyielding vigor on his strengths and trim off relentlessly the unnecessary excess that leaks into his work when granted the leeway of a much greater budget.  Great romantic comedies are difficult to come by in the modern age, but Kevin Smith gave us one in Chasing Amy.
Video Quality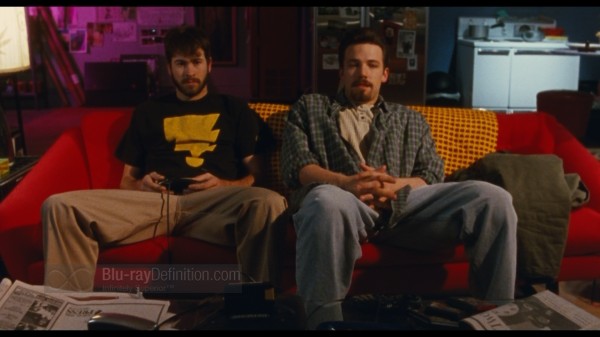 Chasing Amy was filmed on a shoestring budget of only $250,000 so it cannot be expected to look spectacular in high definition. All things considered, however, Miramax has done a pretty fine job bringing this film to Blu-ray. The 2.35:1 VC-1 transfer is free from any noticeable artifacts and video noise and source damage aret at a minimum for the twelve-year-old film. Overall detail is somewhat soft and flesh tones sometimes seem a little reddish, but shadow detail is solid even if blacks aren't exactly inky. Overall brightness can also seem a bit dull.
Audio Quality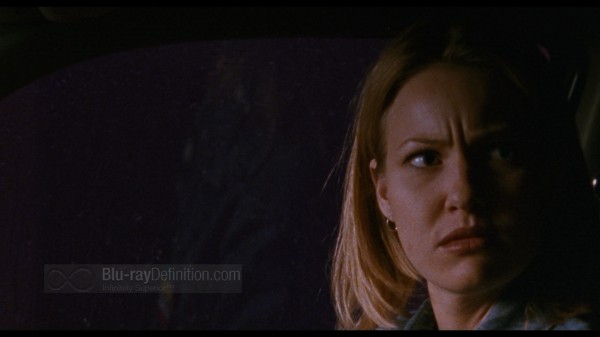 Chasing Amy has been given a DTS-HD Master Audio 5.1 (48kHz/24-bit) lossless soundtrack that may seem like overkill for this very much dialogue-driven low budget film, but the sound is clean and dynamic and there is a decent amount of ambience in the surround channels that opens up the soundstage. There are even some occasional discrete sound effects panned to the rear and off to the sides. It is a well done mix that serves the film appropriately.
Supplemental Materials

The supplements on this Blu-ray release of Chasing Amy have been updated with some new high definition materials specific to this release. Everything supplied is very entertaining and informative and fans of Kevin Smith and co. should enjoy going through the hours of additional material on this disc.
The supplements provided on this release are:
Tracing Amy: The Chasing Amy Doc (1.78:1; 1080i/60; 1:21.15) — The Cast and Crew Look Back on the Making of Kevin Smith's Edgy Romantic Comedy, Chasing Amy.  Everything from the sophomore slump of Mallrats, the problems convincing studio executives to sign off on backing the script for Chasing Amy to the rocky romance between Kevin Smith and Joey Lauren Adams is discussed in this lengthy and informative featurette.
Was it Something I Said? — A Conversation with Kevin & Joey — Kevin Smith and Joey Lauren Adams Discuss Chasing Amy — Fame, Finger Cuffs, and Everything in Between (1.78:1; 1080i/60; 0:18.07) — This a very friendly and pleasant conversation between Kevin Smith and his onetime girlfriend and the star of Chasing Amy, Joey Lauren Smith.
10 Years Later Q & A (1.33:1; 480i/60; 0.27.46)
Audio Commentary with writer-director-actor Kevin Smith and producer Scott Mosier
Deleted Scenes (1.33:1; 480i/60)
Outtakes (1.33:1; 480i/60; 0:04.56)
Theatrical Trailer (1.33:1; 480i/60)
The Definitive Word
Overall: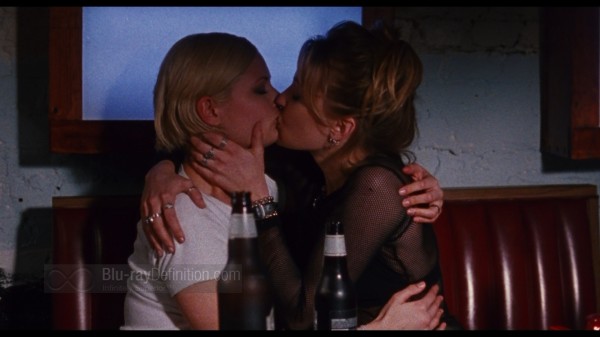 Forget Reality Bites, Chasing Amy just may be the defining romantic comedy of the so-called "slacker generation." Quick-paced and frank dialogue that is truthful about sex infused with raw emotions and brilliant acting from Joey Lauren Adams make this a worthy film for anyone's catalogue, male or female. Miramax have presented the film in a deservedly fine presentation on this blu-ray release with new supplements in high definition making it well worth the investment.

Purchase Chasing Amy on Blu-ray at CD Universe
Shop with us for more Blu-ray releases at Amazon.com