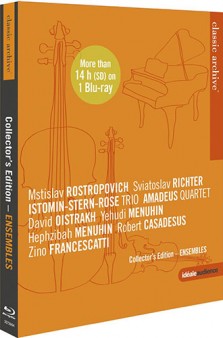 – –

The Film
[Rating:4/5]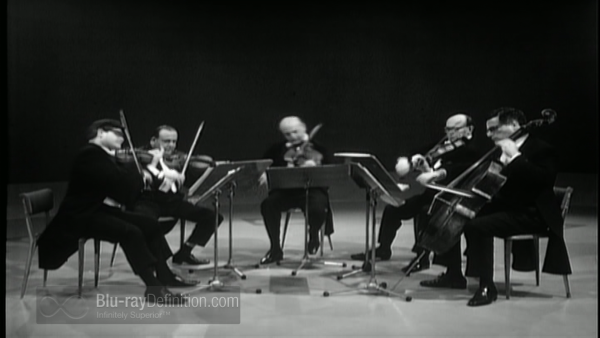 Billed as a collection of great ensembles of the 20th century, Class Archive: Collector's Edition-Ensemble is a starry set of performances by instrumentalists that literally need no introduction to classical music fans.
Two of the former Soviet Union's greatest soloists, cellist Mstislav Rostropovich and pianist Sviatoslav Richter lead off with the complete set of the five Beethoven cello/piano sonatas from a 1964 Edinburgh concert. Also included is Richter's scintillating 1966 rendition of Mendelssohn's Variations Serieuses.
If Elvis Presley, Carl Perkins, Johnny Cash, and Jerry Lee Lewis could be billed as "The Million Dollar   Quartet," then pianist Eugene Istomin, violinist Isaac Stern, and cellist Leonard Rose would certainly qualify as "The Million Dollar Trio." This most generous program includes all of the Brahms Piano Trios and eight Beethoven Piano Trios, including the famous "Ghost" and "Archduke" numbers, filmed between 1970-1974 in Paris.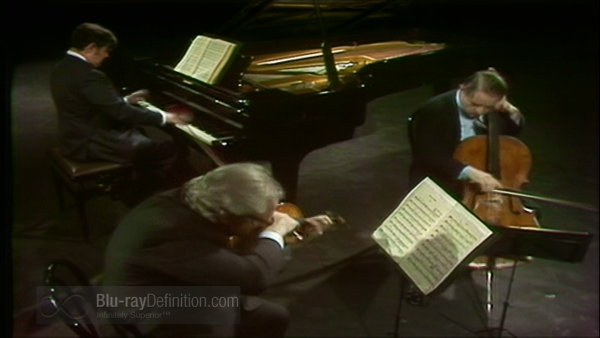 As the ISR Trio ruled their musical genre for decades, the Amadeus Quartet (Norbert Brainin and Siegmund Nissel violins, Peter Schiedlof viola, and Martin Lovett cello) was the go-to ensemble for its namesake Mozart as well as Beethoven, Brahms, Schubert and Haydn. This two-program gives us a nicely paced Mozart String Quartet No. 17 and String Quintet No. 3 (adding violist Cecil Aronowitz), the former filmed in Paris in 1956 and the latter in London in 1966. This is followed by spot-on 1969 Parisian performances of the Beethoven Quartets No. 4 and 6. The remainder of the program are 1969-1973 excerpts from the Brahms Clarinet Quintet (Jacques Lancelot, clarinet), Beethoven's final Quartet No. 16, Schubert's Quartet No.14 (Death and the Maiden) and the pizzicato movement from the Bartok Quartet No. 4.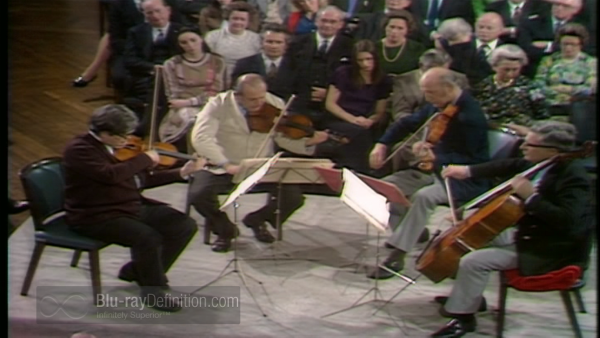 David Oistrakh, one of Russia's most accomplished violinist, is joined by fellow violin virtuoso Yehudi Menuhin in a romantic rendition of the Bach Double Violin Concerto, filmed in Paris in 1958. Later, Oistrakh switches to viola and is joined by son Igor on the violin, while Menuhin takes up the baton for Mozart's Sinfonia Concertante in E-flat Major during a 1963 London program at the Royal Albert Hall. The program concludes with another RAH performance of the Brahms Double Concerto with cellist Rostropovich joining Oistrakh.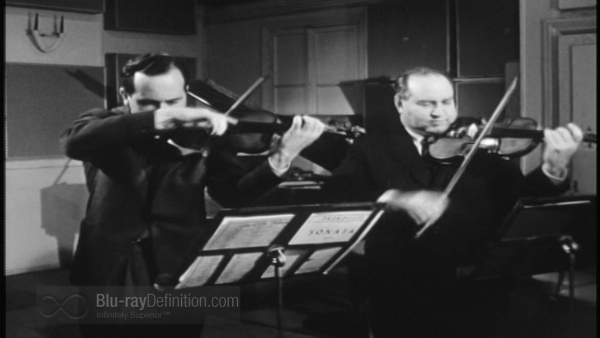 We are most fortunate to get a 1970 performance by two of France's most patrician soloists, pianist Robert Casadesus and violinist Zino Francescatti playing Beethoven's Kreutzer Sonata and final Sonata No. 10. Casadesus is replaced by Eugenio Bagnoli for the remainder of the program: four short works including both Beethoven Romances, Gustave Samazeuilh's Lamento e Moto Perpetuo, and Antonio Bazzini's La Ronde des Lutins.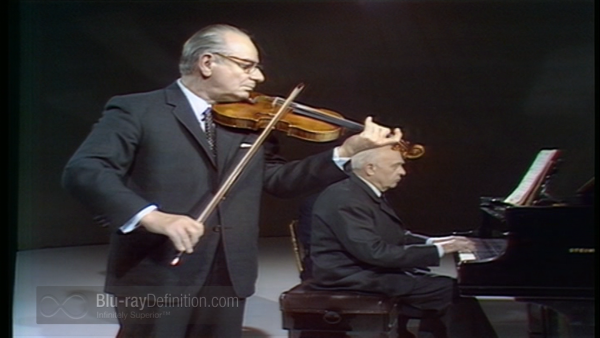 David Oistrakh returns in performances from 1958 to 1962, beginning with the Bach Violin in A minor (conducted by Sir Colin Davis). Oistrakh is next partnered by one of his regular colleagues, pianist Lev Oborin, in the Beethoven Fifth Sonata, followed by movements from the Schubert Violin Sonata, the Brahms FAE Sonata, Debussy's Suite Bergamasque (Clair de Lune), Five Melodies of Prokofiev (accompanied by Frida Bauer), the Allegros from Prokofiev's Sonata for two violins in C major (joined by son Igor), and the Brahms Violin Concerto (conducted by Rudolf Schwartz).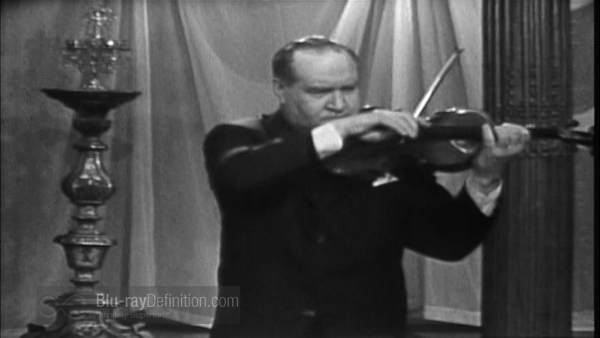 The final program dating from 1960 to 1972 in this collection features the brother-sister duo of violinist Yehudi and pianist Hephzibah Menuhin. Beginning with magisterial readings of the Franck Sonata in A Major and the Schubert Trio in B-flat major (Maurice Gendron, cello), we get Bartok's jazzy Contrasts for Violin, Clarinet and Piano with son Jeremy replacing his aunt and Thea Musgrave on the clarinet. This chapter concludes with the Allegro molto from Bartok's Violin Sonata, the opening movement of George Enescu's Violin Sonata, and Hephzibah's take on Mendelssohn's Variations Serieuses, the only repeat item on the entire disc!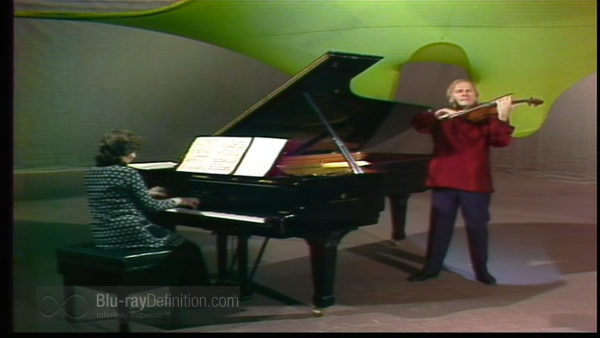 The 14+ hours of mostly chamber music deliver some truly inspired performances in a style that has pretty much disappeared from today's music scene particularly the Romantic-era playing of Bach or the unfussy approach undertaken to these small ensemble Classical and Romantic period staples by these musical titans.
Video Quality
[Rating:3/5]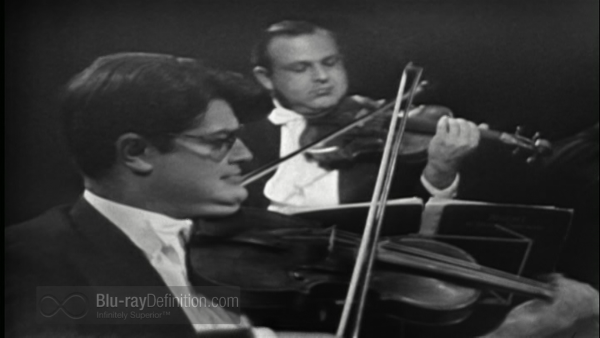 The 1.33:1 aspect ratio was used in all of original recordings, they have been stretched to 1.78:1 to fill the frame. A limited number of selections like some in the Casadesus/Francescatti, Amadeus Quartet and Menuhin programs are in not so vivid color. The Menuhin/Menuhin/Musgrave Bartok performance is the only major disappointment, being shot in what appeared to be a very dark closet. All of the older films and videos (particularly those from the 50s and 60s) have some blurring and washout, while the newer programs, also in standard definition are visually satisfactory but certainly not up to what today's recordings would provide.
Audio Quality
[Rating:3/5]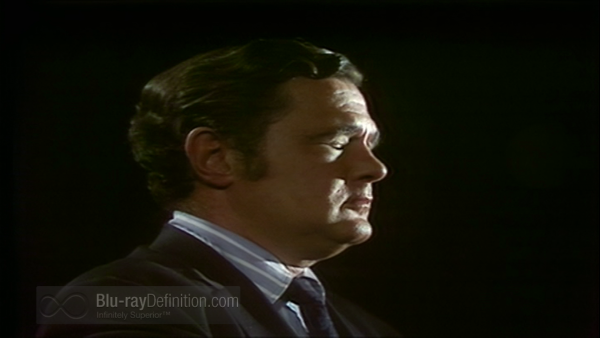 These works were recorded in mono and are delivered in discretely processed LPCM or Dolby Digital 2.0 "dual mono." Except for some quavery notes and obvious compression in the older entries, the sound is quite clear and conveys the music beautifully.
Supplemental Materials
[Rating:1/5]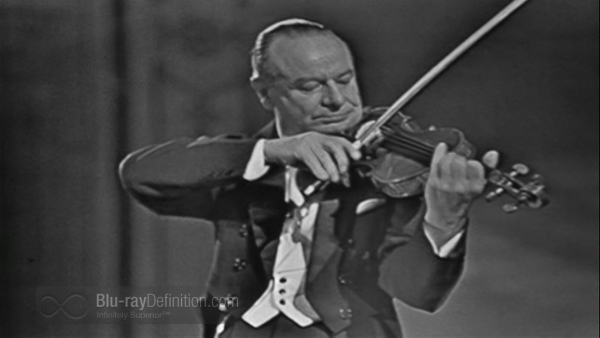 The booklet gives us extensive notes on the performers and little tidbits on the actual musical selections. Production credits for each performance are also supplied.
The Definitive Word
Overall:
[Rating:3.5/5]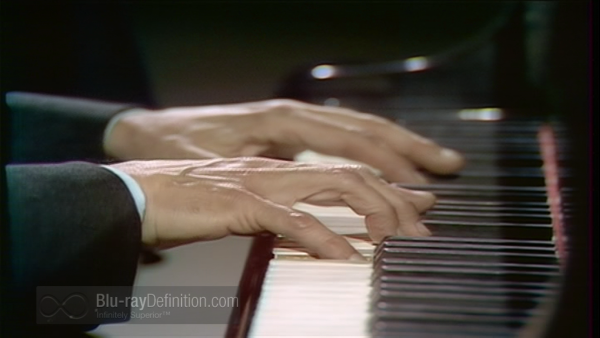 This is one of the most generous single Blu-ray sets that I have ever seen and offers performances of a lifetime by some of the greatest artists of the last half-century (or any other perhaps).  Each soloist is pretty much a household name for music lovers and it is a continuous treat to see as well as hear them.  The archival nature of these programs and the less than state-of-the-art visual and audio qualities should not deter potential buyers from considering this package since these artists, playing together as coequals rather than individual stars, were all at the top of their respective games when these films were shot.  A great way to introduce younger viewers as well to essential chamber works.
Additional Screen Captures
[amazon-product region="uk" tracking_id="bluraydefinit-21″]B00J9X94Q0[/amazon-product]
[amazon-product region="ca" tracking_id="bluraydefinit-20″]B00J9X94Q0[/amazon-product]
[amazon-product]B00J9X94Q0[/amazon-product]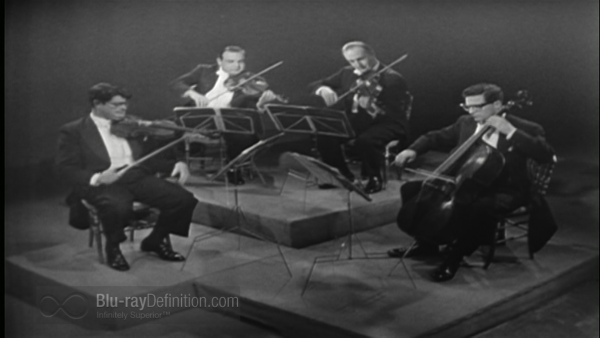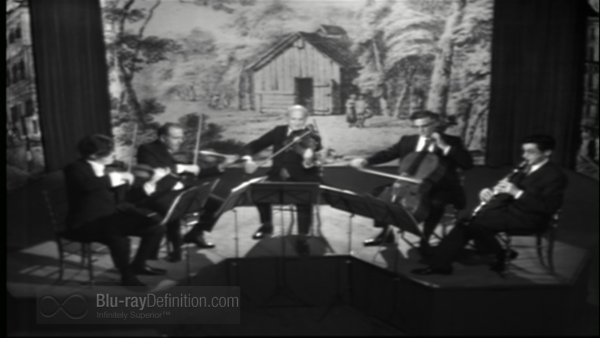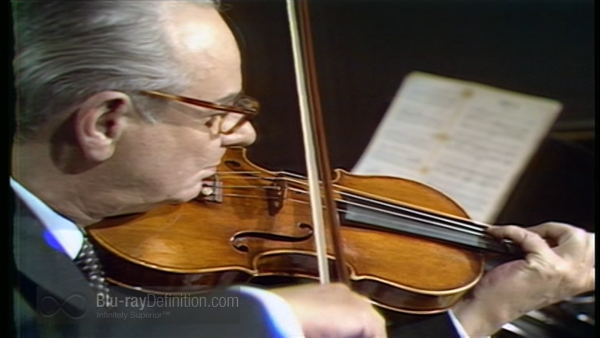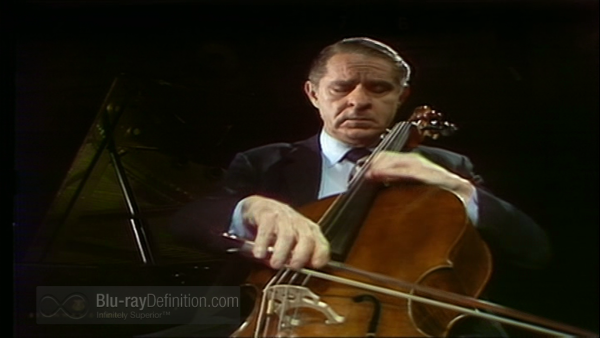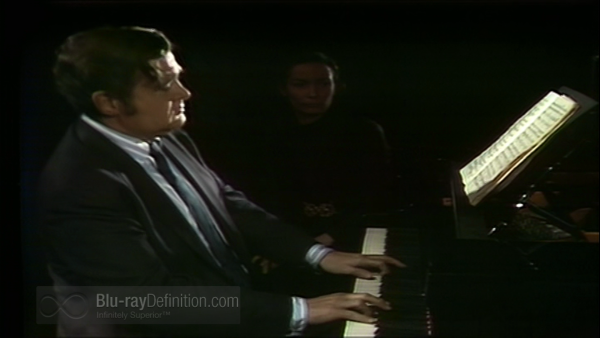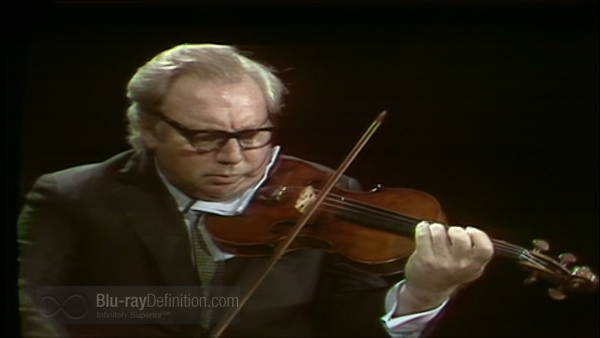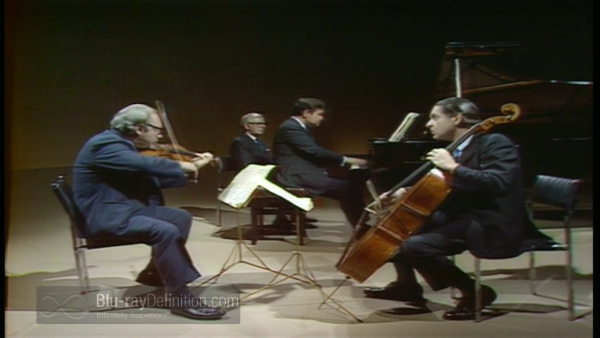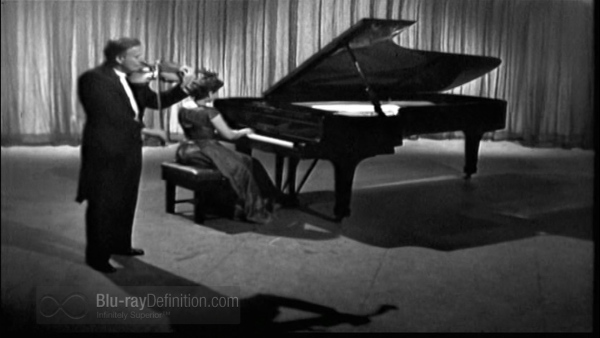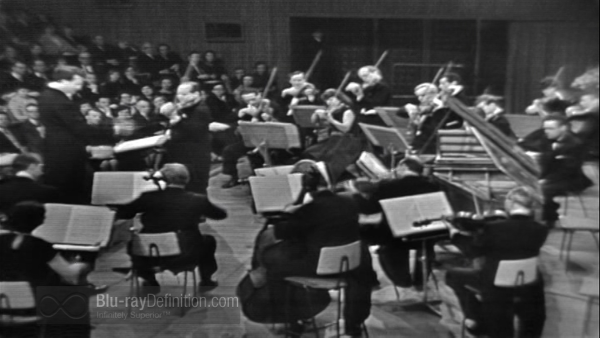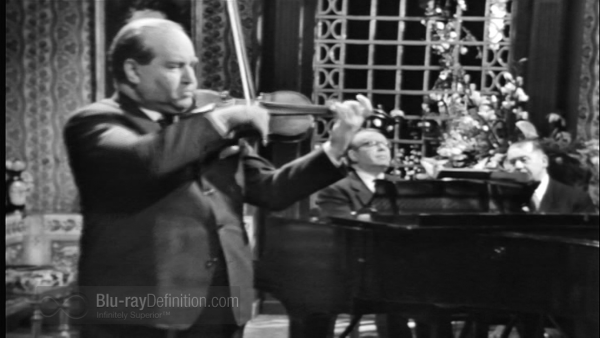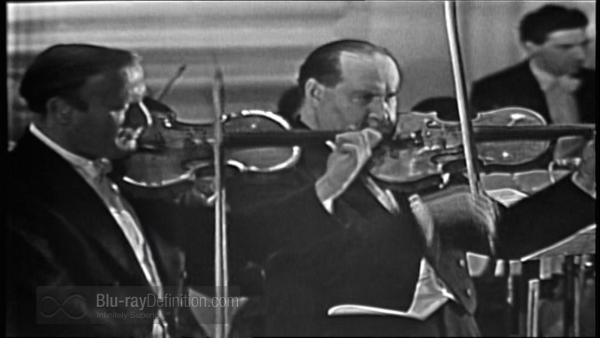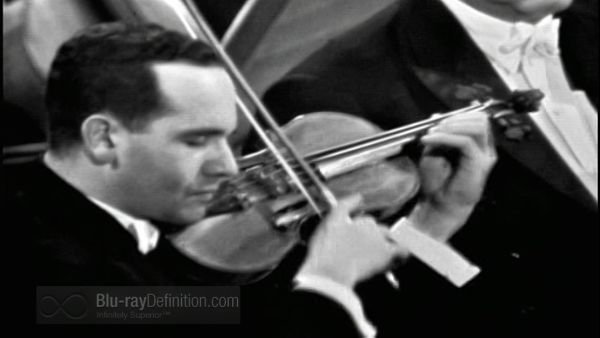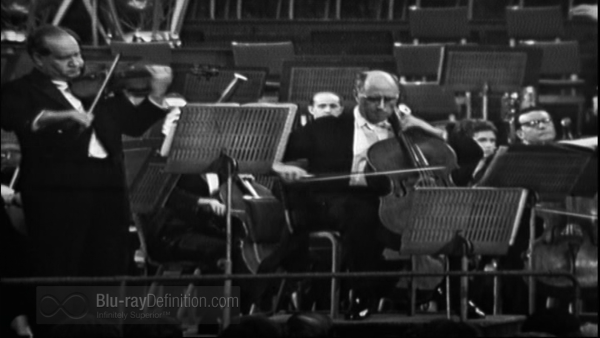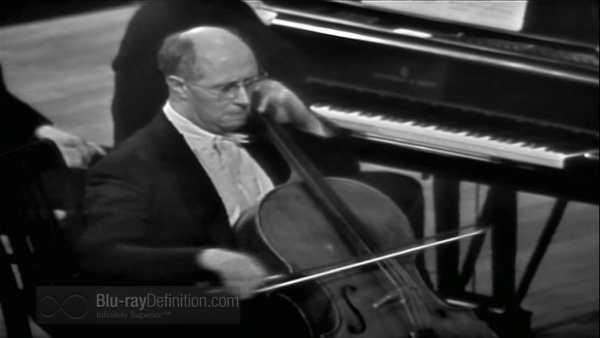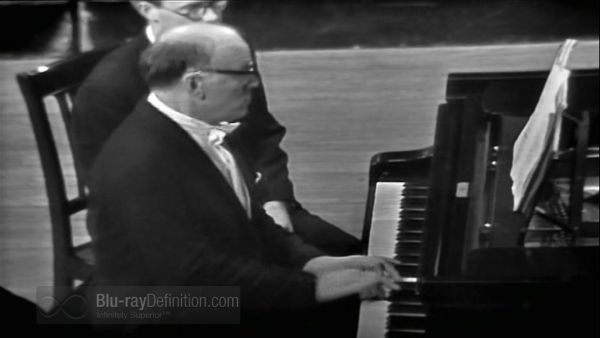 [amazon-product region="uk" tracking_id="bluraydefinit-21″]B00J9X94Q0[/amazon-product]
[amazon-product region="ca" tracking_id="bluraydefinit-20″]B00J9X94Q0[/amazon-product]
[amazon-product]B00J9X94Q0[/amazon-product]