– –
The Film
[Rating:4.5/5]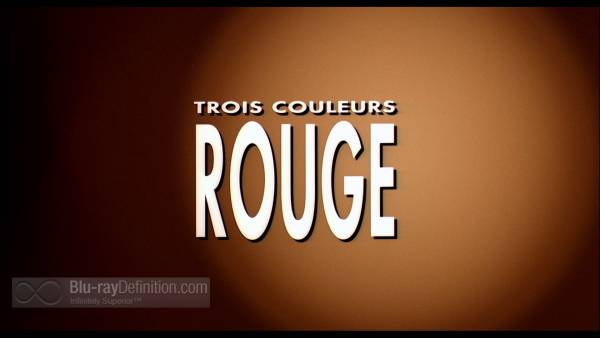 I don't know that I can describe Krzystof Kieṡlowski's (The Double Life of Veronique) Three Colours (Trois couleurs) as eloquently as our very own Chris Chiarella did in the TheaterByte Holiday Gift Guide 2011 and as Lawrence Devoe did in his review of the Criterion Collection release of Three Colors Trilogy, but I shall try my best.
A symphony of post-cold war European life taking as its inspiration the tri-color of the French flag, blue, white, and red, symbolizing liberty, equality, and fraternity or brotherhood, Three Colours: Blue, White, and Red is probably the greatest cinematic achievement of the late 20th century. As far as trilogies go, no other trilogy is as artistically cohesive, as moving, and as inherently European as Three Colours. From the moving musical score, so reminiscent of the classical greats by Zbigniew Preisner, to the mixture of Euro cultures in White, Kieṡlowski modeled a fragment of continental life, the good, the bad, and mundane, that is honest and intriguing. Each film's color palette is dominated by its symbolic color, most difficultly captured in White, where each scene contains a white object.
In Red, the trilogy wraps up with the story of fashion model Valentine (Irène Jacob) who accidentally runs over a dog, which leads her to the owner, a retired judge (Jean-Louis Trintignant) who spies on his neighbors' phone conversations and wants to be done with life. Valentine slowly builds a friendship with the cantankerous old judge. Meanwhile his neighbors' lives play out in ways that will have connections to Valentine that are not obvious at first glance.
Kieṡlowski again uses the film's thematic color to his fullest advantage here, flooding the frames with every shade of red, from the raspberry yogurt Valentine eats, to red Jeeps and traffic lights. Mostly, he finds ways to work the symbolism of the color itself into the film in ways that may not be obvious at first. The simmering bitterness of the judge could be seen as him being "red" with anger. We have the vermillion blood of the dog on Valentine's hands, does this mean she is implicated already in the guilt of the judge's spying before she even becomes close to him?
Red is a seamlessly beautiful visual statement that, like the two films before it in this trilogy, deals with some sort of loss – the lonely judge, the loss of his dog, the loss of the meaning of his life – and, in many ways, isolation. Taken together, the three films are not just colorful, but powerful, endlessly watchable, filled with meaning and different interpretations.
Video Quality
[Rating:4.5/5]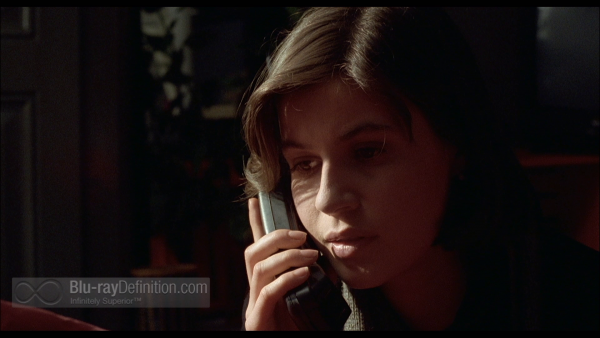 Three Colours: Red is identical to the disc from the Three Colours Trilogy. It has not been remastered in any way. These screen captures are taken from the individual release and may appear slightly different owing to slight variations in the frame that was captured and the different codec used to save them (we've switched to lossless PNG since then).
The AVC/MPEG-4 1080p/24 transfer to Blu-ray of Three Colours: Red from Artificial Eye looks rather strong and filmic with beautiful flesh tones and good reproduction of grain. Contrast is strong, but could have been a bit better, as darks don't always look quite as deep as I would like them to be and the overall image sometimes flattens, but shadow details are greatly extended and I see no evidence of edge enhancement or compression artifacts. The reds really "pop" nicely as well.
Audio Quality
[Rating:4/5]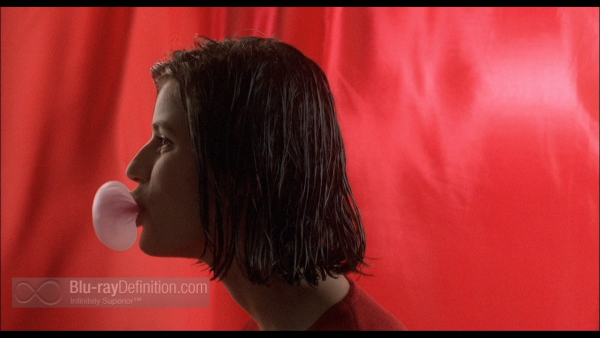 The audio remains the same on this individual Blu-ray release as well. It includes two acceptable audio tracks one in LPCM 2.0 Stereo (48kHz/24-bit) and one in DTS-HD Master Audio 5.0 (48kHz/24-bit). The 5.0 surround mix is subtler and more ambient than it is bombastic. It allows more breathing room than the 2.0 mix. It has more dynamic range and more subtle high frequencies across the board. The stereo mix, on the other hand, seems to be mastered louder and has sound effects pushed forward a bit more in the mix, allowing less range and a slightly more jarring high frequency response. Both mixes, however, have some clipping in the dialogue on occasion, particularly when voices rise.
Supplemental Materials
[Rating:2.5/5]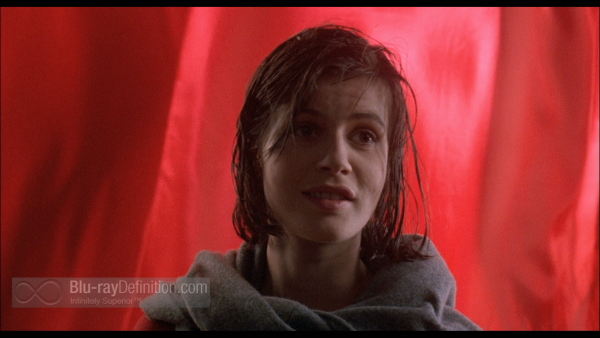 All supplements remain the same on this individual release as they were in the Three Colours Trilogy:
Krzystof Kieṡlowski's Masterclass (1994) (1.33:1; SD/PAL; 00:08:39)
Interviews (SD/PAL):

Irène Jacob
Jacques Witta, Editor
Marin Karmitz, Producer

The Making Of (1.33:1; SD/PAL; 00:23:23)
Kieṡlowski, Cannes 1994 (1.33:1; SD/PAL; 00:15:08)
Theatrical Trailers (1.33:1; SD/PAL)

Three Colours Blue
Three Colours White
Three Colours Red
The Definitive Word
Overall:
[Rating:4/5]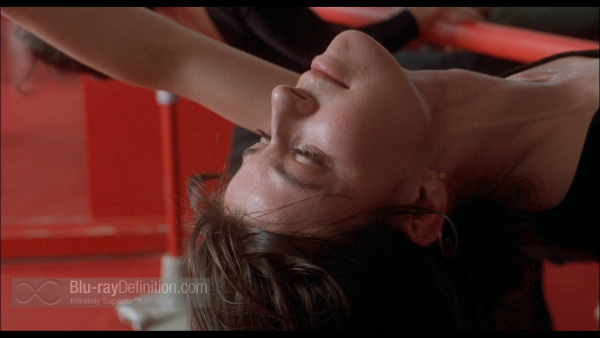 Irène Jacob shows she is right at home interpreting the masterful work of Krzystof Kieṡlowski, turning in a performance every bit as praiseworthy as her work in The Double Life of Veronique. Meanwhile, Red closes out this powerful trilogy with style and passion, capturing the essence of its color and of human emotion.
Additional Screen Captures
[amazon-product region="uk" tracking_id="bluraydefinit-21″]B00ENHM70M[/amazon-product]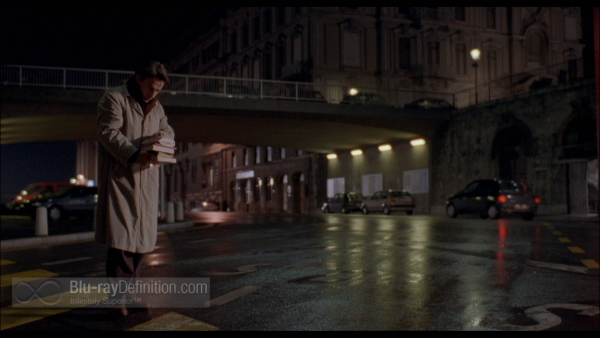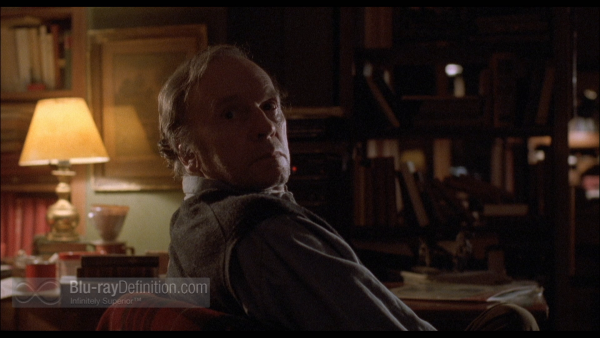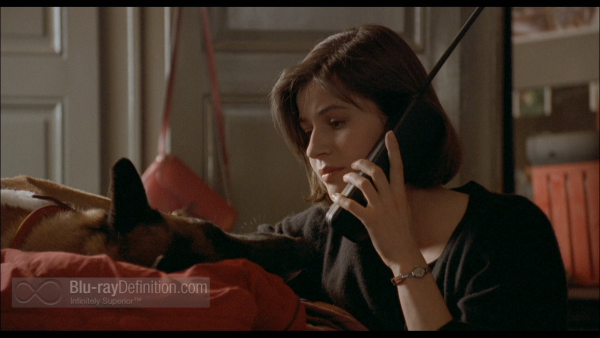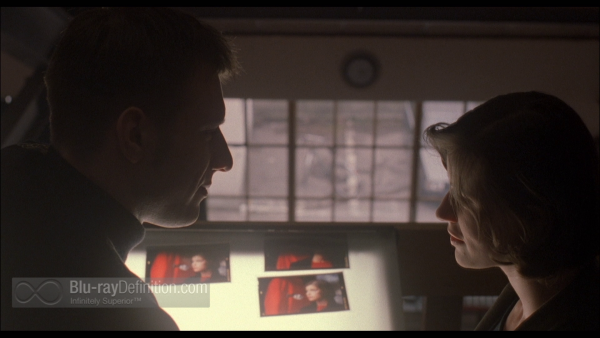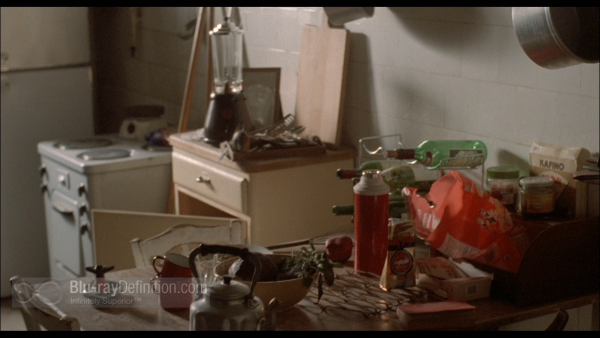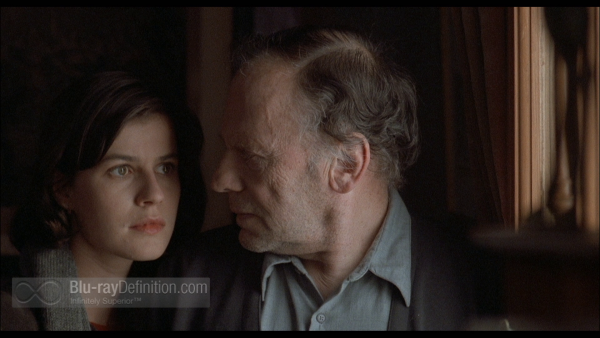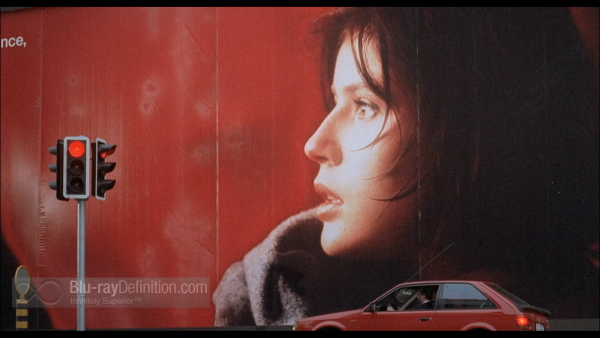 [amazon-product region="uk" tracking_id="bluraydefinit-21″]B00ENHM70M[/amazon-product]