– –
The Film
[Rating:3.5/5]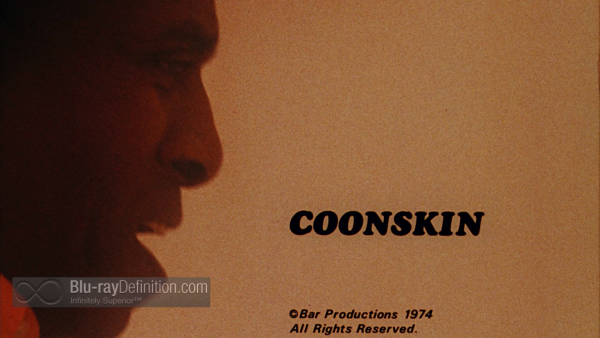 In 1975, innovative animation artist Ralph Bakshi (Fritz the Cat; Wizards; The Lord of the Rings) released this controversial animated film Coonskin. A gritty commentary on race relations in America and life in the inner city, the film mixed live action sequences with animated elements and was bookended by a violent live-action prison break sequence starring Scatman Crothers, a young pre-Miami Vice Philip Michael Thomas, Charles Gordone, and Barry White. The meat of the film, the animated inner city tale, concerns stereotypically black animated characters, both in physical traits and manner of speech, Brother Rabbit (voiced by Thomas), Brother Fox (voiced by Gordone), and Brother Bear (voiced by White) who move into Harlem and take over the organized crime scene from a preacher-cum-crime lord called Black Jesus before taking on the White dominated crime business run by dirty cops and the Mafia. Eventually a split in the three friends occurs, with Brother Fox selling out Brother Rabbit to the Godfather and Brother Bear opting for a life as a well paid mob-run boxing star.
Beyond the racial stereotypes that many at the time seemed to hone in on, this is a vivid portrayal of a society at large splitting at the seams from its own original sins. A tongue-in-cheek satire of racial hypocrisies, not a racist exploitation film, despite the stereotypes employed. Bakshi actually heavily lampoons everyone here, not just Blacks, but ritzy Whites (check out the scene where Brother Bear and his wife meet a White couple in a fancy White nightclub who awkwardly try to make them feel welcome). Or even homosexuals, who really seem to be the most woefully portrayed group in the whole film.
Video Quality
[Rating:3.5/5]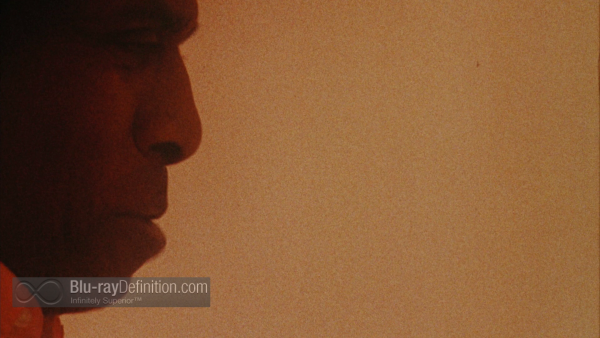 If you're looking for a pristine, crystal clear presentation that you get from the likes of Disney or Studio Ghibli animation on Blu-ray then look somewhere else. This is gritty and grainy with lots of spots where you see the source damage coming through. The AVC 1080p encodement does its best, but the swarm of noise and grain, and also some issues with black crush leave it wanting. For now, however, there's no competition on Blu-ray, so this is the best it gets, and given the limited market for this controversial film, it may well remain the best there is for a long while.
Audio Quality
[Rating:3.5/5]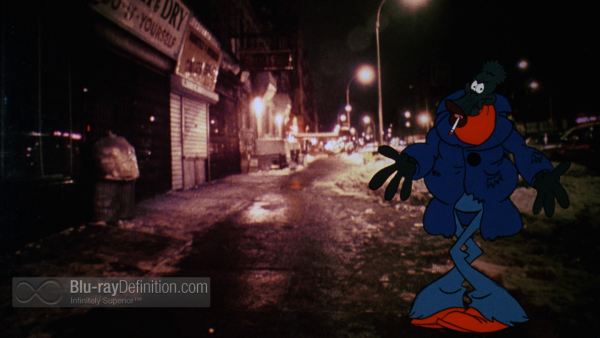 The original English stereo mix and a German dub are provided in DTS-HD Master Audio 2.0. The mix has a rather narrow soundfield and could be mistaken for mono most of the time, but it does also have a full sound and good dynamics with clean and intelligible dialogue.
Supplemental Materials
[Rating:1/5]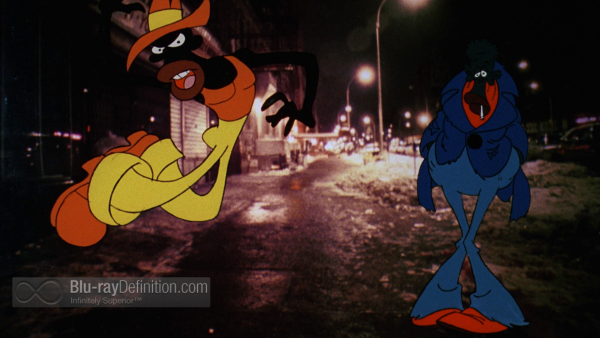 German Trailer (1.78:1; 1080p/24; 00:01:23)
U.S. Trailer (1.78:1; 1080p/24; 00:01:23)
The Definitive Word
Overall:
[Rating:3/5]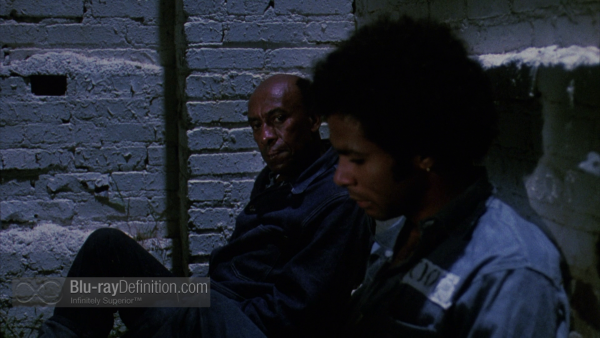 Far from being a film for children, like some of the best anime releases, Coonskin is strictly for adults, don't let the animation fool you. It's edgy, confrontational, and unafraid to tell the truth.
Additional Screen Captures