– –

The Film
[Rating:3.5/5]
The long-lived and legendary pairing of Spencer Tracy and Katherine Hepburn (whose offscreen relationship surely fueled their onscreen chemistry) is on full display in Henry and Phoebe Ephron's romantic comedy Desk Set,  The backdrop for this film is the "Federal Broadcasting Network," a thinly veiled version of NBC (with Rockefeller Center providing the location shots).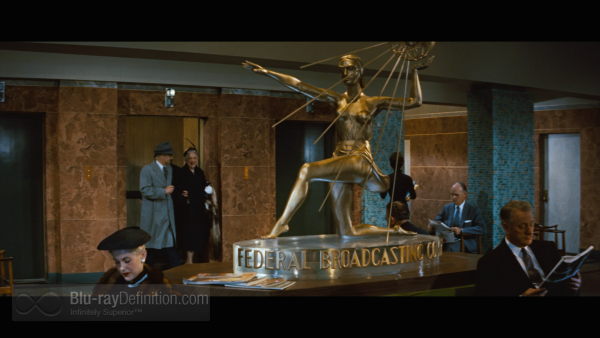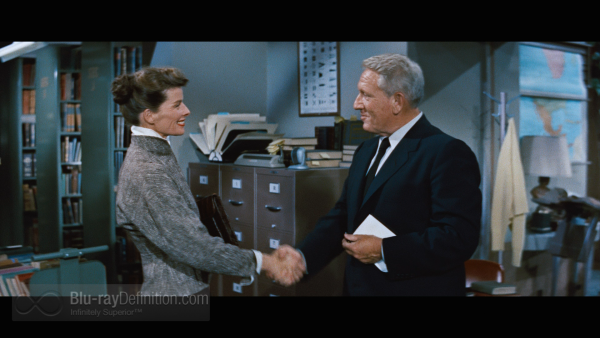 The film opens with "methods engineer" Sumner (Tracy) arriving for an appointment on the wrong day with network executive, Mr. Azae (Nicholas Joy). He encounters a bevy of reference office beauties (Joan Blondell, Dina Merrill, and Sue Randall) but, of course, when he meets Bunny Watson (Hepburn), it will be no surprise when the sparks finally fly.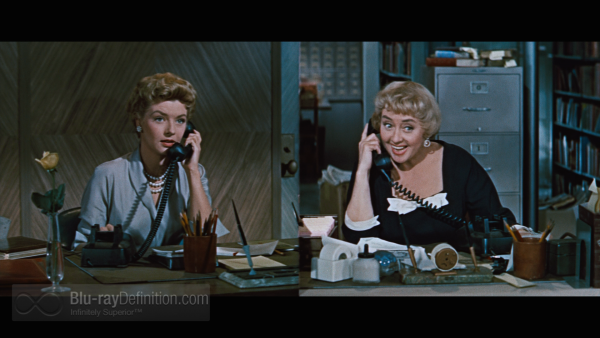 This 1957 film takes place at the dawn of the office computer era, and Sumner is the harbinger of things to come. As we see Bunny in charge of the office that supplies answers to the phoned in  questions of the public, we realize that EMERAC, the "super computer" could change all of that. The back story is that Bunny has been pursuing FBN executive Mike Cutler (Gig Young) for seven years without hooking him. A sentinel moment occurs when Sumner and Bunny are caught out in the rain and then go to her apartment to dry off. Mike, supposedly on assignment to Chicago, happens on the scene to find Sumner wearing Mike's monogrammed bathrobe and enjoying dinner with Bunny.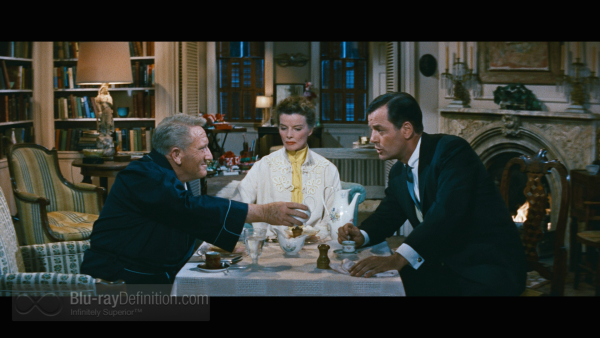 Later, at the network Christmas party, when Bunny has too much of the bubbly and lets down her guard, Sumner begins to realize that she is his destiny. Of course, there are a few more plot twists before the end but most rom-coms need these twists to keep the audience involved.
Video Quality
[Rating:3.5/5]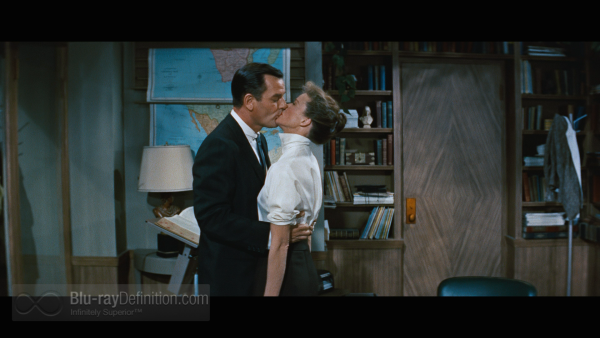 The wide-screen Technicolor restoration is, for the most part, outstanding. There is residual grain and occasional blur, but these imperfections do not impact significantly on the enjoyment of this film's visual effects.
Audio Quality
[Rating:3/5]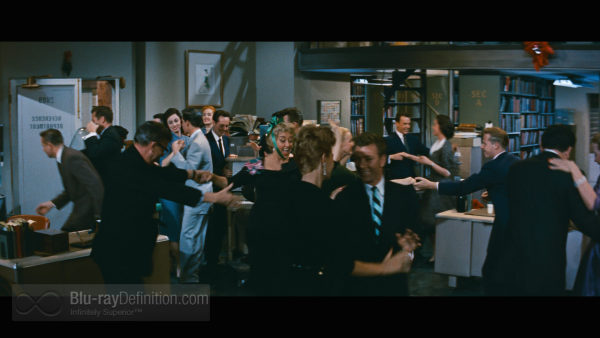 The soundtrack DTS-HD Master Audio 1.0 version produces crisp dialogue with a fair amount of residual boxiness.
Supplemental Materials
[Rating:2/5]
We get a very modest supply of extras:
Designers Inspired For New Creations By The Film "Desk Set"  0:59 (English Dolby Digital Stereo 48kHz/16b) This is a very brief clip on the some of the women's fashions that came from this film.
Original Theatrical Trailer 2:19  (English Dolby Digital Stereo 48kHz/16b)
Audio commentary by Dina Merrill and John Lee
The Definitive Word
Overall:
[Rating:3.5/5]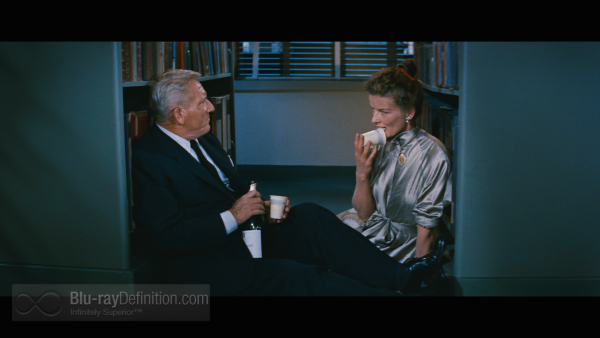 The somewhat dated humor of this 50's rom-com does not detract from the impact of the Hepburn-Tracy chemistry that provides the main reason to see this film. As a preview to the effect of computerization on the business world, this is an interesting early effort. A good restoration effort and one definitely worth watching.
Additional Screen Captures
[amazon-product]B00FL2F0N4[/amazon-product]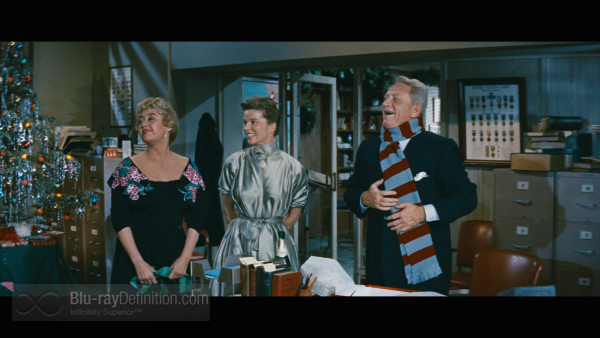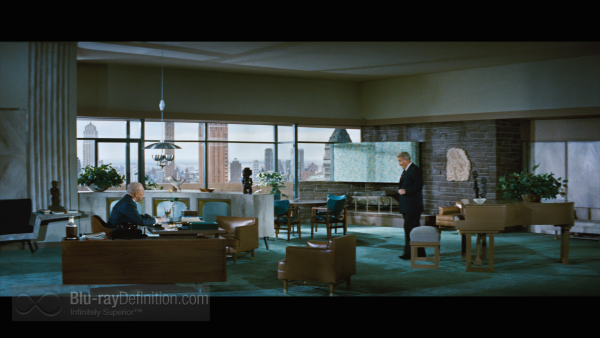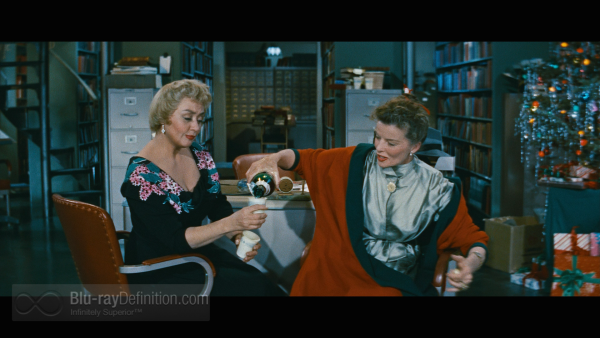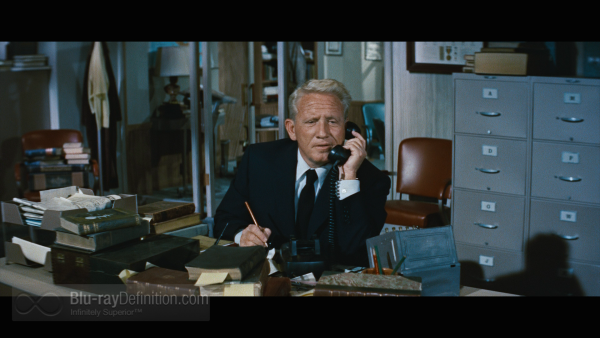 [amazon-product]B00FL2F0N4[/amazon-product]