– –
The Series
[Rating:3/5]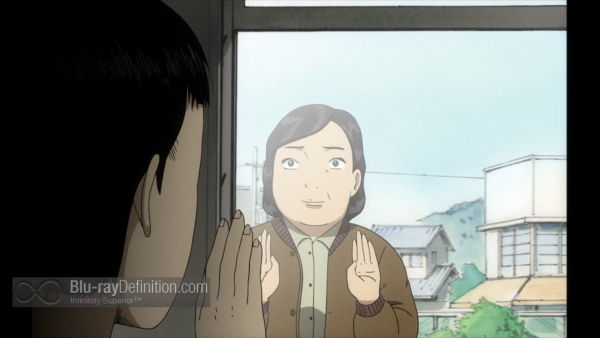 First and foremost, I should preface this review and say that I am a very big Kiss fan and the one and only reason I decided to review Detroit Metal City (デトロイト・メタル・シティ) was due to the cool cover artwork and the fact that the title is a play on words on one of Kiss' songs called Detroit Rock City. From the opening credits I knew that Detroit Metal City would take no prisoners and it didn't. The series has many elements that it lampoons and that's part of why it's so entertaining and also why it doesn't quite hit the stratosphere, so to speak.
Detroit Metal City is the unlikely story of Soichi Negishi, a talented street singer and performer by day and the evil and satanic singer of the death metal band, Detroit Metal City aka DMC, by night. That's the rub. The band are no more than a bunch of shells of a couple of kids wanting to take over the world, but having to live the façade of a hardcore death metal band that sings about death and destruction. Not only that, but they're accompanied by their very horny and salacious manager everywhere. Their alter egos seem to get into lots of trouble whenever she's around.
I like metal music and Detroit Metal City brings the noise in droves. The lyrics to some of these songs are quite hysterical and had me chuckling while head banging at the same time…okay, not really, because I don't head bang, but the tunes are catchy. The series is divided up into 12-episodes at fifteen minutes each, with original Japanese credits and the following episode preview(s). It's a very brisk series and one could easily knock it out in a day or so. That's what I did. The total running time is 150 minutes.
The style of animation is quite crude at times, but picks up steam when DMC is on stage or the main focus, as they look like living monsters or vampires. The band's design is neat and it incorporates face paint and a bit of a monster design. I will say that the major problem with the series is Soichi's character. He is a bit of a wuss and laments way too much about his station in life even though he's the mighty Krauser and leads the heaviest band in the land to sold-out shows and world acclaim. If you got what you wanted then shut up. No, Soichi is a bit of a whiner and he doesn't know how to tell the woman that he loves that he fronts a satanic metal band. Oh, and his love interest doesn't like DMC either, so there's that monkey wrench thrown in for good measure.
Detroit Metal City was originally released as a serialized show way back in 2008 and it has now reached the States on Blu-ray. I enjoyed it for the most part and thought that the 15-minute long episodes were more than enough to take in. I don't know how I would feel if I was being pummeled by 30-minute-per-episode death metal anime, though. I do give the series a mild recommendation. Please continue with this review and see how the technical specifications and supplemental materials stack up.
Video Quality
[Rating:2.5/5]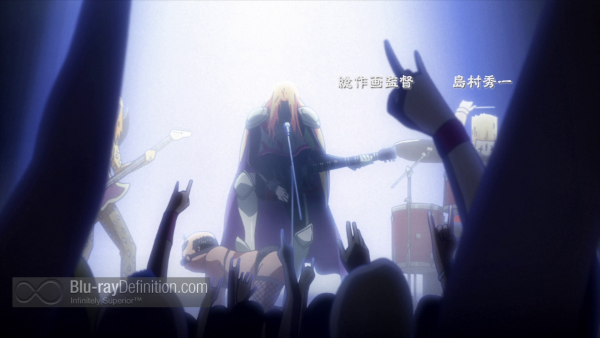 I wasn't really expecting solid gold from this particular anime, because a lot of anime that has been transferred to Blu-ray tends to look like an up-converted DVD. Detroit Metal City is no different. The series is presented in full 1080p and in various aspect ratios due to stylistic choices. The ratio changes are constant and outside of a few scenes never stay the same. Some scenes look like they were shot on a Smart phone – when you shoot tall instead of turning the phone sideways. It's very eclectic. The animation itself looks average and the color palette is very light and reminiscent of a pastel or watercolor painting. There's nothing really big and bold about the style and color palette of the series. Banding and pixilation creep in every now and then. Sharpness is balanced, but edge enhancement is everywhere. It's not the worst anime presentation I've ever seen, but I have seen much better.
Audio Quality
[Rating:4/5]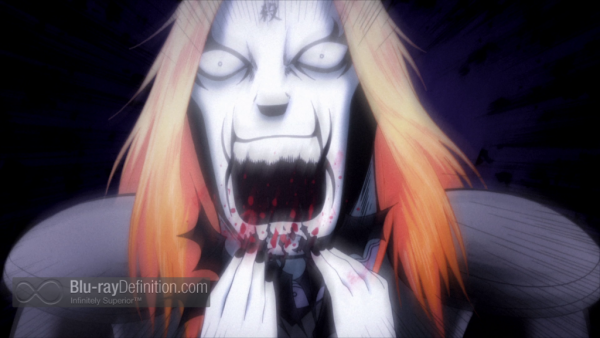 Detroit Metal City is presented in a very aggressive Japanese 2.0 track. There are many instances of double bass pedal galore and the harshness of the death metal will pummel the viewer into submission. This may or may not be a good thing depending on your tastes. A 5.1 track may have done wonders for the show in spreading out the sound field a bit more but the 2.0 track never feels cluttered and is allowed to breath out in terms of music and dialogue. It's a very loud program, so be warned, because it may give your home theater a rattle.
Supplemental Materials
[Rating:0.5/5]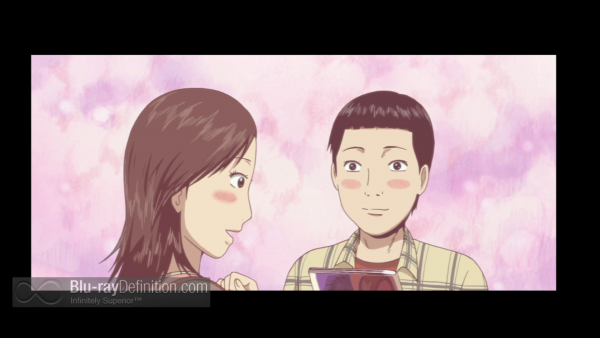 There are no special features to speak of on this Blu-ray except for the opening theme song minus the Japanese credits. It's basically a textless opening intro to the series. Sentai trailers round out the supplemental features.
Clean Opening Animation (HD)
Sentai Trailers (HD)
The Definitive Word
Overall:
[Rating:2.5/5]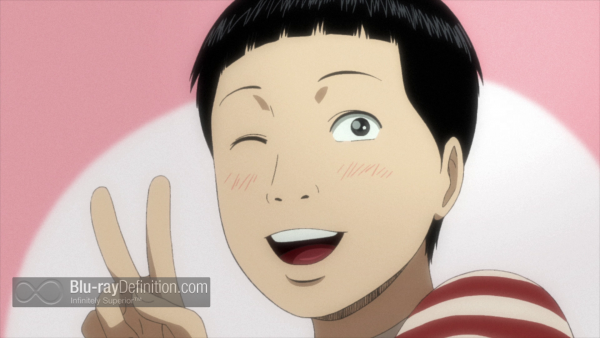 Detroit Metal City was fun to a certain extent. Maybe if I had paced myself a bit the show could have sunk in a little bit better as opposed to having been devoured in one sitting. Still, if you get what the show is parodying and paying tribute to then you will surely get a smile and a chuckle or two. The technical specifications could have been beefed up a bit and more extras worthy of note could also have been included. Overall, Detroit Metal City on Blu-ray is a mixed bag.
Additional Screen Captures
[amazon-product]B00MZ3X6E2[/amazon-product]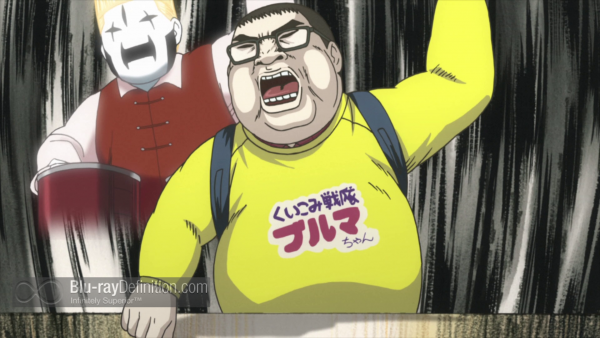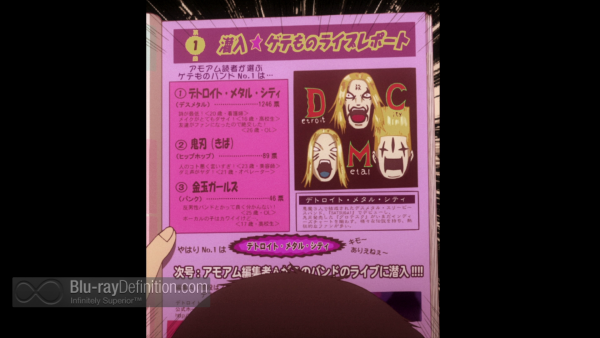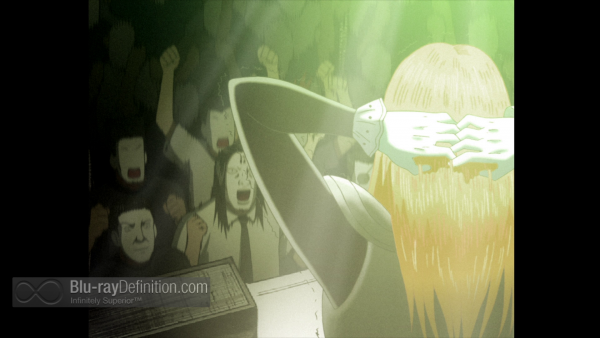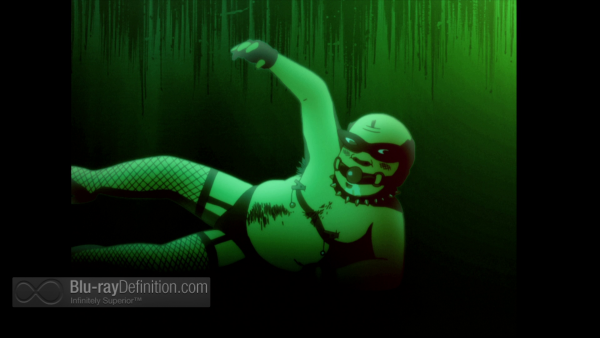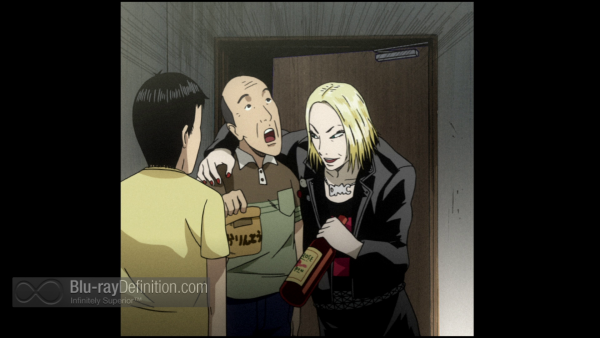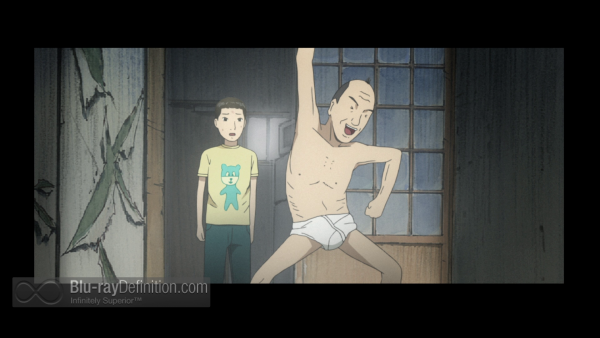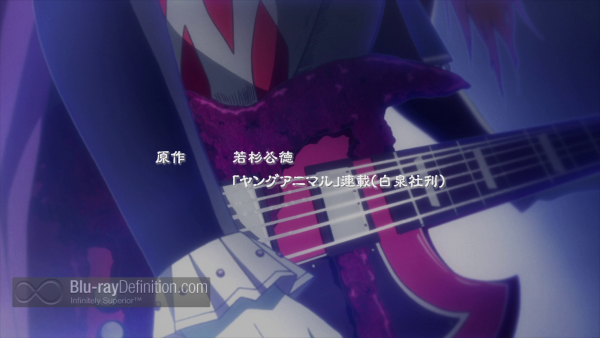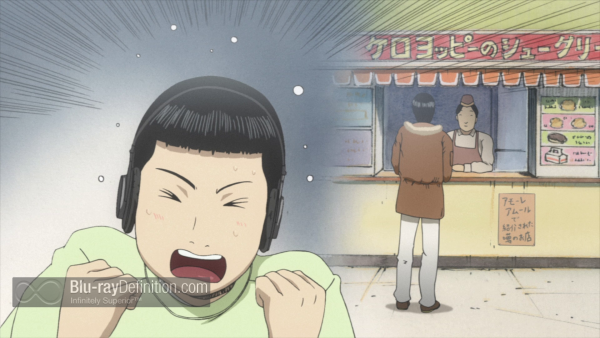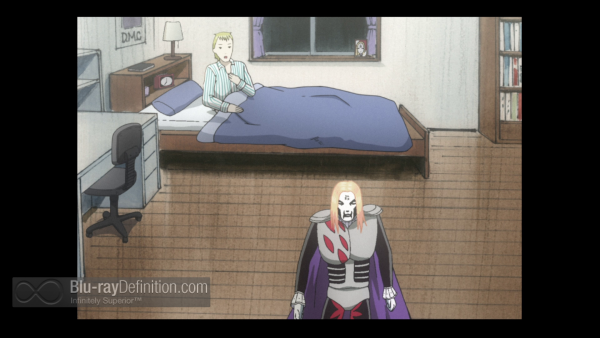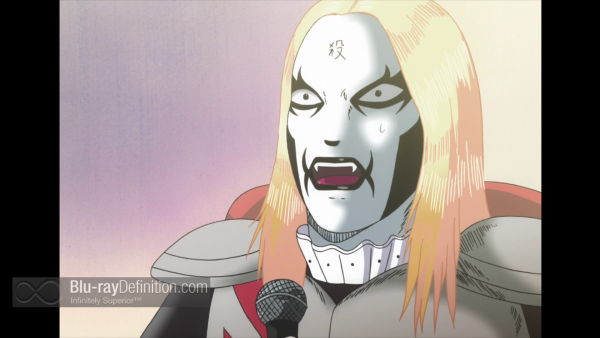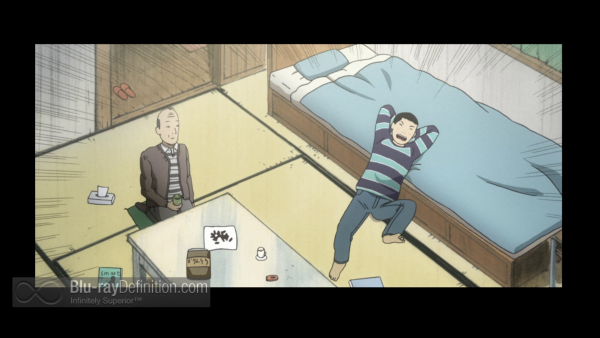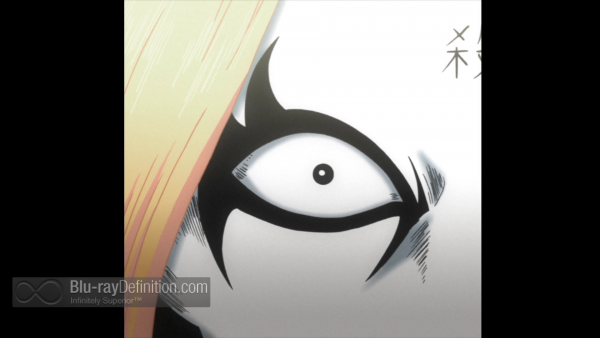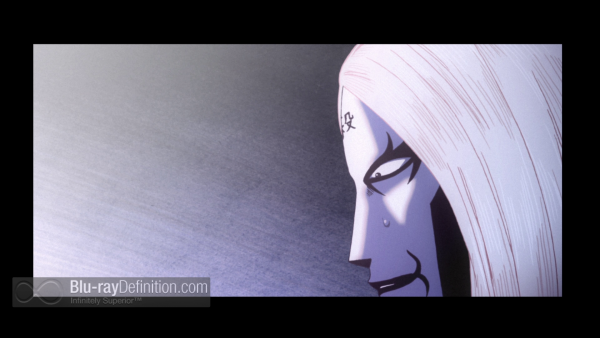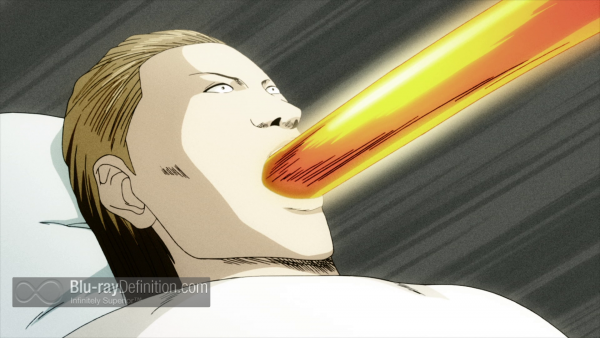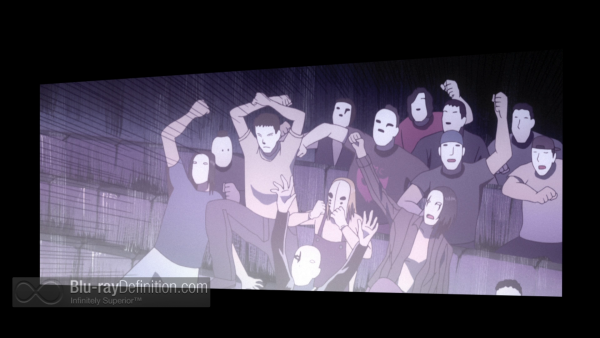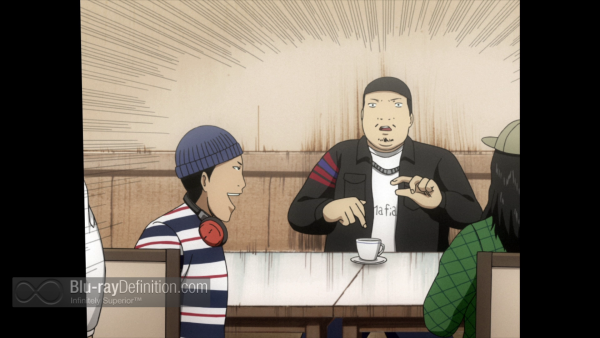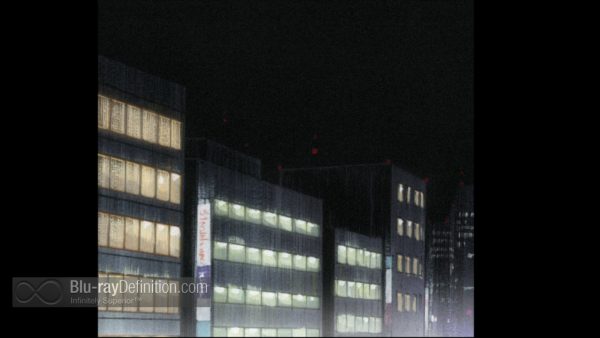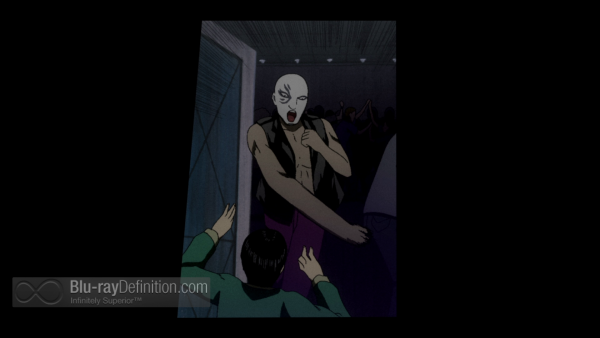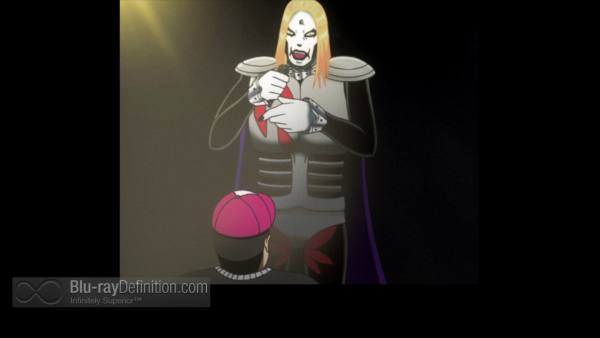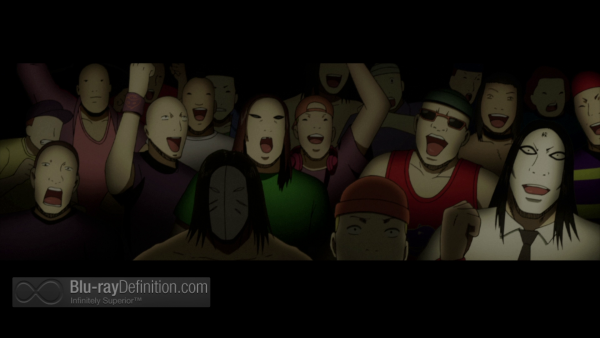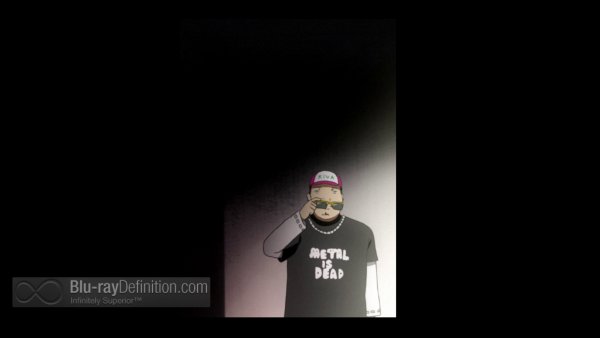 [amazon-product]B00MZ3X6E2[/amazon-product]