Mouse-over Cover Art for Details –
Click thumbnails for high-resolution 1920X1080p screen captures
(The below TheaterByte screen captures were taken directly from the Blu-ray Disc and losslessly compressed in the PNG format. There should be no loss of picture quality with this format. All screen captures should be regarded only as an approximation of the full capabilities of the Blu-ray format.
The Series
[Rating:4.5/5]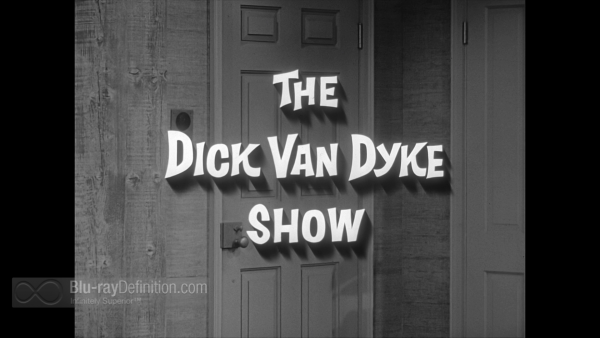 Sitting through a season of The Dick Van Dyke Show, which, admittedly, I have never done before, though I have seen episodes here and there throughout the years, one could be excused for forgetting the turmoil of the world outside its charming and genteel settings. The series ran from 1961 – 1966, an era that would see the assassination of a president, the rise of hippies, an eruption of racial tensions and the civil rights movement, the escalation of the Vietnam War, and, of course, the rock and roll counterculture that would give us The Beatles, The Stones, Jimi Hendrix, The Doors, and The Velvet Underground. But in the world of Rob and Laura Petrie (Dick Van Dyke, Mary Tyler Moore), time had hardly moved on from the 1950s. Their separate twin beds, like those of Lucy and Ricky Riccardo testified to that every week. The charm of The Dick Van Dyke Show, which at the basic level followed the lovable TV writer Rob and his wife Laura and their circle of friends through their various adventures and mishaps, is the very idea that it was and is 30-minutes of escapism from the chaos of the world outside. In its own way, however, even The Dick Van Dyke Show was moving and grooving with the times. Mary Tyler Moore (who would go on to become a pop-culture icon of 70s feminism in her role as Mary Richards in The Mary Tyler Moore Show) was not quite June Cleaver. She was more self-assured already, a woman of the 60s. In this season's episode "My Mother Can Beat Up My Father", for example, Laura unveils a wicked Judo move on poor Rob who gets his male ego bruised when he realizes that, yes, in fact, his wife CAN beat him up. Poor Rob even laments that women are competing with men for everything these days. Go figure.
Video Quality
[Rating:4.5/5]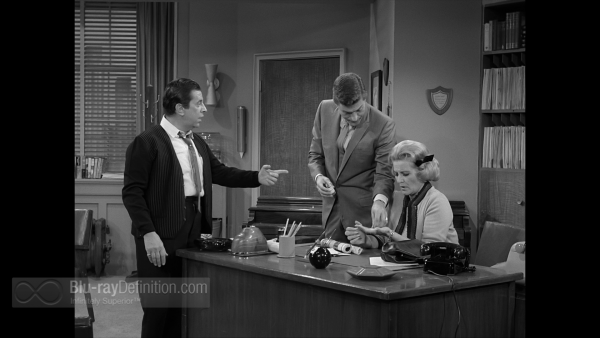 The Dick Van Dyke Show was restored from the original 35mm negatives and arrives on Blu-ray with a VC-1 1080p encodement from RLJ Entertainment. Looking at the nearly pristine black and white image that barely has a scratch, save for a few speckles that pop up on occasion, one could think this was filmed yesterday. It does have the look that perhaps a slightly heavy dose of DNR was applied, but there is still a sufficient amount of detail and texture to be witnessed, especially when watched in full motion, as opposed to the screen captures included here, which seem to highlight the smoothness of the grain structure.
Audio Quality
[Rating:3.5/5]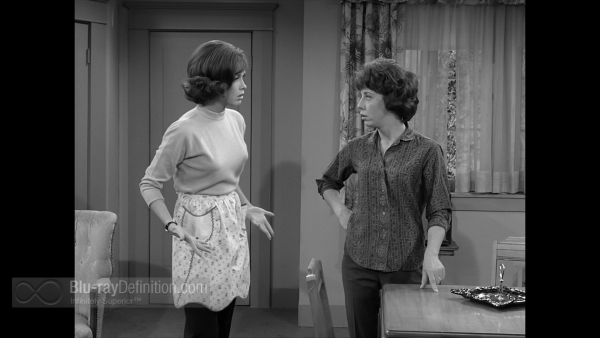 The original monaural soundtrack is offered up in a solid if somewhat boxy DTS-HD Master Audio 1.0 (48kHz/24-bit) track. It has a little bit of crackle and limited dynamic range, but it is more than adequate in conveying the dialogue and laugh track here and gets the job done.
Supplemental Materials
[Rating:3.5/5]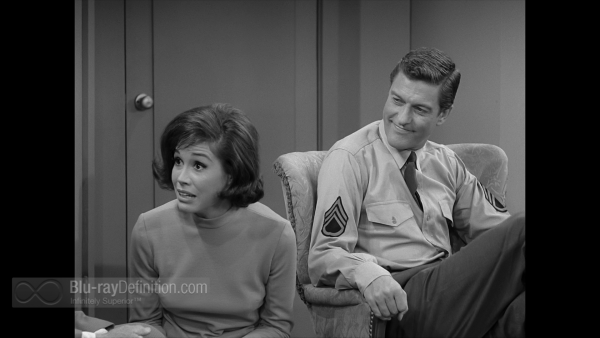 These are a rich set of supplements, though most are rather old and all video extras are in standard definition. It's great to see some of the classic award show appearances and such, which is a boon for fans.
The supplements:
Mary on the Danny Thomas Show (1.33:1; SD; 00:02:32)
TV Academy Tribute to Carl – Dick Van Dyke (1.33:1; SD: 00:11:14)
TV Academy Tribute to Carl – Ray Romano and Brad Garrett (1.33:1; SD; 00:01:53)
DVD Exclusive Award: The Dick Van Dyke Show: Season One (Best Overall DVD, TV Program) (1.33:1; SD; 00:03:14)
TV Academy Tribute to Carl – Rose Marie, Larry Mathews, Bill Persky (1.33:1; SD; 00:13:04)
Diagnosis Murder: Dr. Sloan Meets Rob Petrie (1.33:1; SD 00:00:36)
Dick Sings the Theme Song at the Hollywood Bowl (2001) (1.33:1; SD; 00:02:28)
The Dick Van Dyke Show Remembered (1.33:1; SD; 00:46:28)
Emmy Awards (1964 – 1965) Outstanding Program Achievement in Entertainment (1.33:1; SD; 00:03:02)
Nick at Nite Promos (1.33:1; SD; 00:02:18)
Select Episode Photos
Select Episode Audio Commentaries with Carl Reiner, Dick Van Dyke, and Gary Marshall
Interviews with the Cast and Crew
Select Episode "Remembrances"
Episode listing
The Definitive Word
Overall:
[Rating:4/5]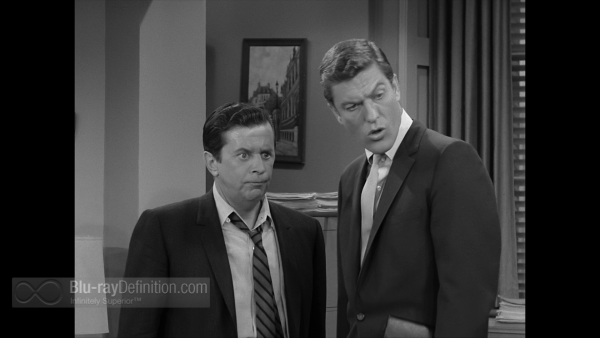 Ah, yes, the good ol' days. Black and white television, monaural soundtracks, and stumbling over ottomans. The Dick Van Dyke Show is pleasant, unoffensive entertainment, and this splendid restoration of the fourth season on Blu-ray (previously available as part of the complete collection) is a perfect way to watch it.
Additional Screen Captures