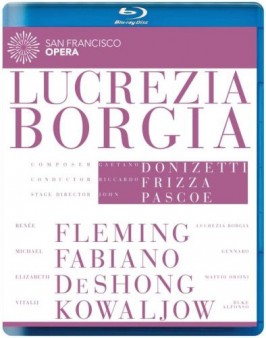 – –

The Performance
[Rating:4.5/5]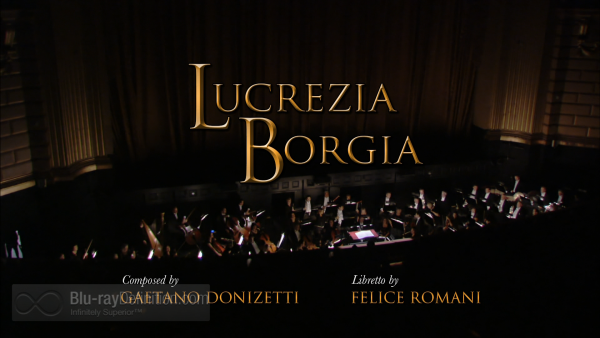 Tales of Renaissance intrigue lace through the history of the Borgia family (immortalized on the Showtime cable network) and this 19th century retelling by composer Gaetano Donizetti focuses squarely on the title heroine.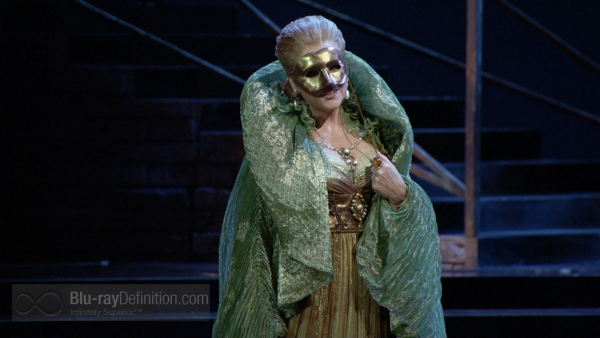 The Prologue is set in the Palazzo Grimani in Venice where leading families of Italy are in attendance to honor a delegation to the Borgias, Don Alfonso (Vitalij Kowaljow), Duke of Ferrara and his wife, Lucrezia (Renee Fleming). Two leading warriors Maffio Orsini (Elizabeth DeShong) and Gennaro (Michael Fabbiano), pledge allegiance before Lucrezia arrives in disguise. Gennaro is her long-lost son and when her kiss awakens him, he is smitten by her. Their happy reunion is interrupted when Orsini returns and unmasks her for the evil person that she really is.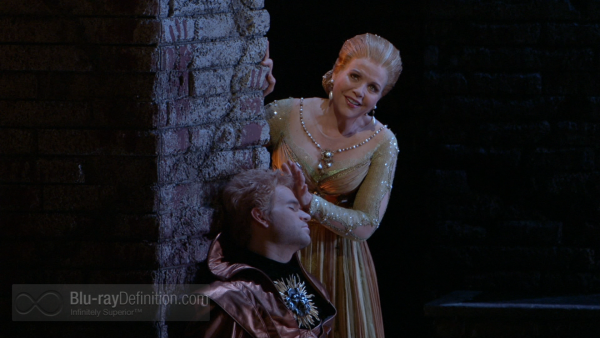 Act II finds Don Alfonso plotting to murder Gennaro whom he believes to be Lucrezia's lover. Gennaro and Orsini deface the Borgia crest and depart. Lucrezia, incensed by this act, demands that her husband have the guilty party executed. However, it is Gennaro not Orsini that the Duke condemns. Distraught, Lucrezia entreats her husband to relent but he only gives her the choice of choosing death for Gennaro by sword or by poison. She picks the latter but after her son has taken the fatal drink, Lucrezia gives him the antidote and helps him to escape.
In Act II, Gennaro and Orsini reunite and agree to meet at the Negroni palace following which they will depart for Venice. Later, during the party, the men in attendance receive a "special" wine that is actually poisoned. The doors are locked and when Lucrezia arrives, she finds that Gennaro is among those who have drunk the fatal potion. Although she offers her son the remaining antidote, he refuses and chooses to die with his friend Orsini. Lucrezia, in ultimate despair, dies by her own hand.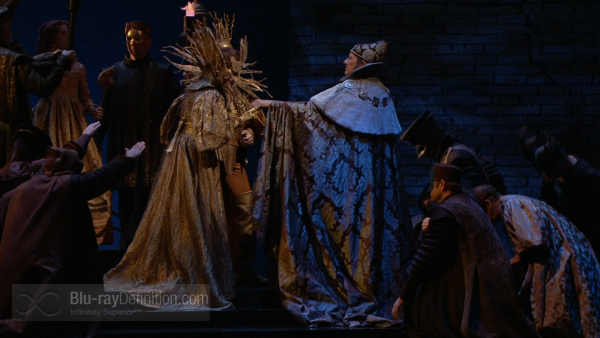 This 2011 San Francisco Opera production of a rarely performed Donzietti masterpiece is blessed by strong casting with solid musical direction by conductor Ricardo Frizza. In spite of a plot fraught with improbabilities, the performance surmounts it all, providing an excellent opportunity to introduce a new audience to this work.
Video Quality
[Rating:3.5/5]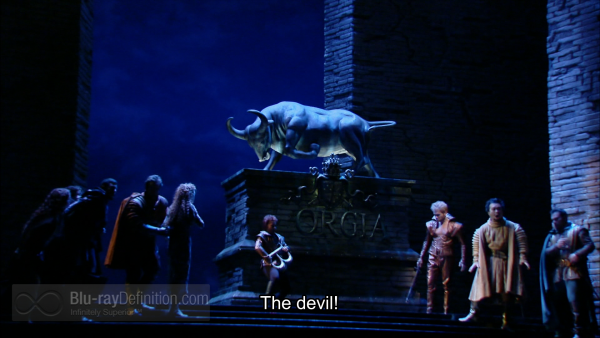 There are some lighting issues, particularly with aggressive spots that do not flatter the singers and wash out a bit of the color. Camera work is excellent overall and the handsome costumes and sets add the right touch to a period piece.
Audio Quality
[Rating:3.5/5]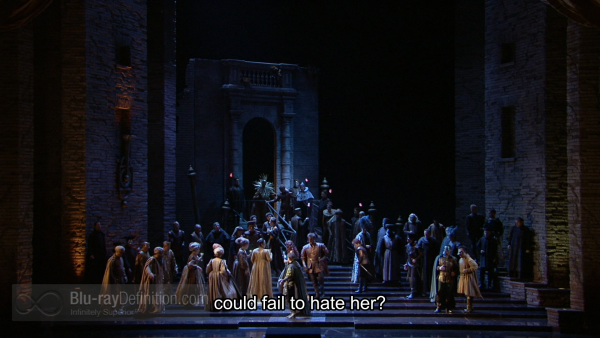 Like the recently reviewed Moby-Dick from the same venue, there is a tendency for the orchestra to overpower the singers. The DTS-HD Master Audio 5.1 sound track captures what is obviously the dry house acoustic. Ambience is decent. The two-channel version is satisfactory.
Supplemental Materials
[Rating:3/5]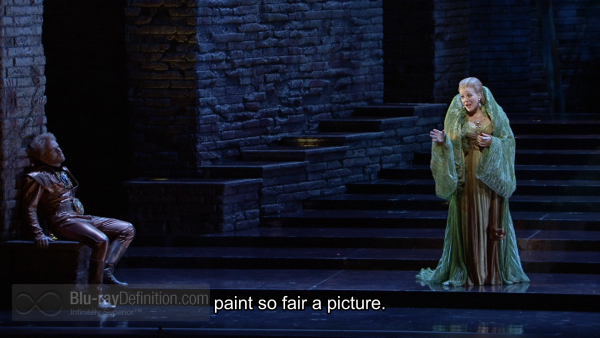 The program booklet gives a brief synopsis and cast listing. A brief time-lapse photo of the stage set up seems to be a feature for the SF Opera videos. Interviews with leads Renee Fleming, Michael Fabbiano, and Elizabeth DeShong give us personal insights into this performance. Of course, we get the usual EuroArts trailers.
The Definitive Word
Overall:
[Rating:3.5/5]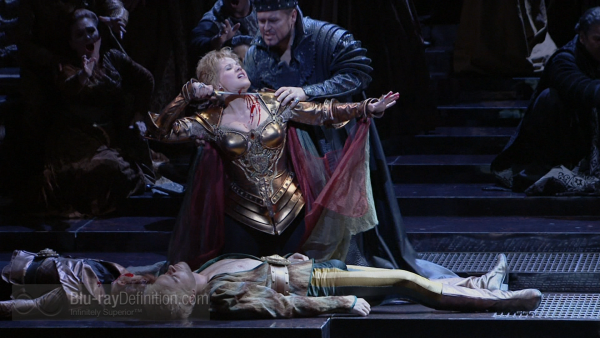 Lucrezia Borgia has received relatively few videoed performances. The other Blu-ray contender is a rather odd one directed by Christoph Loy with Edita Gruberova (a bit past her prime in the title role). The current one has the virtues of Ms. Fleming (although perhaps not in her best form), a top-notch pants role by mezzo DeShong, and an exciting if still less than fully realized rendition of Gennaro by young tenor Fabiano, weighed against the woolly Don Alfonso of Kowaljow. The director, John Pascoe, subscribes to the stand-and-deliver school of vocal delivery, an atavistic approach that diminishes some of the opera's inherent dramatic values. Wishing for better sight and sound, this one receives a provisional recommendation, considering that we will probably have a long wait before the next Lucrezia hits the Blu-ray catalog.
Additional Screen Captures
[amazon-product region="uk" tracking_id="bluraydefinit-21″]B00FABG4M2[/amazon-product]
[amazon-product region="ca" tracking_id="bluraydefinit-20″]B00FABG4M2[/amazon-product]
[amazon-product]B00FABG4M2[/amazon-product]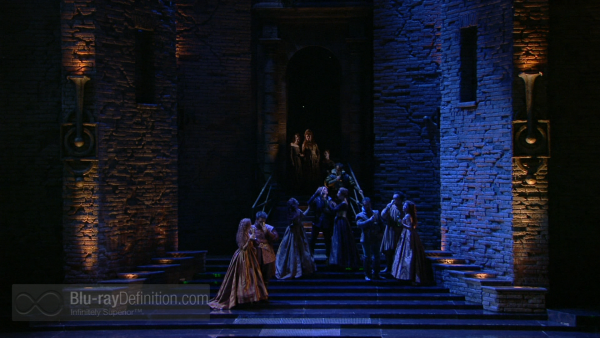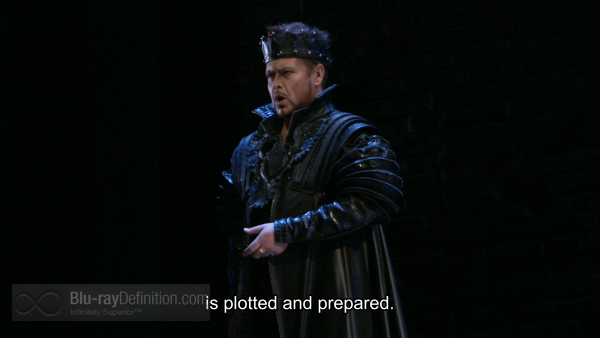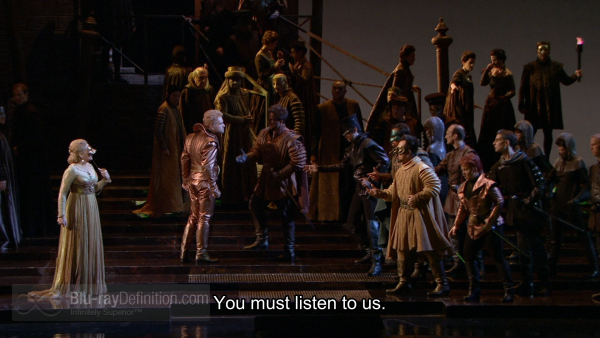 [amazon-product region="uk" tracking_id="bluraydefinit-21″]B00FABG4M2[/amazon-product]
[amazon-product region="ca" tracking_id="bluraydefinit-20″]B00FABG4M2[/amazon-product]
[amazon-product]B00FABG4M2[/amazon-product]