Aspect Ratio: 1.33:1

Video Codec: VC-1

Resolution: 1080p/24

Audio Codec: English Dolby Digital 2.0 (128Kbps)

Subtitles: English SDH

Region: ABC (Region-Free)

Rating: Not Rated

Discs: 2

Studio: Warner Home Video

Release Date: October 6, 2009

List Price: $29.99
–
Overall
[Rating:3/5]
The Film
[Rating:4/5]
Video Quality
[Rating:2.5/5]
Audio Quality
[Rating:2.5/5]
Supplemental Materials
[Rating:3/5]
Click thumbnails for high-resolution 1920X1080p screen captures
More Screen Captures (19 Total)
(Screen captures are lightly compressed with lossy JPEG and thus are meant as a general representation of the content and do not fully reveal the capabilities of the Blu-ray format)
The Film
[Rating:4/5]
Directed by Chuck Jones, assisted by Ben Wassham and with a teleplay by Dr. Seuss himself, the original 1970 television adaptation of Horton Hears a Who! sticks pretty close to the Dr. Seuss children's book while broadening the book's story somewhat into a twenty-six minute animated show. Unlike the Dr. Seuss adaptations of today with Jim Carey, Mike Myers, Steve Carrel, and co. this quietly entertaining cartoon forgoes the slapstick, double entendres and distasteful wisecracking for thoughtful entertainment suited for both children and adults.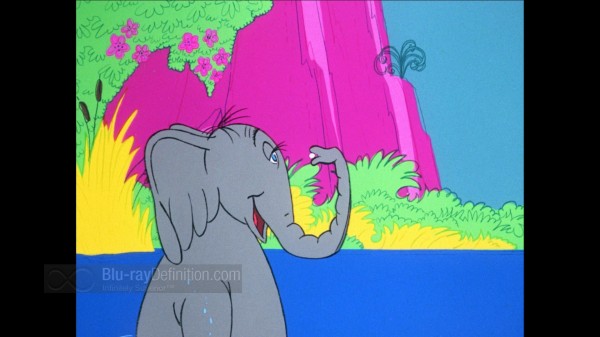 An elephant named Horton discovers that there is a whole civilization living on a tiny spec on a dandelion. Likewise, the civilization, known as Whoville, on the dandelion, discovers for the first time that there is a world beyond their own. Well, one scientist there, at least, makes this discovery, Dr. Hoovey. No one in Whoville believes Dr. Hoovey, however, that there is a world beyond their own, even though he has been having regular conversations with an elephant beyond their own world. He must try to convince them that it is the truth. Likewise, no one in Horton's world believes him that there is an entire civilization living on a tiny spec on a dandelion; they think he is a quack.
As with any Dr. Seuss material, Horton Hears a Who! has meaning on so many levels. The main thing people will always remember from Horton is probably its most memorable line, "a person's a person, no matter how small." No matter your race, your gender, your economic status, your social class or if you have a disability, you are someone. Of course, Horton Hears a Who! can also be looked at from religious or philosophical terms as well, people's need to seek out meaning in their existence and to look up at the stars and wonder if we truly are the only ones here; the center of the universe. What ever it is you take away from Horton Hears a Who! it will be something meaningful and pleasurable.
Video Quality
[Rating:2.5/5]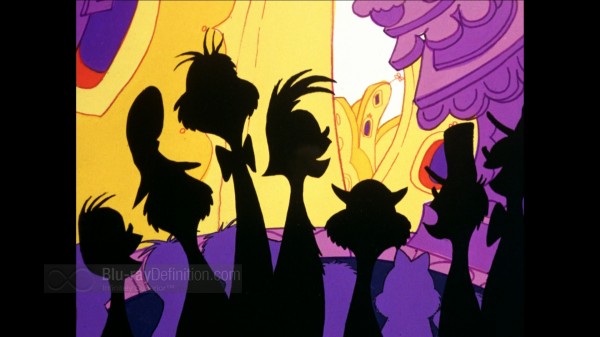 This original animated adaptation of the Dr. Seuss classic arrives on Blu-ray in its original 1.33:1 aspect ratio in a 1080p/24 VC-1 encoding from Warner and while it certainly looks better than it has in years, it is hardly the best we have ever seen animation look on Blu-ray. I know that Horton is now thirty-nine-years-old, but even Disney has managed to bring its animated classics to Blu-ray looking far better than this. Horton Hears a Who!'s source is plagued with damage that hampers the presentation. There are obvious flaws throughout, from blotches, to dust, dirt, specks, and scratches. It hasn't been cleaned up very well and the high definition of Blu-ray only serves to expose these things even more. The image is quite noisy, there are issues with flicker, and colors are sometimes washed out. Blacks go from inky to faded and darker colors show up a lot of the source noise, grain, and splotches. There are some moments of splendidly vivid and detailed color and animation, but it is inconsistent. Horton Hears a Who! on Blu-ray will still be the best possible edition of this beloved classic you can get, it's just not as good as it could have been in comparison to the many other hand-drawn animated releases we have now had the opportunity to see on Blu-ray.
Audio Quality
[Rating:2.5/5]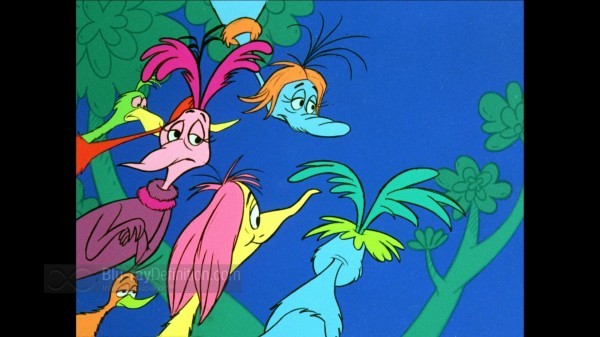 Horton Hears a Who! has been saddled with a low bitrate lossy Dolby Digital 2.0 soundtrack as its only option. Dialogue is clear and no audible signs of distortion are present, but high frequencies are harsh and there is not much depth of field to the soundstage.
Supplemental Materials
[Rating:3/5]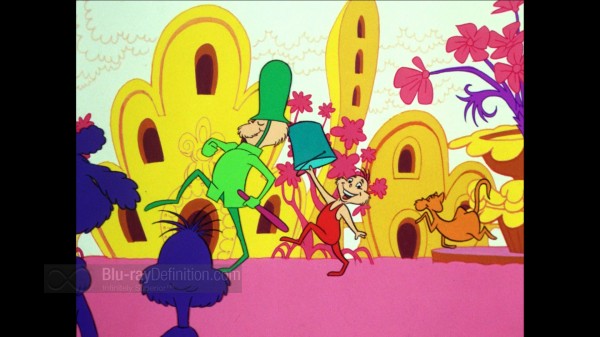 The supplements offer up two more Dr. Seuss animated stories — among other things — which are welcome bonuses indeed. But, alas, all the supplements are provided in standard definition or up-scaled standard definition only.
The supplements provided on this release are:
Disc 1:
Dr. Seuss Butter Battle Book (1.33:1; 480i/60; VC-1; 0:23.43) — In this rare Dr. Seuss adaptation animated by underground animator Ralph Bakshi, two races live on opposite sides of a wall and get involved in an escalating arms race over the ridiculous grievance of what is the proper way to eat their bread, "butter side up" or "butter side down."
Daisy-Head Mayzie by Dr. Seuss (1.33:1; 480i/60; VC-1; 0:23.45) — Mayzie sprouts a daisy from the top of her head.

Trailers

:

Peanuts™ Holiday Collection (1.78:1; 720p/60; VC-1)
Classic Christmas Favorites (1.78:1; 720p/60; VC-1)

Behind the Story

:

In Search of Dr. Seuss (1.33:1; 480i/60; VC-1; 1:30.18) — Hosted by Kathy Najimy, the story of Dr. Seuss' life is told via celebrity skits, music and animated clips from many of his best-loved stories.
You Can Hear Horton, Horton Can Hear You! (1.33:1; 480i/60; VC-1; 0:03.18) — A music video sing-a-long
Disc 2:
Digital Copy — Access to a digital copy for transfer to a Mac/PC or iTunes/Windows Media-compatible portable device.
The Definitive Word
Overall:
[Rating:3/5]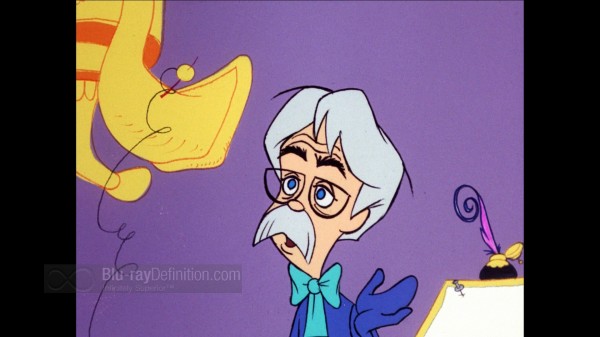 Horton Hears a Who! is one of the most underrated of the Dr. Seuss adaptations. How the Grinch Stole Christmas and The Cat in the Hat have for far too long overshadowed it. I venture to say that it may very well be better than either one of those two stories on so many different levels. This transfer to Blu-ray may not be absolute reference quality, but it is still a worthy addition to anyone's high definition catalogue.
–
[amazon_enhanced asin="B000YOX3FQ" /]
Overall
[Rating:3/5]
The Film
[Rating:4/5]
Video Quality
[Rating:2.5/5]
Audio Quality
[Rating:2.5/5]
Supplemental Materials
[Rating:3/5]
–