– –

The Performance
[Rating:4/5]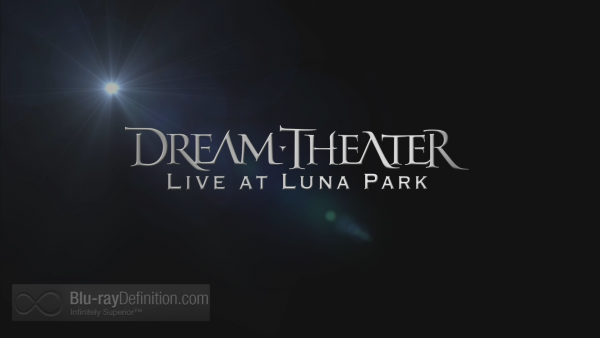 Dream Theater has been together (with some personnel changes) for nearly thirty years, having been assembled while some of the original members were college students in Boston. The band's current members include James LaBrie (vocals), John Petrucci (guitar), John Myung (guitar), Jordan udess (keyboards, continuum, harpeji, IOS devices) and Mike Mangini (drums, percussion). This group remains one of the highest rated on the heavy metal scene with several of its members having received accolades from the music industry itself. The generous  playlist provides listeners with a good sense of what makes "metal" so addictive to its many fans:
Bridges In The Sky
6:00
The Dark Eternal Night
This Is The Life
The Road Of All Evil
Lost Not Forgotten
Drun Solo
A Fortune In Lies
The Silent Man
Beneath The Surface
Piano Solo
Surrounded
On The Backs of Angels
War Inside My Head
The Test That Stumped Them All
Guitar Solo
The Spirit Carries On
Breaking All Illusions
Metropolis Pt. 1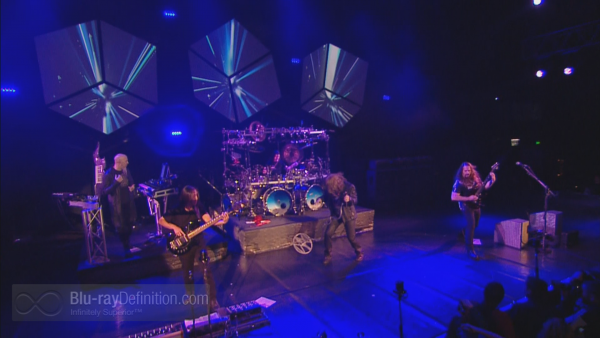 BONUS TRACKS
These Walls
Build e Up, Break Me Down
Caught In A Web
Wait For Sleep
Far From Heaven
Pull Me Under
Most of the '80s heavy metal bands have come and gone, so it is to these musicians' credit that this 2012 Buenos Aires concert is an affirmation of their staying power. What is even more impressive is the ever-increasing energy level that these guys demonstrate with each successive number.
Video Quality
[Rating:4/5]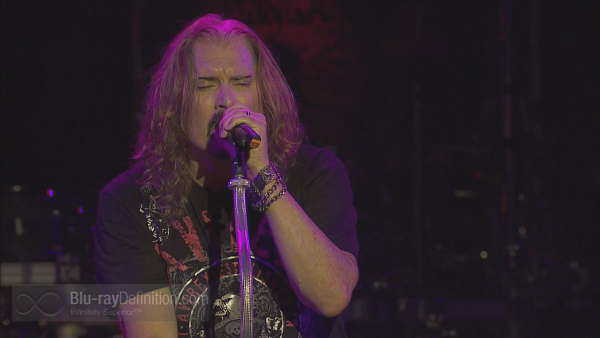 This high-definition film is loaded with special effects that involve colors, focus, and deliberate haze but when straight-forward unvarnished images are on display, they are excellent. Camera work is fast-moving, at times a bit too much so, but this is a rock concert, and, such cinematography is par for the course.
Audio Quality
[Rating:4.5/5]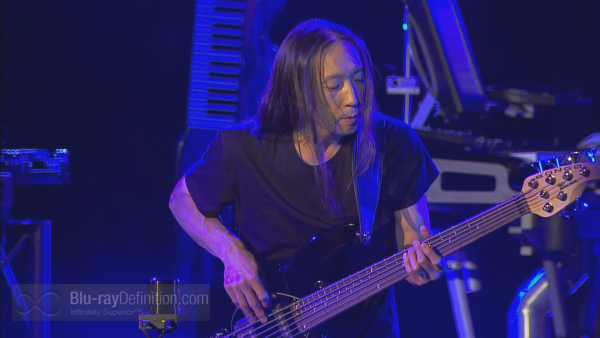 One great-sounding rock concert, the DTS-HD Master Audio 5.1 surround version is the way to hear it. There is plenty of audience noise in the surround channels and listeners are given a real sense of "being there." The stereo alternative is fine, just not as realistic.
Supplemental Materials
[Rating:3/5]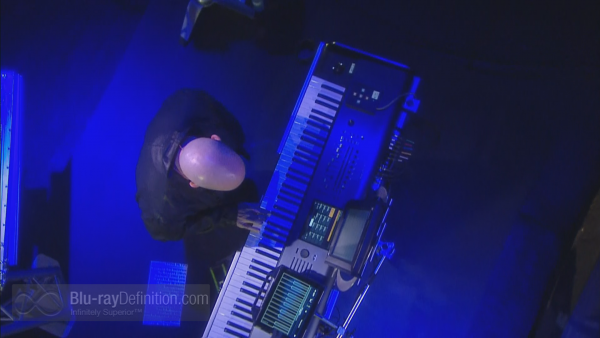 Besides the program booklet listing the tracks and players, there is the following:
Behind The Scenes: (4:22) (English LPCM Stereo 48kHz/16-bit). A brief snapshot featuring the crew that makes the show possible.
Trailer (2:26) (English LPCM Stereo 48kHz/16-bit)
Cartoon Intro (3:12) (English LPCM Stereo 48kHz/16-bit). A short anime feature that mixes myths and music in the guise of each of the band members.
"Outcry" Multi-Angle (11:30) (English DTS-HD MA 5.1 48kHz/24-bit):  a fun look at one of the selections in the program from six different angles.
Concert Documentary: (25:54) (English LPCM Stereo 48kHz/16-bit): This short feature contains interviews with the band and captures the events around this concert, including the departure of the group's original drummer, Mike Portnoy and his eventual replacement Mike Mangini. Lots of nice BA location shots are provided as well.
The Definitive Word
Overall:
[Rating:4/5]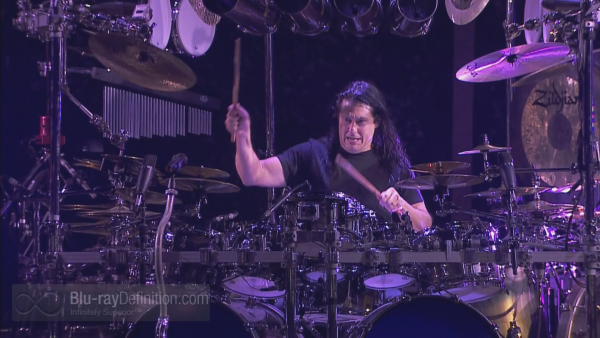 I will state up front that this one is mostly for heavy-metal aficionados, head-bangers, and the "soul" survivors of a decade that was as hard on many of its fans as it was on many of its musicians.  As a document of the kind of concert that folks would have waited in long lines to see, Dream Theater: Live At Luna Park delivers all of the goods. While you may not have the stamina to watch this Blu-ray in a single session, I would recommend that you rest up so that you can take it in all at once because this is one band that continues to raise the thermostat on stage as the show proceeds.  Rock on Dream-Theater, and thanks, Eagle Rock Entertainment.
Additional Screen Captures
[amazon-product]B00F1W1SS0[/amazon-product]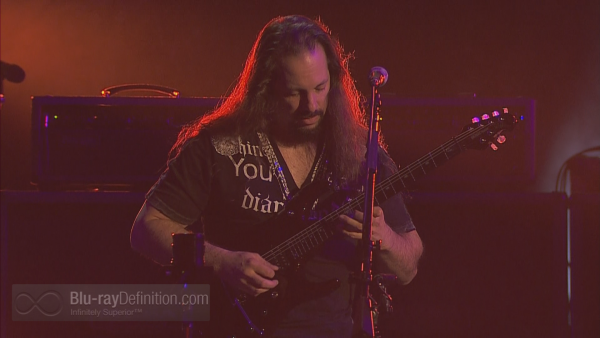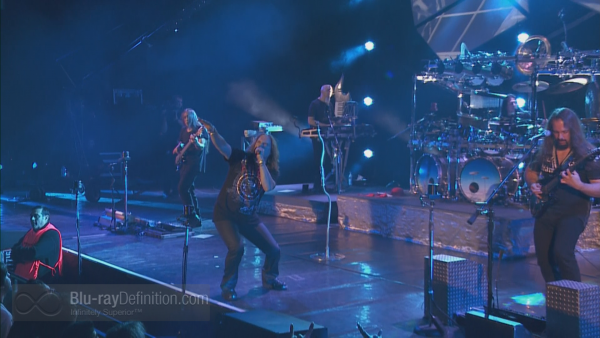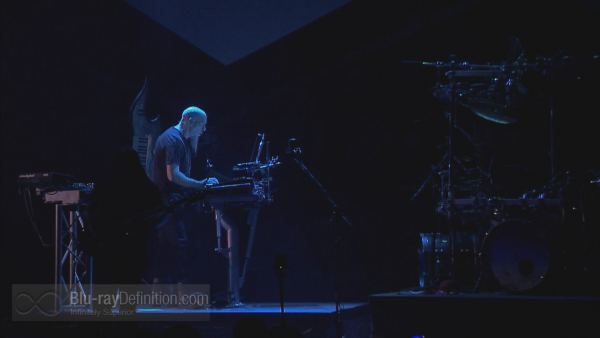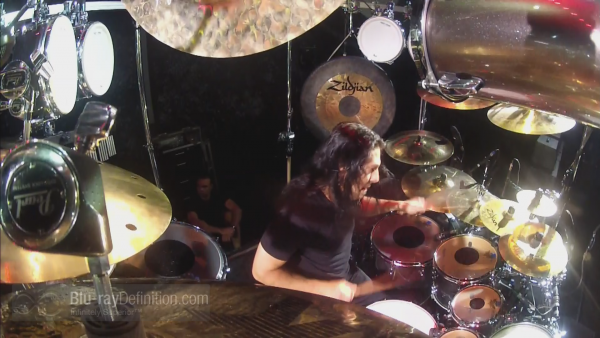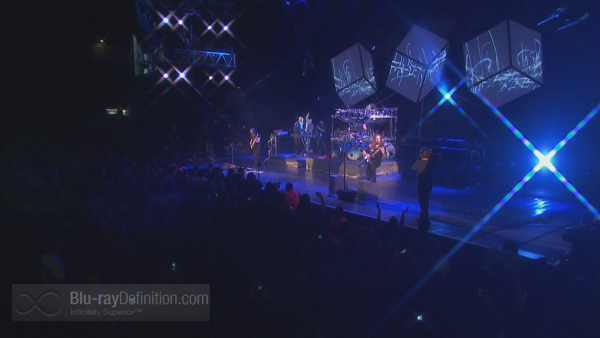 [amazon-product]B00F1W1SS0[/amazon-product]