Mouse-over Cover Art for Details –

Click thumbnails for high-resolution 1920X1080p screen captures
(The below TheaterByte screen captures were taken directly from the Blu-ray Disc and losslessly compressed in the PNG format. There should be no loss of picture quality with this format. All screen captures should be regarded only as an approximation of the full capabilities of the Blu-ray format.)
The Series
[Rating:3.5/5]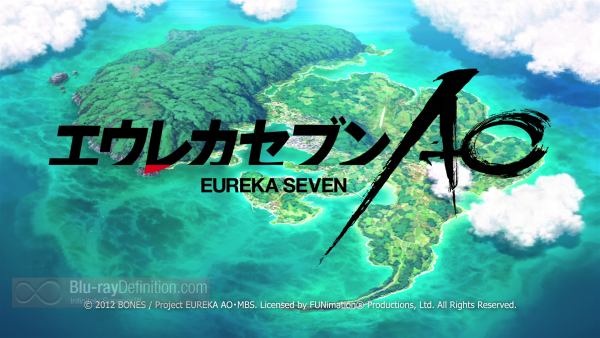 Eureka Seven: AO (エウレカセブンAO) is the sequel to the original mecha anime series Eureka Seven. It follows the 13-year-old Fukai Ao in a futuristic Okinawa who, as the son of an alien woman known as Eureka who disapeared 10-years earlier, seems destined to follow in his mising mother's footsteps when he activates a strange, humanoid-shaped robotic fighting machine and enters into a a battle against alien entities known as "Secrets". From there, Ao joins an elite group of fighters made up solely of children, the only ones who can operate the mecha, in order to find out what happened to his mother and to help defend humanity. The mystery only deepens, however, when a strange shape-shifter calling himself "The Truth" arrives, kidnaps Ao's childhood friend Naru, and wreaks havoc on the world.
Eureka Seven: AO is admittedly made up of finely fluid and detailed animation, richly colored worlds and creatures, and spectacular mecha action sequences. That is where the good ends and the not so great things begin. As the story progresses, the sci-fi quest and mysterious backstory surrounding the alien creatures, the Secrets and coral "Scubs" becomes more and more dense and unintelligible. It's difficult to follow where the writers are trying to point us. By the time we reach what is the final episode in this first part offering, a "surprise", the connection hasn't really been made, it's been pulled right out of the air.
Video Quality
[Rating:3.5/5]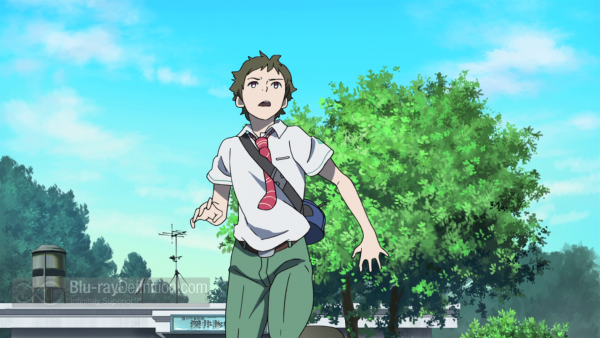 FUNimation provides Eureka Seven AO in an AVC/MPEG-4 1080p/24 encodement that has vivid color reproduction and no sign of aliasing around the line art, unfortunately the overall clarity of the animation leans toward the softer side and there is certainly a lot of visible color banding and also posterization. The latter is most noticeable in the black backgrounds of the outer space sequences in the final episode of Part 1.
Audio Quality
[Rating:4.5/5]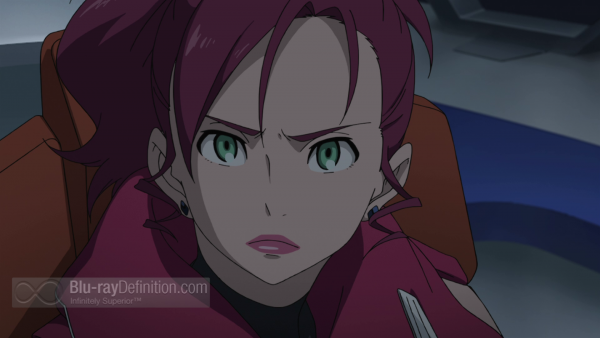 The Japanese Dolby TrueHD 2.0 (48kHz/24-bit) soundtrack and an English Dolby TrueHD 5.1 (48kHz/24-bit) dub are provided as the audio options. The original Japanese, even though it is only stereo, is an excellent way to watch the series, but I do wish more of these anime releases would include 5.1 mixes for the original Japanese tracks. Perhaps it has something to do with a lot of the limited space in many Japanese households? In any case, the English 5.1 track does most certainly open up the sound nicely, capturing the active mecha battles with a bit more bottom and atmospherics in the surrounds.
Supplemental Materials
[Rating:3/5]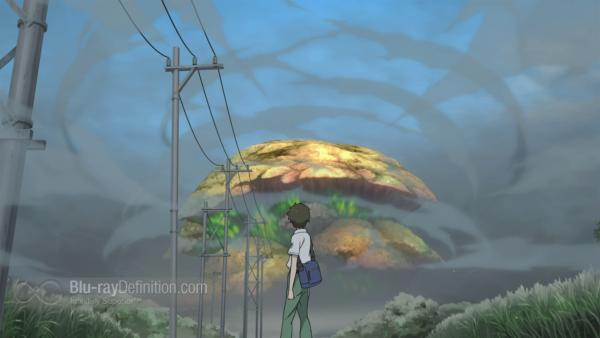 We get a bit more than usual for FUNimation with this release.
The supplements:
DVDs
Episode 05 Commentary
Episode 10 Commentary
Inside the Booth: Eureka Seven AO (1.78:1; 1080p/24; 00:13:55) – A look behind the scenes at the English voice cast and crew.
Original Commercials (1.78:1; 1080p/24; 00:03:17)
Textless Opening Song "Escape":

Episode 02
Episode 03
Episode 04
Episode 06

Textless Closing Song "Stand by Me"

Episode 01
Episode 03
Episode 05

U.S. Trailer (1.78:1; 1080p/24; 00:01:46)
FUNimation Trailers
The Definitive Word
Overall:
[Rating:3.5/5]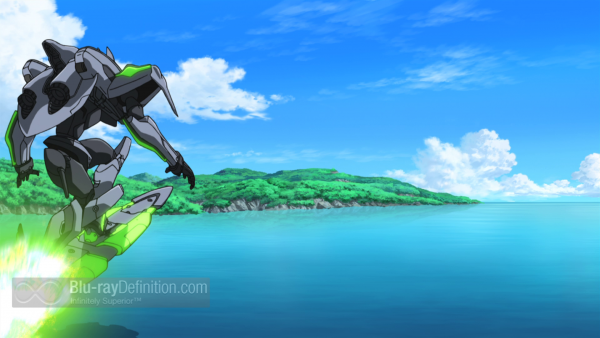 When all is said and done, this being my first time watching this sequel to Eureka Seven, I'll save final judgment for the series on the whole until I have seen it in its entirety. It shows a lot of potential, but this first part leaves much to be desired.
Additional Screen Captures
[amazon-product]B00CU6WCA8[/amazon-product]
[amazon-product]B00CU6WC1W[/amazon-product]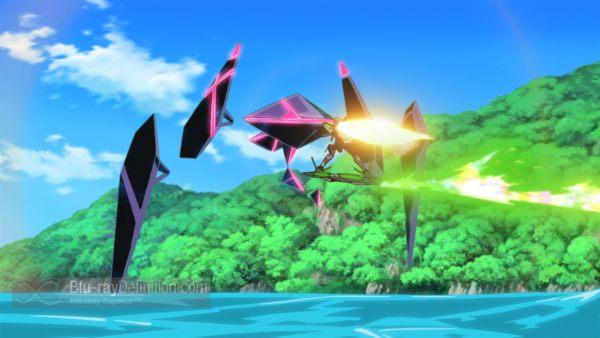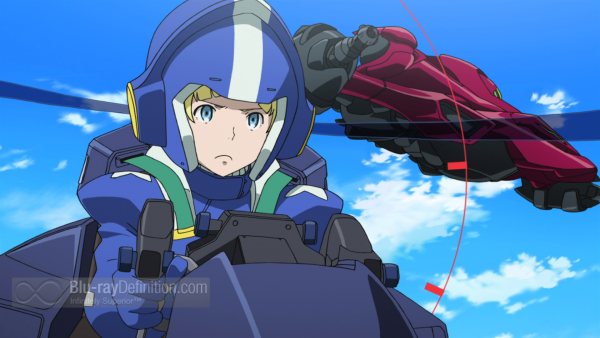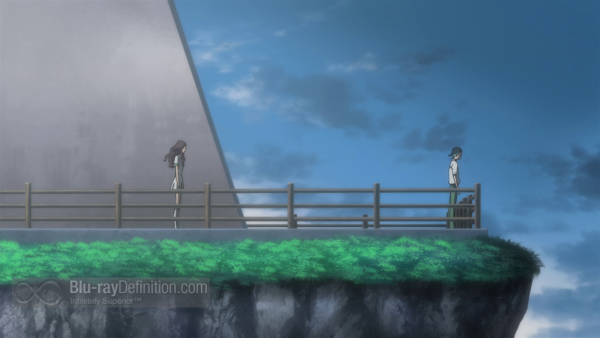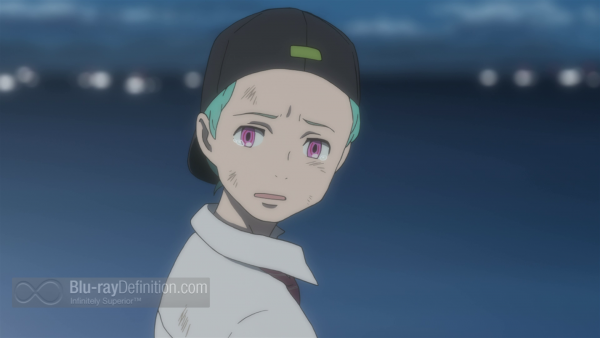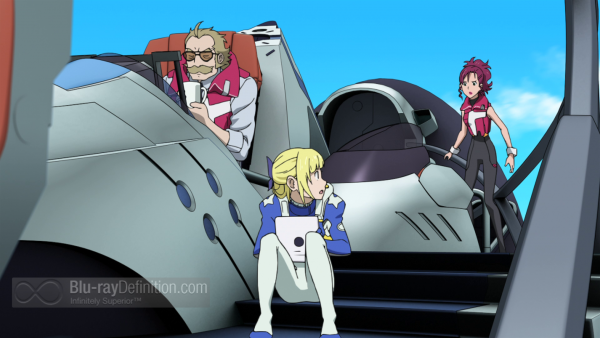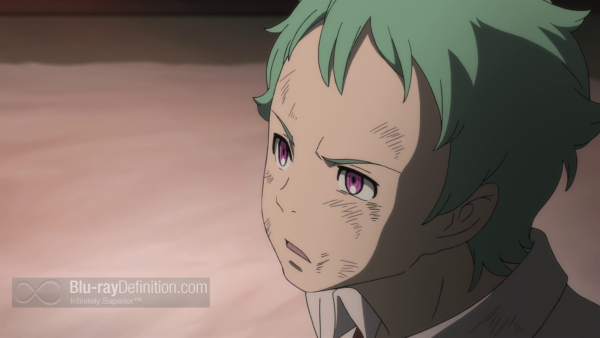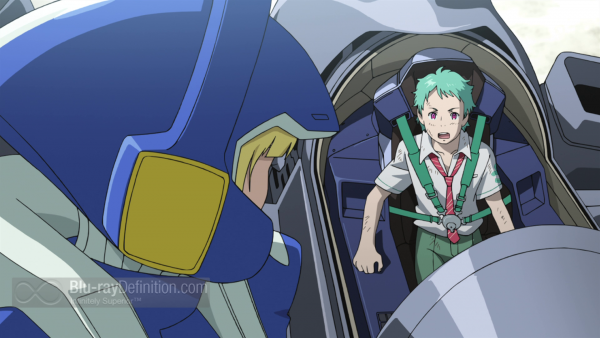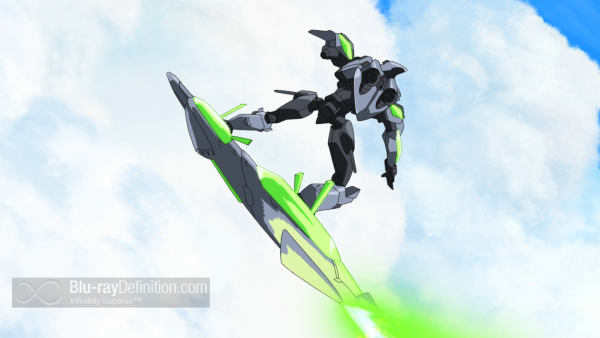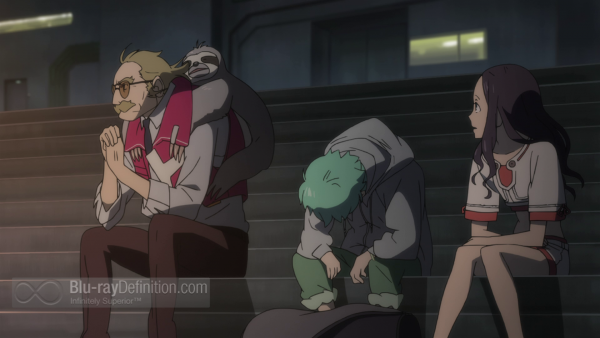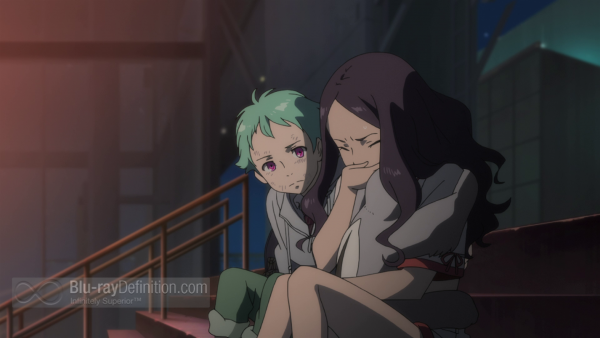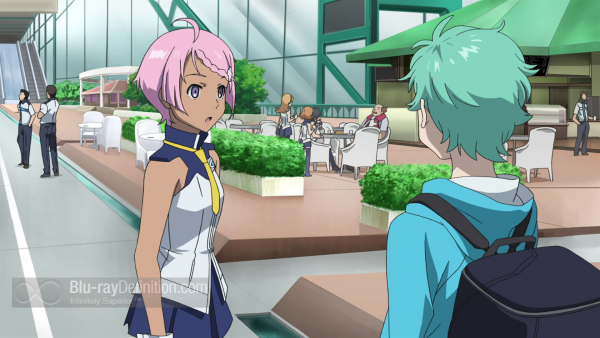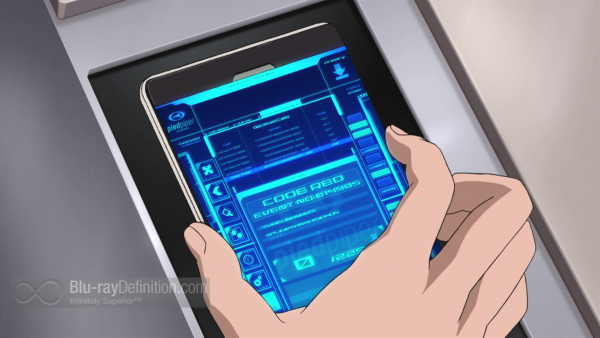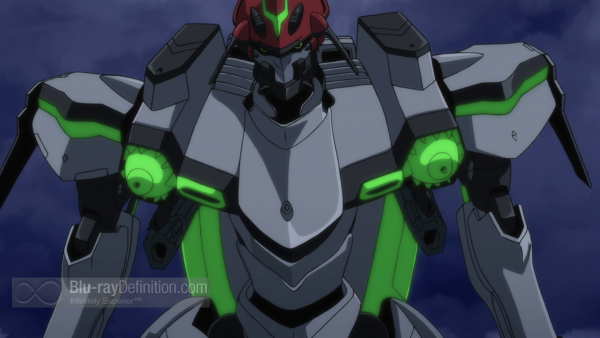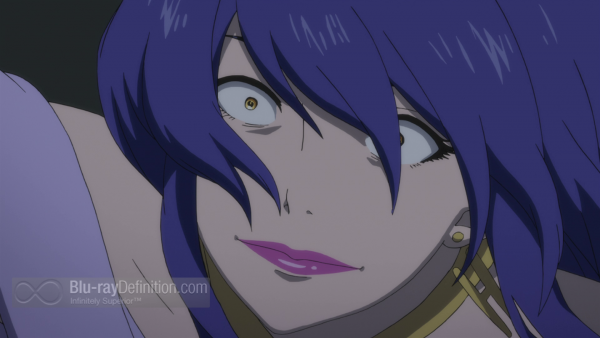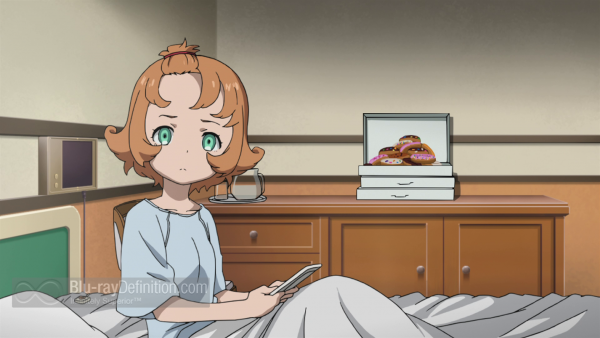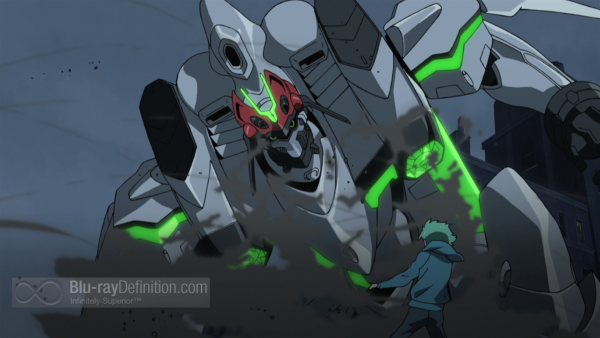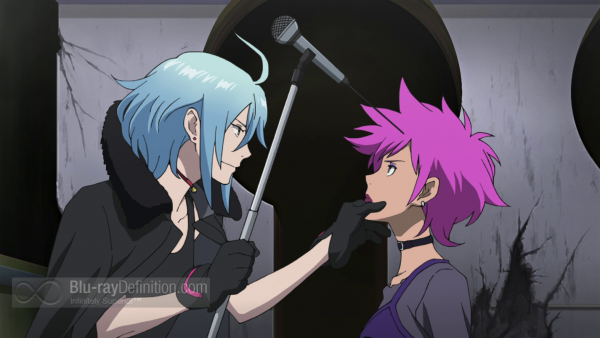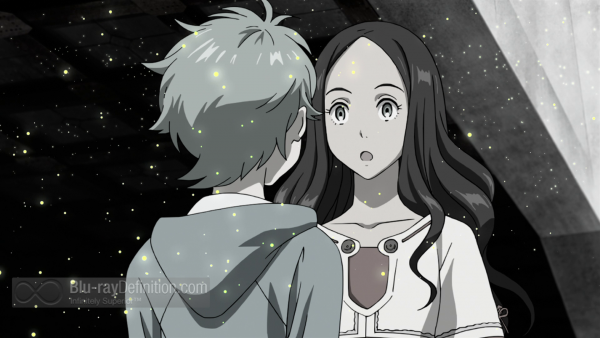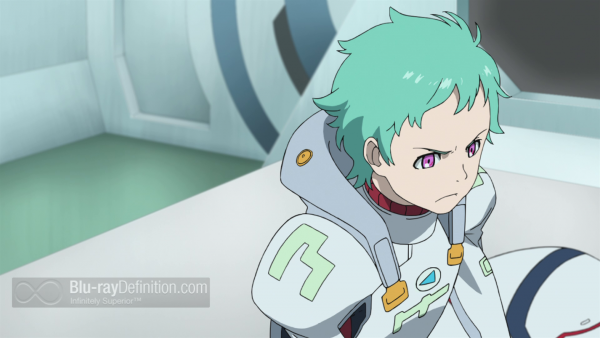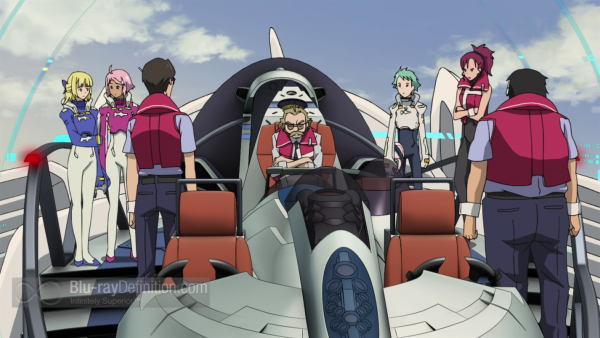 [amazon-product]B00CU6WCA8[/amazon-product]
[amazon-product]B00CU6WC1W[/amazon-product]