– –
The Series
[Rating:3/5]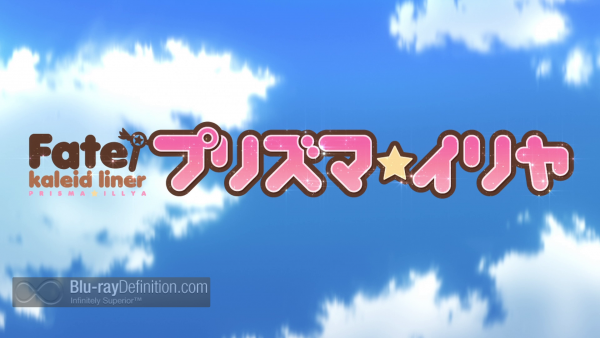 Fate/Kaleid Liner Prisma Ilya (プリズマ☆イリヤ) is a manga series by Hiroyama Hiroshi that serves as an alternate universe to the Fate/Stay night visual novels and the anime series based on them. Some of the characters from Fate/Stay night universe appear in Fate/Kaleid as well, but the main protagonist here is the reluctant 'magical girl' Illyasviel von Einzbern.
The story for this series kicks off when Tōsaka Rin and Luviagelita Edelfelt on assignment in Japan to retrieve the magical Class Cards, get into a magical feud with each other and their magic wands, Magical Ruby and Magical Sapphire, decide to break their contracts with them. Ruby then literally crashes into the life of the unsuspecting Illyasviel von Einzbern, normal girl who lives at home with her brother Shirō, and her governesses, and is a huge fan of magical girl anime. Ruby makes new contract with Illyasviel to be her new master and, later, when Rin tracks the two of them down and fails to convince Ruby to take her back, Illyasviel is recruited into the fight to track down the magical Class Cards. Meanwhile, Sapphire has also entered into a new contract with a quiet girl named Miyu who has a very cold and removed character, but is very masterful, it turns out, at using magic. Initially, Miyu and Illyasviel don't get along, but Illyasviel's childlike charm and love of magic softens her up, and Illyasviel becomes the first real friend Miyu ever had. Tōsaka Rin and Luviagelita Edelfelt mentor each of the girls, respectively, on how to use magic as they try to capture the powerful Class Cards, that manifest as powerful beings such as Archer, Berserker, or Saber, or Assassin.
While this series is filled with beautifully animated action sequences, the character's motivations are not clearly fleshed out. The relationship between Illyasviel and Miyu, for instance, seems to be the hardest to pin down. While once can understand why the two girls are initially thrown together, it isn't as clear why they are constantly at odds in what is an eventual friendship. The constant bickering between Rin and Luvia is also a turn off. Leave off of it already.
Having only within the past couple of weeks gone through the entire Cardcaptor Sakura collection, which is an almost identical premise to this series, I have to say that the former series was a much more engaging watch. I felt closer to the characters. I cared about what happened to Sakura and her best friend Tomoyo. Here, I struggle to care about the outcome of the relationship between Illya and Miyu. Is it just that the theme feels like too much of a rehash? That could be part of the problem, but also, the story arc is a bit convoluted, as has been the issue with many of these Fate/… series. If they are hard to follow, it also makes it hard to involve yourself in the characters.
Video Quality
[Rating:4.5/5]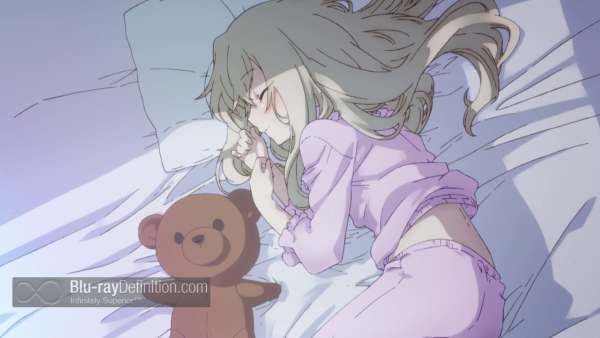 We get a clean and colorful 1080p AVC transfer of the digital animation Fate/Kaleid on Blu-ray from Sentai Filmworks. The animation is crisp and there are very little issues with banding, aliasing, or noise to worry about.
Audio Quality
[Rating:4/5]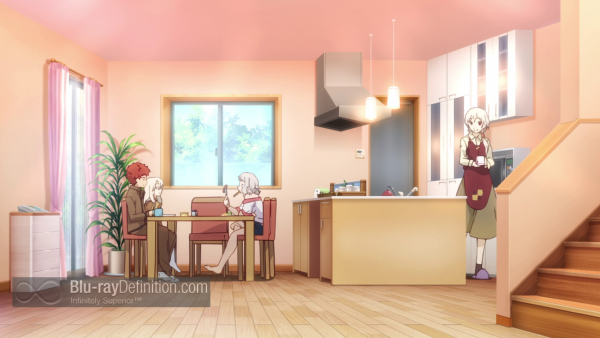 The original Japanese-language track and an English dub are both provided in DTS-HD Master Audio 2.0 (48kHz/24-bit) stereo mixes. The sound is exceptional for a 2-channel mix, but this is another series that would really benefit from a surround mix give the action sequences. The edge once again goes to the Japanese voice cast here, but the dub is not as bad as some others out there.
Supplemental Materials
[Rating:0.5/5]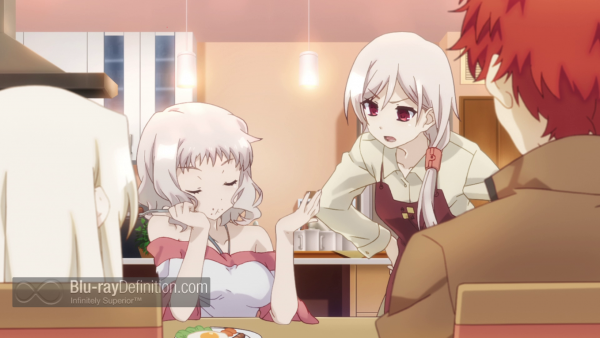 Clean Opening Animation
Clean Closing Animation
Disc Credits
Sentai Filmworks Trailers
The Definitive Word
Overall:
[Rating:3.5/5]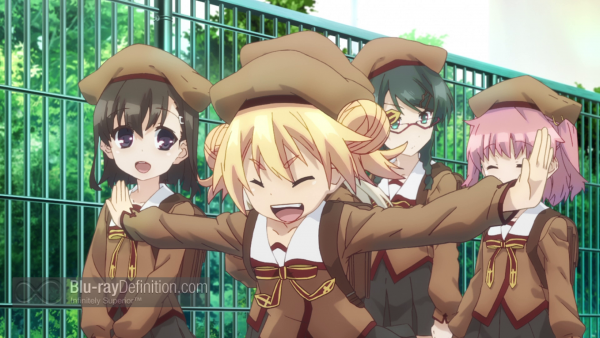 Visually, Fate/Kaleid Liner Prisma Illya has it in spades, but there's a lot of lost potential in what is just an average magical girl series that retreads familiar territory.
Additional Screen Captures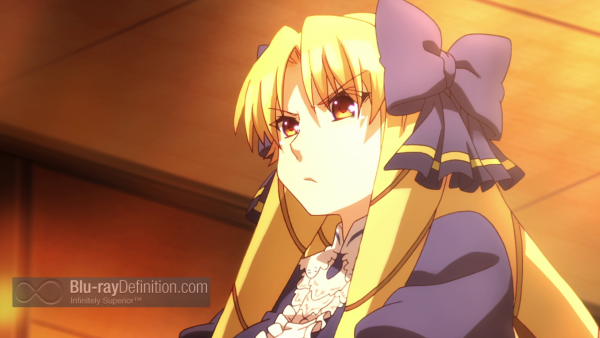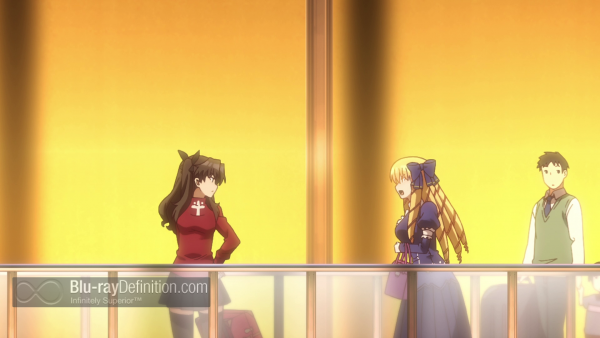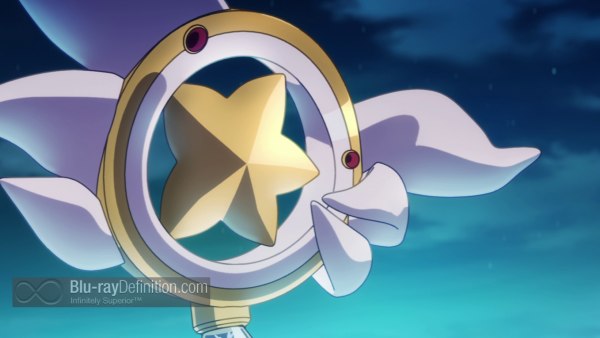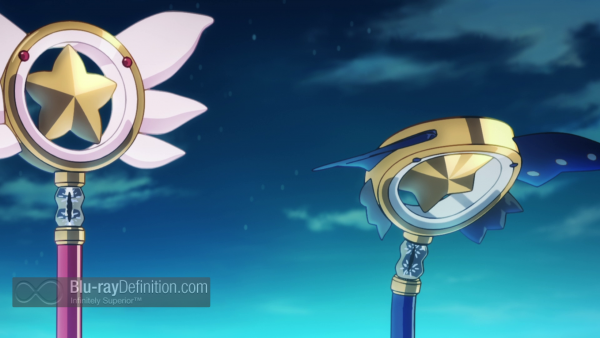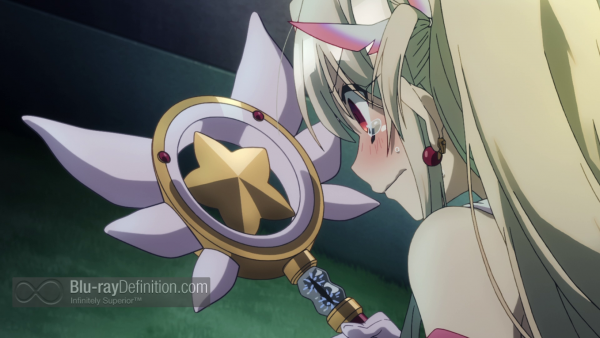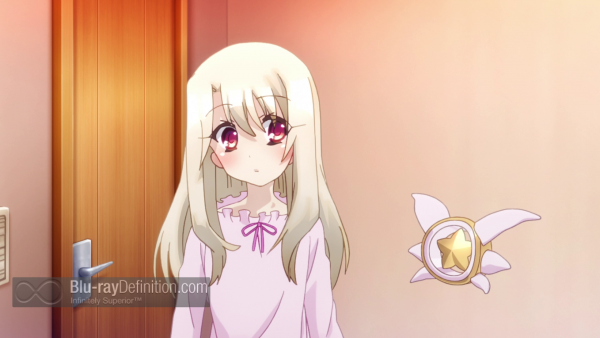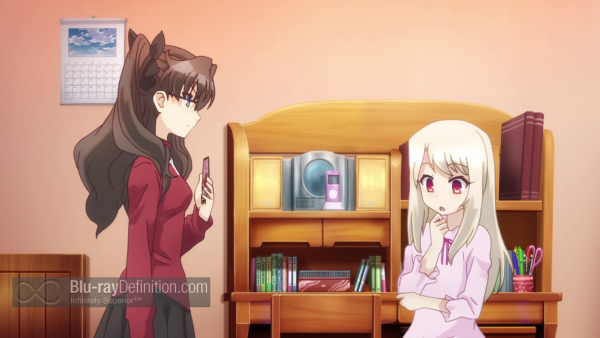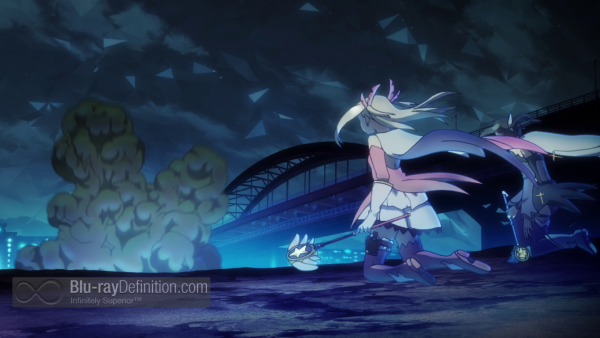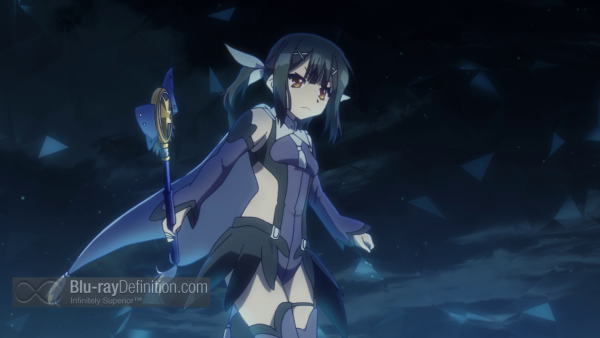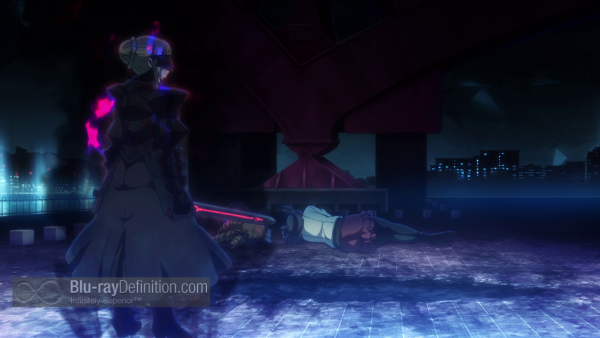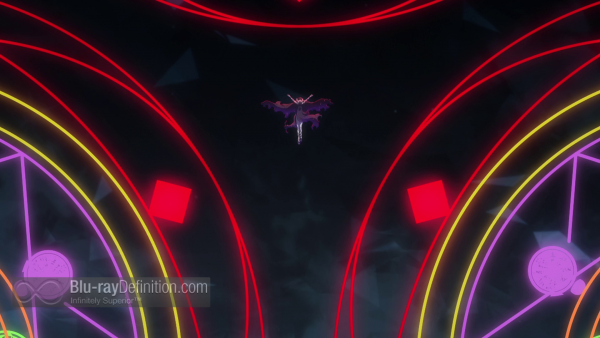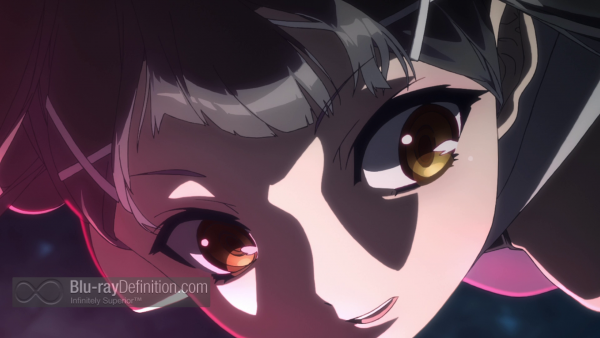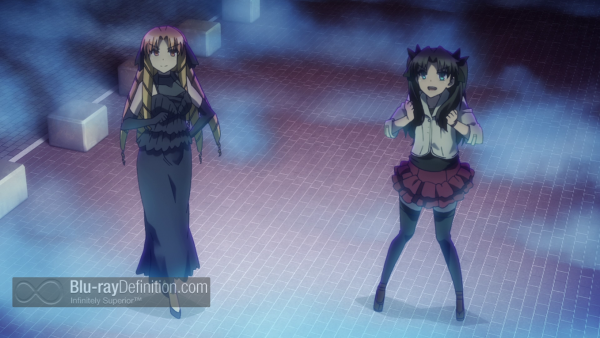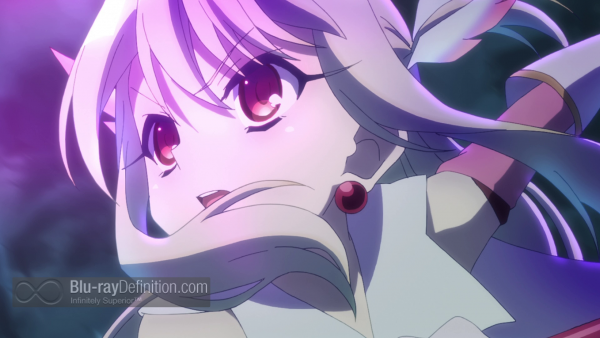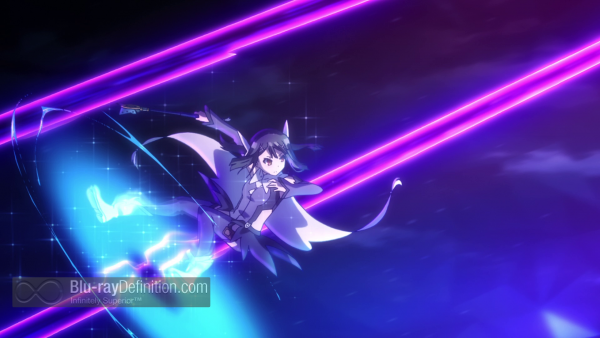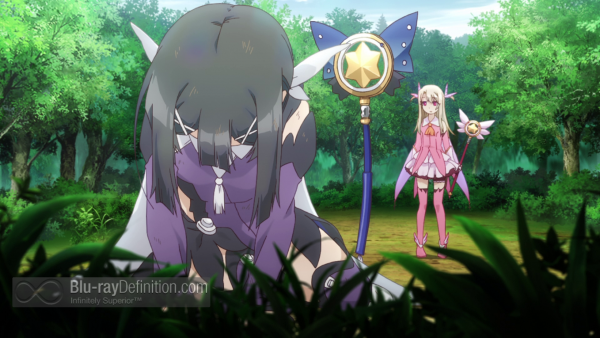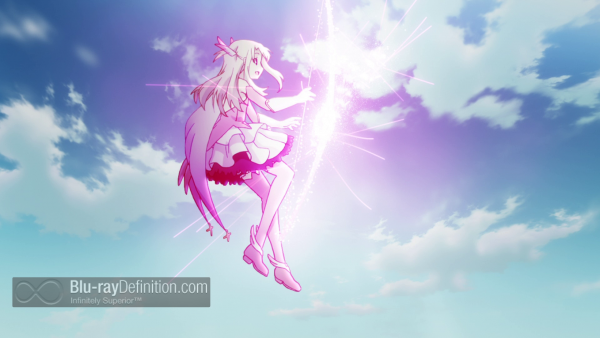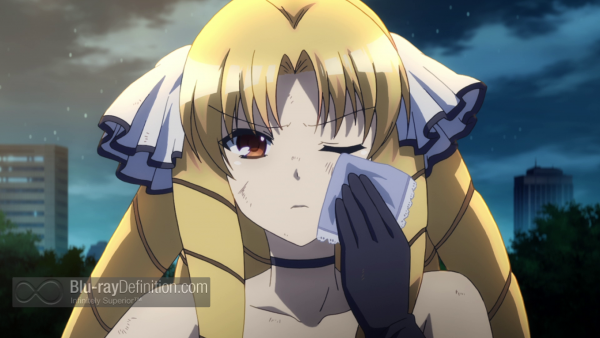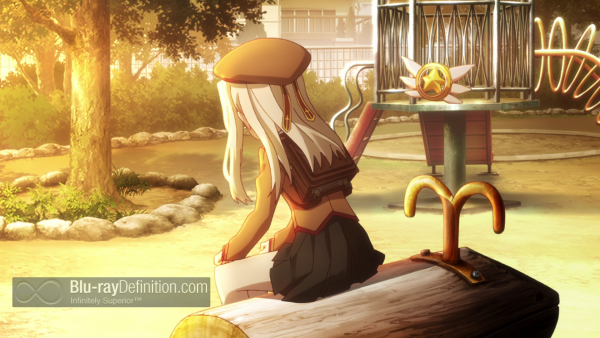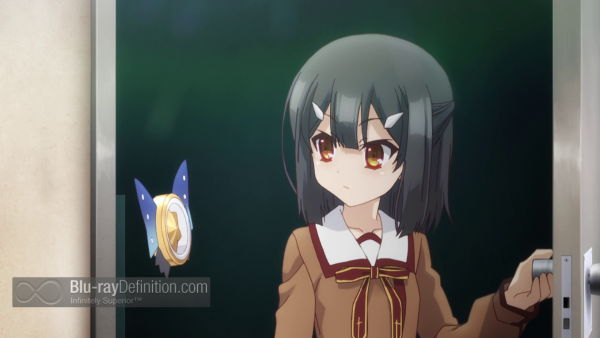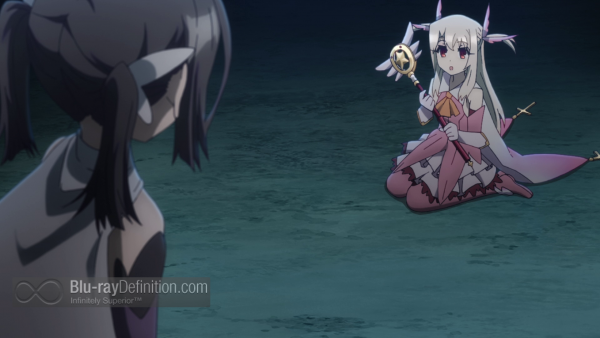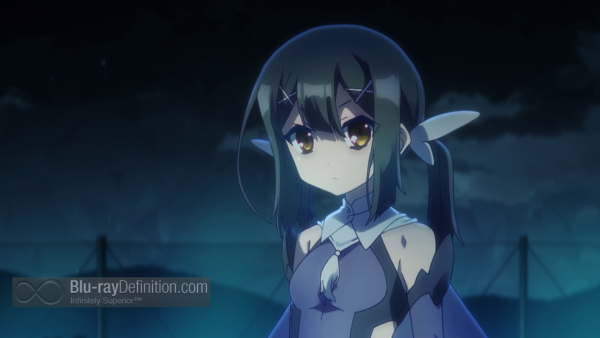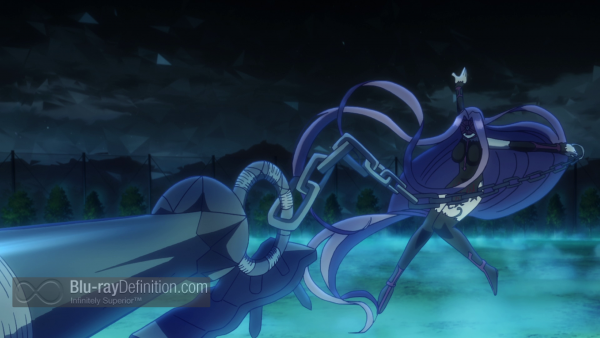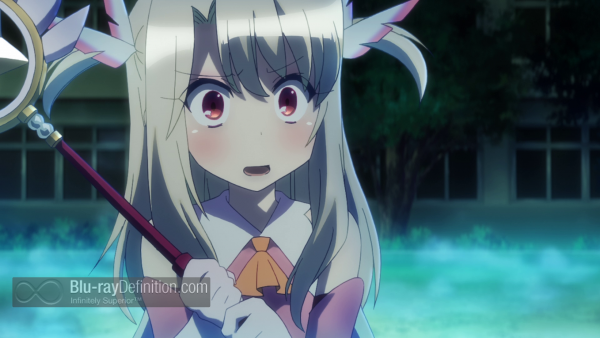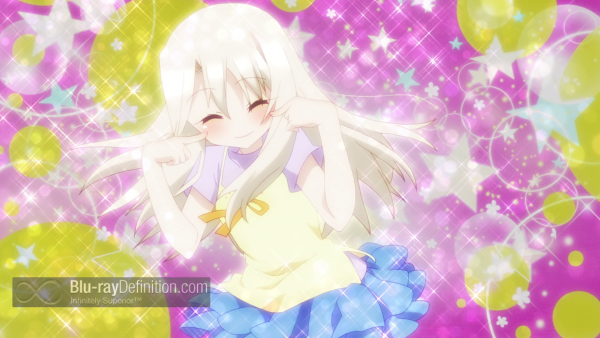 [amazon-product]B00KH57UEC[/amazon-product]