–
The Film
[Rating:5/5]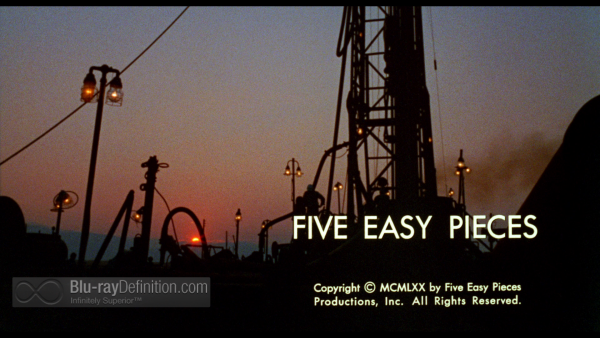 Five Easy Pieces was one of the standout films from BBS, the independent studio that took the lead in catapulting American cinema into the post-studio world and launching the American New Wave, in the late 1960s and early 1970s. In the film, a still-young Jack Nicholson plays an archetype he would own to great effect throughout the decade, perhaps culminating in The Shining – the disaffected, white, upper middle class male trying as hard as he can to find a sense of meaning in his life.
In Five Easy Pieces, Nicholson is Bobby Eroica Dupea, a talented musician who leaves his upper middle class family of musical prodigies in Washington State to try to find himself down in Bakersfield, working various odd jobs and hooking up with a country music loving waitress, Rayette Dipesto (Karen Black), who annoys him more than comforts him with her clinginess and simple intellect. When it all gets to be too much for him, Bobby seeks out his sister Tita (Lois Smith) who informs him that their father is seriously ill. Bobby then decides to take trip back up to the family stronghold on the Puget Sound, reluctantly taking Rayette along for the ride. It's a road trip that involves a couple of hitchhikers, including a litany of grievances about humanity's crap and filth from one hitchhiker named Palm (Helena Kallianiotes), and a humorous attempt by Bobby to make an order substitution at a roadside diner, in one of the film's most famous scenes. His arrival at the family compound only brings more personal distress as he butts heads with a particularly pompous house guest and tries to seduce his straight-laced brother Carl's (Ralph Waite) beautiful fiancée Catherine (Susan Anspach), but Rayette's unexpected arrival (he'd left her at a nearby motel) puts a damper on his plans, and her boisterous personality is at odds with the stifling atmosphere of the Dupea household.
With Five Easy Pieces, director Bob Rafelson and screenwriter Carole Eastman announced in no uncertain terms that the studio system was dead. They'd tapped into a new generation of American cinema, one that reflected a realism influenced by the previous two decades of European cinema, from the Nouvelle vague to the British New Wave, yet created something distinctly American, using the influences of the Beat Generation, the freedom of the B-movies of Roger Corman, and the visual style allowed from a commitment to on-location shooting.
Nicholson, who had been acting in B-movies throughout the '60s, was in his first starring role here and showed exactly what he was capable of as the morally dubious, perennially unsatisfied and listless Bobby Dupea. He conveyed a quality of being an everyman and a nobody, the sort of hopeless futility that people face every day, and Rafelson's direction allowed it to come through. This is a very important film in the progression of American cinema, even as the decades have softened exactly how innovative it may have seemed at the time.

Video Quality
[Rating:4/5]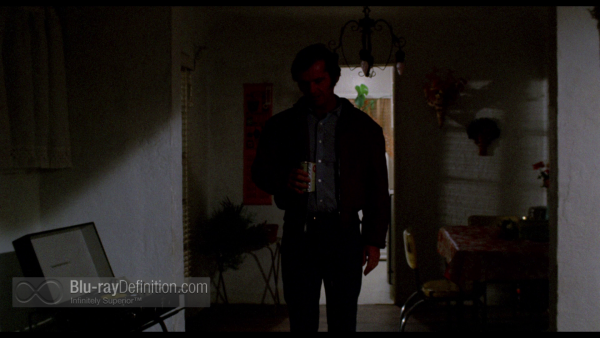 We get a newly restored version of the film overseen by director of photography László Kovács provided in AVC/MPEG-4 1080p/24 on Blu-ray from Criterion Collection. There's a lot of film softness in this one, particularly in the early outdoor on location shots set in Bakersfield. There's also a high instance of graininess that calms down in the indoor shots when Bobby is in Washington. The transfer looks fairly organic and authentic to the period.

Audio Quality
[Rating:3.5/5]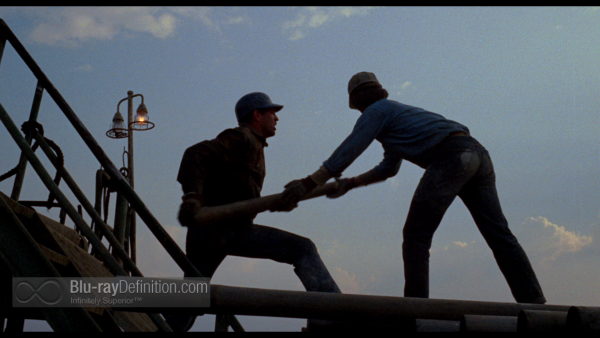 The original monaural soundtrack is supplied in an English LPCM 1.0 (48kHz/24-bit) track. The sound is fairly clean, but the sound is a bit boxy and dialogue is sometimes a little difficult to make out. For the most part, it works considering the vintage and the indie nature of the film.

Supplemental Materials
[Rating:4/5]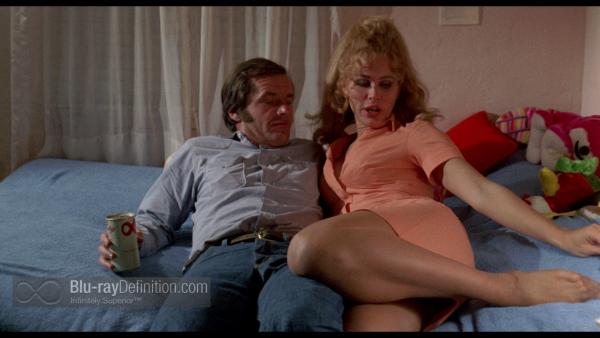 Commentary featuring director Bob Rafelson and interior designer Toby Rafelson.
Soul Searching in "Five Easy Pieces" (1.78:1; 1080p/24; 00:09:08) – This 2009 video piece features director Bib Rafelson and actor Jack Nicholson discussing the writing and development of Five Easy Pieces.
BBS: A Time for Change (1.78:1; 1080p/24; 00:27:38) – This thirty-minute video piece from 2010, about Bob Rafelson, Bert Schneider, and Steve Blauner's legendary movie company BBS Productions, features critic David Thomson and historian Douglas Brinkley.
BBStory (1.78:1; 1080p/24; 00:46:35) – This 2009 documentary features directors Bob Rafelson, Peter Bogdanovich, and Henry Jaglom, actor-director Jack Nicholson, and actresses Karen Black and Ellen Burstyn, among others, reminiscing about the making of the groundbreaking films of BBS Productions.
Bob Rafelson at AFI (00:49:23) – On May 19, 1976, as part of the Harold Lloyd Master Seminar series, the American Film Institute held a discussion featuring director Bob Rafelson. These are excerpts of that conversation in which Rafelson talks about his career, his creative process and the films he directed for BBS.
Teasers and Trailer:

Teaser 1
Teaser 2
Trailer

An essay by critic Kent Jones

The Definitive Word
Overall:
[Rating:3.5/5]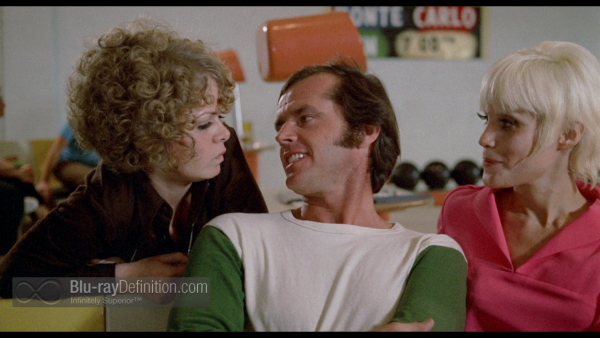 I don't know that Five Easy Pieces can ever look spectacular, but Criterion have done a very good job and the transfer here looks very authentic to the era. As film, it is a riveting watch and one of the great debut starring roles in cinematic history.

Additional Screen Captures
[amazon-product]B00UUOVC6M[/amazon-product]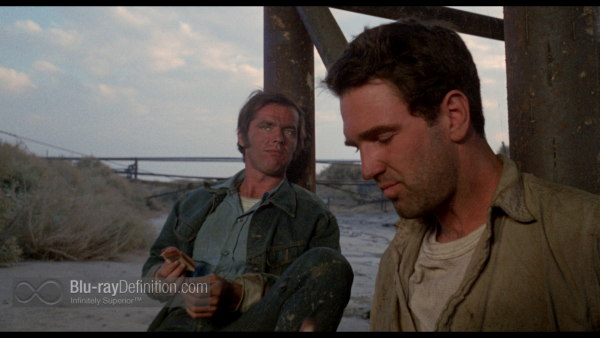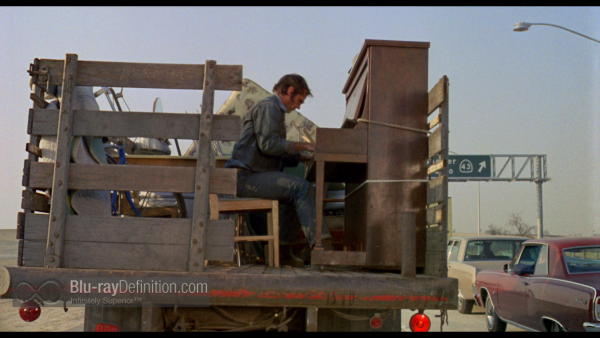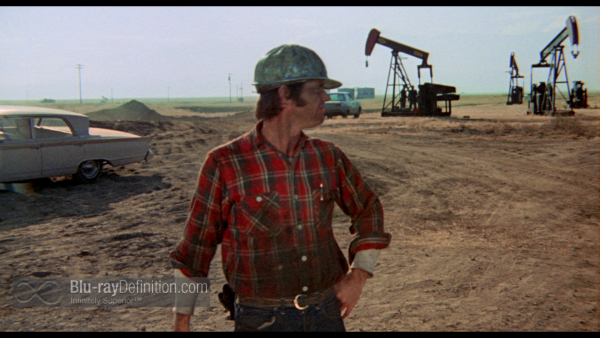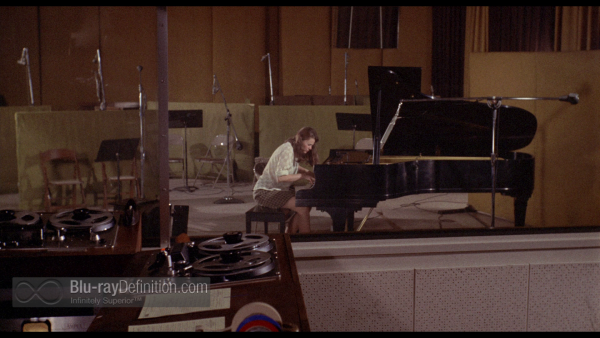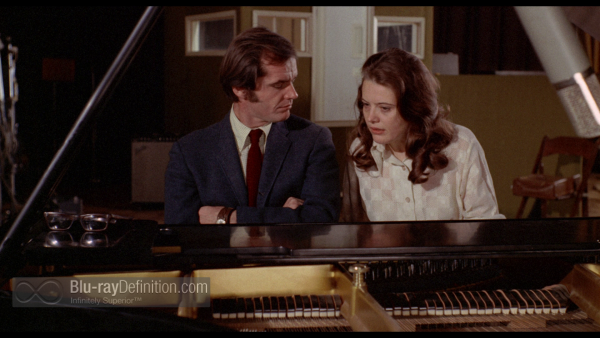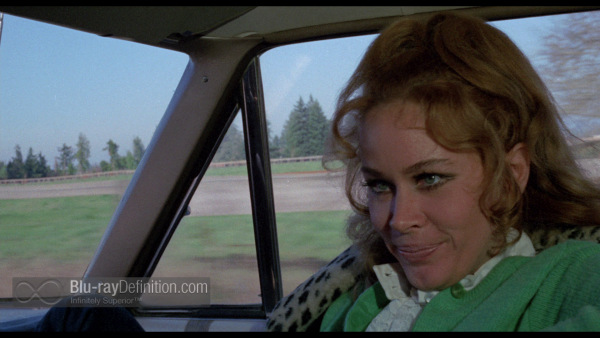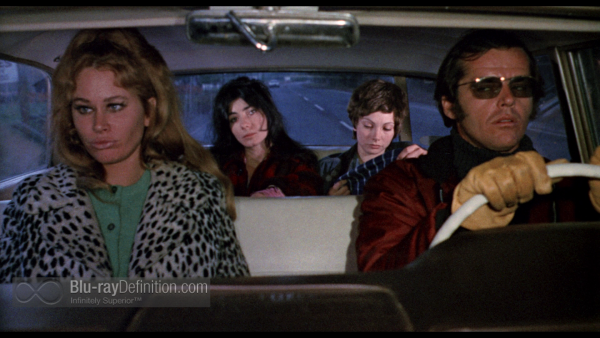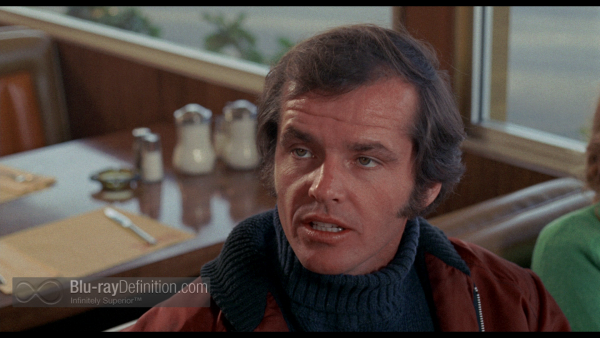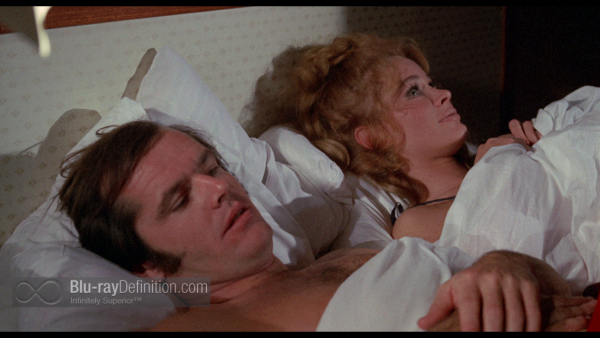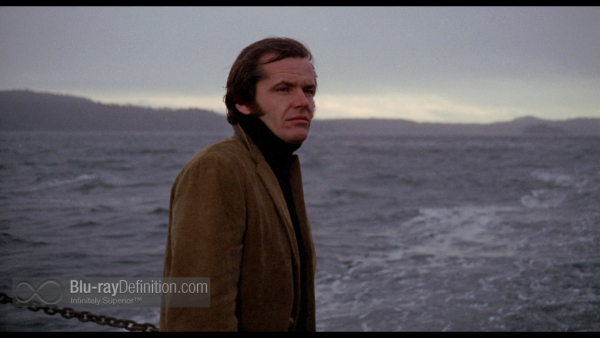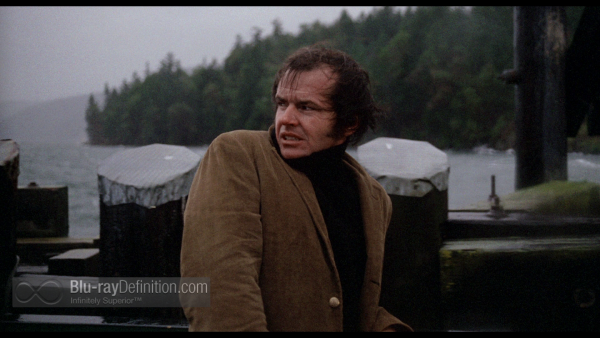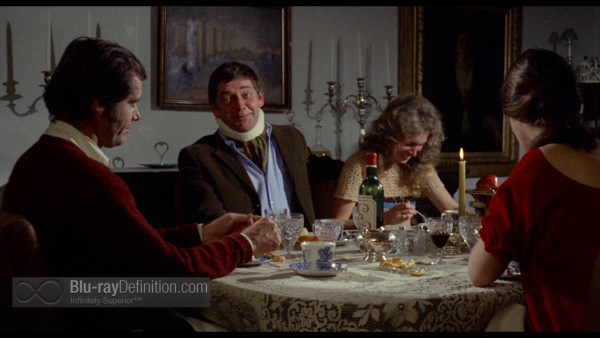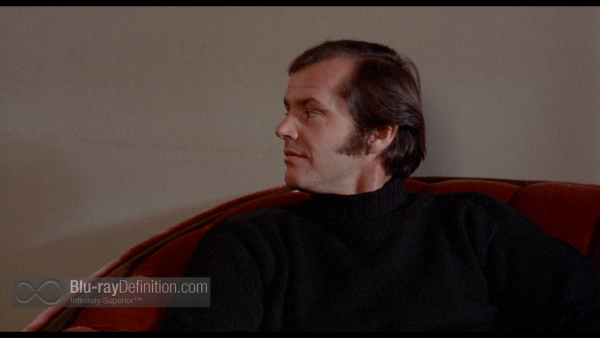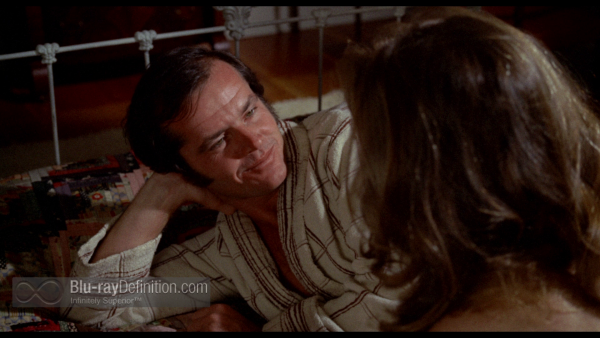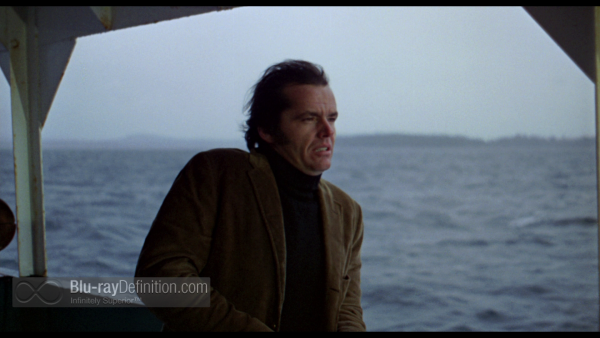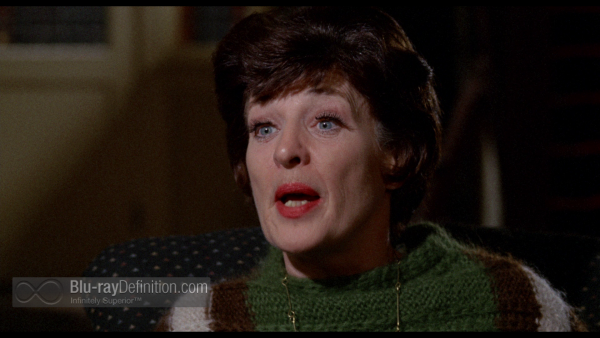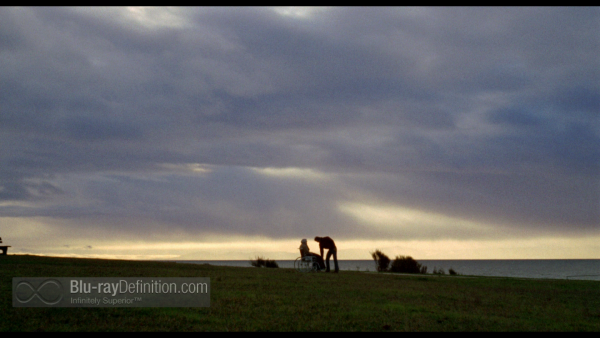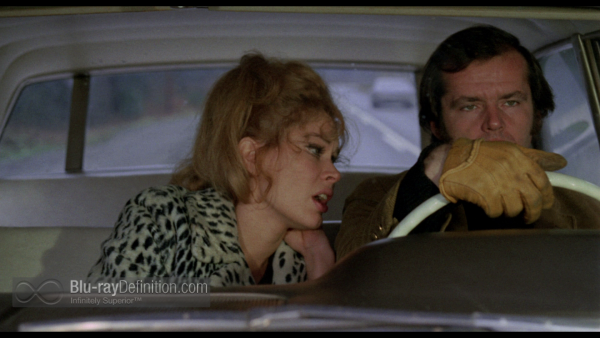 [amazon-product]B00UUOVC6M[/amazon-product]