– –
The Film
[Rating:4/5]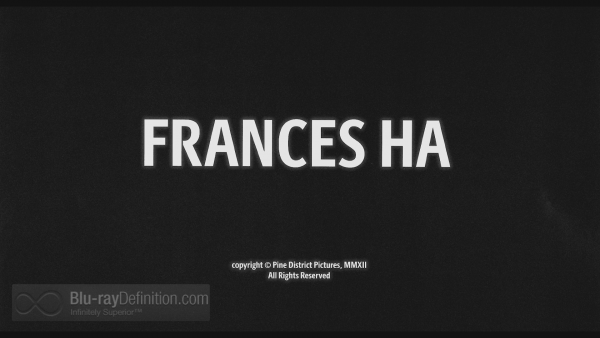 The film noir appears to be making a comeback in a Technicolor, special effects dominated cinematic world. Frances Ha is a small-scale picture that examines the somewhat messy life of the title heroine, Frances Halladay (Greta Gerwig), a twenty-something single woman in New York who has just broken up with her fiance, and finds that her roommate and soulmate Sophie (Mickey Sumner) is about to move to another apartment. To make ends meet, Frances, an apprentice modern dancer,  moves in with a couple of young single guys, Lev (Adam Driver) and Benji (Michael Zegen). Frances is not hired for the Christmas ballet program and so will not receive the money that she was counting on, making things go from bad to worse. When she meets Sophie's new boy friend Reed "Patch" Krauss (Patrick Heusinger), she feels another part of her life slipping away.
We get a snapshot of Frances's normal American family (played by Greta's real life parents, Gordon and Christine Gerwig) when she comes home for Christmas in Sacramento. She returns to New York and moves in with fellow dancer Rachel (Grace Gummer). On sheer impulse, Frances flies to Paris to visit friend Abby and stay in the apartment of new acquaintances Colleen (Charlotte D'Amboise) and Andy (Josh Hamilton).  However, as today's electronic communication world would have it, her voicemails get delayed and the two friends never meet up before Frances returns to New York.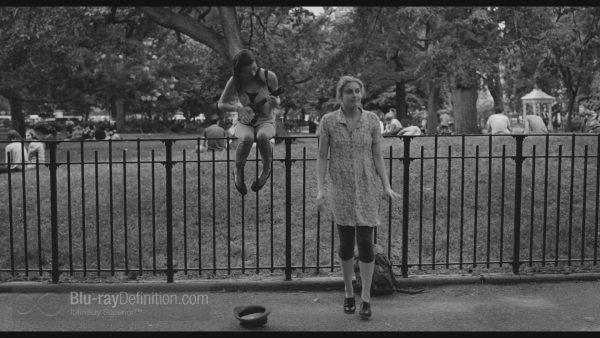 Nearly completing her circle of life, Frances returns to her old college as a wine pourer and runs into Sophie and Patch who are "engaged" and have just arrived from Japan. Finally, Frances rejoins her dance company, this time as an assistant choreographer but is now at peace with her life in her new apartment.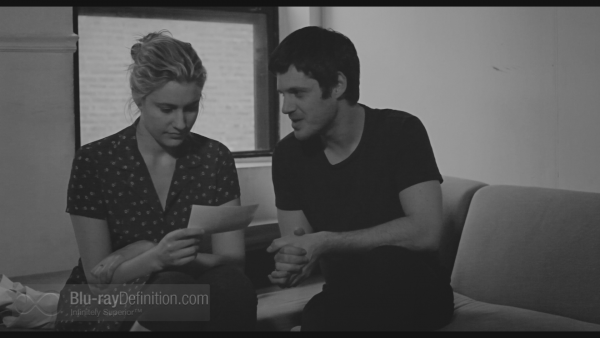 Frances Ha is the collaborative effort of Gerwig and her boyfriend, director Noah Baumbach, (The Squid and the Whale) who also co-wrote and produced the film.  If you seen any of Baumbach's or Gerwig's previous efforts then the landscape of Frances Ha will be familiar territory. If not, be prepared for quirky exercise in the vagaries of a young woman's so-called life. While the story line appears to be linear, the almost random events that drive it continually keep viewers off balance.  A perfect example is Frances's dinner date with Lev. When her credit card is declined, she leaves to seek out a working ATM. On the way back, she falls, scrapes her elbow and ends up in Lev's apartment, getting a bandaid.
Video Quality
[Rating:3.5/5]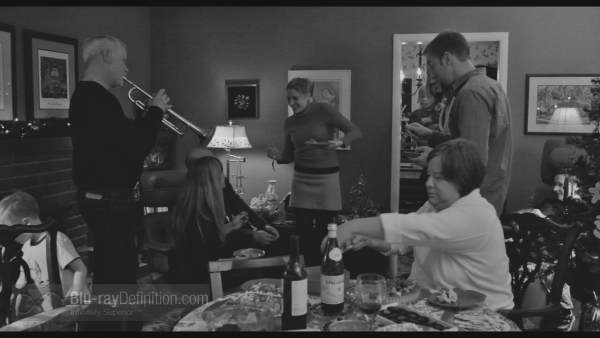 The cinematic style of this 2013 film is most definitely retro, not only in the choice of black-and-white, but in its deliberate grittiness. Camera work will remind you of some of the French "new wave" school, in the vein of Jean-Luc Godard or François Truffaut. Close-ups abound and, in the spirit of older films, there is some softness about the images. The film was shot with a Canon 5D Digital camera and all processing was done in the digital domain. Color corrected DPX files were transferred to Rec.709 high-definition color space.
Audio Quality
[Rating:4/5]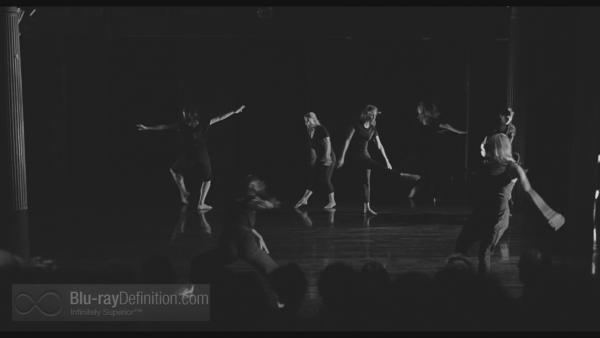 The mostly upbeat soundtrack ranging from J.S. Bach and Georges Delerue to David Bowie and Hot Chocolate was mastered at 24-bit from digital files using Pro Tools HD. Everything sounds fresh and the dialogue that keeps the film going in between Greta's dance moves is crystal clear.
Supplemental Materials
[Rating:3/5]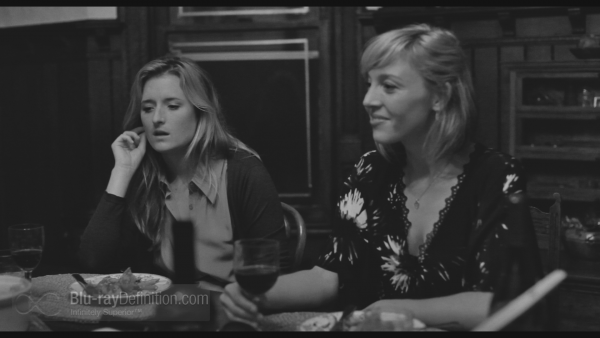 The bonus materials include the following:
Conversation between Peter Bogdanovitch and Noah Baumbach (15:21) (English Dolby Digital 5.1 48kHz/24-bit):  This is a meeting of the previous generation's director/actor/historian Bogdanovitch and today's rising star Baumbach and describes the creative process of this film.
Conversation between Sarah Polley and Greta Gerwig (17:00) (English Dolby Digital 5.1 48kHz/24-bit): Director Polley probes actor Gerwig about the film.
Interpreting Reality: (18:19) (English Dolby Digital Stereo 48kHz/24-bit): A conversation between Sam Levy, director of photography, Pascal Dangin, who did the color mastering, and director Baumbach about the actual filming technique using digital cameras.
Theatrical Trailer (1:56) (English Dolby Digital 5.1 48kHz/24-bit).
Program  booklet with an essay on the film (The Green Girl) by playwright Annie Baker   
The Definitive Word
Overall:
[Rating:4/5]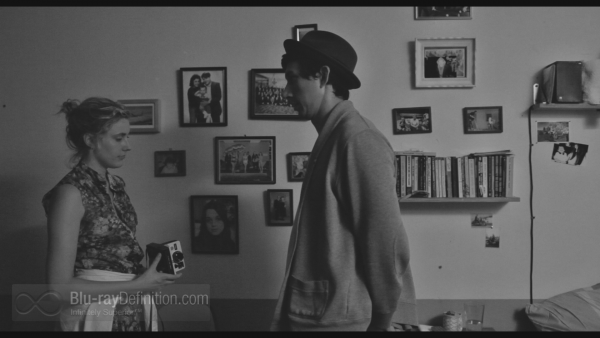 Frances Ha is Gerwig and Baumbach's second collaboration and reflects the high level of comfort and trust that both have in their work. Of course, when you see Gerwig's name in the cast list you expect off-beat rom-coms like Damsels in Distress or To Rome with Love. Slice of life films, particularly those of small lives, sink or swim on the strength of the cast and its direction. Here, we are most fortunate as there is not a single weak link in the chain. Greta Gerwig at the ripe old age of 30 is rapidly becoming one of the most accomplished actors of her generation, and, as in her other films, always worth watching.
 Additional Screen Captures
[amazon-product]B00EO2I6SI[/amazon-product]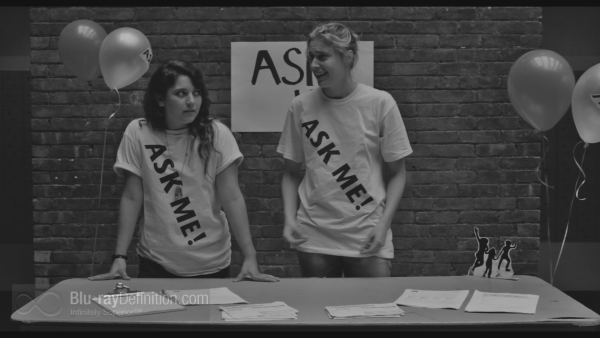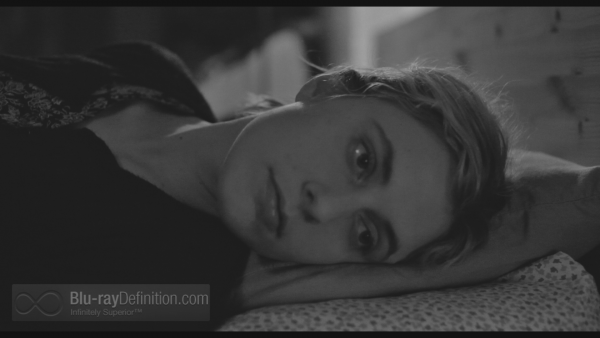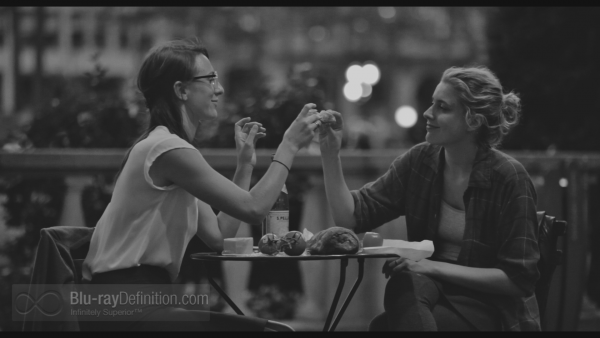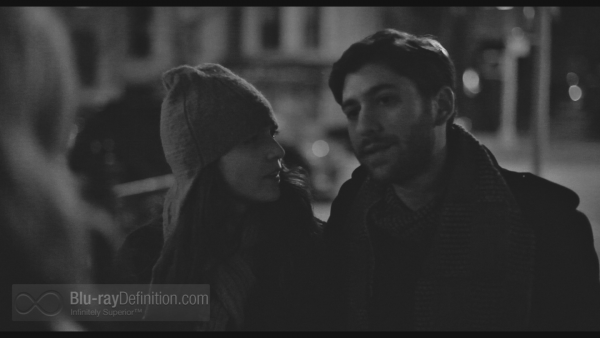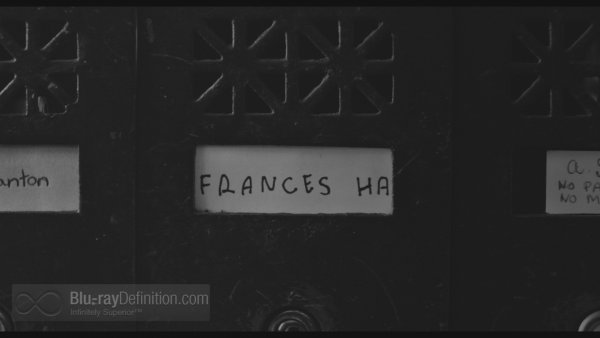 [amazon-product]B00EO2I6SI[/amazon-product]