Aspect Ratio: 2:40:1
Video Codec: AVC/MPEG-4
Resolution: 1080p/24 (23.976Hz)
Audio Codec: DTS-HD Master Audio 5.1
Subtitles: English SDH, French and Spanish
Region: A (B? C?)
Rating: PG
Run Time: 88 Mins.
Discs: 3 (1 x Blu-ray 3D + 1 x Blu-ray + 1 x DVD)
Studio: Walt Disney Studios Home Entertainment

Blu-ray Release Date: November 8th, 2011
List Price: $49.99
[amazon-product]B005GSVFGO[/amazon-product]
Purchase G-Force on Blu-ray 3D Combo Pack at CD Universe
Shop for more Blu-ray titles at Amazon.com
Overall
[Rating:3/5]
The Film
[Rating:2/5]
Video Quality
2D HD: [Rating:4.5/5]
3D Effect: [Rating:4/5]
Audio Quality
[Rating:4/5]
Supplemental Materials
[Rating:2.5/5]
Click thumbnails for high-resolution 1920X1080p screen captures
(Screen captures are lightly compressed with lossy JPEG  thus are meant as a general representation of the content and do not fully reveal the capabilities of the Blu-ray format)
The Film
[Rating:2/5]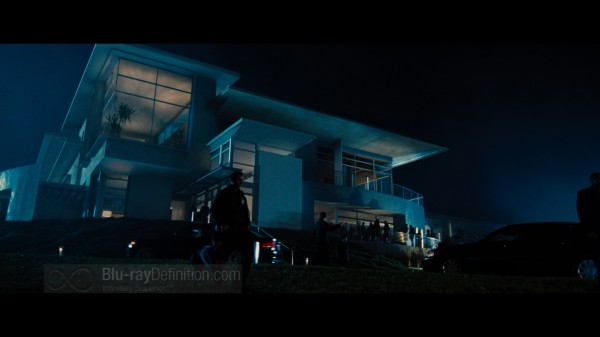 Directed by Hoyt H. Yeatman Jr. (more known for being a visual effects supervisor). The basic premise of G-Force revolves four special agent guinea pigs named Darwin (voiced by Sam Rockwell), Blaster (voiced by Tracey Morgan), Speckles (voiced by Nicholas Cage) and Juarez (voiced by Penelope Cruz). Having been trained by Ben (Zach Galifianakis), G-Force's latest assignment revolves around Leonard Saber (Bill Nighy). Saber, CEO of the world's largest appliance manufacturer, plans to use these appliances in order to take over the world. G-Force's goal is to gather proof of this pending destruction in hopes of getting the government to stop Saber. All seems to be proceeding smoothly until the government shuts down G-Force and our lovable guinea pigs are brought to a pet shop. Now it's up to G-Force to escape and help Ben gather evidence in order to stop Saber before it's too late. What results is a film that will certainly please children, but I don't imagine anyone else will find much to enjoy here.
Going into G-Force, I never once expected anything that would be genre ground-breaking or overly entertaining. Once the film was finished, I never once found myself looking at my watch (i.e. the film wasn't boring), but instantly realized that this wasn't a film I'd be revisiting ever again. The issue with this was that all of the voice actors didn't ever inject any real charm or style into their performances. In fact it felt like they were just reading the script literally waiting for the cash to hit their bank accounts. And this is a real shame as there are capable films where the voice actors add substance to their performance. Case in point is Jack Black in Kung Fu Panda. Now one might think comparing the two isn't fair as they both aren't animated films, but the comparison here is that Black adds not only humor but weight to his character making us believe what's occurring. In G-Force, there isn't one instance where I ever felt the voice actors cared. On the other hand the real actors, like Nighy and Galifanakis, were fine in their roles with Galifanakis adding a bit of laughter to the film.
On the bright side though, I will mention that the story, while nothing original in the least sense, did keep me entertained for the entire duration, which is something to say considering I wasn't enamored by the characters. Interest in the story probably stems from involvement of Jerry Bruckheimer a veteran of the action/adventure staple. Even though Bruckheimer does tend to recycle this type of material over and over again, for some reason it's always watchable at least once through. He's able to mix action and story into something we want to watch. It's just a shame that G-Force uses all the cliched stereotypes (one such example is a guinea pig of each race) that we've seen numerous times before.
Overall, G-Force is best viewed as an evening rental fare if you have kids around you. Adults won't find much substance here, but kids will certainly be laughing thus pleasing parents. Even though there are FAR better films you could rent for kids (***AHEM — UP ***), if they must see this, just give it a rental and save your cash for other films.
Video Quality
2D HD: [Rating:4.5/5]
3D Effect: [Rating:4/5]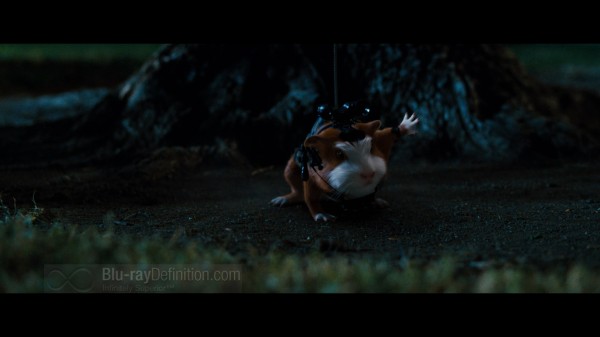 A film like mixing live action with digital effects, is a perfect choice for a hi-def release. Shot using a range of different cameras according to IMDb, the film has a fairly realistic feel to it. Detail throughout is excellent, with numerous instances of "3D" pop that we love to look for. Facial closeups result in accurate flesh tones and solid contrast levels. The film's color palette, mostly focusing on the brighter side of the spectrum, features deep, inky blacks. The colors of our furry little pets all look great, being digitally created. Some of the darker sequences, like those when G-Force invades the lab, do lose a bit of detail here and there. There's also a bit of grain in these sequences, but nothing that overly effects the image. All in all, minus this one little speed bump, this is a fantastic effort from the folks over at Disney.
Looks like at least Disney knows what they're doing in the 2D to 3D conversion field as the 3D presentation of G-Force looks fairly solid. As I had mentioned before, the 2D transfer had a few moments of "3D" pop, all of which translates into actual "3D" pop here. Throughout the film, there are examples of 3D like items in the rear (in particular the pet shop) showcasing a bit of background pop. But it's more sequences like the closing action sequence where the 3D looks the best. Here, with a mix of CGI and live-action, our little pets do 'jump out' at us. Also the explosions do show a great sense of foreground detail. Items like ghosting weren't a big issue either. All in all, this is a solid 2D to 3D conversion that I'm sure fans of the film will enjoy.
Audio Quality
[Rating:4/5]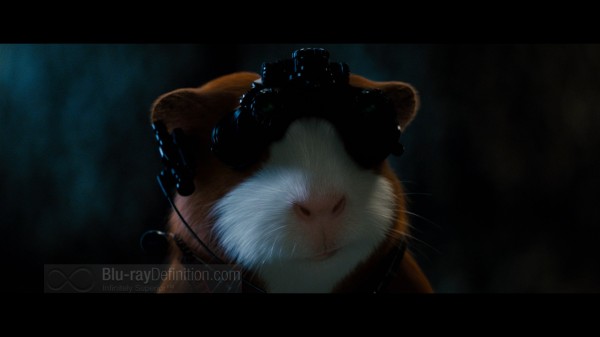 Coming in a notch below the film's video transfer is this included DTS-HD Master Audio 5.1 track. Dialogue is reproduced just fine with no instance of drop out or any real scene that would require a volume change. LFE is solid, but I expected a bit more considering this was an action/adventure film. Don't get me wrong the LFE is present but never is it really deep and immersive, more of a little oomph here and there. Dynamics are good as well with excellent pans between rears. Effects do arrive from the rears creating a fine 360-degree sound field, one that does put us right in the action (especially during the chase towards the end of the film). With that said, I will mention that this track is good for the material at hand, I just feel that fans/audiophiles will come out feeling a bit disappointed.
Supplemental Materials
[Rating:2.5/5]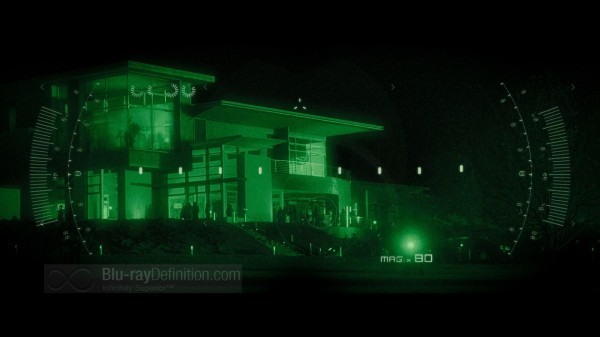 Cine-Explore with Darwin, Blaster & Their Creator: This is a behind-the-scenes picture-in-picture that runs along side the film.
Bruckheimer Animated: A Look Back at his CG Work: This runs 3:12 and has Bruckheimer speak on the film's visual effects.
Access Granted: This runs 7:52 and has director Yeatman give us a behind-the-scenes tour into the labs that helped create the film.
G-Farce: This is a series of bloopers and flubs that run a total of 1:49.
Deleted Scenes: Here we get a series of deleted scenes that, surprisingly, aren't that bad.
Music Videos: 3 Music Videos for different songs are included here. "Jump" by Flo-Rida ft. Nelly Furtado, "Ready to Rock" by Steve Rushton and "Go G-Force".
Blaster's Boot Camp: This runs 4:41 and gives a glance into what it takes to become a member of G-Force.
G-Force Mastermind: This runs 4:13 and shows us how the film's original concept was developed thanks in part to Yeatman's son.
DVD of the Film: Here, on the 2nd disc, is a DVD copy of the film.
The Definitive Word
Overall:
[Rating:3/5]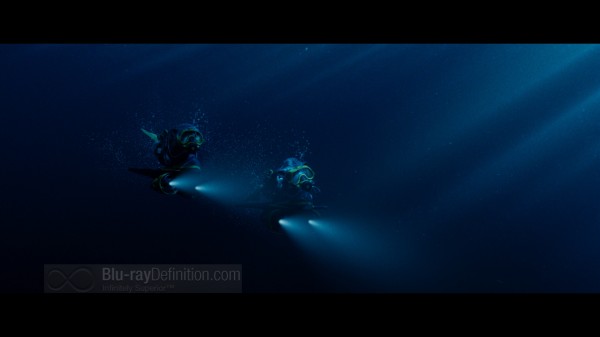 While I'm sure some kids out there will enjoy G-Force for what it is, the film just isn't all that special. While Disney has a solid package here with both fine 2D/3D presentations, good audio and a few nice features, I can't recommend this one unless you're a big fan of the film.
Additional Screen Captures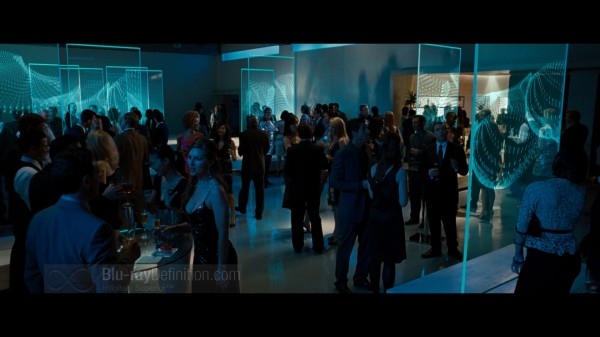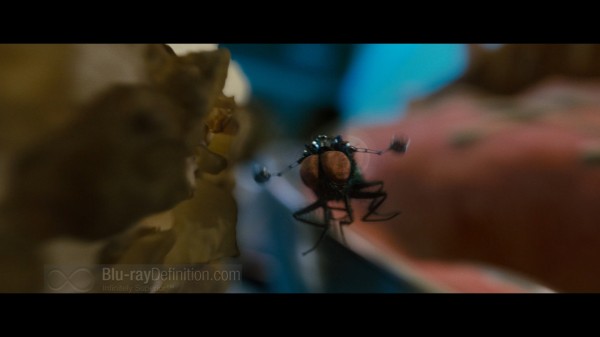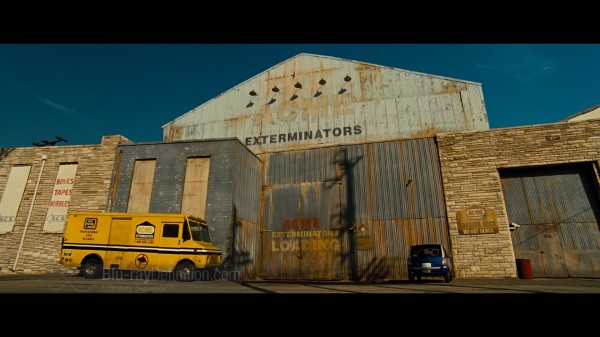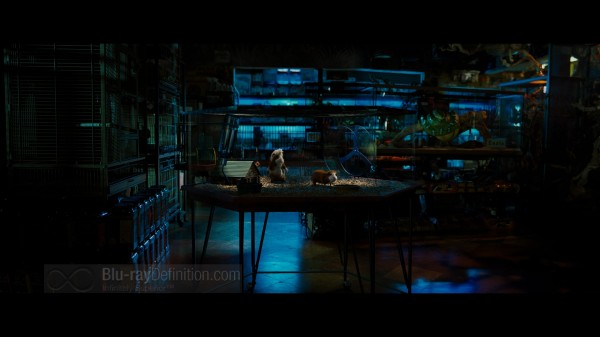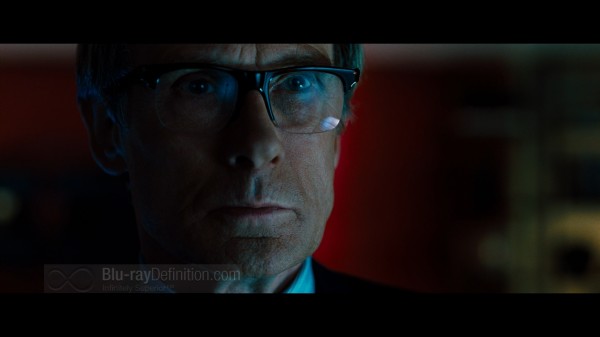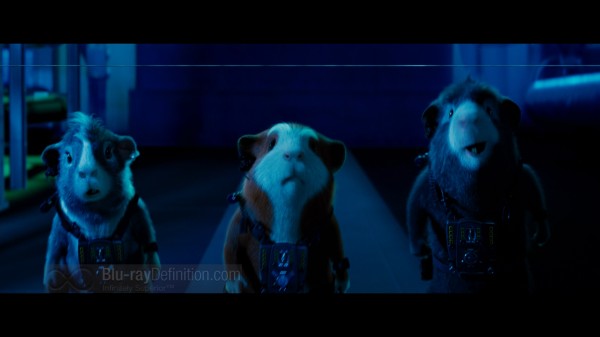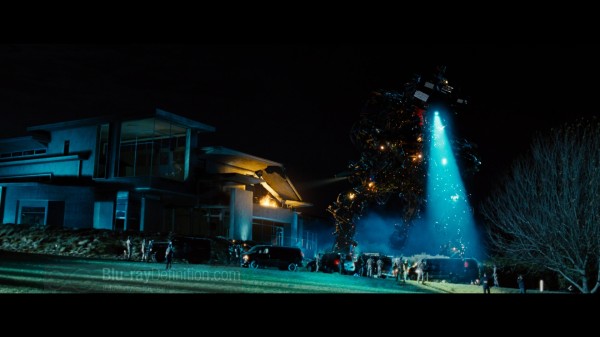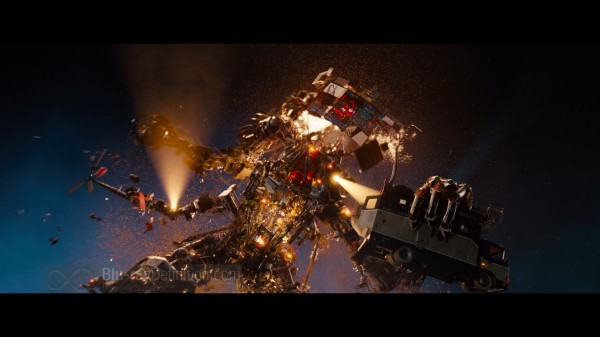 [amazon-product]B005GSVFGO[/amazon-product]
Purchase G-Force on Blu-ray 3D Combo Pack at CD Universe
Shop for more Blu-ray titles at Amazon.com
Overall
[Rating:3/5]
The Film
[Rating:2/5]
Video Quality
2D HD: [Rating:4.5/5]
3D Effect: [Rating:4/5]
Audio Quality
[Rating:4/5]
Supplemental Materials
[Rating:2.5/5]
Related Articles: