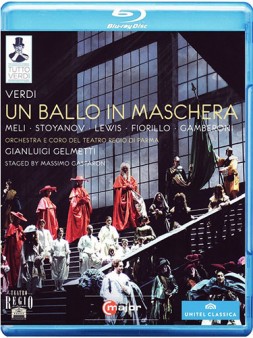 Mouse-Over Cover for Details

Click thumbnails for high-resolution 1920X1080p screen captures
(The below TheaterByte screen captures were taken directly from the Blu-ray Disc and losslessly compressed in the PNG format. There should be no loss of picture quality with this format. All screen captures should be regarded only as an approximation of the full capabilities of the Blu-ray format.)
The Performance
[Rating:3.5/5]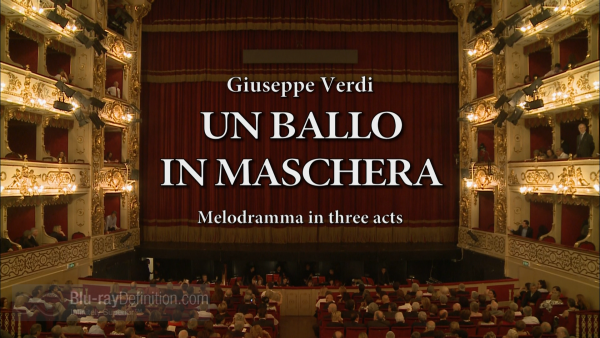 Verdi's Un Ballo in Maschera (A Masked Ball) ran into tough sledding from its Naples censors in 1858 that required resetting of the opera from Sweden to Boston and changing its protagonist from a king to a colonial governor. That aside, Ballo has always delighted audiences with its ample supply of outstanding solo and ensemble pieces.  The present production is a 2011 Teatro Regio di Parma staging, a revival of Pierluigi Samaritani's original concept by Massimo Gasparon. Veteran conductor, Gianluigi Gelmetti leads the Parmese forces knowingly, and, as noted later, has a cast that is mostly up to the vocal demands of the principal roles.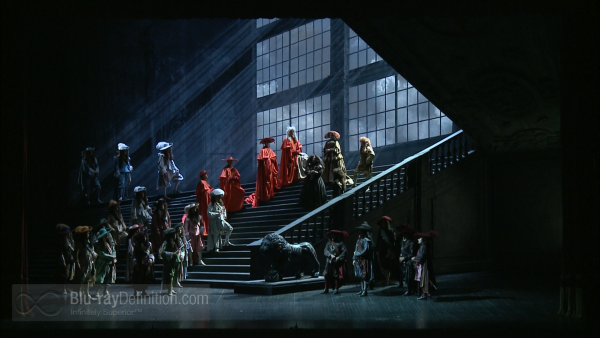 Act I begins in Governor Riccardo's (Francesco Meli) mansion where a reception is taking place. We meet, Renato (Vladimir Stoyanov), Riccardo's secretary and husband of Amelia (Kristin Lewis) who is secretly in love with the governor. In the background, Tom (Enrico Rinaldo) and Samuel (Antonio Barbagallo), are conspiring against Riccardo who is charged with exiling a fortune-teller Ulrica (Elisabetta Fiorillo).  Riccardo visits Ulrica's den to learn his future and is told that he will be killed by the next man who shakes his hand. This man turns out to be Renato as the prophesy is taken as a joke.
In Act II, Amelia and Riccardo meet at night in the shadow of the gallows and they confess their illicit love. Renato arrives to warn his master of a plot to kill him only to have Riccardo get Amelia to cover her face with a veil. He asks Renato to safely escort the "mystery" woman home. On their way, the couple encounter Sam and Tom who discover Amelia's identity and ridicule Renato.
Act III finds Renato convinced of his wife's infidelity and vowing to kill her. He finally changes his mind and will seek vengeance by murdering Riccardo.  With the assistance of Sam and Tom, the deed will be accomplished at a masked ball later that evening. During the festivities, Renato fatally wounds Riccardo who, in dying, assures him of Amelia's fidelity and pardons his friend as he dies.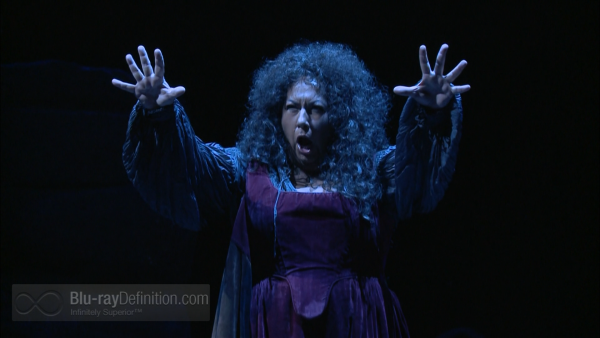 Like a number of mature Verdi operas (Aida, Il Trovatore), Ballo is a love triangle and succeeds or fails on strength of its three principals. This production gives us two out of three with strong contributions by the men. Soprano Lewis, making a role debut, has moments that will stir the audience but many more that fall short of this role's demanding standards. Mezzo Fiorillo does a nice turn with the brief role of Ulrica as does soprano Serena Gamberoni in the comprimario trouser role of the page, Oscar.
Video Quality
[Rating:4/5]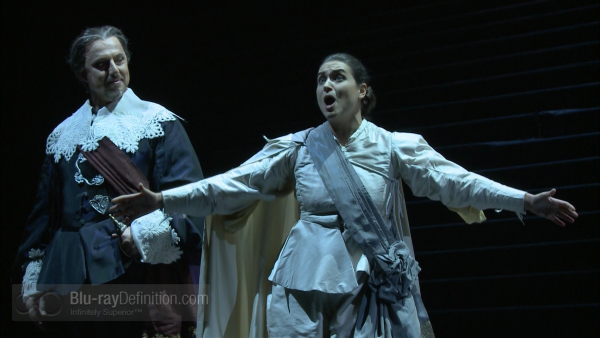 Director Tiziano Mancini has a long history with this house and, again, comes up with a winning video. The sets tend to be stark while the antique costumes take their cue from a much earlier era. Camera work is consistently good, colors when invoked stand out from the generally dark proceedings. Excellent close-up work alternates with dramatically effective stage pans.
Audio Quality
[Rating:4/5]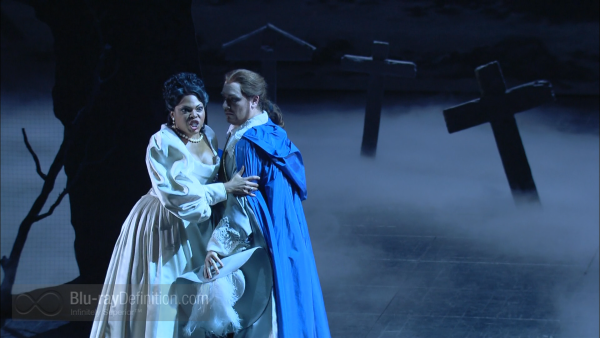 The DTS-HD-Master Audio 5.1 track gives us a good sense of being there with some prominence given to the voices over the players in the pit. The 2-channel version is pleasant is less evocative.
Supplemental Materials
[Rating:2/5]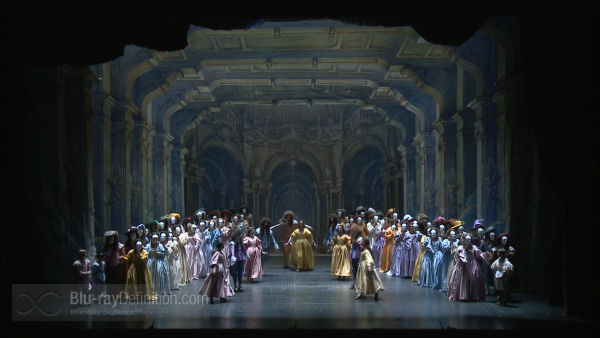 I continue to applaud the C Major folks for giving us 10-minute short subjects on the opera's background and using the production's scenes to expose the story. Other C Major releases in this series are included. A program booklet provides some more background material, a plot summary and listing of the vocal numbers.
The Definitive Word
Overall:
[Rating:3.5/5]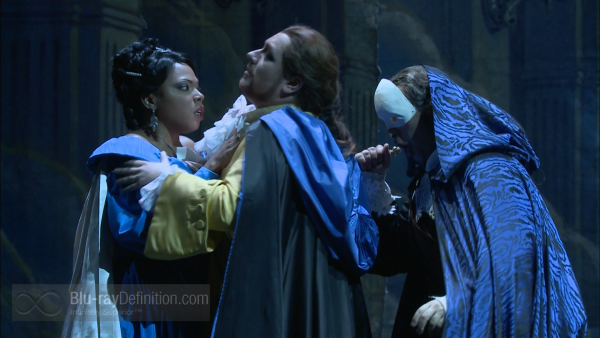 Un Ballo in Maschera has had its ups and downs on the world's operatic stages, not just due to the different stagings, but the need for at least three stellar voices for the primary roles. While we do not get the top trio that we desire, the performances turned in by Meli and Stoyanov are as good as we are likely to get in any of today's houses, the Metropolitan Opera excepted. This latter company has turned in two excellent productions both starring Luciano Pavarotti on DVD. There is a Blu-ray competitor (that I have yet to see) dating from 2008 with a very strong cast headed by Violeta Urmana and Marcelo Alvarez. Having seen both of these singers live on stage, this latter disc would also be worth checking out. If you can get over a less than idiomatic Amelia with the other roles well undertaken, then the current Blu-ray would be a solid choice for your Tutto Verdi collection.
Additional Screen Captures
[amazon-product region="uk" tracking_id="bluraydefinit-21″]B0094AH33E[/amazon-product]
[amazon-product region="ca" tracking_id="bluraydefinit-20″]B0094AH33E[/amazon-product]
[amazon-product]B0094AH33E[/amazon-product]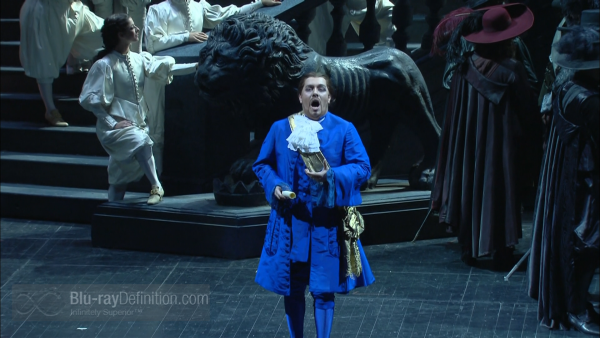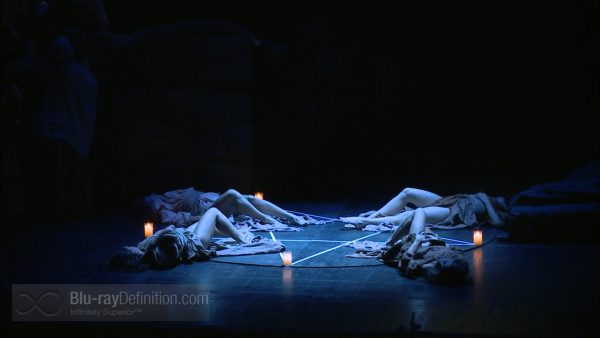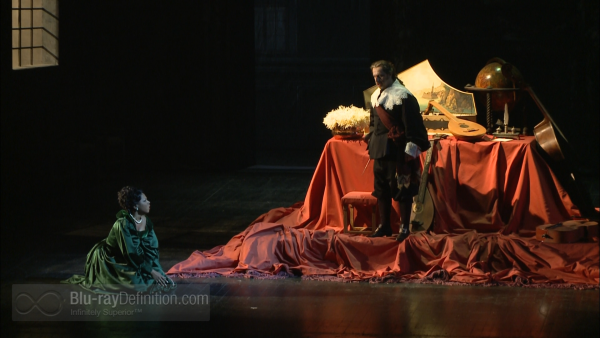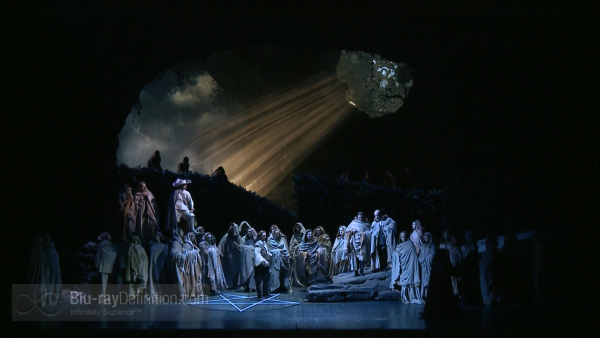 [amazon-product region="uk" tracking_id="bluraydefinit-21″]B0094AH33E[/amazon-product]
[amazon-product region="ca" tracking_id="bluraydefinit-20″]B0094AH33E[/amazon-product]
[amazon-product]B0094AH33E[/amazon-product]
Overall
[Rating:3.5/5]
The Performance
[Rating:3.5/5]
Video Quality
[Rating:4/5]
Audio Quality
[Rating:4/5]
Supplemental Materials
[Rating:2/5]