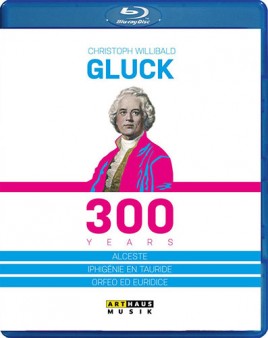 – –

The Performances
[Rating:3/5]
In celebration of Christoph Willibald Gluck's 300th birthday, Arthaus Musik has repackaged three of his best-known operas, all previously released on DVD, and now all together in the Blu-ray format.
Orfeo ed Eurydice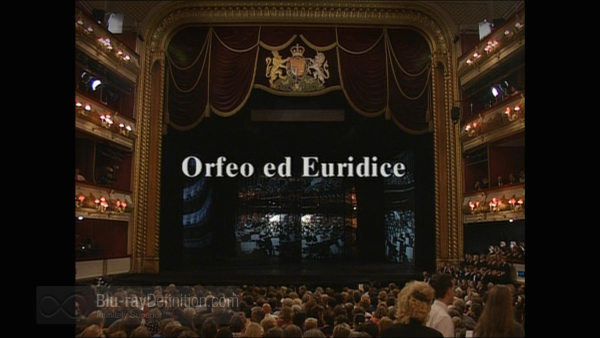 By far the most popular of Gluck's vocal masterpieces, this 20th century update from a 1991 Royal Opera House production directed by Harry Kupfer features star countertenor Jochen Kowalski and soprano Gillian Webster in the title roles with the Royal Opera House Orchestra and Chorus led by John Brown.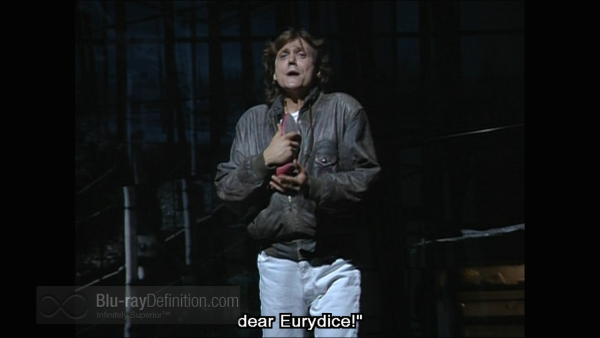 Opening in a squalid set, Orfeo gets the bad news that his beloved Eurydice has died. The singer goes into mourning until Amor (boy soprano Jeremy Budd) visits, telling him that if he goes to go to the Underworld and pacifies the Furies with his singing, Eurydice will be returned to him alive.  There is one condition, Orpheus must not look back at wife on their journey.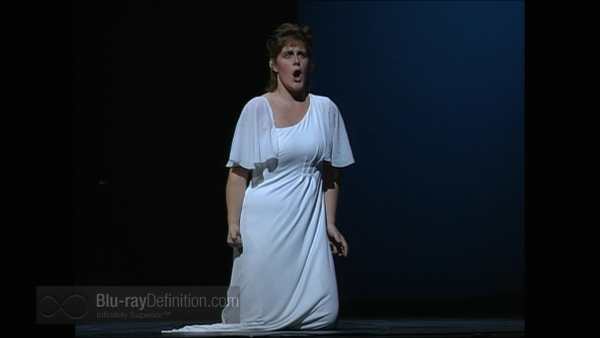 Torn by his desire to get back Eurydice, Orpheus appears to be a depressed mental patient in an asylum but makes his way out, complete with guitar, and is buoyed up by the famous Dance of the Blessed Spirits (not seen here).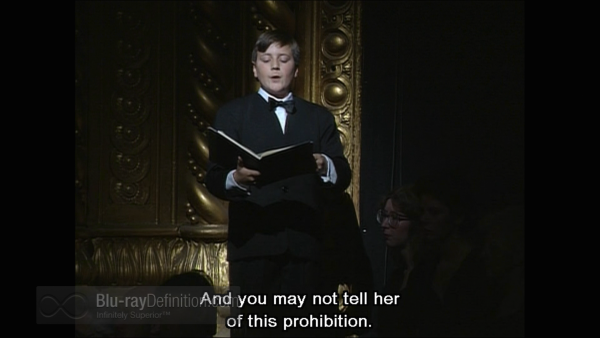 Amor facilitates the reunion of Orfeo and Eurydice who is ready to return to the world of the living.  When Orfeo refuses to look at his wife, she believes that he no longer loves her.  The fatal moment occurs when Orfeo loses his resolve and turns to gaze upon his wife who dies on the spot. Unlike the original legend, this one has a happier ending with Eurydice returned to her husband, alive and well.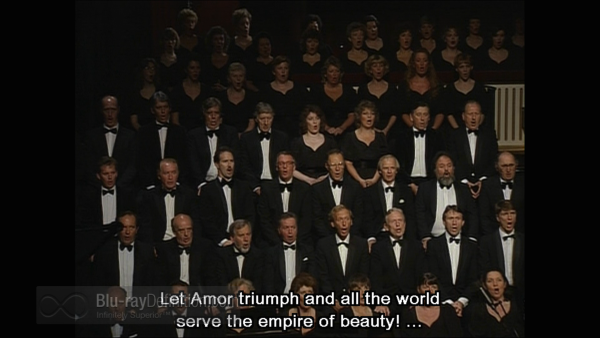 This production has some serious (and most unfortunate) cuts to the opera (including Orfeo's Entry into Hades with the Furies). The shining lights are the consistently fine singing and acting by Kowalski and a nice turn by young Budd. Gillian Webster's realization of the heroine is surprisingly bland (possibly a victim of the production's dramaturgy).  Director Kupfer's regietheater tinkers too much with the plot elements, providing dramatically unnecessary touches and, at times, just plain nonsense.
Alceste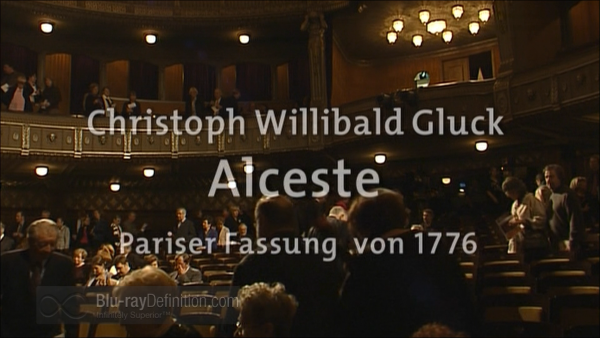 Like many of Gluck's operas, this Greek legend exists in two versions, Italian and, in this instance, French.  A widescreen standard definition video  originates from a 2006 Staatsoper Stuttgart production directed by the team of Jossi Wieler and Sergio Morabito, and updated to our present times. This performance with the Stuttgart Opera Orchestra and Chorus is led by Constantinos Carydis and features Donald Kaasch as King Admetus, Catherine Nagelstad as his wife Alceste, Bernard Schneider as Evander, Johan Rydh doubling as the High Priest and Thanatos, and Motti Kaston as Apollo. As a further note, the opera is performed in an uncut version with the anticlimactic Chaconne at its finale.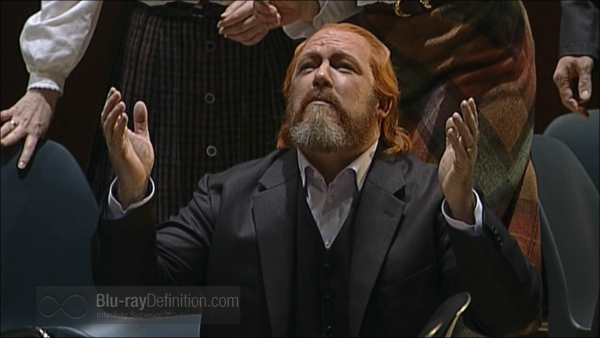 Outside King Admetus's palace, a herald informs the Thessalian people that the King is dying and holds out no hope for his recovery.  Evander encourages the citizens to offer prayers of petition for Admetus's recovery. All go to the temple of Apollo where the oracle tells them that Admetus will recover only if another person agrees to die in his place. Distraught, Alceste is torn by the need to save her husband but is concerned for the wellbeing of her two young children.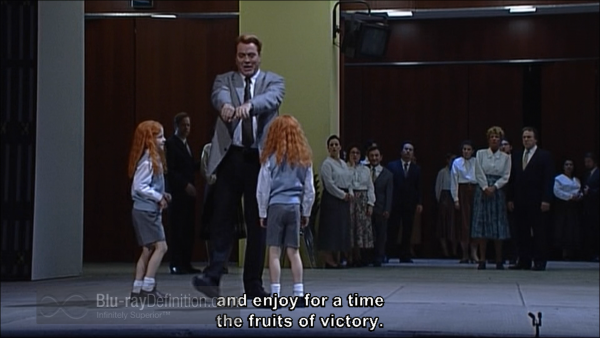 Alceste has now left the palace, determined that she will be Admetus's source of salvation.  The King has suddenly recovered, a cause for celebration among his subjects. A pall is cast over the proceedings when Evandro reveals that the king has been saved only because another has volunteered to die for him.  Alceste returns to bid her children farewell while Admetus will pray to the gods to spare his wife.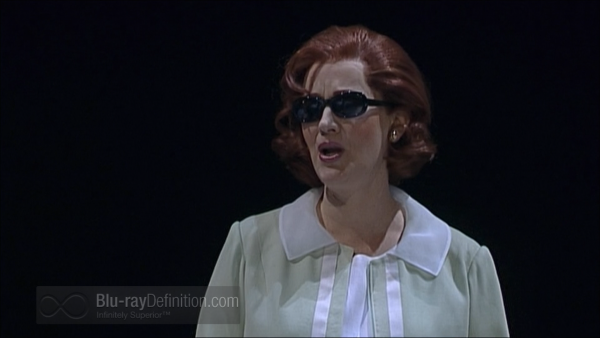 In spite of Admetus's imprecations, the gods are implacable and Alceste must now die.  The once joyous subjects are now stricken by Alceste's decision. Admetus, unwilling to lead a life without his beloved Alceste, will join her in the Underworld. In a true deus ex machina moment,  Apollo appears and announces that the gods have reconsidered this case, and, moved by the love of husband and wife, will allow them both to live.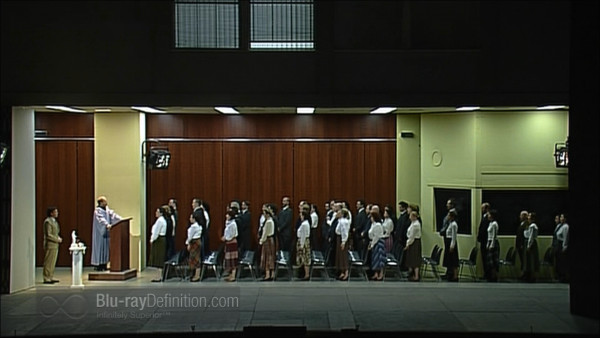 Modernization of sets and costumes aside, directors Wieler and Corrabito have stayed with librettist Rainieri de' Calzabigi's original intentions. This is fortunate since the Euripides play, on which the opera is based,  is already a powerful drama that needs no additions or subtractions. I am also delighted to report that the principal roles get excellent coverage with particular kudos to soprano Nagelstad's moving portrayal of the title role, peaking in the famous Act I aria,  "Divinites du Styx,"  that finished with a dramatic collapse after ingesting too many tranquilizers.
Iphigenie en Tauride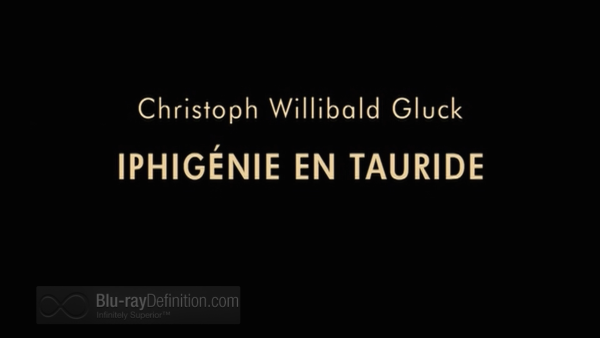 This 2001 Zurich opera production of one Gluck's final operas is blessed with the fine period orchestra "La Scintilla," directed by early music specialist William Christie. Another updated production, this time directed by Claus Guth, Iphigenie en Tauride features an excellent cast: Juliette Galstian (Iphigenie), Rodney Gilfrey (Oreste), the late Deon van der Walt (Pylade), Anton Scharinger (Thoas), and Martina Jankova (Diane).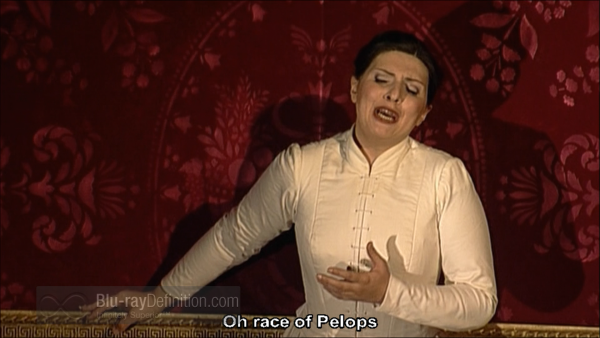 As a follow-up to Iphigenie en Aulis, set during the Trojan War, this opera begins years after the war has ended.. Iphigenie is in exile on the island of Tauris, and a devotee of the goddess Diane. She believes herself responsible for the death of her brother Oreste who killed her mother Clytemneste and her husband Aegisthe, the murderers of their father King Agamemnon.  Thoas, the ruler of the Scythians who control Tauris, fears for his life. A storm brings Oreste and Pylade to Tauris where they are captured by the Scythians.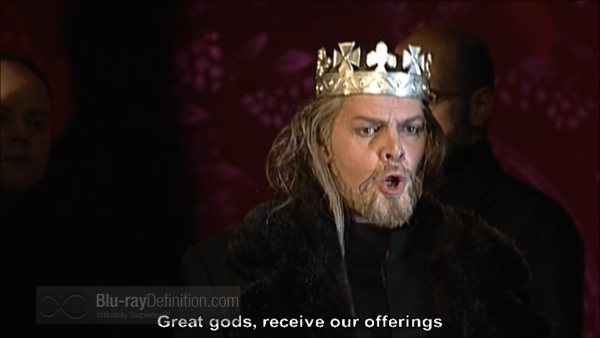 Iphigenie visits the prison but does not recognize her brother (many years have elapsed since they last met). Pylade recounts that her brother has been killed, much to her dismay. Iphigenie arranges to mourn her dead brother and send word to her sister Electre that she is still alive, living in exile. The two prisoners, Oreste and Pylade vie to be the messenger that Iphigenie will send to Greece. Ultimately, she chooses Pylade.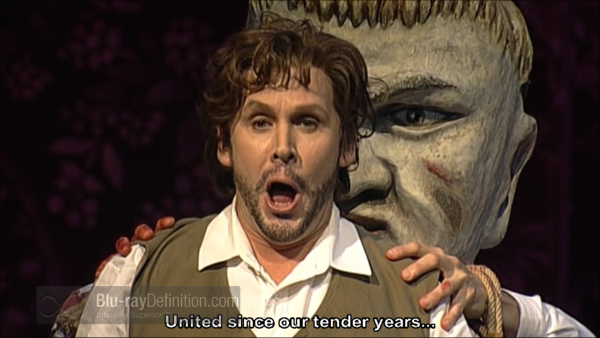 Oreste has been condemned to death, unknowingly by the actions of his sister. Thoas is enraged by the news that Pylade has been released but the latter returns and kills Thoas. Warfare is about to break out between the Scythians and Greeks when the goddess Diane intervenes and peace is restored.
Classic Greek dramas are so well constructed that transposing them to modern times seems almost too simple. The major dramatic miscalculation in this production is having the alter egos of the characters wearing oversized heads enter and exit throughout the evening. Performance values are what carry the day and, fortunately, the Zurich Opera delivers the goods. Regardless of period sets or costumes, this Gluck work is not the easiest of watches but, not to worry, you will not see it much better carried off.
Video Quality
[Rating:3/5]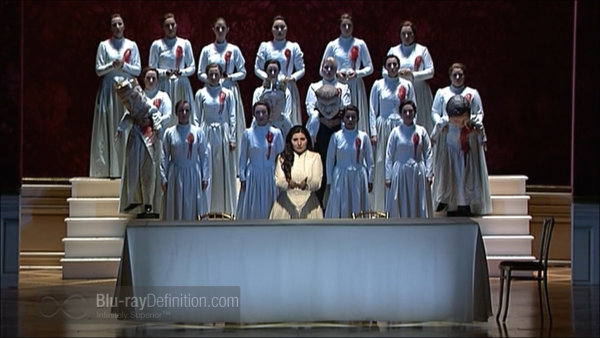 DVD to Blu-ray transfers are the typical lipstick-on-a-pig affairs. The visual shortcomings of  standard definition originals simply cannot be enhanced to the high definition standards of today's best Blu-rays.  That said, even the Orfeo ed Eurydice, the earliest entry in this program, is never less than watchable and the more recent productions are a distinct improvement in colors and details.
Audio Quality
[Rating:3/5]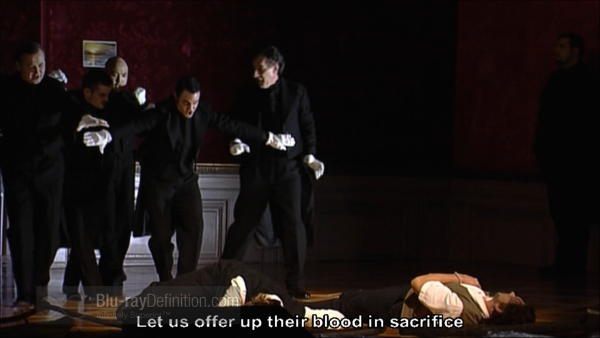 The lossy soundtracks of all of these productions point out how far the audio portion of Blu-ray discs has advanced in the high-definition audio era. Good home theater systems will highlight the compression and blunting of sound details but will not detract from some of the stellar vocal and orchestral performances that this extended disc has to offer.
Supplemental Materials
[Rating:3/5]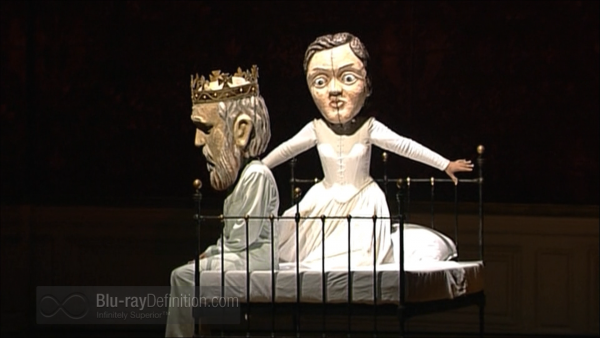 An hour-long documentary "Winds of Change, Winds of Love: The Life of Christoph Willibald Gluck (English LPCM Stereo 48kHz/16-bit) gives viewers an extended biography of the composer whose works changed the style of opera for good and forever.  A generous look at Gluck's life and works (with some humorous asides), this bonus written by Lars Sjoeberg and starring Emrys James as Gluck has excerpts from several operas, including all three contained in this set. Well-worth watching before digging into the main courses of Orfeo, Alceste and Iphigenie.  A program booklet with synopses, vocal tracks, and cast credits, each taken from the original single DVD releases,  is included.
The Definitive Word
Overall:
[Rating:3/5]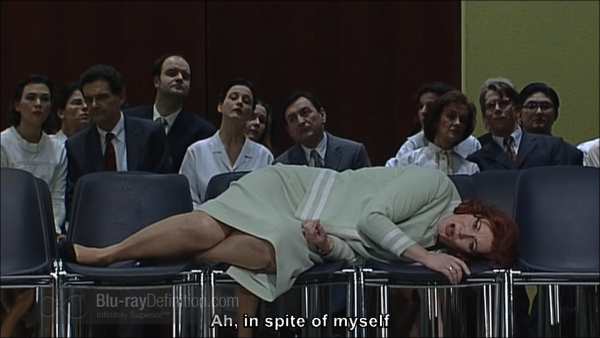 Purchasing multi-performance Blu-ray discs is like shopping at a Walmart store: you might get great quantity but perhaps not great quality. In this case, to paraphrase the rocker Meatloaf, two out of three ain't bad. Gluck fans probably already have their preferred version of Orfeo ed Eurydice. In that case, keep it. Those same fans without Alceste or Iphiginie en Tauride Blu-rays should give this one a tumble.  Sight and sound are not up to present day standards, but this should not be off putting, and at the usually discounted prices on Amazon, this Blu-ray represents quite a bargain.
Additional Screen Captures
[amazon-product region="uk" tracking_id="bluraydefinit-21″]B00KS47SJE[/amazon-product]
[amazon-product region="ca" tracking_id="bluraydefinit-20″]B00KS47SJE[/amazon-product]
[amazon-product]B00KS47SJE[/amazon-product]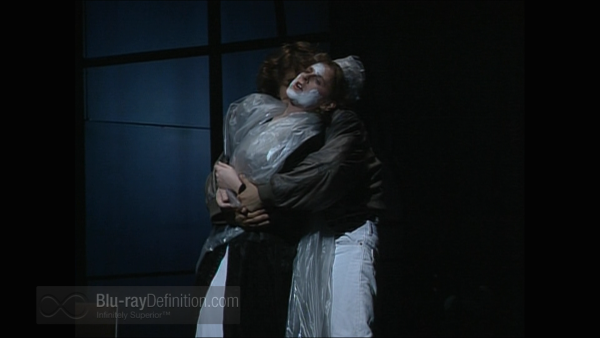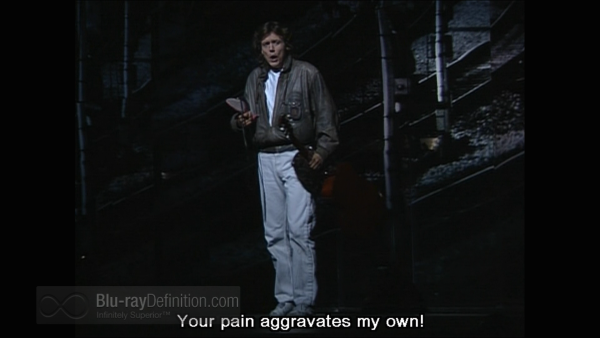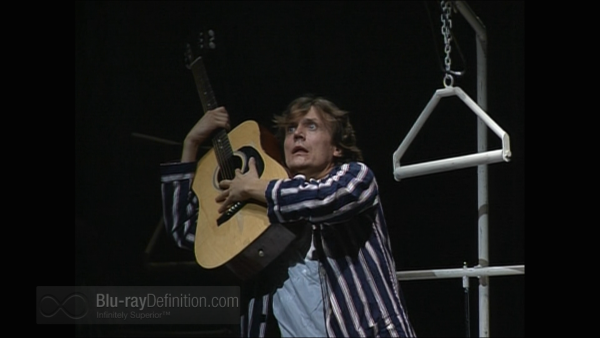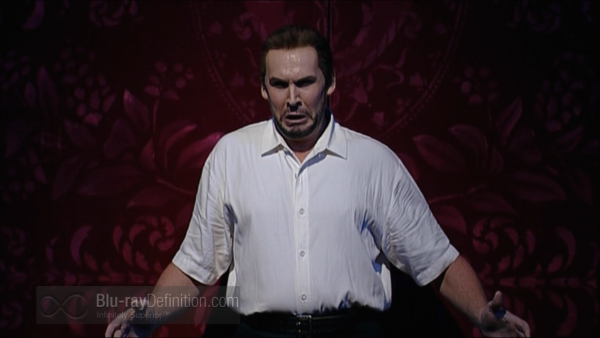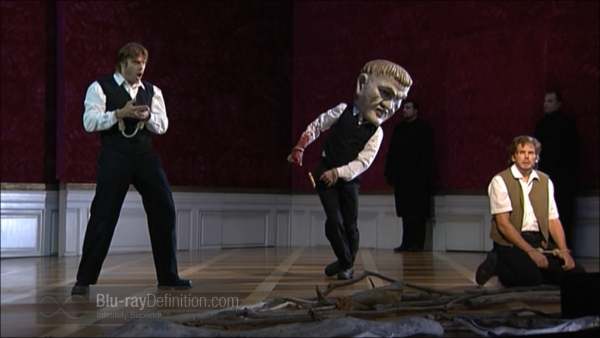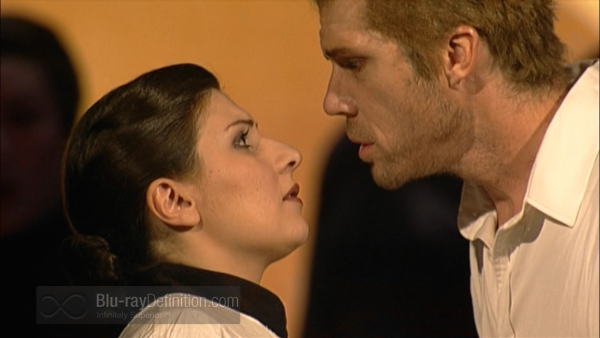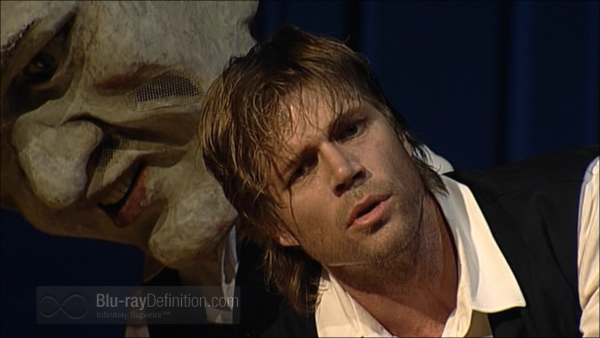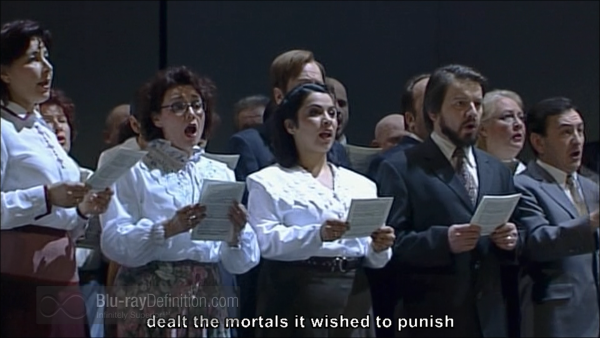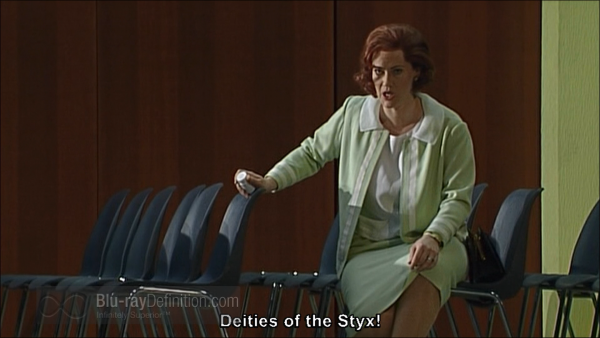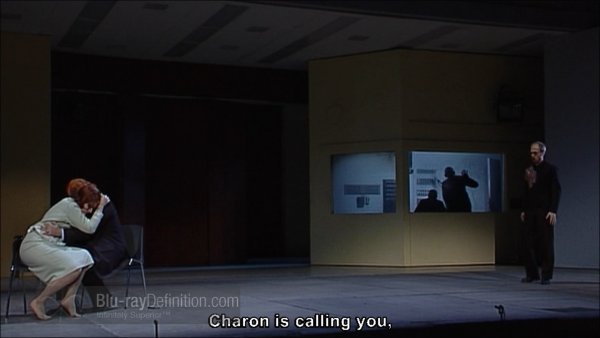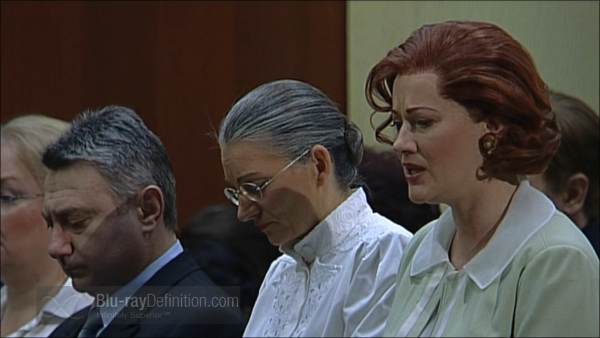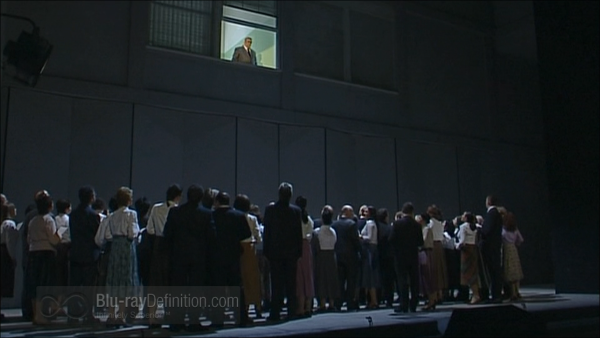 [amazon-product region="uk" tracking_id="bluraydefinit-21″]B00KS47SJE[/amazon-product]
[amazon-product region="ca" tracking_id="bluraydefinit-20″]B00KS47SJE[/amazon-product]
[amazon-product]B00KS47SJE[/amazon-product]