– (mobile OS scroll to bottom)

The Series
[Rating:4.5/5]
Homeland is the award-winning (2012 Golden Globe: Best Television Series – Drama; Claire Danes, Best Actress in a Television Series – Drama) drama/thriller series from Showtime that is a gripping and addictive summation of post-9/11 paranoia like no other.
Based on the Israeli series Hatufim (Prisoners of War), Homeland stars Claire Danes as CIA operations officer Carrie Mathison who, after a failed, unauthorized operation in Iraq in which she was told that an American POW has been "turned," is sent home by her superior, David Estes (David Harewood) to work in the counter-terrorism unit. Eight-years later, she finds out that Marine Sergeant Nicholas Brody (Damian Lewis), a POW from Iraq, has been rescued, and she immediately suspects that Brody is the turned POW and that he may be plotting with infamous terrorist Abu Nazir (Navid Negahban) to attack America. With Brody being treated like a hero and knowing that she will never be able to convince Estes or anyone else in the CIA that Brody is a terrorist, Carrie begins to undertake an unauthorized surveillance of the Brody family, turning only to her closest friend and ally in the CIA, her mentor Saul Berensen (Mandy Patinkin). Although Saul is at first angered at Carrie's deception and skeptical of her suspicions about Brody, he eventually decides to work with Carrie and the two of them must work together to try to stop another attack on the country. Complicating matters, however, is Carrie's own psychiatric problems that she must keep hidden from the agency in order to protect her job.
Homeland is intense drama that is really a thrill a minute. Although it is produced by the same folks who produced 24, it is a more finely-tuned series that relies less on guns and explosions and more on complex twists and human emotions.
After the shocking turn of events in the first season that sent Carrie Mathison out of the CIA and into the psychiatric ward, season two begins with Brody even more popular than ever and being tapped as a possible Vice Presidential candidate. But the truth has a strange way of coming out and a suicide video Brody made when he was going to use the bomb vest comes to the surface. Carrie is tempted back into the CIA to track Brody as an asset that will lead them back to the notorious terrorist Abu Nazir. Still reeling from her breakdown and ill-advised relationship with Brody, Carrie's judgement is questioned at every turn, and what starts out as a simple tracking operation on Brody becomes much more serious when, questionably, Carrie exposes that she knows Brody tried to use a suicide bomb and has him arrested. From that point on, the season takes a turn and becomes far more heightened. Who can be trusted? Brody is sent into the field as bait, a "double agent" of sorts, but is he really helping them, or is he still working for Nazir? Internal conflicts reveal themselves as well, but to go into detail would be giving too much away in this series that relies so much on it unexpected twits and its level of mystery. Let's just say that some in the CIA want Brody dead, whether he helps them or not and they're willing to take down anyone in their path to make sure that happens. Carrie, meanwhile, still has feeling for Brody even though she denies it, and it gets in the way of her making clear calls.  A wild subplot develops involving Brody's daughter Dana (Morgan Taylor) and the Vice President's son that threatens to undermine Brody's position as a valuable asset.
The second season of Homeland is a thrill a minute that, by the time you get through Disc 1 of this set, you will be undeniably hooked. I had my doubts that they would be able to maintain the plot over another season, but the writers have made this spy thriller even more intense. If the Season Three prologue available in this second season Blu-ray release is any evidence, we're in for a wild ride.
Video Quality
[Rating:4.5/5]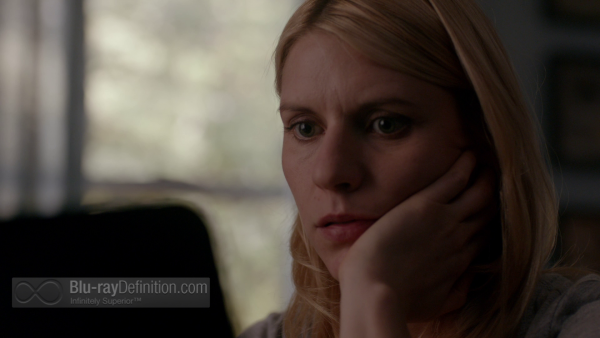 Homeland is shot in high definition on the Arri Alexa Plus in ProRes 4:4:4 (1080p/24) and comes to Blu-ray in an AVC/MPEG-4 1080p encodement from Fox. The series tends towards darker tones and a gritty appearance, but it always looks amazingly filmic and cinematic given his HD source. The transfer from Fox his steps above the broadcasts, absent the posterization, macroblocking and compression noise that plagues the series, and instead we get dark shadows with consistent black levels, spot on flesh tones and strong contrast. Detail is strong and nuanced even in the shadowy scenes.
Audio Quality
[Rating:4.5/5]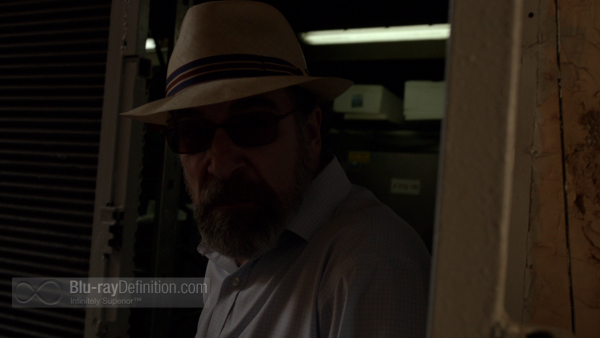 We get an English DTS-HD Master Audio 5.1 (48kHz/24-bit) soundtrack that is very well done for a television series an smoother, clearer, and more dynamic than the Dolby Digital broadcasts. The Dialogue is clear and natural in sound while while the mix has a wide dynamic range, not pushed to the max. This allows for the smallest sounds to be picked up from the rumble of air conditioning unit of the CIA holding room where Brody is initially questioned after Carrie arrests him, to the din of crowd noise and traffic sounds around D.C. The surrounds do tend to get a little quite at times, but they open up during more active scenes for an engulfing and atmospheric mix.
Supplemental Materials
[Rating:2/5]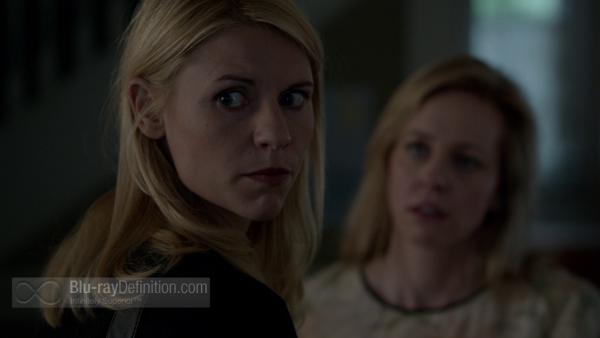 The strongest extra here is the shortest, and that's the prologue for season three, which gets us off to a wild start with a crazy cliffhanger right away. The rest are some unnecessary deleted scenes and some interesting behind the scenes featurettes.
The supplements:
Deleted Scenes (1.78:1; 1080p/24)
Return to the Homeland: Filming in Israel (1.78:1; 1080p/24; 00:07:52)
The Border: A Prologue to Season Three (1.78:1; 1080p/24; 00:01:40)
A Super 8 Film Diary by Damien Lewis (1.78:1; 1080p/24; 00:11:05)
The Choice: The Making of the Season Finale (1.78:1; 1080p/24; 00:15:41)
The Definitive Word
Overall:
[Rating:4.5/5]
Showtime's spy thriller Homeland is even better in its second season and watching it all over again on Blu-ray is a real treat. It dazzles the senses with excellent sound and picture quality.
Additional Screen Captures
[amazon-product]B009LDCZDC[/amazon-product]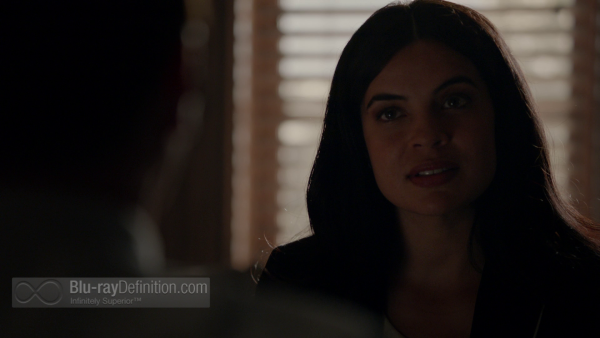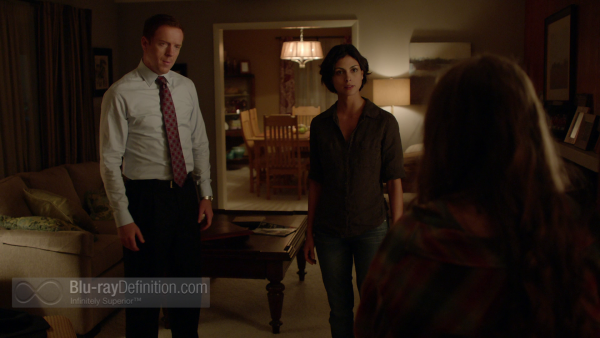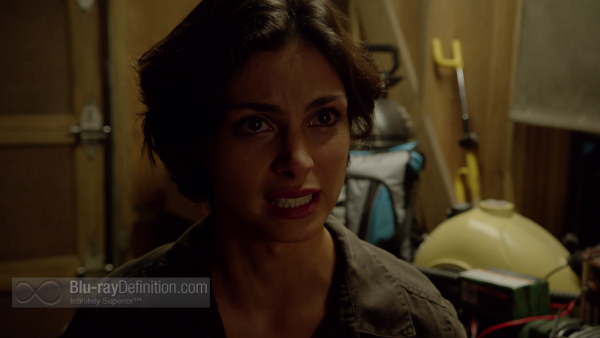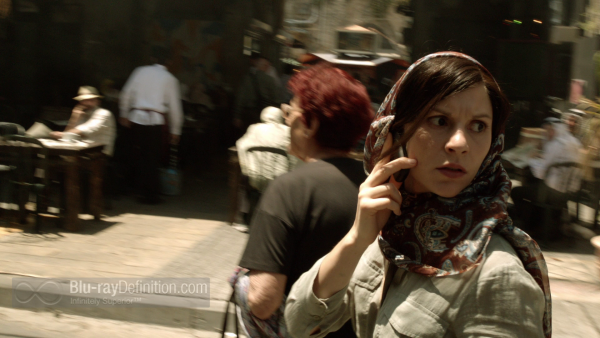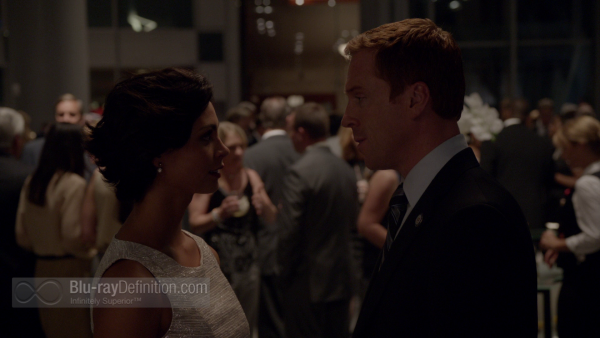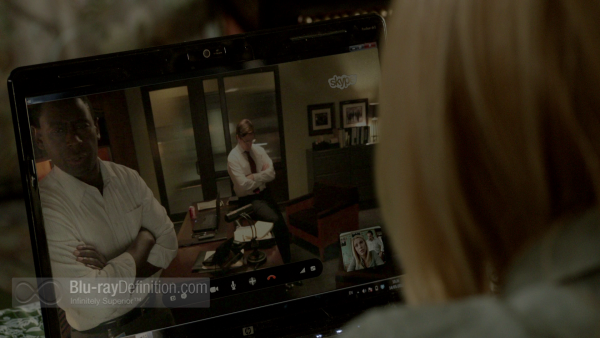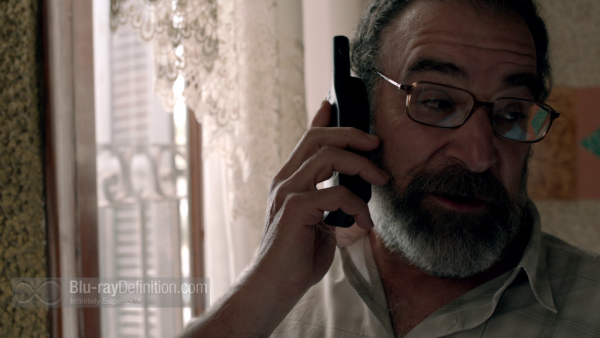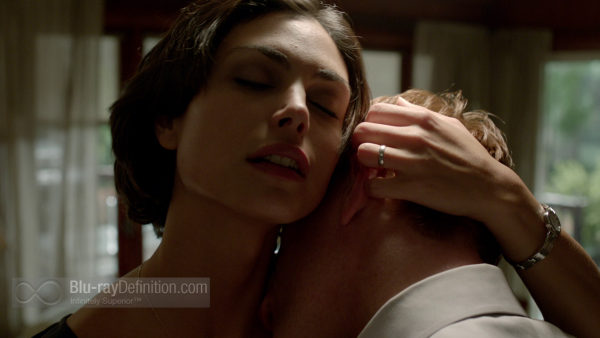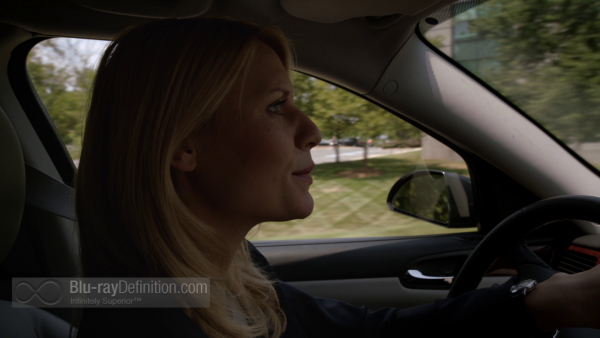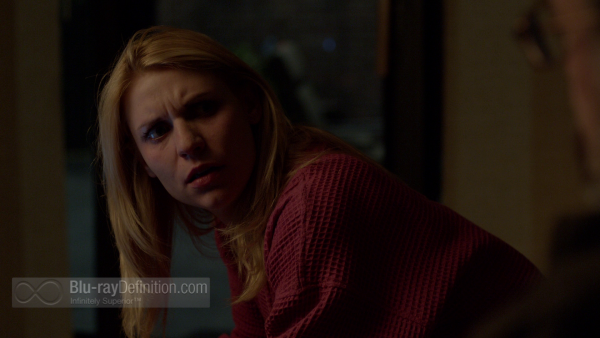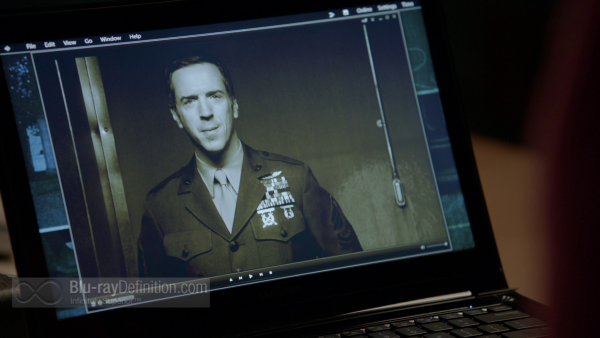 [amazon-product]B009LDCZDC[/amazon-product]